Pecan Pie
ATOD Magazine has been dying to collaborate with home cooks, the lovers of food that just want to share a homemade recipe, as well as top of the line chefs, and all around culinary whizzes SO – that said – we thought it was high time to integrate some story and recipe JUST FOR YOU! Below is a tale of how good pecan pie evolved by the wonderful and illustrious writer, artist, and Pecan Pie'r, Miss Heather Thompson. We do hope you enjoy…
Pleased to Partake of Your Pecan Pie
by Heather Thompson
Let's face it. Pecan Pie is terrible. Well, at least the versions you've had. Whether it's from the store or made by Aunt Esther, the results are the same. Sad, burned pecans hidden in an overly-sweet and blobby mass that is only held in place by a bland cardboard crust. The minute you cut into the pie, you are either overwhelmed by a solid wall of nuts, or you have to chase the oozing candy layer of under baked custard around your plate. Either way, if you dare to cut yourself a slice, you'll be washing the pie down at every opportunity with Irish (trust me, you need the Irish) coffee.
Now Aunt Esther is probably a wonderful cook. It's not her fault that the pie she unveiled to oohs and ahhs by the family now sits abandoned at the edge of the dessert table, while children and adults alike opt for pumpkin. Yes, given the choice, most people will choose pie made from a vegetable rather than wade into the disaster lurking beneath those glistening pecan chunks.
To be fair, making pecan pie, shouldn't require hand holding—it is supposed to be easy. The ingredients are simple and earthy. The problem is that recipes for pecan pie, in every iteration (books, online, the back of a syrup bottle, grandma's tin box) perpetuate the same misconceptions about flavor and, in an attempt to be easy and repeatable, give generally bad advice on ingredient proportions. As a result, at best, pecan pies are too sweet and exhibit little nuance.
For the few pecan pie lovers left, the stakes are high. Pecan pie is in danger of becoming the fruitcake joke of Thanksgiving. Therefore, I humbly submit that with a careful examination of the ingredients and a few tweaks, pecan pie can become a dessert that is easy to make AND something people will actually want to eat.
My recipe is based on the famous Purefoy Hotel Brown Butter Pecan Pie. I found the recipe one day, when I should have been working at my mid-level temp job. It was on one of those random recipe sites (guaranteed, it's not the major recipe sites you are thinking of). The recipe was lifted from "Master Cook" (whoever that is) still in plain text, with no beauty shots, and very little explanation.
What caught my attention was the the nota bene at the end of the original recipe. And this note was nothing short of a revelation for me:
"Never trust any pecan pie recipe calling for all dark karo, molasses (God forbid) or vanilla extract. All these interfere with the browned butter flavor. Always use pecan halves, not chopped pecans."
I think the first cautions are logical. Dark syrups would serve only to muddy the flavors of an already heavy dish. Light syrup is required to balance the earthiness of the nuts and butter.
But let's focus on the vanilla part for a second. If you go to any site and look for a pecan pie recipe, you will see vanilla in the ingredients list (even other browned-butter pie recipes). Now I don't hate vanilla. I love it. I could wax for hours on its perfume, its ability (like salt) to enhance the flavors of surrounding ingredients. I would argue that any chocolate dish without a dash of vanilla isn't even a real chocolate dish. But I don't ascribe to the mantra that vanilla must appear in every single dessert dish.
Vanilla is strong and a little pushy. In a pecan pie, it masks the other, less assertive flavors. The nutty subtlety of brown butter simply cannot stand up to a bully like vanilla.
To be blunt, vanilla doesn't make this pie better—save it for the sugar cookies (also—not to digress, but add a tsp of grated orange zest to your sugar cookies, so that they aren't too vanilla-y either).
But anyway, to get back to the Purefoy recipe, the reason it was a revelation was because it was the first time I was let into the secret that not all recipes in cookbooks are perfect. In fact, most of them require quite a bit of experimentation. That little nota bene gave me the permission I needed to explore. Armed with a new confidence, I began questioning everything I'd been taught about pecan pie.
The other difference in the Purefoy recipe is that it features one additional egg (instead of 3, it calls for 4). The additional egg, and a slight adjustment in how the filling is assembled, results in an underlying custard that can actually call itself custard. The slightly wobbly sugar mass found in most pecan pies is fine, if you like that sort of thing. But this version is more like a caramel custard. And caramel custard is better than just about anything you'll ever taste.
Next, I'll touch on the sugar. In my opinion, even the original Purefoy recipe is too sugary. I'm not a fan of overly sweet desserts anyway, but can we all just agree that pecan pie is a diabetic coma waiting to happen? You can reduce the sugar by nearly half and still get the right level of sweetness, without sacrifice. Further, reducing the sugar also reduces the moisture, so the custard we talked about in the above paragraph will have a stiffer, almost chewy texture. Think flan and let the drooling begin.
Nuts: Some recipes call for toasting the nuts first. This is asinine. You are going to be toasting the nuts in the oven while it bakes. Seriously, why on earth would you add another step to the process, particularly a redundant step that only tempts fate. Burned nuts are disgusting. Please don't toast the nuts.
Per the Purefoy nota bene, use raw pecan halves—they look prettier than chopped nuts. And don't use too many. Most recipes say to fill the pie with nuts (in an odd choice, Purefoy calls for 2 entire cups–yikes). Does anyone really want a forkful of candied pecans? You don't need two cups of pecans for a 9-in pie—you only need enough to cover the bottom of your pie pan in one layer. I don't know how many that might be, but I don't think I've ever used more than one cup… probably more like ¾ of a cup.
Butter can be a tricky. Some chefs recommend that you use unsalted butter so that you can control the amount of salt. I like that idea, but I've also had terrific luck in this recipe using European style butter with salt. I don't care what you use, but whatever you do, please don't forget to put salt in somewhere. In addition, browned butter is one of those "is it done yet?" ingredients. Advice on brown butter is usually very conservative, a la, "when you smell nutty scent, you should remove it from the heat." For this recipe, however, you want a little more color to the butter. Let the butter foam take on a few bits of golden brown before you remove it from the stove.
Crust. I have to admit, I've used the store bought crust. I hate how finicky homemade crust can be. I hate chilling it, I hate rolling it out. Pie crust is too labor intensive. So, for years, I shamefully used frozen deep dish crust. But no longer. A few months ago I went to friend's house for dinner. She had made a chess pie, which I love. But I had never tasted anything like the mouthful of awesome that was her pie crust. Turns out, the pie crust is not only delicious and a perfect complement to pecans, it is also the easiest crust I've ever made. Use this  oil-based crust and, like me, you'll never even consider store-bought again.
When you and your family sit down to dinner, this year, I hope you'll save room for this slice. No really, please try it. It's not like the ones you've had before. Please to partake of my pecan pie?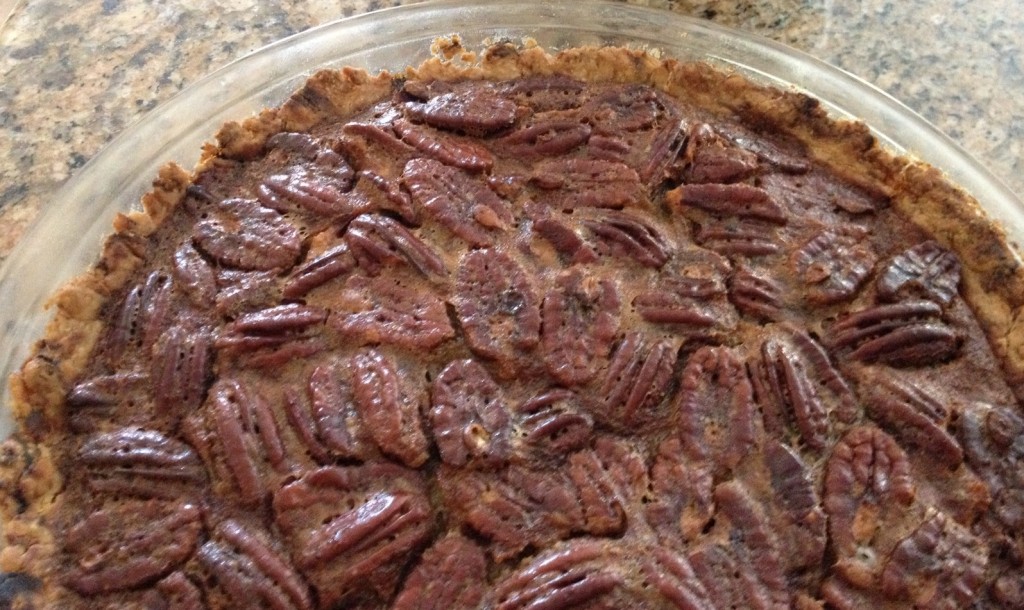 Browned Butter Pecan Pie
Crust
Yield- 9 inch pie crust
1 1/2 cups all-purpose flour
2 teaspoons white sugar
1 teaspoon salt
1/2 cup vegetable oil
2 tablespoons milk
Preheat oven to 400 degrees F (200 degrees C).
Place all ingredients in 9 inch (deep dish) pie pan. Stir together with fork. Pat mixture into bottom and up the sides of the pan. Poke holes in bottom and side of crust.
Bake for 10-15 minutes in the preheated oven, or until light brown.
Filling
6 tbs butter (European style or unsalted. If unsalted is used, add ½ tbs salt to recipe)
3/4 cup white or brown sugar
1 layer pecan halves (enough to generously cover the bottom of your pie. approx 3/4 cup)
4 large eggs
1 cup light corn syrup
Brown butter to golden brown in heavy skillet. Remove to bowl (not plastic) and stir in sugar. Add syrup in thin stream and beat in to cool the mixture. Beat in eggs, one at a time. Pour over layered pecans into pie shell, making sure to coat all the pecans. Bake at 425 F for 10 min, then turn oven down to 375 F for the rest of the cooking time — 40-50 minutes, depending on the depth of the pie shell. If crust starts to get too dark, cover entire pie with aluminum foil. Pie is done when pecans are a rich, dark brown, and the filling is completely congealed (Tap with finger to test for firmness).
—By Heather Thompson, who has been "Aunt Esther," for many years while she wrestled with this recipe. She is also the editor-in-chief of MD+DI Magazine.

var _gaq = _gaq || []; _gaq.push(['_setAccount', 'UA-36415040-1']); _gaq.push(['_trackPageview']);
(function() { var ga = document.createElement('script'); ga.type = 'text/javascript'; ga.async = true; ga.src = ('https:' == document.location.protocol ? 'https://ssl' : 'http://www') + '.google-analytics.com/ga.js'; var s = document.getElementsByTagName('script')[0]; s.parentNode.insertBefore(ga, s); })();