Estado Puro
by Matthew Dyson
Photographs by Matthew Dyson and Various Madrid Journals
Estado Puro | Plaza Cánovas del Castillo | 4, 28014, Madrid
+34 913 30 24 00
Saturday 12:00 pm – 12:00 am
I'm looking at a glass, filled with a rich, creamy foam. It looks and feels to the touch like an expensive coffee. Only I know it is filled with eggs. And caramelised onions. And liquidised potato. If ever there was such a thing as a post-modern tortilla español, this is definitely it. I plunge in and to my relief – and despite still definitely looking like a coffee – it tastes like the best omelette I've ever had.
Estado Puro is full of little surprises like that. This is Madrid tapas culture Kubrick style, a culinary Odyssey which keeps all the tradition and rich historic flavour of old Spain and playfully tips it on its head. It should be said that if there was ever a Spanish-themed space station, it would probably look like this. The bar glows orange, catching the light on hundreds of blood-red dresses on the dancing flamenco dolls which are glued to the side. Looking up, the ceiling is covered in thousands of doilies, back-lit in blue neon light. And the walls are full of clever slogans in tasteful fonts as if it has been given a makeover by a group of graphic designers.
It is the brain child of Paco Roncero, who aims to bring his Michelin star creativity to tapas, jolting it into the 21st century and making it beat in time to the lighting pace of modern Madrid.
Over the years he's more or less become the king of Spanish cooking, winning the most prestigious culinary awards including the Nobel Chef L'Avenir 2005, awarded by the International Academy of Gastronomy and the National Gastronomy Award in 2006.
But don't worry this isn't an opulent vanity project, offering tiny portions of bankrupting-priced food to the bored elite on the look out for a snack the price of a yacht. Yes it is cool. And, no this won't be for everyone. But  it is tapas at tapas prices ( €2-3 Euros) and as welcoming as any of the oak-paneled bars which have been propping up Madridians for a couple of centuries. It's just that it is so bewitching you'll probably never want to leave.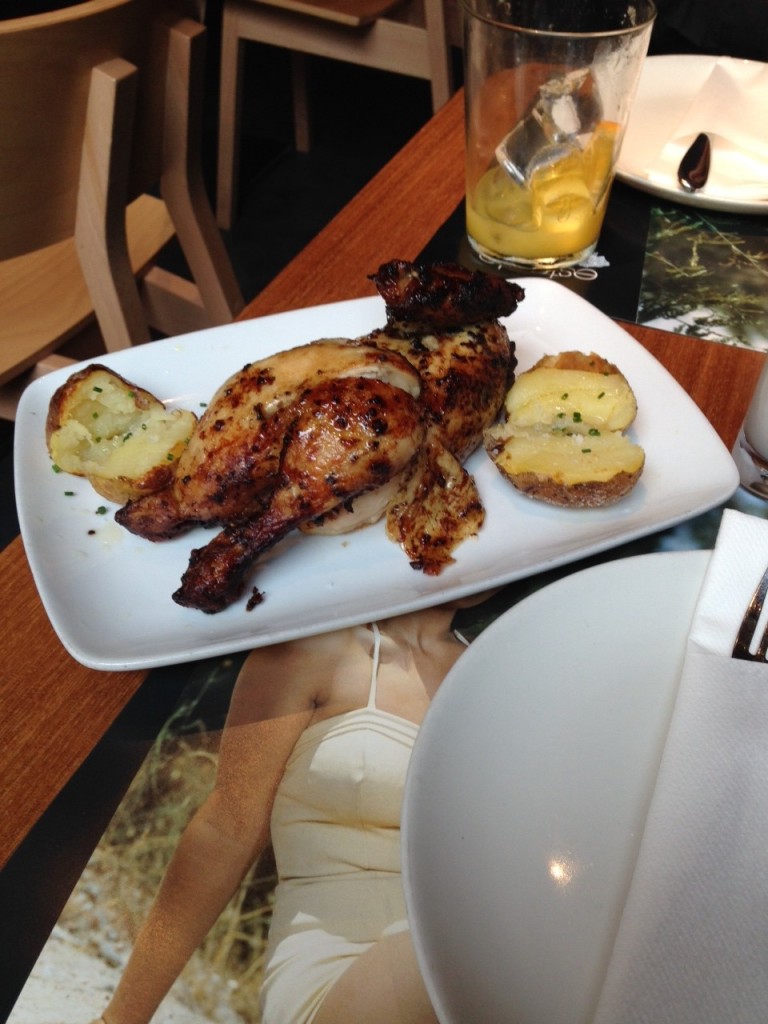 The house specialty arrives and has the opposite effect on my senses in comparison to the omelette. It looks like a plump , juicy half-roast chicken but I know it has been cooked in gin.  There's even a shot of foamy gin purée to pour on it. This should look as weird as it sounds, I think, looking for signs of willful mischief. Nope. Nothing. Just a fork gliding through perfectly cut meat, my head exploding with flavour and not long after, the frowning face of my girlfriend as I gnaw on the remaining bones like an underfed caveman.
We sit back, order vermouth and watch people drift down Huertas. There's museums full of art down the hill and when night tips past midnight, all manner of life spilling onto the street. Puro Estado bridges the gap and puts the fun back into both. A bold, brash masterpiece that messes with your mind, knows where it's from,  does things it's own way and leaves you wanting more. Just like Madrid.
_________________________________
Follow ATOD Magazine™ and A Taste of Dawn™