Celebrating Mexican Culture on Cinco de Mayo
Cinco de Mayo in Los Angeles is usually code for kickass party, but the significance of the day itself transcends the idea of another excuse to drink up. According to History.com, Cinco de Mayo, is a holiday that celebrates the date of the Mexican army's May 5, 1862 victory over France at the Battle of Puebla during the Franco-Mexican War. The day is also known as Battle of Puebla Day.
Cinco de Mayo is not Mexican Independence Day, a popular misconception. Instead, it commemorates a single battle. In 1861, Benito Juárez—a lawyer and member of the Indigenous Zapotec tribe—was elected president of Mexico. At the time, the country was in financial ruin after years of internal strife, and the new president was forced to default on debt payments to European governments. In response, France, Britain and Spain sent naval forces to Veracruz, Mexico, demanding repayment. Britain and Spain negotiated with Mexico and withdrew their forces.
While it is a relatively minor holiday in Mexico, in the United States, we've chosen this day to commemorate Mexican culture and heritage—and as one of the fastest growing populations, it deserves a particular level of jubilation. Did you know that according to a study done by Pew Research, the U.S. Hispanic population reached 62.1 million in 2020, an increase of 23% over the previous decade that outpaced the nation's 7% overall population growth? It's time to not only recognize our Hispanic population, but celebrate the rich culture it brings to this nation.
As a proud granddaughter of Mexican and Spanish immigrants who called Los Angeles home, any chance we have to celebrate Hispanic, Latino and Chicano heritage is something we love. Note that Los Angeles is the largest Hispanic-populated county in the U.S.! Viva la Mexico y feliz cinco de mayo!
---
Below are a few recipes to kick off the celebration.
[columns_row width="half"] [column]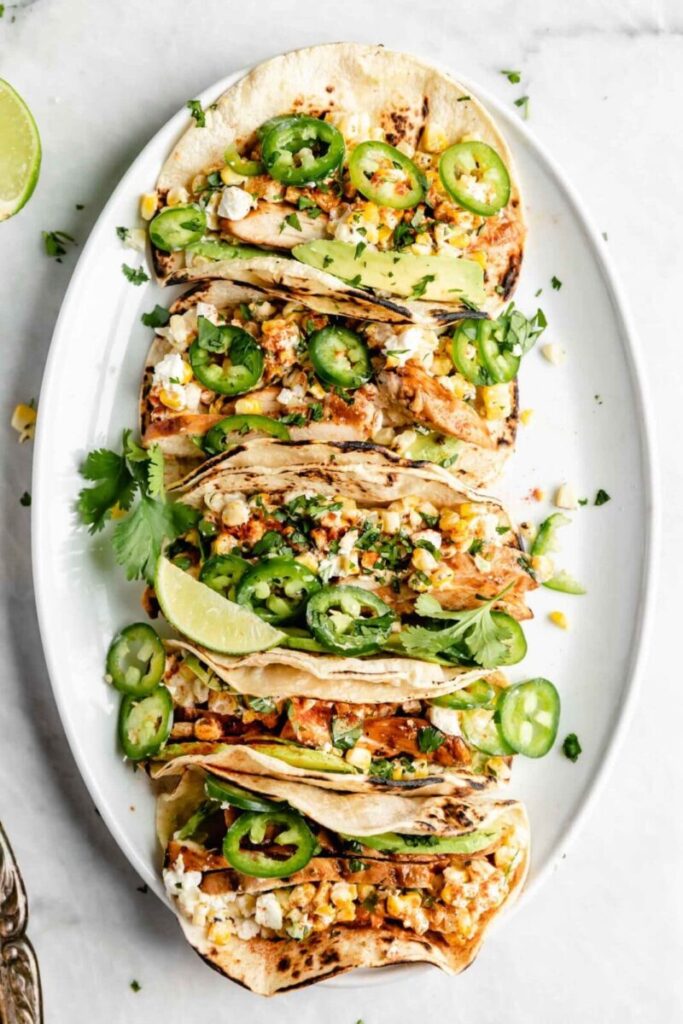 [/column] [column]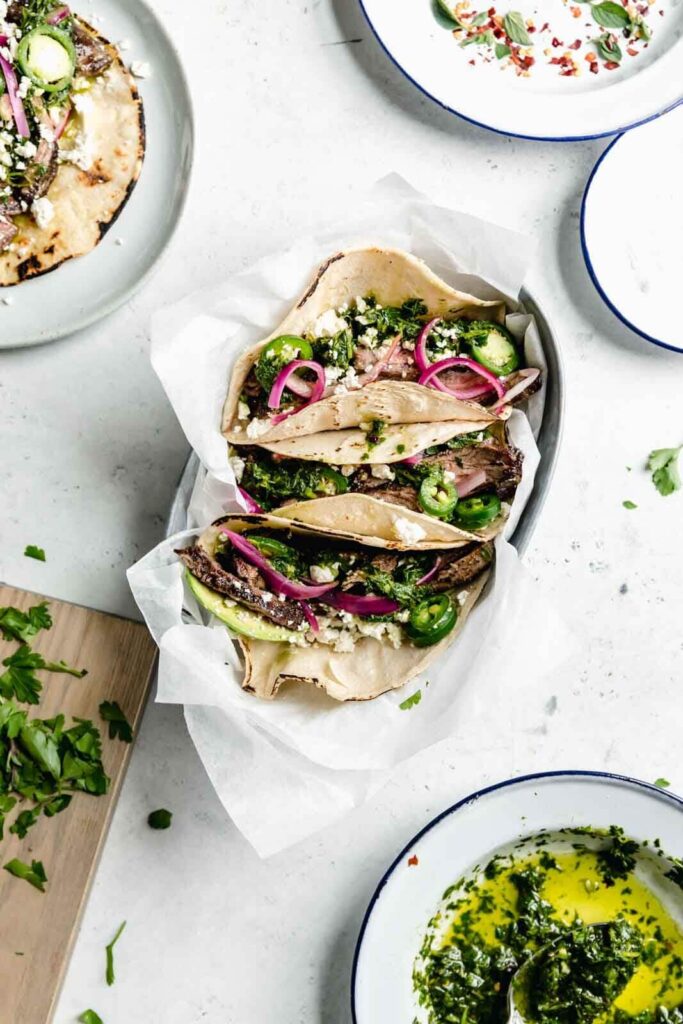 [/column] [/columns_row]
BARBECUE CHICKEN STREET CORN TACOS
INGREDIENTS
For the elote
 2 large ears fresh corn, husked  and washed
1/4 cup mayonnaise
1/4 cup crema, greek yogurt, or sour cream
1/2 teaspoon chili powder
1 Tablespoon lime juice
1/4 cup cotija cheese* (sub option: feta)
For the tacos
8 corn tortillas
3 chicken breasts, grilled and barbecued
1 large avocado, sliced thin
2 jalapeños, sliced thin
fresh cilantro
2 limes
salt and pepper to taste
INSTRUCTION
Preheat grill 500°F. Grill the husked corn until it's fully cooked, about 10 to 15. Rotate every three minutes to get an even char throughout. Remove the corn from the grill and keep warm!
In a bowl whisk together the mayonnaise, crema, lime juice, and chili powder. Add salt and pepper to taste. Slather the crema mixture over the cooked corn and top with crumbled cotija. It's messy. Don't worry.
Using a sharp, serrated knife, cut the corn off the cob and set aside to use in the tacos.
For the tacos
Prepare chicken on the grill (or buy some pre made to save time!), and set aside.
Place corn tortillas on the grill to warm up. Assemble the tacos one at a time, placing the street corn, slices of chicken, avocado, and jalapeños into the warmed tortillas. Garnish with fresh cilantro and limes if desired. Enjoy!
CHIMICHURRI STEAK TACOS
For the quick pickled red onions
1 large red onion, sliced
1/2 cup water
1/4 cup white vinegar
1 tablespoon granulated sugar
For the tacos
1 1/2 pounds flank steak
1 avocado, sliced
crumbled cotija cheese
2 jalapeños, thinly sliced
8 white corn tortillas (or any taco shell of your choice!)
cilantro (optional for garnish)
INSTRUCTION
For the red onions
In a small sauce pan add the sliced red onions, water, white vinegar and sugar. Bring mixture to a boil and then turn off the heat. Let the onions sit for at least 15 minutes to pickle.
For the tacos
Season steak with salt and pepper on both sides. Preheat a large caste iron skillet or grill over high heat. Add in a high-heat oil (avocado works well!) to coat the surface of the pan.
Carefully place steak in pan and cook for 1 to 2 minutes on each side, creating a nice, even char. Sear steak around the edges, as well, to seal in all the juices and flavor. To tell if your steak is done, use a meat thermometer to check the internal temperature.  The steak should be at 135°F for medium rare, 140°F for medium, or 145°F for medium well.
Take the steak off the heat and let it rest for least 15 minutes before slicing into 1/4 thick slices to use in your tacos.
To char the tortillas, turn your oven to broil. Place tortillas on a large baking sheet, then place in the oven for about 30 seconds. Remove from oven, flip the tortillas over, and repeat on the other side.
To assemble the tacos, take one tortilla and lay it flat. Place desired amount of steak onto the tortilla, sliced avocado, crumbled cheese, some pickled onions and jalapeño slices. Spoon chimichurri sauce over the filling. Repeat with the remaining tacos.
---
CBD | Non-Alcoholic Cocktails
Sky Wellness Pina Colada
INGREDIENTS
6 ounces pineapple juice
3 ounces coconut cream
1 dropper Sky Wellness Focus Pineapple CBD oil
1-2 cups ice
Pineapple slice and maraschino cherry for garnish
INSTRUCTION
Place all of the ingredients in a blender and mix until smooth. Pour into a chilled glass and garnish with a pineapple slice and maraschino cherry.
Sky Wellness CBD Spritzer
INGREDIENTS
INSTRUCTION
Place ice cubes in your glass of choice and add 1 dropper (1 mL) of Sky Wellness Relax Tropical Smoothie CBD oil drops over the ice. Slowly pour Limoncello sparkling water over ice and give the mixture a gentle stir. Garnish with a lemon slice and enjoy!

Sky Wellness CBD Mojito
INGREDIENTS
INSTRUCTION
Muddle the sugar with leaves from the mint using a pestle and mortar. Put a handful of crushed ice into 2 tall glasses. Divide the lime juice between the glasses with the mint mix. Add one dropper of Sky Wellness Relied Spearmint CBD oil to each glass and top off with soda water. Add a straw and garnish with mint.
ABOUT SKY WELLNESS
Sky Wellness is the leading challenger brand in the CBD industry. With a portfolio of five brands: Sky Wellness™, CBDaF!, D Oh Gee, EquineX , and RipD, the company makes, markets, and sells more than 100 affordable, premium THC Free, Isolate and Full Spectrum Hemp-derived CBD products designed to elevate health, enhance well-being, and make people and their animals… feel better. Each product is made only from the highest quality raw materials in the cleanest, safest, certified facilities, all verified via rigorous third-party testing. The goal of Sky Wellness is to make customers feel better by optimizing wellness outcomes through the benefits of Hemp-derived CBD. Available online at skywellness.com and at nearly 3,600 Convenience & specialty retail locations nationwide. By the end of 2022, Sky Wellness's portfolio of CBD brands will be available in more than 10,000 C-Store, Grocery, Drug, and specialty retail locations across the United States and online through more than a dozen of the most popular CBD eCommerce sites and marketplaces.