The LUXY Exhibition encourages you to sit down, imagine, and create.
[dropcap letter="D"]esign is a tricky thing. While it is left up to a person to find design that speaks to them deeply and individually, creativity is a process in which an artist invites you to explore your own objectivity in a subjective way. That beautiful symbiosis that can occur between artist and surveyor is not only intriguing, it's downright necessary. Imagine a world where that feeling of connection could transport you more regularly. That's the power of art and design, especially those cemented in introspection. With that in mind, the
Barbara Davis Gallery's
latest LUXY Exhibition in Houston is inviting you to open yourself up to that precise idea.
The Gallery announced The Journey of the Chair, a solo exhibition unveiling Andrea Bianconi's limited edition Biga chair, Sit Down To Have an Idea. Produced by Italian chair designer LUXY, Biga will be on display now through August 27th. Andrea Bianconi's Sit Down To Have an Idea poses the very introspective notion that one of humanity's greatest assets is our ability to contemplate; to think. It is in that process of thought—of pause—in which we allow creativity to soar, solutions to present themselves, and innovation to come to life. All of which lend to the truly exquisite birth of design—and in this case, the design is imagined through Bianconi's idea chair.
Luxy, with its international reputation for being specialized in the production of design chairs, is driven by new functional, aesthetic, and the psychological need for contemporary living, birthed during a time of smartworking. Smartworking is defined as "a model of work that uses new technologies and the development of existing technologies to improve both the performance and the satisfaction that is obtained from the job".
When we as a collective global society encountered the pandemic, companies had to reimagine the workplace. Gone are the days of dull fluorescent-lit corporate offices where too many toiled their days away in the confines of their cubicles or enclosed spaces. Innovation presented itself and companies and creatives were listening.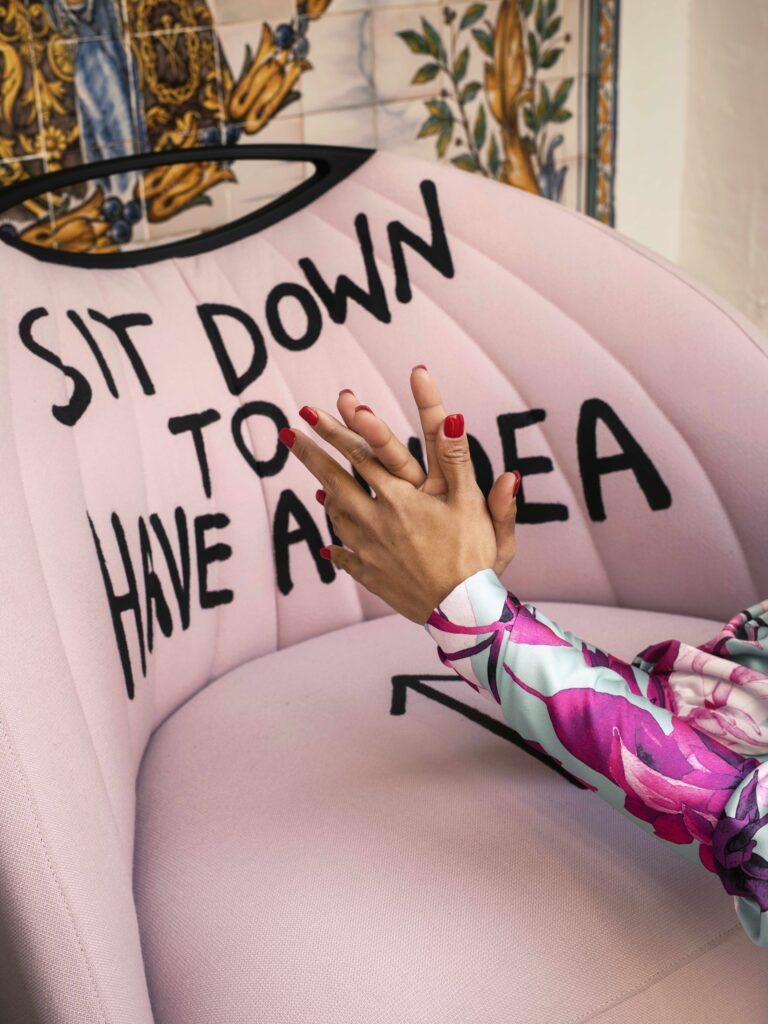 Now in the stead of corporate buildings and perhaps impersonal spaces, we usher in the workspace at home that feeds our soul through personal design. And, as luck would have it, in doing so it has been proven to result in far more creative productivity. Companies have since warmed up to the idea of the hybrid workspace where people work from home and in the office. As a result, the work environments at home are now design-centric and the once cold and drab workplaces are now peppered with more color, more greenery, and a far more welcoming space for those who need it most: the people.
With this in mind, the Biga armchair becomes a metaphorical object, representative of the birthplace of ideas; it is where one returns to imagine, think, create. A reinvigoration of what productivity and imagination can be.
This is why the artistic idea behind Sit Down To Have an Idea is people-oriented, offering not just a piece of furniture, but a true experience.
I wanted to reinterpret the role of the chair and give it a specific function: the task of stimulating creativity." Bianconi continues, "In a moment of closure it was the greatest form of freedom I had at my disposal."
Bianconi's work is a reflection on the concept of ideas as "visions", always personal and ever elusive. To capture its essence we need to pause, think, and listen. The Journey of the Chair will invite the viewer into a neutral place where one uses thought to imagine the future or understand the present.
Inspired by a Roman chariot that can be easily moved from one place to another thanks to its wheels, Biga represents a true way of life, a new philosophy with humans at the forefront that re-establishes the value and central role of the individual in their creative everyday life.
Davis has had the gallery for 38 years. Inspired by a love of music, in lieu of not having spent a childhood wandering museums, it was music that ignited her sensitivity that would inevitably lead her to art. "Later in life, when I was first exposed to the art world, I felt an immediate connection with it and it was a very intuitive feeling. The art world has given me the most fulfilling and magical moments of my life." As such, that sense of passion and wonder led her to Sit Down and Have an Idea. While the chair itself  creates a tangible sense of connection, it also offers a rare and simple excuse to look inward.
"You hope that when the viewer interacts with Andrea's Sit Down to Have an Idea chair that the experience evokes a quiet space where one's mind is very clear, where you can become aware of yourself, where you can imagine, where you can think."
In a world where we went from hyper speed to static, aside from being a chair brought to life by imagination, creativity, and design, it is the physical elements of functionality that evoke a sense of solace. "The imagination is the most important vehicle of freedom. So this chair is meant to be a comfort to people; that comfort comes from the feeling that the people get when they try to interact with the chair," Bianconi says. He continues, "This chair is meant to set you into a deep and personal conversation with yourself. There is a feeling of protection that comes physically from the chair."
Bianconi came across design studio Favaretto & Partners, who technically designed Biga but it was the moment he saw it that it awakened the conception of the story he refers to as the Sit Down To Have an Idea Manifesto. "I specifically chose the pink BIGA chair because I was inspired by its historical form, which is reminiscent of the grand Roman chariots with their wheels. A chair with wheels, a chair that can be moved from one place to another. It is a chair that contains the idea of travel and displacement."
As an artist, Bianconi's passion and lust for creativity and imagination is evident in his depth.
My journey [as an artist] is like the arrow. The arrow metaphorically and physically speaking goes in many directions.
He goes on to add, "I am always looking for interactions and connections with the viewer and the environment. With my work, I am always asking a question—and by putting it out there, I am always searching for the answer."
The exhibition runs through August 27th.
Barbara Davis Gallery is located at 4411 Montrose Blvd-Unit 600, Houston, TX.