Like all things, we are ushering in a new era of sober curiosity and the rise of the mocktail
Are we entering a new era of the mocktail? It seems alcohol consumption spiked in 2020 (we all know why), but as of today, the trend of cutting out drinking and leaning towards a more sober curious way of life is taking flight. Once 2020 invaded our lives like a parasite (not to be confused with the epic movie, Parasite), consumers have shifted their focus from partying it up to investing their time and energy (and money) into wellness and mental well-being.
According to NielsenIQ, in the first two weeks of January 2022, no- and low-alcohol sales totaled $106 million; with non-alcohol sales at $13.6 million and low-alcohol products at $92.8 million. "Non-alcohol products are seeing a 19% increase in dollar sales, whereas total alcohol sales are down 6.7%. Within this new year, non-alcohol products are already showing heightened share with 0.5% share of total alcohol sales, compared to 0.4% during the same time last year. It should be noted that historically, sales for both the total alcohol and non-alcoholic categories typically decline in January."
"People are more aware of their health and are more interested in boosting their immunity since Covid arrived on the scene," researcher Erica Numert said. The study found that those in the highest income brackets and with the lowest levels of stress over the pandemic were also the ones who reduced their alcohol consumption the most. Those who reported the highest levels of stress over finances and Covid tended to not reduce their alcohol intake or increased it.
And it seems the trend to cut it out is continuing. By the end of 2021, non-alcohol sales hit a record $349 million in sales. If January of 2022 marked $106 million, it's going to be fascinating to see how this year's numbers stack up against overall alcohol sales and alcohol consumption in comparison. With popular books such as Quit Like A Woman, The Mountain Is You, Sober As F***, The Unexpected Joy of Being Sober, Mindful Drinking and of course the journeys of sober icons like Jamie Lee Curtis, Brad Pitt, Kendrick Lamar, and legendary Shame & Resilience guru Brené Brown, being sober isn't just edgy, it's popular. Even Katy Perry has her own line of non-alcoholic spirits, De Soi (which translates to "self"). In an interview she did with Elle she said, "I'm not saying no to alcohol ever, but I'm 37. I wanted more of a balance during the week, when I put my daughter to bed at 7:30 and want to unwind but not necessarily with wine." Bella Hadid agrees, hence the launch of her non-alcoholic brand Kin Euphorics.
As someone who has spent the better part of her adult life consuming alcohol, working in entertainment, going into publishing where I've been tasked with drinking some of the best spirits in the world, I made a conscious choice in November of 2021 to cut way back on alcohol. While I don't know that I can say it interfered with my life, I was facing some intense hardships in 2021 and I wanted to be fully present once those hardships reached a tipping point. I wanted every decision I made to be clear-headed, mindful, and acutely aware. With the choice to cut way back and focus on my writing career, motherhood, and being more mindful of spending (once the pandemic started to show signs of slowing), it wasn't an easy road.
Some are lucky enough to never have been tempted by a good glass of wine or a damn fine bourbon but I am not one of the lucky ones. I can't say I drank in excess, but anything that alters the mind and can hinder the creative well isn't worth it at this point in my life. So in January I made the decision to download the ReframeApp and began taking living alcohol-free seriously. Utilizing CBT (Cognitive Behavior Therapy) and DBT (Dialectical Behavior Therapy), the app has changed my relationship to alcohol. I slowly began a journey of introspection, self-reflection, learning and understanding coping mechanisms, gaining tools to help in times of crisis, and how to maneuver life and life's stressors without turning to alcohol.
It didn't take long to realize that living more mindfully fed my creativity in ways I never knew were possible. Waking up without weekend hangovers or feeling like I might have said something I didn't mean to was refreshing. The first six weeks I decided to limit myself to 2 drinks a week, but by the end of week six, I cut it out entirely. Within two weeks I was sleeping better (and I had been struggling with insomnia for decades), I started to feel stronger (turns out alcohol was depleting more than my sleep), and I could write faster and more efficiently without needing mental lubrication. Not that I drank like a fish or anything, but for some reason when you cut out the thing you don't think is a problem, you realize (rather quickly) that it could have been a problem.
To date it's been 227 days and of those, 190 have been alcohol-free. I plan on staying on this path, and while maybe sometimes I'll have a glass of wine or a bourbon, I have a feeling I will happily swap out alcohol for tonic water or one of the many exquisite non-alcoholic options above. I like the idea of going through life with eyes wide open and nothing but clarity to guide me. Everyone's journey is unique to them, but embracing a little less intake is good for the soul.
So what to drink when you want that Instagrammable worthy cocktail, but don't want the alcohol or the unwanted side effects? Mocktails are your answer and so many mixologists are creating delectable options. There are also some really high end non-alcoholic spirits available to get curious at home. With the shift to veer away from alcohol consumption and more towards mindfulness, brands like Rebel, Seedlip, Lyre's Non Alcoholic Spirits, Hella Cocktail, and Ritual are high on the list of truly worthy options. Even legendary brand Martini & Rossi created mocktail recipes with their Vibrante and the Floreale aperitivos.
The mocktail recipes below are the perfect options to practice mindful drinking, even if it is just once a week or for a larger goal like "Sober September or Sober October". Two are made using a combination of traditional and contemporary methods, without compromising the same high-quality ingredients that Martini & Rossi's Vermouths are known for. The other three are ones I think are beautiful, elegant, and stand on their own.
I also recommend (for those that like bubbly) to look into natural alternatives like Spindrift (Grapefruit/Lime/Blood Orange are my picks), Fever Tree tonic water (Light/Elderberry are my picks) and Trader Joe's tonic water. Throw in a touch of cranberry juice or bitters, make a mock Paloma or spritzer, and you'll get that same cocktail feel without any of the negative after effects. The final upside to cutting back on alcohol consumption is the financial aspects. Amazing how much money you can save by making that one adjustment!
Whatever your journey, enjoy the moments. Cheers!
---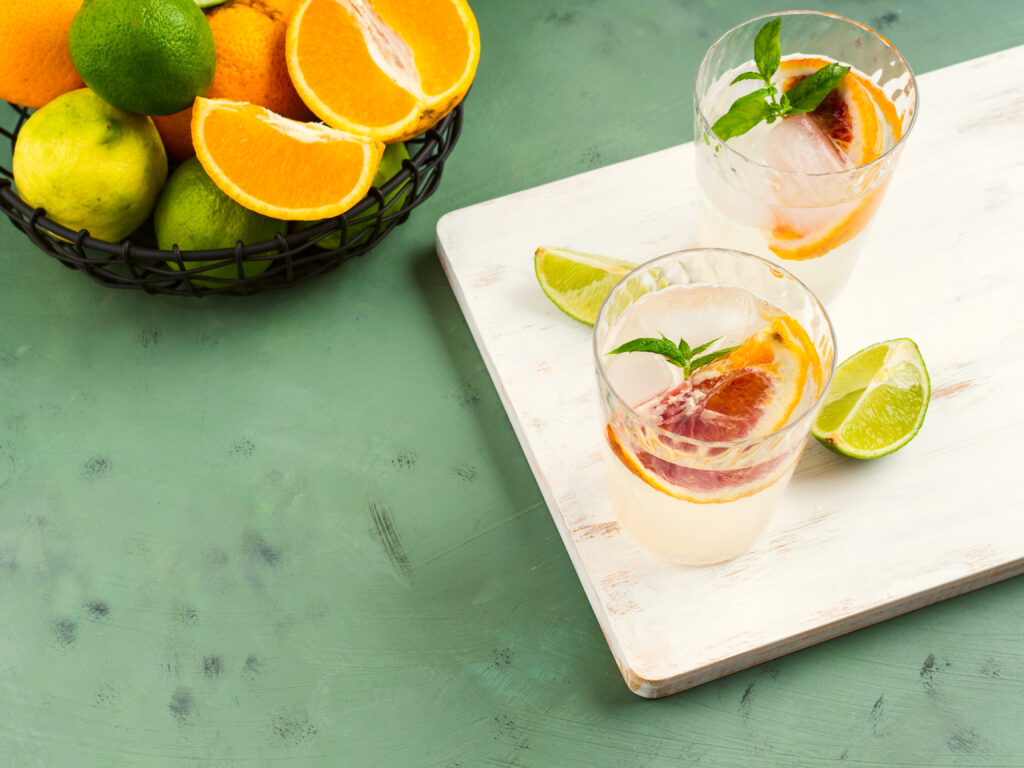 Vibrante Spritz
INGREDIENTS
2 oz MARTINI & ROSSI Non-Alcoholic Vibrante
1 oz Grapefruit Juice
Soda Water
Ice
METHOD
Pack a high glass with ice
Pour the MARTINI & ROSSI Non-Alcoholic Vibrante and Grapefruit juice into the glass.
Add soda to top.
Stir gently for a few moments.
Garnish with the grapefruit wheel and enjoy!
---
Vermuttino | Floreale
INGREDIENTS
2oz MARTINI & ROSSI® Non-Alcoholic Floreale
3oz Soda Water
Lemon twist
Ice
METHOD
Pack a Collins glass with ice.
Pour the MARTINI & ROSSI® Non-Alcoholic Floreale and add soda to top.
Stir gently for a few moments.
Garnish with the lemon twist.
---
Grapefruit and Rosemary Mocktail
by Katie The Casual Craftlete | Serves: 4 drinks
INGREDIENTS
2 cups fresh pink grapefruit juice
¼ cup of the rosemary simple syrup
4 cups sparkling water
Rosemary Simple Syrup
1 cup water
1 cup granulated sugar
3 sprigs of rosemary
METHOD
Rosemary Simple Syrup: In a small sauce pan on the stove, add 1 cup of water and 1 cup of granulated sugar over medium heat. Dissolve the sugar for about 5 minutes. Do not let the mixture boil or crystals will form. Once the sugar has dissolved, pour the simple syrup into a heat safe container. Add 3 sprigs of rosemary and let steep for at least one hour. The syrup will keep in the refrigerator for ten days.
Mocktail per glass: Add ½ cup fresh pink grapefruit into a serving glass. Add 1 Tablespoon (1/2 oz) of rosemary simple syrup. Stir. Fill the remainder of the glass with sparkling water (about 1 cup)
Garnish with rosemary sprig
Served chilled
---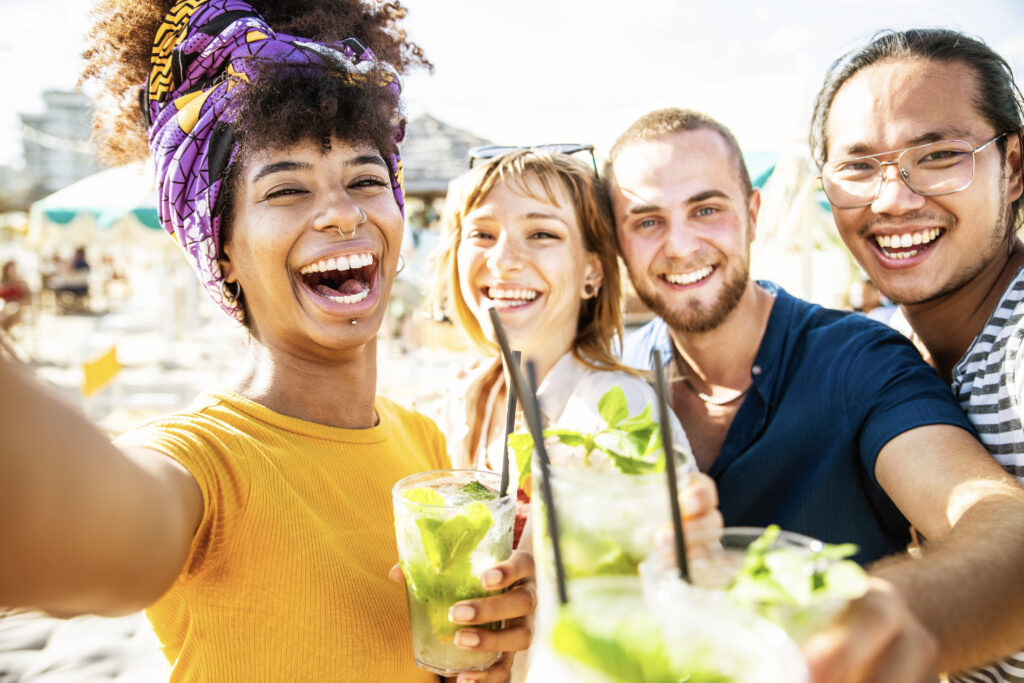 INGREDIENTS
¼ cup of fresh mixed berries, or your favorite fruits of choice
1 tsp of vanilla extract
3 dashes of orange extract
1.5oz of orange juice
1.5oz of cranberry juice cocktail
A spritz of lime
Ice
METHOD
Simply mix all of the ingredients and pour over ice in a wine glass.
---
Ritual Mojito
INGREDIENTS
6-8 mint leaves
1oz of fresh lime juice
½ oz of simple syrup (1 part sugar, 1 part water)
Sparkling water
Ice
METHOD
In a highball glass, add six mint leaves and muddle to release the flavor from the mint.
Add the Zero Proof rum, lime juice and simple syrup and stir well.
Then, fill the glass with ice, and top off with sparkling water.
Use the remaining mint to garnish.