More than just a handbag, Carla Busso has brought her cultural roots to life through design
In a world where fashion is work and work is fashion, having a functional and truly authentic work bag is high on the list when you care to make a statement. Meet Carla Busso, an Argentinian and Italian designer who believes women's handbags should be bold and purposeful. Launching the latest line of handbags that put the play back in your work, Busso's Singapore bags are sleek in design, effortlessly stunning, and impeccably made.
It turns out that retail sales of handbags in the United States from 2010 to 2021 has seen a considerable jump. In 2021, the retail sale of handbags in the United States amounted to approximately $13 billion US. dollars. That is a tremendous amount of growth. It seems that women are taking their handbag affections to all new heights and Busso's latest line is primed for success.
I love the story about using handbags as your conversation piece and how it prompted the idea to create your own. What were some hurdles you encountered during the initial design stages that ended up becoming the catalyst for your first line?
When I decided to join the world of design, I realized that I was effectively entering into a new and totally different world to the one I was used to.
The very first stage is a tough hurdle because this is when you need to translate your idea into a sketch.
Once you pull this one off, you go into production where there are many details to take into consideration, especially for someone (like me) obsessed with details. For example: firstly, the leather you choose has to adapt well to the bag model. Secondly, the hardware:  the thickness of the chain, making sure that the link does not bother the shoulder and that it adapts well to different women's sizes; then the closures and zipper pulls: you need to choose up to the length of each tooth depending on whether it is the main closure of the bag, or the closure of an inside pocket. Each creation is the birth of something new, in which you have to think about every detail. I would tell you that there are more than 25 elements to consider. You have to do tests—and more tests—until you see your prototype created and you find a sample that satisfies your initial vision.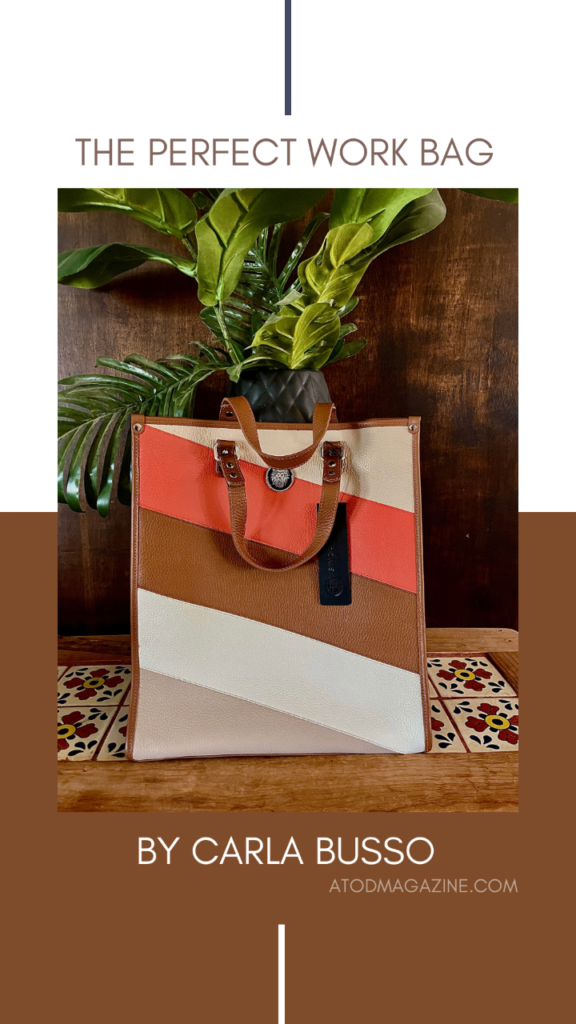 With both Argentinian and Italian roots, what aspects of the region are represented in your line? Is there a bag that screams "a moment in Italy" or a color scheme that makes you "envision Argentina"?
What really inspires me is to analyze the evolution that handbags have had over time, and then take that as a starting point and update it for women of today. Our Taylor Vanda, the first inspiration came from observing the first pochette bags that were created in the 12th century in France and Italy, the famous Sweetmeat Purse. Since then, I had looked at the pochette created by leading designers like Louis Vuitton, but I was looking for something else. When a woman has a party or a cocktail, she usually wants to carry her basic belongings in her Clutch: ID, cell phone, lipstick, blush, candies, etcetera, and evening clutches do not always allow you to carry all these "essentials" . So, I decided to recreate the Pochette-Baguette bag, being a bag that is used for all kinds of events, without asking you to give up any "essentials" when going to a party or event.
If I tell you about our iconic Tote Bag, I think they all have a special meaning: the tan and orange range, reminds me of the colors of the Argentine countryside, they are the most predominant colors you see when you go to a Polo open: the horses, orange mounts, sticks. The origin of Argentina represents me. If, for example, I observe the Blue and Red Tote, that has been pure nautical inspiration, from my days in Miami, with the colors of the US flag, and also of France. And so… I could detail each model, how it combines Argentine and European roots.
In a marketplace often oversaturated with handbags, what is it about your handbags that you feel tells a story others can't?
Precisely this, wanting to be different, feel different, elegant all day, SEASONLESS, and wear something that distinguishes you. You know, we do not produce more than 200 bags for each model, that means that each production is limited in quantity, so our clients know that they find uniqueness in our brand. In addition, we use super noble materials of Premium quality, which makes it a bag that, just by seeing it from a distance, radiates sophistication to those who wear it. Being elegant, fun, disruptive and clever, I think you find that in our products.
What advice would you give young Latina designers?
I am not a person who likes to give advice.
I would only say that if you have a dream and you are determined to go for it, just ENJOY the journey.
Don't be so anxious about the end results, those will come. But the journey has to be exciting and enjoyable!

What has been a business decision you made that you know gave you the confidence to tackle this industry head on, on your terms?
The hardest decision I had to make was during the pandemic. There are times when the context or situations that exceed your control make you rethink projects—and also cause you to think about whether they are viable.  You have to know and trust that every adverse situation will bring an opportunity; And that's when you have to be audacious and go for it!
This context led us to think of a broad market like the American one, highly developed in terms of online sales and fulfillment centers (because with the lockdown you didn't have the chance to see the products physically). I think that given the global uncertainty, we are open to diversifying the entire business: that is, manufacturing, suppliers of hardware, leather, fabrics, skilled labor. This ensured that the business always has production on time, regardless of global context situations.
To browse all of the Carla Busso, Handbag Atelier lines, visit www.carlabusso.com
---
Carla Busso, who was born in Argentina with Italian roots, has a combination that means a double passion for finding the beauty in life. Before pursuing her dream of creating designer bags for women, Carla spent 20 years in the corporate world as an actuary, where she did an extensive amount of traveling and developed a deep attention to detail and a particular way of looking at the world. She also spent that time using a lot of handbags.
Designer purses became a way for Carla to express herself and bring some much-needed inspiration into a completely classical corporate environment. They also became a way for her to indulge herself, with a strong sense of satisfaction anytime she'd get asked about her various leather companions. Rather than being an exception, Carla found herself getting asked about her bags everywhere she went, including when she was at the gym, the airport, walking down the street, and out with friends.