Hyperspective
Immersive Film Festival
Ace Hotel Dome DTLA
In one of Downtown's most beloved venues, a film festival is coming that will open your eyes, wake up your mind, and bring you to a visual portal into another world. Thanks to RYOT, HYPERSPECTIVE, a free immersive film festival launches November 30th.
Discover an infinite multitude of simultaneous perspectives as you screen next-generation immersive films in a 360-degree dome theatre.
Created, powered and curated by META, HYPERSPECTIVE will feature short and long-format immersive films from award-winning filmmakers David OReilly, Marshmallow Laser Feast, Dirt Empire, and more, along with musical scores by ODESZA, Robot Koch, Danny Bensi + Sunder Jurriaans and many more.
The festival experience will also host a listening party for rock band MAE's new record "Multi-sensory Aesthetic Experience," with a live visual score by David Lobser's acclaimed VR journey "Cosmic Sugar."
For tickets and the screening schedule, check below.
SCREENINGS
HYPERSPECTIVE screenings begin Friday, November 30 and Saturday, December 1 at 1 p.m., 4 p.m. and 9 p.m. and Sunday, December 2 at 1 p.m. and 4 p.m.
The full three-hour experience includes entry to three programs: "Stories," showing narrative-based films, "By Design," showing abstract and experimental films, and "Eye of the Dream," showing the full-length feature by David OReilly.
There will be short breaks between programs for entry and exit should you choose to come to one specific program.
STORIES (First Hour of Block) 
The Ark by Dirt Empire // A Strange Travelogue by Julius Horsthuis // In the Eyes of the Animal by Marshmallow Laser Feast // Chain Opera by Holly Herndon & Mathew Dryhurst // Abstraction – music by ODESZA, Directed by Tristan Ferreira, VFX by Esteban Diacono + Beeple (Mike Winkelman) + Teun van der Zalm + Julius Horthius
BY DESIGN (Second Hour of Block)
Ho meo morph ism by Ouchhh // Sphere by Robot Koch and Mickael Le Goff // Hyperreal by Jonathan Thompson // Berlin Animation Festival Intro by Dyrdee // Kaleidoscope by MAE + David Lobser // Extraordinary Alien by Fatima al Qadiri + Transforma
EYE OF THE DREAM (~45 Minutes, Third Hour of Block)
by David OReilly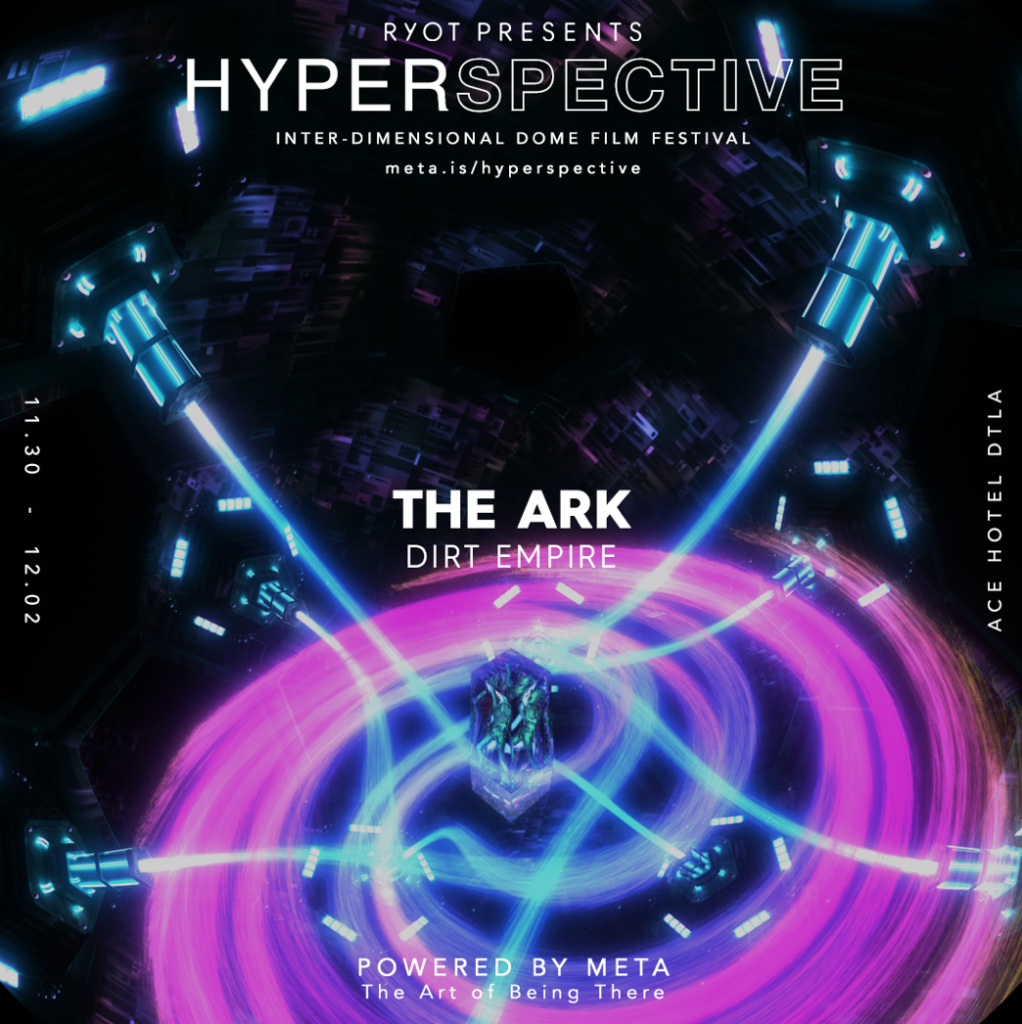 SCHEDULE
Friday, November 30th
Noon – 1:00pm – SPECIAL EVENT TBA
1:00pm – 4:00pm – SCREENING  1
4:00pm – 7:00pm – SCREENING 2
8:00pm – 9:00pm – MAE + COSMIC SUGAR LISTENING PARTY
9:00pm – Midnight – SCREENING 3
Saturday, December 1
1:00pm – 4:00pm – SCREENING 1
4:00pm – 7:00pm – SCREENING 2
8:00pm – 9:00pm – SPECIAL EVENT TBA
9:00pm – Midnight – SCREENING 3
Sunday, December 2
Noon – 1:00pm – SPECIAL EVENT TBA
1:00pm – 4:00pm – SCREENING 1
4:00pm – 7:00pm – SCREENING 2
RESERVE FREE TIX