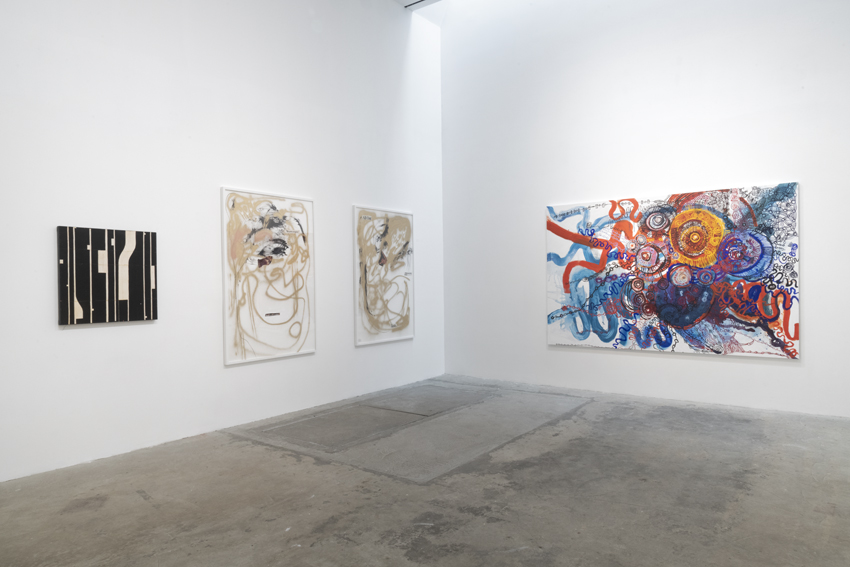 NY | Olsen Gruin – PENUMBRA | OPENS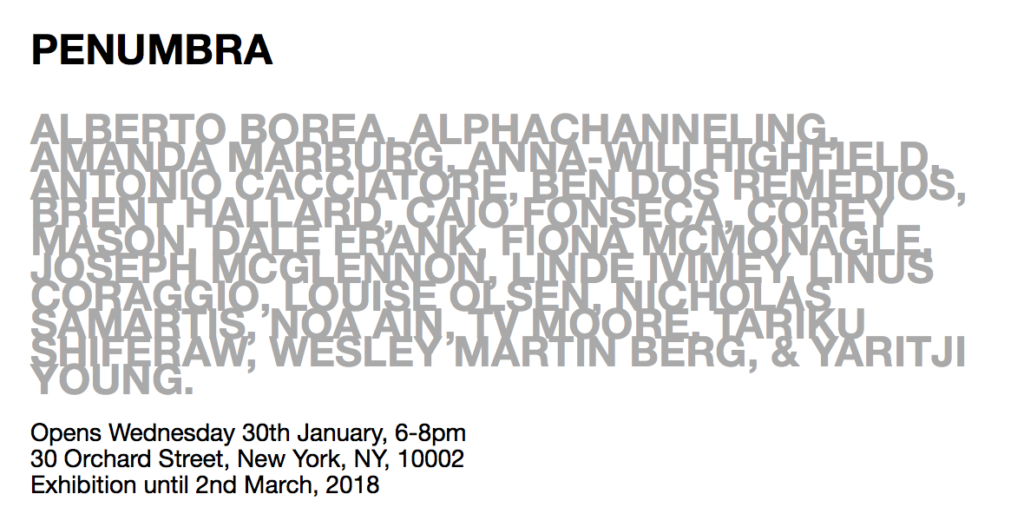 Olsen Gruin presents a collaborative exhibition of grand proportions featuring 21 artists, Penumbra. Bringing to light the elements of spatial awareness and illumination, the exhibition explores the idea of one's shadow and the meaning behind it. Utilizing multiple mediums from painting, photography, sculptures, drawings, and the beautiful and sometimes tense connectivity of nature, beauty, and the darkness and light that exists within us.
Opening in New York,Penumbra will be on view from January 22 – March 2, 2019.
"Centering around a natural phenomenon, Penumbra, illuminates organically occurring beauty. Several artists featured in Penumbra, express an interest in the intricacy and complexity of the natural world. Alphachanneling's work dives into the rawness of nature through subject matter and form. The artist depicts sexual scenes, set in the embrace of flora and fauna, depicted with bare and reduced colored pencil line work. Ben Dos Remedios' work mirrors the juxtaposition of light and dark through a combination of painting, drawing, and abstraction to create highly contrasted images of flowers and plants. Antonio Cacciatore uses paintbrushes, stencils, and chance/mechanical painting techniques to create a stunningly intimate rendition of the natural world. Cacciatore distorts the light around recognizable wildlife images in order to abstract traditionally presupposed elements. Sculptor Anna-Wili Highfield combines contrasting fragments; brass with natural materials, including freshwater pearls, shell, feathers, onyx, and coral, and with fabrics like velvet, linen, and felt to invoke the cacophonic spirit of animals. Her work becomes more than a totemic friend or talisman; it bears her identity. In addition, the complexity of the internal and external world of nature is manifested in TV Moore's striking depiction of a collection of flowers. The work is reminiscent of a blurry film shot, taken when the subject wasn't prepared. The natural world is ever-changing and always moving, making it impossible to capture. Joseph McGlennon's series Florilegium is a direct response to magnified fading memories in observing nature at its most fragile and elusive. Penumbra also features work from Aboriginal artist, Yaritji Young. Her painting tells a story known to her people about the natural world, "My paintings are of my country: my father's country, my grandmother's country, the Tjala country. Everything that my grandmother taught me, I'm teaching to my grandchildren now. They dance because I have shared what I got from my grandmother with my granddaughters, so they can know their culture."
Darkness, cardinal to Penumbra, is a void and represents possibility and space for invention. Several of the artists featured, will be showing abstracted works, allowing for continual discovery and change. Through optical illusion, Box V, for the container of colour, by Brent Hallard, bends the mind and seemingly, the canvas. The color supersedes its own containment, challenging the confinement of the canvas by continually changing. Similarly, Caio Fonseca, draws attention to the confinement of painting as a form. Through expressive linework, Corey Mason creates halo-like layers of intentional smudges, and fingerprints with Prussian Blue pigment. The insistent tactility and immediacy  of his work recalls the Paleolithic cave paintings of France and Spain.
Penumbra finally references an inherent psychological conversation within mankind. The struggle for identity and self-realization is a universal human constant, which several featured artists address in their work. By capturing a brief but magnificent moment in time, embodied by a black thoroughbred, Nicholas Samartis' work, Worship Everything and More Will Appear, further investigates the untapped vitality of the ephemeral. By painting plasticine figures as opposed to real life in her work, Amanda Marburg plays with the interchange between two- and three-dimensional forms, thereby offering a sustained examination of the tropes that premise painting as a type of model. She builds plasticine figures and structures before photographing the strange worlds she creates against studio backdrops, which then act as the final basis for her paintings. Also included is Alberto Borea, an artist who focuses on the liminal spaces and existences in life. Borea uses diverse media and materials to communicate his interest in continued displacement. He is a conceptual artist whose work in Penumbra explores constructions of masculine identity. Tariku Shiferaw, in his current body of work titled, One of These Black Boys, explores mark-making through painting as a performative utterance of one's existence. In appropriating music created by African diasporas as painting titles, the work automatically inherits the references, identities, and history portrayed through the songs. Linde Ivimey uses teeth, eggshell, gems, fabric and everyday objects to construct reminiscent creatures that transmit senses deep within the body and psyche. Intimately infused with the artist's personal memories, the pieces create a direct transferal of energy from artist to viewer. For painter Wesley Martin Berg, texture speaks to a deeper theme within his oeuvre. The thick impasto surface examines a deep pathos within traditional themes of representational portraiture. Renowned experimental artist Dale Frank is consistently interested in personification and identity. The large, colorful wall pieces, are composed of Epoxyglass on Perspex with additional nontraditional materials. Their reflective surface, as well as their narrative titles, set the stage for an empathetic relationship between artist and artwork.
Rounding out the exhibition is sculpture White Tower by Linus Coraggio. This is one of the artist's more intricate and dense assemblage pieces, comprising cut and bent found metal in a freeform yet complex structure. Coraggio creates a sense of cacophony by using discarded objects to create his work, in a black and white scale; mirroring the juxtaposition of light and dark, harmony and dissonance, found in Penumbra's dark beauty."