photos by Dawn Garcia
[dropcap letter="I"] may not have been born in Mexico or Spain (or Wales) which is my heritage and family background but I did grow up with grandparents who never let the Mexican and Spanish food disappear from our upbringing. Thankfully I grew up with homemade enchiladas, chorizo and trips to the Mexican bakery for sweet breads. I learned early on that chorizo is one of those dishes that once you've had it done right? You know how nearly impossible it is to find it. That is, until you try
Ray Garcia's
version. I will only say this: the man has perfected a truly beautiful chorizo.
(Ok, now you can read on to the entire experience.)
This month I had the pleasure of going Downtown and eating lunch at Chef Ray Garcia's, B.S. Taqueria. The minute you walk in, you feel happy. Call it a designer hit if you must but the bright colors, the unique decor including the hanging exhibition of molinillos, dangling proudly from the ceiling, the wooden carved "tiles" and a naturally lit space makes you feel joyful. It is a stark contrast from many of the more "moody" restaurants downtown and personally, I love that.
With Chef Garcia recently being named Esquire's Chef of the Year, I was all too eager to find out what all the fuss was about. Admittedly, I had high expectations. We started off with a fresco sampling (Cucumber Mint, Hibiscus which were incredible!).
Here is how each dish rounded out:
[columns_row width="half"] [column]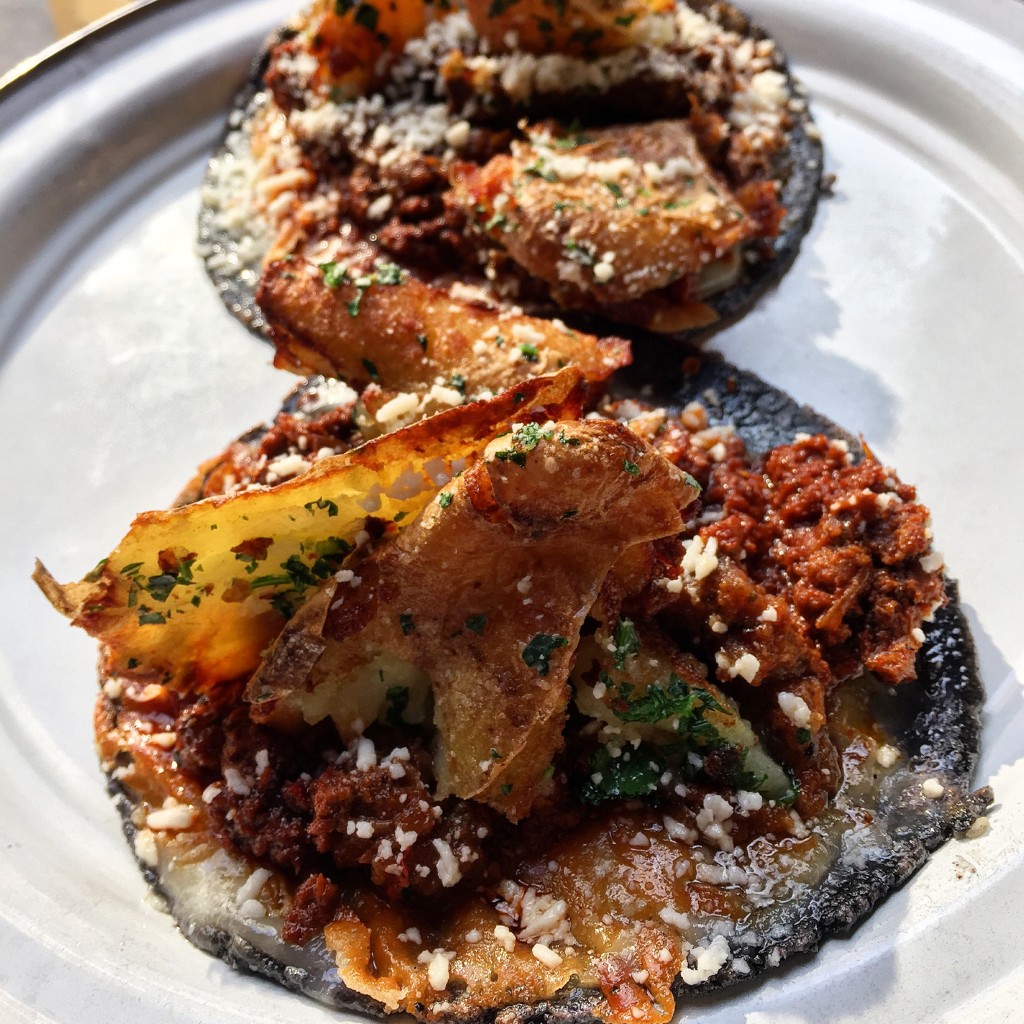 [/column] [column]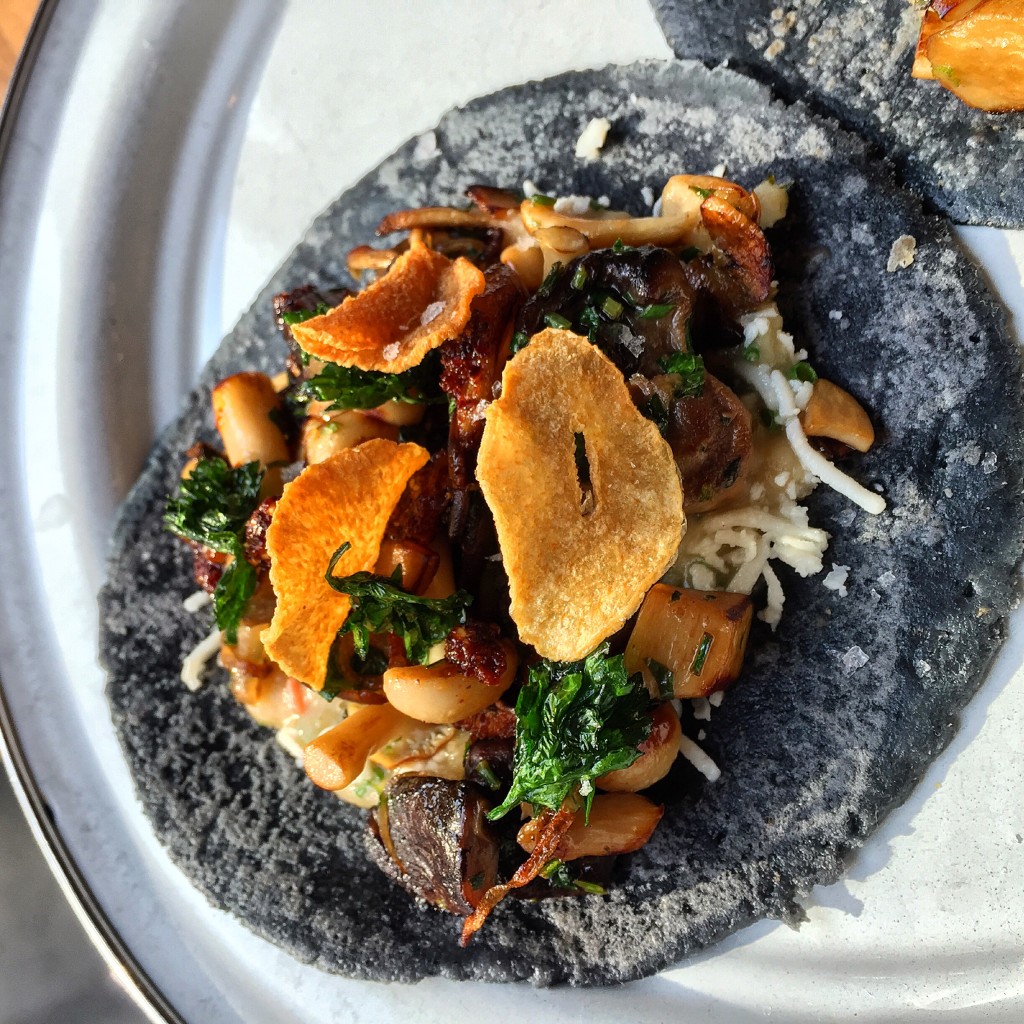 [/column] [/columns_row]
This may be the tastiest guacamole I've EVER had. (And I didn't realize I could be so swayed by guac!) Made with avocado, serrano chile, tomato, cilantro, with hints of cayenne, salt, lime and shallot, this alone would satisfy your hunger. Couple that with the homemade chips that are crispy and light as opposed to greasy and burnt? This is an appetizer to smile about.
This was my little slice of heaven. First, his handmade non-gmo corn tortillas were composed with a solid base and a thick but airy feel. Second, his chorizo is something that Chef Garcia has perfected. With the incredible balance of spicy, meaty and flavor forward, this chorizo isn't greasy and heavy but remarkably light with big bursts of flavor. This is something you can't afford to miss. This is chorizo the way it was intended to be. Let this be the bar for which you hold all other chorizos. 
Lemon-Pepper Chicken Chicharrones | Chicken Skins, Chicken Thigh, Lemon, Shishito
This was good but selfishly I'm a much bigger fan of pork chicharrones. Still, I enjoyed the tangy, lightness of this dish. The shishito peppers offer a flavor profile that distinguishes itself. 
[columns_row width="half"] [column]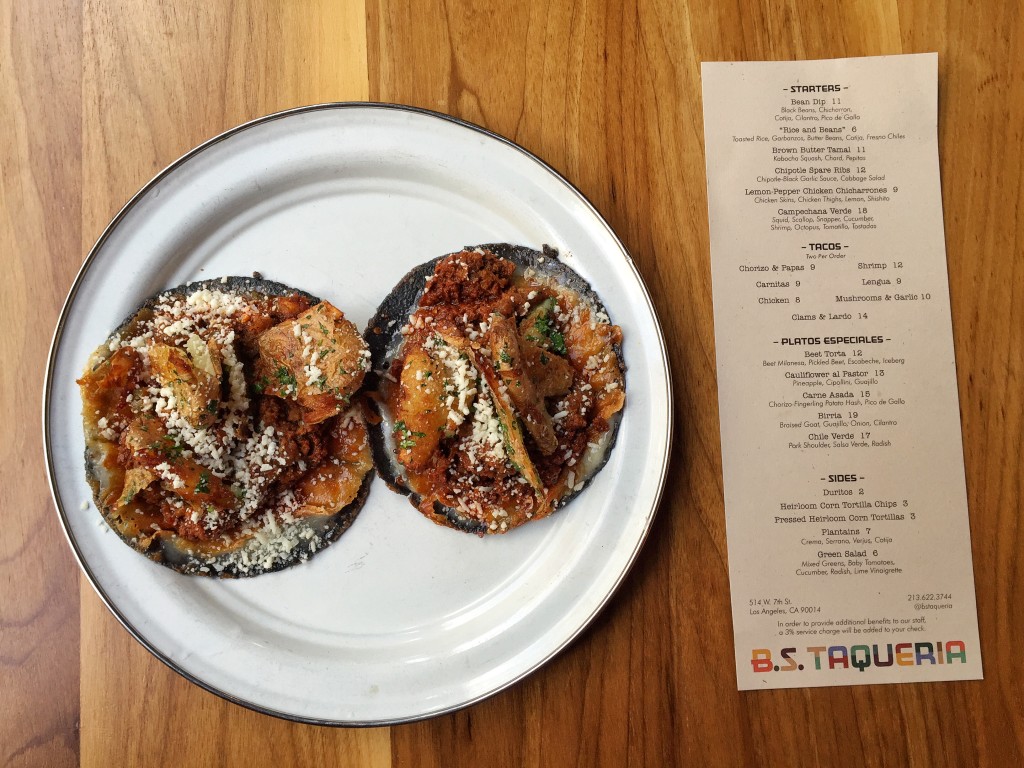 [/column] [column]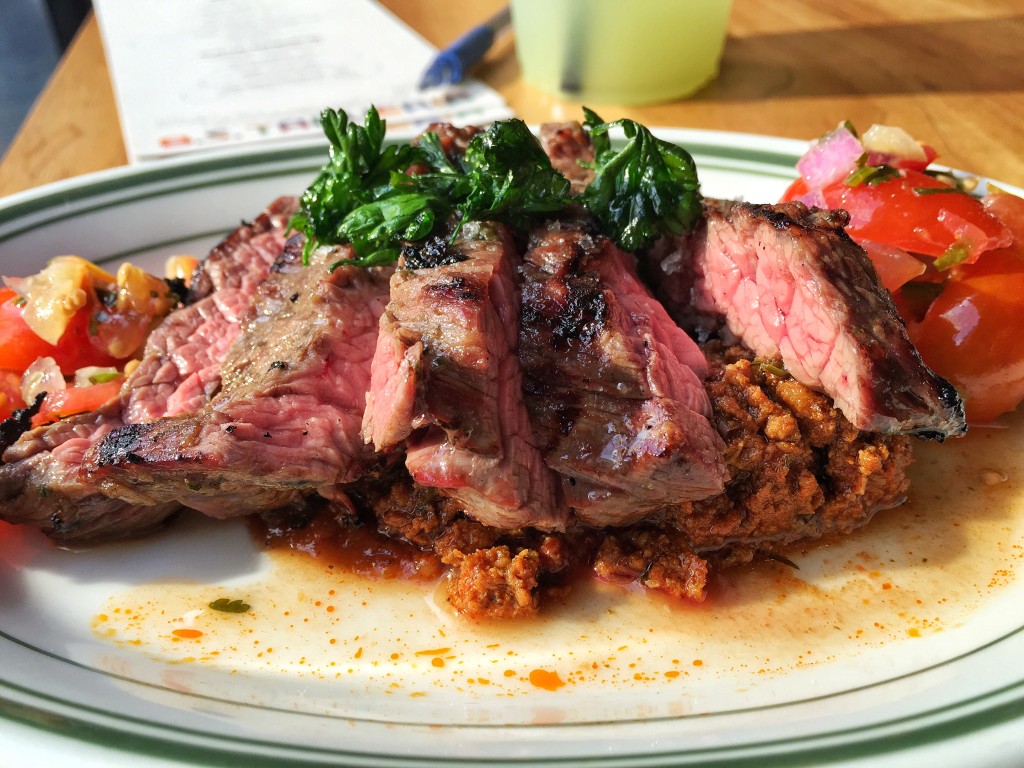 [/column] [/columns_row]
For every vegetarian, this is definitely a new take on veggie fare. Made with the same handmade non-gmo corn tortilla, it's the mushrooms and how uniquely they are prepared that allow this to be in a league of it's own. With grilled slivers of garlic and baked garlic chips mixed in, seasoned bravely, this is a yummy taco. 
Beet Torta | Beet Milanesa, Pickled Beet, Escabeche, Iceberg
While I know this is a huge vegetarian hit, this wasn't my favorite. That said, I'd love to have the beet milanesa solo. I think it shines on it's own and the other components actually interrupt the natural goodness of the main component. 
[columns_row width="half"] [column] [/column][column] [/column] [/columns_row]
Rice + Beans | Toasted Rice, Garbanzos, Cannelini Beans, Cotija, Fresno Chiles
Texture, flavor, lightness and completely out of the box, Chef Garcia's version of rice and beans is one to try. With the perfect kick of heat created to give the toasted rice (which is fluffy rather than dense) the culmination of spice, salt, and chile in the mix of beans, I appreciate this dish. It elevates what has been historically known to be a "filler" and allows it to have it's rightful place on the table.
Carne Asada | Chorizo-Fingerling Potato Hash, Pico de Gallo, Tortillas
Meat is cooked ever so nicely with the right amount of pink just sitting happily at the surface. Each bite fell onto the mouth like butter and when combined with the hash, the multiple layers of technique blended with texture and clear culinary passion, this one was lovely. 
Campechana Verde | Squid, Scallop, Snapper, Cucumber, Octopus, Tomatillo, Tostadas
A fresh, airy, perfect-in-spring and summer kind of dish. A take on ceviche, the elements in this icy dish pair well with the in-house chips and would be delightful with a dry Cuvée. The seafood, especially the squid, was just right without that chewy tendency so often the case. 
Chef Garcia has managed to create a place in Downtown that is fresh and new and exciting. It doesn't fall into any category because he's made his own mark. With bright colors, a welcoming sign, and an endearing decor, my summation: come hungry and leave happy.
[columns_row width="half"] [column]
514 W 7th St.
Los Angeles, CA 90014
[/column] [column]Monday-Friday | 
11:30AM–2:30PM
, 
5:30–11PM
Saturday+Sunday | 5:30PM-11PM
Facebook | Instagram | Twitter[/column] [/columns_row]
[separator type="thin"]
When you're thirsty in DTLA …