Eating Your Way Through Oklahoma City
Part 1 of 2 | A Dining Guide For the Curious Eater
photos by Dawn Garcia
[dropcap letter="O"]klahoma City is abundant in food fit for the most discerning diner. With chefs that not only have bountiful vision, they have the artistry and depth of curiosity that lends to some of the most delectable food I've had. Honestly, this was a city I didn't expect much from in the culinary department … until I got there!  Admittedly I was surprised at how beautiful some of the dishes were, which goes to show you that there is an abundance of culinary gems that exist in this world. A little willingness and a healthy curiosity can go a long way and prove to be something rather amazing.
Driving from Los Angeles to Oklahoma City, I chose restaurants that peaked my interest and were all too unique to deny myself the tasting. I am grateful to each Chef and Restaurant who not only offered immense hospitality, they presented food that rivaled some of the best culinary cities there are and that is something to celebrate.
Oklahoma City surprised me in every way – and I loved it! From dining to sightseeing to art and of course, the people, I found a special place in my travel heart for OKC. While researching new restaurants to the area and a hopeful sense of adventure, I visited quite a few places but it's 4 restaurants that truly left me hungry for more – and they embraced dining much like we do here in Los Angeles: be bold, take risks, don't underestimate flavor, and be true to your ingredients.
Below is Part 1 featuring two sister restaurants: Covell Park + Guernsey Park
[separator type="thin"]
1200 W. Covell Road | Edmond,  Oklahoma 73025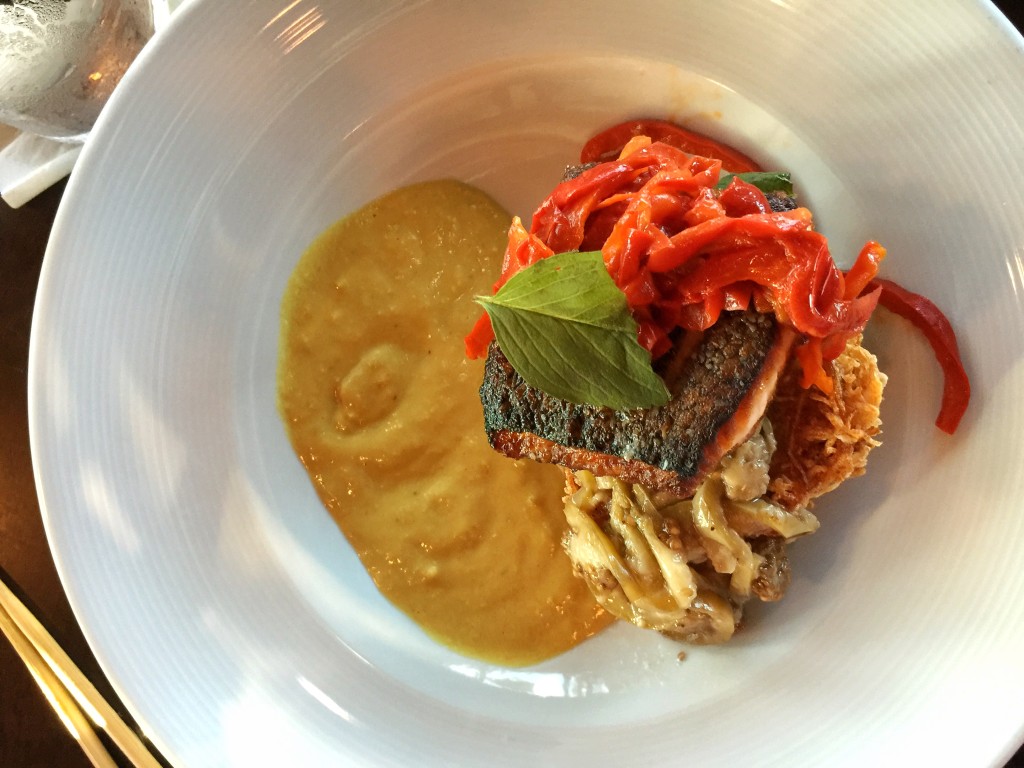 I made a reservation for 17! Yes, I had 17 people in my party and when I say that the service was impeccable and the food was superb, I mean it. We ordered an onslaught of dishes to try and while all were truly delicious, there are some I think everyone MUST try:
Mussels (like I've never had them before): Served with mussels, Chinese aged sausage, lemongrass buerre blanc with grilled baguette
These mussels were swimming in flavor and while the ingredients seemed different, they added so much more to the mussels themselves without ever competing with the natural elegance of the mollusks. This was rich and undeniably a signature dish Covell Park has mastered. 
Beet Salad: Golden beet noodles, garlic crème, beet puree, friend garlic and watercress salad
Oh yes, this was exquisite and bursting with notes of citrus. I could eat this salad every day.
Salmon.
We had a salmon special (not the curry salmon now on the menu) but this salmon was prepared to perfection. It had a crisp outer shell and the most beautiful pink inside. It was elegant and understated and the toppings of red pepper and the purée base was wonderful on the palate. 
Pork Chop: Bone-in pork, manchego mashers, bacon brussel sprouts, apple slaw topped with demi-glaze
Bacon and bone-in pork? You kind of can't go wrong here and the apple slaw and cheesy manchego mashers brought this dish to a comforting MUST EAT! 
Their selection of freshly prepared sushi and sashimi was refreshing, well composed and rivaled any sushi house in LA. My favorite was the Albacore Sashimi, Tuna Tataki and Salmon.
For families, their kids menu is fantastic!! Even the littlest of ones will find something yummy.
Covell Park is tucked away just off of Covell Road and the ambiance is wonderful, design modern and chic and the staff is fantastic.
[separator type="thin"]
2418 N Guernsey Ave. | Oklahoma City, OK 73103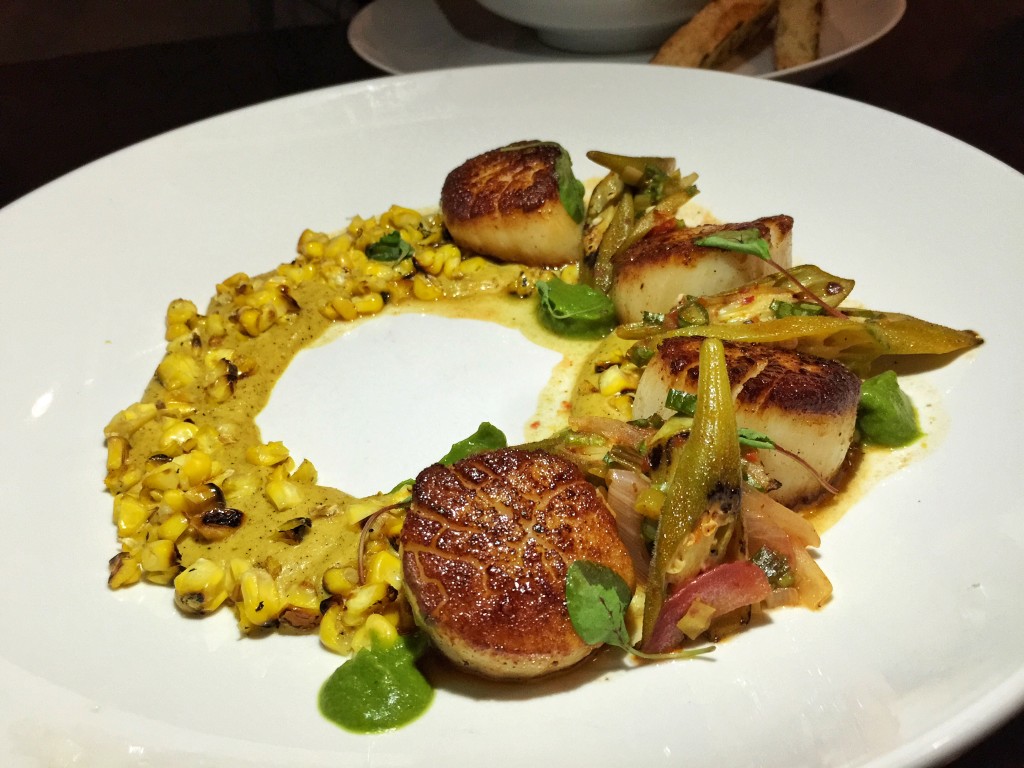 A Tasting with Chef Paul Langer of Oklahoma City's, Guernsey Park. I have to say that this restaurant is one of my all time favorites. Chef Paul prepared a tasting that took my palate to a very happy place. His innovative techniques, fascinating use of ingredients, passion for what he does, and his devotion to elevating every dish is well worth the experience.
When we arrived, it was unplanned and Chef Langer and Truong Le made sure our dining experience was going to be one to remember by welcoming us with that southern hospitality you hear so much about. Starting us off with a beautiful glass of wine, they led us into the dining room upstairs. There is a lot of rich detail in this space.  Whether you have a large party, our eating out with your kids or need a date spot in OKC, I really loved Guernsey Park.
Below is the tasting menu Chef prepared (on the fly I'd like to add!):
Seared Diver scallops, local grilled corn (and puree), local okra kimchi, rau ram fluid gel, micro sorrel.
The corn is locally grown and this is the first time I've ever had scallops presented to me like this. This was a complex dish with seemingly unusual ingredients that ended up marrying together beautifully.
Blue Point mussels, XO broth, local heirloom tomatoes, grilled stirato bread from Farrell Family in Tulsa
I have to say that I could eat these mussels bathed in the XO broth for days. The only thing I'd say is to perhaps hold back a little on the tomatoes because it added a little too much salt. The bread was exquisite. 
Okonomiyaki with house cured bacon, shrimp, caramelized onion, with our house made aioli and tonkatsu sauces, red cabbage slaw, and a fried quail egg.
Another dish I've never had together. I love that the okonomiyaki was blended with bacon and it's the perfectly soft yolk of the quail egg that seals the deal. 
Thit Kho style pork ribs, herbed egg salad, house sweet pickles, and white rice. Thit kho is a traditional vietnamese sweet and salty braised pork dish and this was our interpretation.
These ribs were like butter. Fell right off the bone at first bite and the homage to vietnamese cuisine was  well translated. 
Local blueberry panna cotta, buttermilk crumb, vietnamese basil gel, sweet buttermilk creme anglaise.
You know the term, "food porn"? This panna cotta with basil gel and locally sourced blueberries was a happy explosion of sweet seduction on my palate. 
This restaurant has a special place in my heart. Exquisite and surprising fare that not only tasted good but was presented with the passion, integrity and poise I look for with every restaurant. The chef and staff from front of the house to the kitchen exceeded my expectation. We came in as a family of three and even my daughter indulged in every dish. They even brought her a bowl of ice cream.
A very special thank you to Guernsey Park for making sure Oklahoma City rivals any metropolitan city's food.
Below is a gallery …
[separator type="thin"]