Amarano Hotel is the unexpected discovery of elegance in the center of a bustling industry
An Op-Ed on the beauty of discovering a local hotel oozing with the grace required to weather the pandemic storm.
[dropcap letter="B"]urbank may not be a city many have heard of when it comes to the masses, but for Angelenos we know
Burbank
is the epicenter of all things media. From
NBC Universal
,
Disney
,
Nickelodeon
,
Warner Bros.
and
Universal Studios
, this is where the Hollywood production pulse lives and breathes.
Why Burbank Is Special (To Me)
My personal love affair with Burbank began in the 1990's when I had just graduated high school, got my cosmetology license and finished 800 additional hours of makeup and special effects training at Sunset Gower Studios, moving out of the house to get my first apartment. Right out of school, I immediately started working as a makeup/special effects artist and hairstylist for film, television, and theatre. I got a tiny little one-bedroom apartment right off of Alameda (now conveniently a medical center parking lot) and my view just at the corner of my apartment was Walt Disney Studios. Around the corner was Warner Bros., NBC (now NBC Universal), and Universal Studios (the actual studio). My first job was a Snapple commercial, then I worked for four seasons at the L.A. Opera, on various TV shows, films including Jurassic Park: Lost World, and eventually I would transition into writing.
I lived in Burbank for years. That's where I discovered a tiny little market, Handy Market, where I would buy fresh-from-the-local-farm produce and get amazing cuts of meats and chicken. That market is what prompted my love affair with cooking. On my days off, I would wake up and go for an early run at the John Burroughs High School track. I would see movies at the local AMC theatre, then stroll around the local mall and the modest downtown. I sometimes went to Islands for indulgent baskets of fries, or drove to Castaway's to sip virgin Mai Tai's in the then 1980's-esque bar (pre multi-million-dollar renovation), shopped for vintage finds on Magnolia Boulevard, and spent most of my makeup budget at Cinema Secrets.
Burbank is a central location so back then, it was easy to drive to downtown LA or Pasadena in less than 20 minutes because traffic wasn't quite the hellish commute it is today. And while so much has changed, when you fast forward a couple of decades, the appeal of Burbank and it's sweet charm has remained. And thankfully many of those places still exist today.
A Brief History
In the early days, Burbank occupied land that was previously part of two Spanish and Mexican-era colonial land grants, the 36,400-acre Rancho San Rafael, granted to Jose Maria Verdugo by the Spanish Bourbon government in 1784, and the 4,063-acre Rancho Providencia. The city however, was founded in 1867 by then dentist and entrepreneur, Dr. David Burbank. Burbank purchased over 4,600 acres of the former Verdugo holding and another 4,600 acres of the Rancho Providencia, built a ranch house and began to raise sheep and grow wheat.
The city of Burbank is known to many in the industry as the heart of production, though in the 1920s and 30's— during war times—it became a hub for aircraft engineering with big companies such as Lockheed setting up factories there. However today, this is where everything from special effects and animation, your favorite TV series' and films productions, and backlot studio tours all happen. While it may be a small city, Burbank is larger than life in many ways.
Today, Burbank is still thriving but one of the tricky things about the city is finding a hotel that can accommodate those coming to film on location, the Hollywood elite going on shows like Kimmel, or people in town for business. There are very few options of where to stay—and that is where the Hotel Amarano comes in.
Staying at the Hotel Amarano
Staycations have become the most sought after way to feel like you're getting away without being too far from home. In the heart of Burbank, a mere walk away from the studios is the luxury boutique hotel, Hotel Amarano located just off of Pass Avenue. The hotel from the outside looks more like a high-end residence as it's located across from a grocery store in a residential area and the main hub of Toluca Lake, a lustrous neighborhood. That changes once you step inside the hotel and are transported to a simply designed, elegant escape that has footnotes of a film set.
The first time I went to the Amarano was when meeting my friends that work on the Jimmy Kimmel Show for drinks. The moment the kind doorman opened the door, I walked past the front desk and to my left was a bar flooded with people, drowned out by multiple conversations and a sense of community. I had no idea it would be such a popular hangout!
[columns_row width="half"] [column]
[/column] [column]
[/column] [/columns_row]
So as the pandemic swooped in like an unwelcome uncle, getting away anywhere beyond the confines of home was rare. That is when staycations became the next best thing to maybe being lucky enough to win SuperLotto. Holding out until we could get fully vaccinated, the moment shot number two was administered,  I started looking into places to escape. And among the places I had longed to stay was Hotel Amarano. So this fall, I booked a weekend stay and am so glad I did.
Recently renovated, Amarano is a very special place. With a newly revamped design conceived and brought to life by Hirsch Bedner Associates (HBA), the visual aesthetics and precisely chosen pieces of art and décor are personified by a fictional muse and gracious host named by HBA as Amara. HBA's intention is to make guests feels as if they've been invited into Amara's home that is reminiscent of the warm and welcoming embrace of an old friend, inspired by Old Hollywood mystique. The exterior, including the patio was created to give guests a feeling of the Garden of Allah—a discrete, residential retreat frequented by Hollywood stars throughout the 1930s and 40s.
Hotel Amarano has been an extension of the Burbank community and one of its best unkept secrets for nearly two decades," said Hotel Amarano General Manager Tom Whelan. "Entering our second act, we've captured the history and magic of Hollywood, both yesterday and today, to offer our guests a premier hospitality experience with the comfort and discretion of one's own home."
Once I checked in, I was shown to my Deluxe King room on the second floor. My room was a simply elegant room decorated in whites and neutral tones with a accents that include excerpts from the classic film Casablanca adorning the headboard of the king bed, vintage inspired furnishings, a shower (no bath), a flat screen TV, chair and bath amenities (including a robe). The mere poetry of having excerpts from the Casablanca screenplay nestle against my pillows where my head lay at night alluded to a more romanticized experience. My room faced the entry corridor and the street so it was a little louder than an interior-facing room, but still peaceful nonetheless. It added to the original intention of HBA, as if I was a voyeur watching as Amara's guests arrived, one by one, eager to meet for a drink and partake of sultry conversation.
[columns_row width="half"] [column]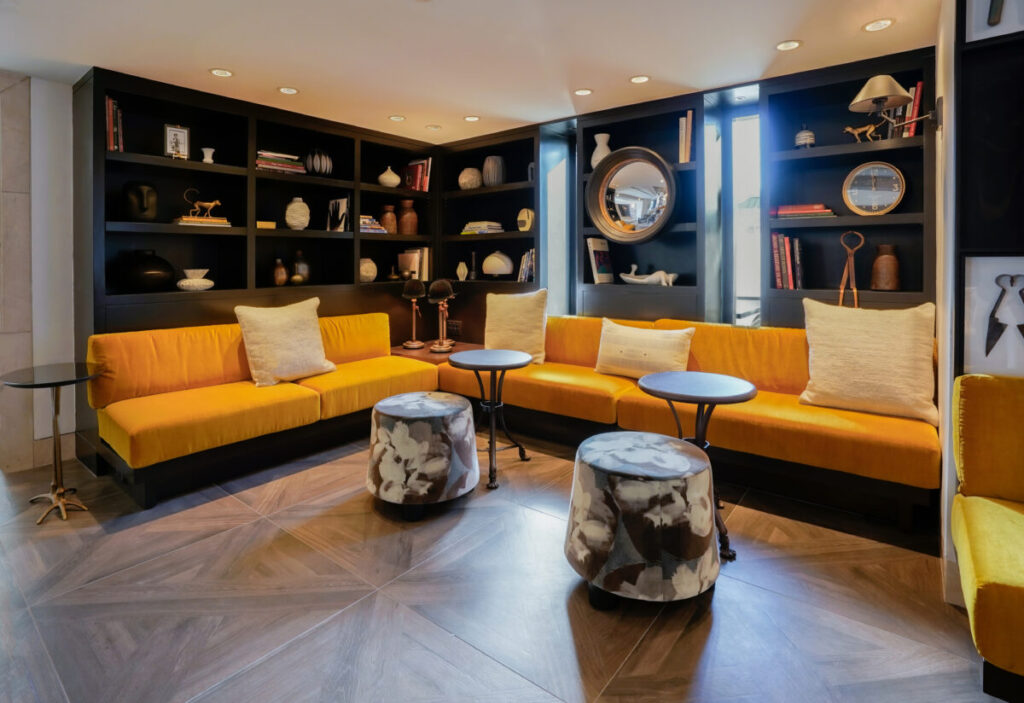 [/column] [column]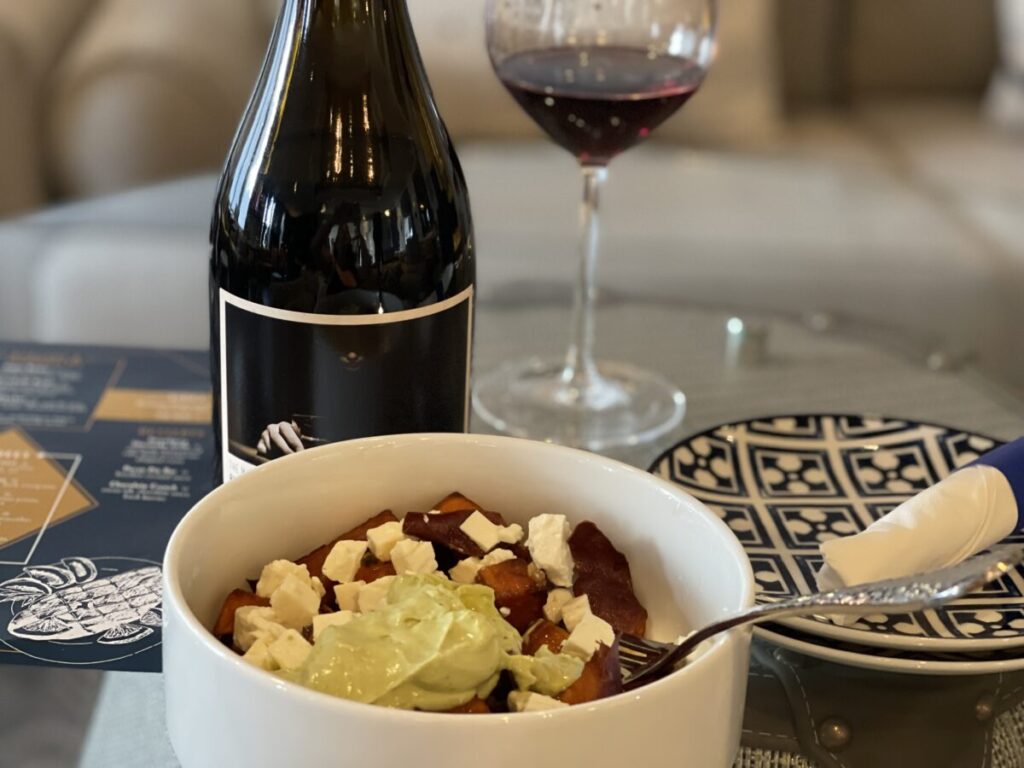 [/column] [/columns_row]
While there are plenty of things to do within walking distance, I chose to stay on-property, order room service, and head to the bar for afternoon cocktails and spirits, happy hour for wine and bites, and to soak up the contagious energy that drifts throughout the quaint FYC ("For Your Consideration") bar.
Brought to life by DNA Hospitality, the food and beverage program is designed as an homage to the entertainment industry. The menu can appeal to most any culinary tastes, though I thoroughly enjoyed the sweet potato bravas, Angus burger with my addition of portobello mushroom, the parmesan shoestring fries, and the New York strip. The wine program is extensive with lovely wines by the glass—and the bottle (I chose the Four Vines Maverick Pinot Noir)—and they also have a steady beer selection. For those who swoon over a good cocktail, that's where FYC uses their play on cinema with a rather eclectic array of spirit foundations. My drink recommendations are the following: Westward Bound made using Redwood Empire Pipe Dream Bourbon, the Spicy Passionfruit Paloma made using Ancho Reyes (one of my favorites liquers), and the La Vida made using Del Maguey Vida Mexca.
To summarize, my two nights at this Burbank hotpot was enough to make me want to come back to the Hotel Amarano sooner than later … and far more often.
Please note I also recommend looking into these other Amarano rooms: Amara's Den, Superior King or a Poolside View King with balcony next time around. It's well worth mentioning that their suites are where our readers may feel most at home. The Superior One Bedroom Suite with Patio is flowing with minimalistic design and warmth, including a private zen-like patio.
Where To Go Within Walking Distance
Spin the Bottle Wine Bar
Forman's Tavern
Bob's Big Boy (if for nothing else than a milkshake and nostalgia)
Olive & Thyme
Cascabel
Sweetsalt
Red Maple Cafe
Kreation
Hungry Crowd
Bodega Malbec
[infobox maintitle="HOTEL AMARANO BURBANK – HOLLYWOOD 322 N Pass Ave, Burbank, California 91505″ subtitle="Reservations: 818-842-8887 | reservations@hotelamarano.com" bg="teal" color="white" opacity="off" space="30″ link="https://www.hotelamarano.com/"]