National Margarita Day has arrived …. ¡Salud!
This year, we are traveling the world to get some of our hospitality partners' favorite margarita recipes. From California to Aruba, notable chefs and mixologists, including José Andres is offering readers a reason to expand your margarita-making horizons.
In order to fully celebrate, we wanted to tell you the tale of how the margarita came to be … at least according to Mexican folklore. The margarita was first said to be invented in 1938 by Carlos "Danny" Herrera. He owned the restaurant Rancho La Gloria in Tijuana, Mexico. The story goes that a dancer by the name of Marjorie King came into his bar, and couldn't drink anything other than tequila. King appreciated the spirit but couldn't drink it neat so Herrera threw together the ingredients used for a tequila shot — salt and lime juice — and a few shakes later, thus began one early version of the margarita.
Another top contender for the inventor title is Margarita Sames, a wealthy Dallas socialite who claimed she whipped up the drink for friends at her Acapulco vacation home in 1948. Among her well-connected guests was Tommy Hilton, who eventually added the drink to the bar menu at his hotel chain. According to The Complete Book of Spirits by Anthony Dias Blue, though, the first importer of Jose Cuervo in the United States advertised with the tagline, "Margarita: it's more than a girl's name," in 1945, three years before Sames claimed to have invented the drink.
---
---
Yet another version of the story comes from research done by VinePair. As VinePair explains, the margarita was most likely invented by an Irish man named Madden in 1936 (via Difford's Guide). That's when the first mention of a Tequila Daisy, a riff on a brandy-based drink that dates to Victorian times, came about in a newspaper story. While traveling in Mexico during the United States' Prohibition Era, the newspaper editor sought out a bar to get a drink. That's where he met the bartender, Mr. Madden, who explained that he accidentally picked up the wrong bottle when making a Daisy for a customer one day. However, Madden lucked out: the customer loved the tequila version of the drink so much that he told all his friends and the word soon spread about the new cocktail.
According to Liquor, the only difference between a Daisy and a margarita (or a "Tequila Daisy," as it was once known) is the use of tequila instead of brandy. It's not the super-sugary alcoholic slush that some people enjoy today but, in all likelihood, it could have been the start of the drink we now call the margarita (Tasting Table). No matter who invented this beautiful cocktail, it's become a fan favorite—and thanks to the creative minds of many bartenders around the world, it's also an inventive libation that makes for the ultimate Mexican-inspired drink. Whether you make it with tequila or tequila's famous sister, mezcal, you will find a refreshing sip every time.
---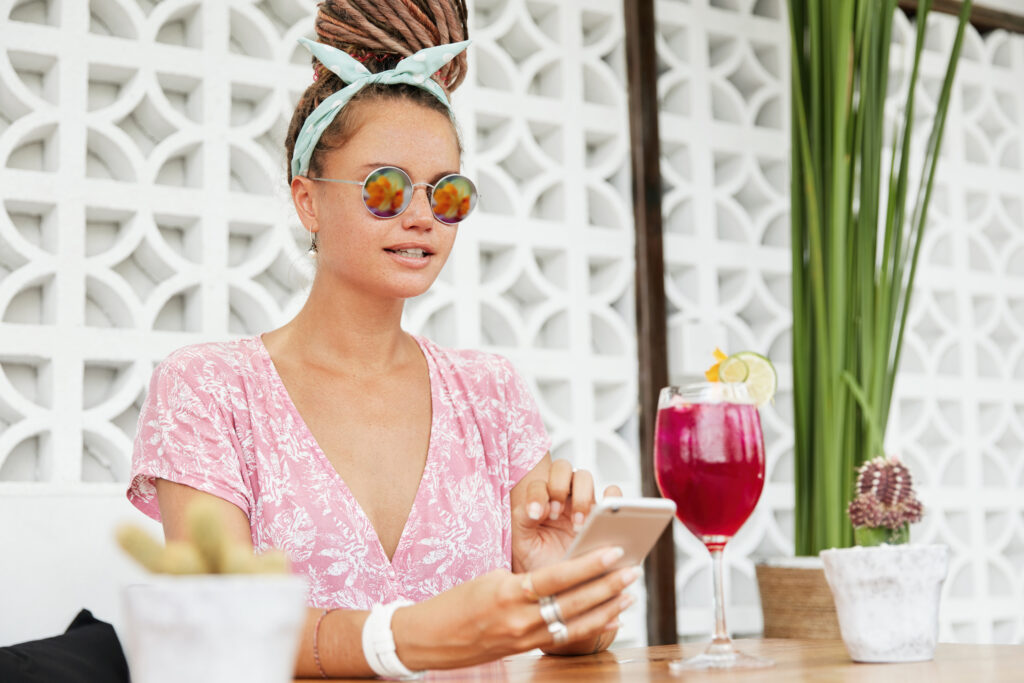 1. STUNNING MINIMALISM JUST OFF THE FAMED SUNSET STRIP
[dropcap letter="A"]s the first hotel on the Sunset Strip,
Andaz West Hollywood
attracted legendary rockers in the mid-60s. It now serves as an eclectic gateway to Hollywood, Beverly Hills, and other stylistic neighborhoods. Elevate your LA experience at this iconic property reimagined for modern day. With exceptional decor and a very warm vibe, Andaz WeHo is a great place to pull up a chair and settle in for a night.
Craft Raspberry Margarita | West Hollywood, California
INGREDIENTS
2 oz of Tequila Blanco (Make sure it's a 100% agave tequila)
1 oz Fresh Squeezed Lime Juice
1 oz Chambord Liqueur
 ½ oz Blue Agave
INSTRUCTION
Add all ingredients to a shaker and shake.
Pour in a rocks glass with fresh ice.
---
2. CREATIVE DESIGN IN THE HEART OF DOWNTOWN SAN DIEGO'S GASLAMP QUARTER
[dropcap letter="L"]ook out over the bustling Gaslamp Quarter from the rooftop of
Andaz San Diego
, where contemporary living spaces epitomize Californian cool. Located in a historic building—originally opened in 1913 for the World's Fair celebrating the completion of the Panama Canal—this hotel is just a mile from the San Diego Convention Center and surrounded by vibrant nightlife. In other words, come here to have some much needed California fun.
The Spicy Berry Margarita  | San Diego, California
INGREDIENTS
2 oz Reposado tequila
0.75 oz each of Agave, lime juice, Chambord
2 Dashes Fire Tincture Bitters
Garnish with fresh blue/black or raspberries
INSTRUCTION
Add tequila, agave, lime juice, Chambord, and bitters.
Then, stir together.
Pour into a short glass and garnish with raspberries.
---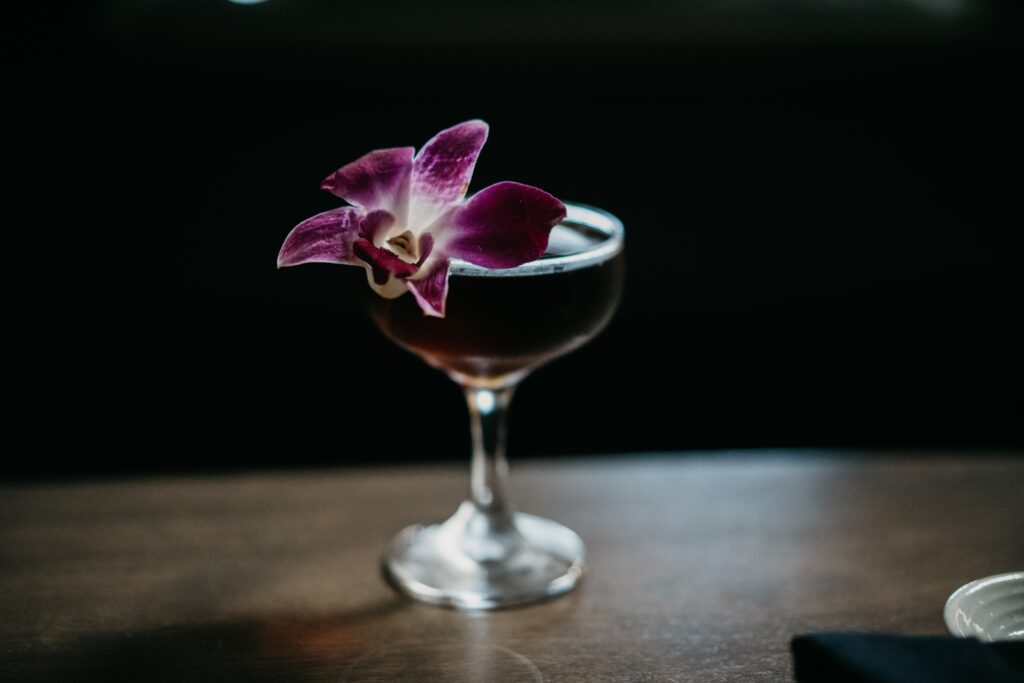 ---
3. STAY AND EXPERIENCE A RIVIERA MAYA PARADISE IN MAYAKOBA
[dropcap letter="N"]amed one of the best resorts in Mexico, discover beachfront
Andaz Mayakoba Resort
, secluded in the private, gated-Mayakoba complex, nestled on the coastline of the Mexican Caribbean and surrounded by vegetation and nature. Guests can enjoy feet-in-the-sand activities and
exquisite gastronomy
.
"The Lady in Black" | Playa del Carmen, Mexico
INGREDIENTS
2 oz. Silver tequila of your choice
½ oz. lime juice
 ½ oz. lemon juice
½ oz. activated charcoal
½ oz. simple syrup
½ oz. smoked syrup infused with chili pepper
1 oz. soda water
INSTRUCTION
Dissolve activated charcoal into the tequila
Combine with ice and remaining ingredients in shaker and shake for 30 seconds
Strain over ice in glass of your choice
Top with soda water
Garnish with fresh chili and/or dehydrated blood orange
---
4. ESCAPE TO THE CARIBBEAN (NEED WE SAY MORE?!)
[dropcap letter="W"]Welcome to the beachfront at
Hyatt Regency Aruba Resort Spa and Casino
. Take in spectacular ocean views from the moment you enter the lobby. Enjoy an energizing vacation getaway in newly designed rooms and spend afternoons lounging at the beach or by the pool. Discover their boutique shopping and dining or the local shops nearby. After an adventurous day out, rejuvenate your body and soul with an aloe vera treatment from 
ZoiA Spa
.
Sunshine Margarita | Palm Beach, Aruba
INGREDIENTS
1 oz Tequila
2 oz Margarita Mix
½ oz Triple Sec
Salt Rim
Mint leaves, and flowers for garnish
INSTRUCTION
Pour ingredients into a shaker with ice and shake vicariously for 30 seconds.
Pour into chilled glass with salted rim.
---
---
5. STRIKING A NEW HIGH NOTE IN NEW YORK
[dropcap letter="A"] contemporary lifestyle hotel infused with the allure of
The Opus Westchester, New York
, and alive with a fresh city-luxe energy in the heart of White Plains. Casting its seduction from magnetic lobby to magnificent rooms and back, there is a sophisticated tenor that resounds here – delivering sensory and transformative experiences metered with understatement, that rises and flows in brilliant ways.
Traditional Margarita | White Plains, New York
INGREDIENTS
1.5 oz Tequila
5 oz Cointreau
1 oz Fresh Lime Juice
1 oz Simple Syrup
INSTRUCTION
Combine all ingredients into small shaker tin
Add ice and shake 20 times
Strain into rocks glass over fresh ice using Hawthorne strainer
Garnish with Lime wheel
---
6. AN ICONIC DESTINATION FOR OVER 130 YEARS
[dropcap letter="R"]enowned for beautifully appointed
r
ooms,
The Elms
delivers lavish 
amenities
and standard-setting service on lovely grounds in Excelsior Springs. Throughout its storied history, The Elms has been frequented by celebrities, politicians, and notorious persons alike, earning international fame and establishing itself as an integral part of our Excelsior Springs hotel 
history
.
The Cactus Flower | Excelsior Springs, Missouri 
INGREDIENTS
1 ½ oz Casa Nobla Tequila
 ½ oz Agave Syrup
1 oz Lime Juice
½ oz Hibiscus Syrup
Firewater Bitters
Topped with Club Soda
INSTRUCTION
Combine all ingredients in a shaker with ice and shake until cold.
Top with club soda and garnish with a lime wheel.
---
7. DAZZLING DAYS AND NIGHTS BUOYED BY PURE BRILLIANCE
[dropcap letter="M"]oments of total relaxation, wellness and luxury pampering at Hotel Barriere Le Carl Gustaf. Sample bespoke treatments, practice yoga in total serenity or enjoy a relaxing massage on the balcony of your bungalow or in your room. A place to revive the senses. A place to satisfy all desires.
Lime Margarita |  St Barth's, Gustavia 
INGREDIENTS
45ml Lalo Blanco (Tequila Jeune)
20ml Dry Curaçao (Triple Sec)
25ml fresh lime juice
INSTRUCTION
Shake & Double Strain
Serve in a short glass on the rocks or a coupette with no ice.
Garnish with half pink Himalayan salt rim.
8. CELEBRATING 25 YEARS OF PARADISE
[dropcap letter="F"]or more than two decades,
Atlantis
— best known for exuding Bahamian culture, serving as a marvel and custodian of marine life, and its landmark pink architecture — has paved the way for luxury, hospitality, and entertainment in the Caribbean and around the world. Now the resort is raising the bar even higher by embarking upon a new chapter with an array of massive upgrades and striking enhancements.
Named as one of Time's "100 Most Influential People" and "Outstanding Chef" by the James Beard Foundation, José Andrés is an internationally-recognized culinary innovator, author, educator, television personality, humanitarian and chef/owner of ThinkFoodGroup. A pioneer of Spanish tapas in the United States, he is known for his avant-garde cuisine and his award-winning group of 28 restaurants throughout the country and beyond. His innovative Minibar by José Andrés earned two Michelin stars in 2016 and 2017.
Salt Air Margarita, Fish by Jose Andres | Nassau, Bahamas
INGREDIENTS
Margarita
 ½ ounces fresh lime juice
1 casa Noble ounces blanco tequila
 Ice
½ ounces Combier orange liqueur
Salt Air
½ ounces simple syrup
8 ounces water
4 ounces fresh lime juice
2 tablespoons salt
2 teaspoons simple syrup
INSTRUCTION
Make the Margarita
Fill a cocktail shaker with ice. Add the tequila, combier, simple syrup and lime juice and shake well.  Strain into a chilled coupe.
Make the salt air
Combine all the ingredients for the Salt Air into a large bowl. Using an immersion blender, mix until bubbles form.  Carefully spoon on top of the drink
---