[title maintitle="The Latest" subtitle="The lowdown on what's happening"] [dropcap letter="G"]rowing up in the city of Los Angeles, life has always been colorful. As we head into spring, the rain falls here in LA and new life begins to form. That's also true of the life in the city. At the
Hollywood Pantages
Theatre, Broadway fans can rejoice as some of the most notable shows come to us for a brief run. From Les Misérables to Frozen, audiences have a lot to look forward to this season. Make sure to check their website as the performances coming in summer and fall are sublime, including RENT, Phantom of the Opera, Anastasia, and more.
As art continues to thrive, you'll also want to visit the multitude of art galleries and museums including several brand new exhibitions at the Getty Museum, LACMA, MOCA, Hammer Museum, Axiom Contemporary, The Broad, and so many more. In New York, Vanderbilt Republic is always a must see. It's a movement of art and reinvention worth experiencing.
As the world changes, shifts, goes through its own social reform, engage with one another. Learn about other cultures, appreciate different beliefs, and see as much of the world as possible—even if that means discovering what exists just outside your door.
---
[title maintitle="International Design Awards" subtitle="Presenter + Juror"]
This month I had the privilege of presenting the winner of the Interior Design Award at the International Design Awards of which I am an annual juror. This was my first year presenting and I was in sublime company. Among my fellow presenters were Cristiano Magni and Sheng-Hung Lee, as well as the Founder of the International Design Awards, Hossein Farmani and winner Jens Laugesen who won an award for his boundary-pushing Fashion.
In the heart of Palm Springs, a newly renovated boutique hotel—The Weekend—has opened its doors, offering guests a homey experience with all of the wiles of desert life. Staying true to the vintage roots of the area, this mid-century modern hotel has bungalows and suites available with private patios, gorgeous art, and an opportunity to enjoy a bit of Southern California sunshine in comfort and fashion.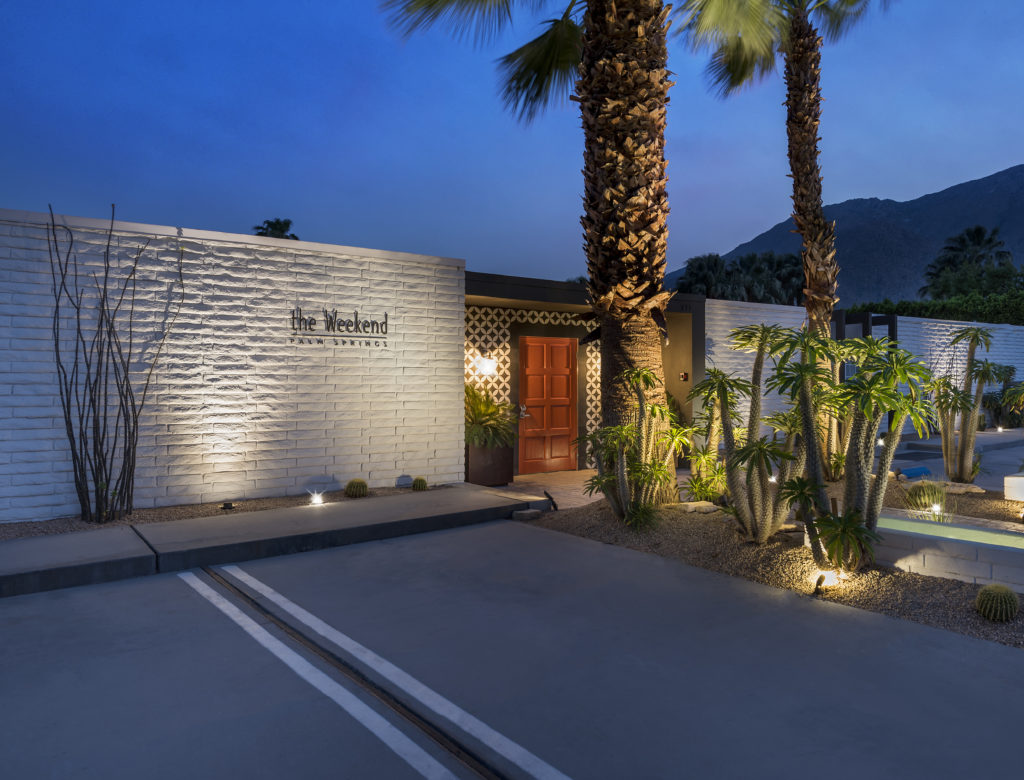 ---
[title maintitle="Our Pick" subtitle="Co-Working Creatives"]
Creative Spaces + Culinary Dreams
Art+Tech+Music+Sports+Fashion | February 2019
Los Angeles is about to welcome h Club, the vision of the late philanthropist and Microsoft co-founder  Paul G. Allen and Eurythmics legend, Dave Stewart. H Club will be a collaborative space embodying a community-centric environment fostering inspiration and creativity. Inviting innovators in tech, art, sports, fashion, design, entertainment, music and the like-minded to come together in a space beyond the normal co-working spaces.
With five floors of dining options, James Beard Rising Star award recipient chef Kris Morningstar, is spearheading the culinary program as executive chef. Morningstar's culinary vision has canvased Los Angeles with incredible dining experiences. Concepts include an Asian-inspired tea room, outdoor cinema dining, upscale dining at Jarman's restaurant, a revolving menu and more. This is a superior new addition to LA. The club also offers a state-of-the-art recording studio, a live performance space, fitness center, plush lounges, and 35 bespoke guests rooms designed by Russell Sage Studio of London. The guest rooms are available to members only and art has been beautifully curated in-house by Ali Hillman.
[separator type="thin"] [columns_row width="third"] [column]
[/column] [column]
[/column] [column]
[/column] [/columns_row]