By Heather Thompson
The Hudson Theater | 6539 Santa Monica Blvd. | Hollywood CA, 90038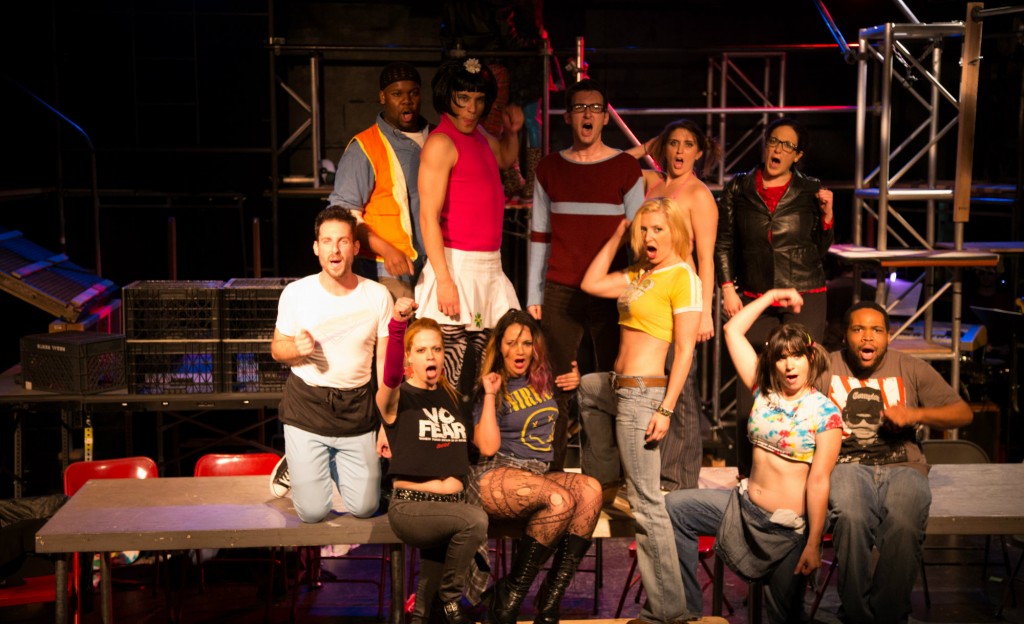 In many ways, the problems highlighted in Jonathan Larsen's play RENT feel outdated—it's the snap shot of the late 1980's New York City that simply doesn't exist anymore. Thanks to hard-fought victories, the specter of AIDS remains, but it is no longer a death sentence. Still, the troubles Larsen identifies—poverty, a decay of art, and tension for homosexuals continue.
So before I get to the play review, I want to play a little game of "if RENT were written today." Angel, a beacon hope and energy, as well as a fabulous wardrobe, would be unlikely to succumb to AIDS, but could easily be the victim of a hate crime, perhaps gunned down in Greenwich Village. It's also very likely that the group would have been part of the Occupy Wall Street movement, rather than defending performance spaces and tent cities, mostly because Benny and his ilk have already won in the new Disney-fied Manhattan.
We could delve deeper into this rabbit hole, but I do want to get to the performance. One more caveat, I approach RENT from a teenage musician and actor's point of view. The play hit Broadway just as I was graduating high school and starting a music program in college. In this highly susceptible time of life (the one where you think you know everything, but you really know very little) I fell in love with RENT. I am an unabashed fan in a way that only people my age or perhaps younger can ever be. In this iteration from 2cents theater group, RENT remains a play for hopeful upstarts who can overlook its flaws and jump wholeheartedly into its enthusiasm, humor, and joy.
This cast of RENT certainly meets those criteria. The performances were energetic and committed, as was the entire production. This isn't such a surprise, since the theater group raised crowd-funding money through indiegogo. I fully support crowd-funding as a way to sustain the arts, especially since government funding for projects seem to be ever further away. We may see some disappointments, but most of the time we'll get art and performances that reflects the full dedication of the artists.
Reagan Osborn grounds the cast in a near-perfect interpretation of Mark Cohen, the play's narrator. Osborn is a terrific singer and provides a subtle character read. Similar praises go to standout performances from Alli Miller, who plays Maureen to great laughs, but also captures her seductive charisma, as well as the entire back up cast of bohemians, tent city dwellers, and intruding parents. The group of terrific singers and actors made the most of small roles and added their fantastic voices to the lively group numbers.
Truthfully, most of the performances were great although a few lacked some nuances that I was looking for. The real shame was in the sound balance. The small group of great musicians in the back often overpowered the more delicate songs and quieter moments, especially for Mimi, played with sexy verve and sensitivity by Lauren Joy Goss (she is also a phenomenal singer).
The sound imbalance is very likely an opening night problem and one that I hope will improve over the course of the next few weeks. In the meantime, though, it caused the singers to overtax their voices, and some plot points got lost.
In all, the songs were well choreographed and beautifully performed. I loved the intimacy of the small theater—it makes me think that RENT was supposed to be performed in a small space, where you can engage with the actors and become part of the action (I'm sure they saw more than one person quietly singing along—it wasn't just me).
The show-stopper comes not from the big group numbers (which were stellar), but from Dedrick Bonner's portrayal of Tom Collins. For the first act, he is largely forgettable against other bigger personalities. Jonathon Grant easily outperforms him as Angel. But in the second act, after Grant's Angel has died, Bonner (who is also the cast vocal director) takes us to church, in the best sense of the phrase. He turns a sweet little love song into a mournful, emotionally raw, and gorgeous aria. It's breathtaking, and I'm sure I wasn't the only one in tears.
That's the beauty of RENT. If you go with an open heart, you will be taken on a journey with a cast who has committed completely to the hope and love in this moving musical. If you like RENT, don't miss this opportunity to see it in an intimate setting at the Hudson Theater.
Directed by Kristen Boulé, RENT runs Fridays and Saturdays at 8pm and Sundays at 7pm through June 30. General admission tickets are $34, with student and senior tickets available for $25 with valid ID. A percentage of four weekend's gross sales will be donated to AIDS Project Los Angeles, AIDS Research Alliance, Being Alive, and Alliance for Housing and Healing
The Hudson Theatre is located at 6539 Santa Monica Boulevard, on Theatre Row in Hollywood, 90038. Parking is available across from the theatre on Hudson Avenue ($5).
PRODUCTION STILLS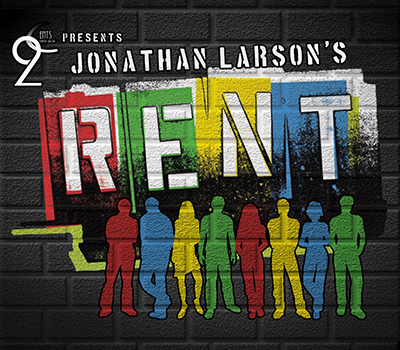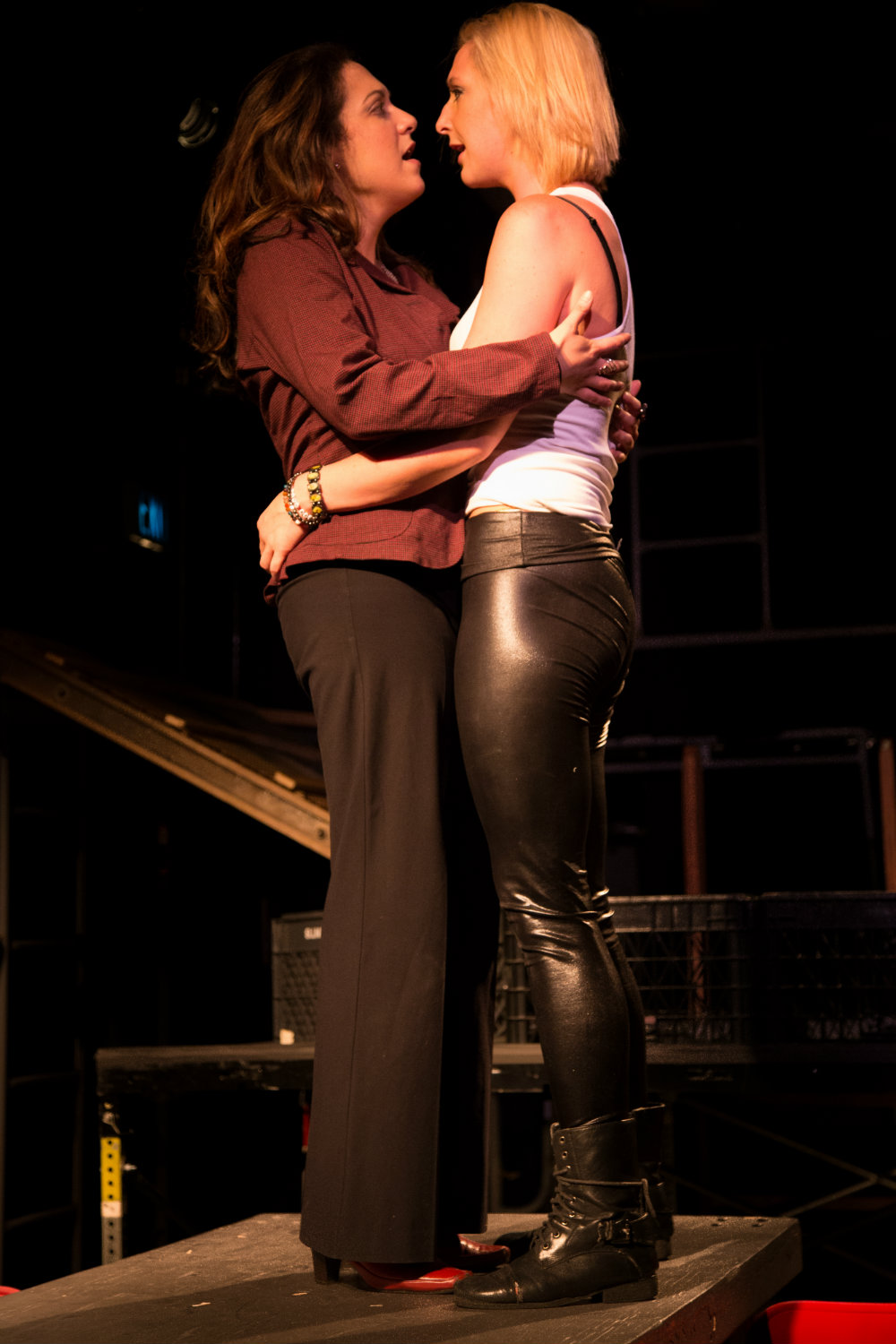 PRESS RELEASE