Letter From the Editor – Issue No. 4 LOS ANGELES
by Dawn Garcia
FACEBOOK | Twitter | Instagram
"Los Angeles. Art. Music. Food. Culture. Vintage Glamour. Hidden Gems. And – the most common sight you'll ever see are the brake lights in front of you."
I was born and raised in Los Angeles. Born in Santa Monica. Spent my youth at local parks, swimming in the Pacific, roller skating along the boardwalk, and going on the bumper cars on the pier. I went to private school, public school, well actually I think I went to 3 elementary schools, 2 junior high schools, and 2 high schools. I made lots of friends and even more acquaintances. I talked to everyone – in fact I probably talked too much. I was chatty. No matter what was happening in my life as a kid, I usually always smiled and decided I liked everyone. And early on, I knew I wasn't like everyone else. Different. Saw the world through a different lens. I had a vivid imagination and found solace in stories, words, coloring, whatever I could find and thankfully, I had two parents (divorced when I was young) that loved music so I was surrounded with incredible music! I remember going out to dinner was RARE but always exciting and the one place we used to beg to go was a restaurant in Malibu (now Duke's) called The Sea Lion (and there was a doughboy pool with an actual sea lion in it!!). Life as a child, growing up in Los Angeles, was exciting and while I moved in third grade to suburbia, my heart has forever remained in LA so the minute I became "legal" I moved back. Los Angeles is my heartbeat. It's chaos, traffic, the familiarity of red brake lights and looky-loos on the freeway, the cultural diversity, the plethora of museums, the incredible array of places to go, things to do, and the wonderful world of color – Nothing in LA is dull. It's a city that in reality is probably more like 55 cities rolled up into one massive county. But it's home. The ocean. The range of economics. The smell of smog or scented candles depending on where you are. The fact that regardless of the so-called "attitude" of LA, I find people here to be real. I can always smile and say hi to someone on the street and 5 out of 10 times someone says hi back and once in a while, they even engage in conversation. I started my career here. I spent my very "green" years working in film, surrounded by the studios; the opera, the gorgeous theatres that have stories so full of history and are worn with time you can't help but want to be involved – and thankfully I got to be; the music scene that is infinitely endless from going to places now like the Piano Bar or Hotel Cafe to finding the original joints like the Mint Club or The Roxy – life in this city is continually flowing. There is a beat that is remarkably present and visible. Sometimes it's dirty and anyone who lives here will tell you how tough it is to make it but there is something about the past here. Where Hollywood began. Where dreams seemed possible. A place where imagination was allowed to be freed. Los Angeles is my waking dream.
That said, this issue is just about the articles we've written this past couple of months that took place in and around Los Angeles. It will continue to grow and there will never be a shortage of things to write about in this city. So to the city that holds my heart, thank you for always embracing me even when you spit me out – because hey, that's just part of being in this city – AND in this industry – thank you for showing me the world in one central location. Thank you for welcoming every ethnicity, every economic range, every color, every shape, every size, every smile, every story, every bite, every culture, every artist, every musician, every struggling actor, every wanting filmmaker, every theatre enthusiast, every remarkable human being. Thank you for allowing me to have profound conversations like the one I had with Clarence, the homeless vet in Downtown LA. He opened my eyes and when I offered to hug him – he nearly broke down. You've taught me that no one is invisible because anyone who lives here has to look up once in a while. So to every one who has a fancy car, a broken car, a fabulous wardrobe or hand me downs, to every dreamer, every wannabe, every hopeful entertainer, every doctor – holistic or otherwise, to every single one of you that dares to make it in this city – you ROCK. Now go! There is SO much to do! Stop sitting in the house; go explore this massive city. And practice more kindness while you're out there. We all matter and here, we're all the same. They don't call it the City of Angels for nothing.
If you're just getting here:
WELCOME…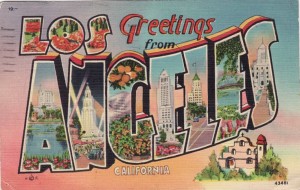 CHEERS!
Living life passionately,
Dawn Garcia
Editor-in-Chief, ATOD Magazine™