Friday Fashion Report: Leather in Pieces
by Ali Levine and the Ali Levine Design Team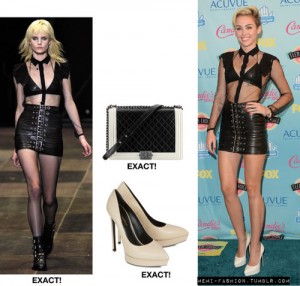 Hey Fashionistas!
Ready for the best women's trends from the Teen Choice Awards! Here you go:
1. Leather: A go to staple for most women, but most of these celebs didn't wear too much of it (it's August)!
We loved Miley Cyrus and Naya Rivera in these hot leather numbers!
2. Crop Tops: The summer time go-to! Just make sure you have the tummy to match!
"Pretty Little Liars" star Lucy Hal
"Pretty Little Liars" star Ashley Benson
Disney beauty Chelsea Kane
3. Prints: We love a good print just like the next person but we wish actress Lily Collins would have spiced it up with some color (in accessories/shoes). This look comes off as goth.
4. Brights/pastels: Against the right skin tone, it always brightens up anyone's aura.
There you go dolls! Like our picks? Tweet us @AliLevineDesign #Team_ALD #TrendsTues!
Fashionably yours,
Xox,
Ali and Team ALD