The Independents Vol. 1
by Dawn Garcia | Photography by Clarence Alford
Participating at the Arena @ Inner-City Arts
The Rosenthal Theatre | 720 Kohler St. | Los Angeles, CA 90021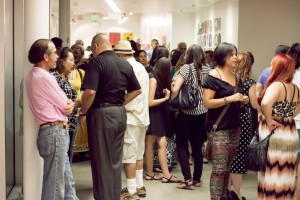 Starring Anthony Aguilar, Sylvia Blush, Jacqueline Bustamante, Juan E. Carillo, Alejandra Cisneros, Estela Garcia, Adam Jacobo, Juan Diego Ramirez, Tom Sandoval
Power, honesty, gritty self-awareness, passion, love, humor, sexuality, self doubt … Every artist must have all of these.
The Independents Vol. 1 is a compilation of extraordinarily talented artists acting out moments of their lives and each and every one of them embody the characteristics mentioned above. The evening air relents and lowers its obstructive heat to give us a moment of cool calm.
We walk inside and take a seat on the welcomed cold folded metal chairs. The performance begins after the first letter is read aloud in the foyer. Each performance deserves its own part. I want to thank every single actor, writer, and director of this series because quite honestly, it reached a very honest part of me. As a girl with a grandfather from Chihuahua, Mexico – a grandfather whose godfather was Poncho Villa – another that played scratch golf with Bob Hope and wrote beautiful poetry, a mother who played her soul through the keys of the piano and through the words penned down on paper, I've heard and seen MANY stories growing up. These were stories that taught me so much. The Independents Vol.1 didn't shy away from every bit of who we are as people, what struggles and obstacles we continually meet, and how perspective and some soul searching can transform you.
This was put on in association with Inner-City Arts. An organization I didn't even know existed. I hope to somehow volunteer with them and teach writing and story-telling but no matter what, support them. It gives children a place to soar …
The Welcome Home.
Tom Sandoval (Writer/Performer) and Sylvia Blush (Director)
In this solo piece-in-progress, Tom reflects on war and the life of a Latino infantryman in Vietnam.
ATOD: Enter Tom. Bottle of whiskey in hand, a lingering cough no doubt from taking in Agent Orange or from his liver begging him to stop. He wanders the theatre floor taking us into his world of chaos and heartbreak and coming home from war only to find the vision imagined was farce. Soldiers were expecting to be greeted by grateful neighbors, a celebration in their name, smiles, joy of their return only to come home to was really more like the thousand yard stare from anyone they saw. Vacant, disappointed, unforgiving.
"War makes you do things you don't want to do … depression, anger, guilt, anxiety, experience, remembrance, perversion – and you are still just a body. Always alone."
This was the first performance and it set the tone for the evening with a heartfelt story about what can happen to a man sent to war in every aspect of his life. The battle can take hold.
Sergio's Return
The team of Anthony Aguilar (writer) and Alejandra Ciscneros (Director)
Actors: Diedre Lee, Anthony Aguilar, Juan E. Carrillo, Juan Diego Ramirez
A bounty hunter in search of a western outlaw finds himself on a mission to rescue Sergio, a rooster.
ATOD: Four artists come out and with the bellowing of a sad sounding rooster, the old school radio-like performance begins. The story of Sergio, the rooster that's keeping the town on a sleep schedule has made it impossible for Abigail to sleep and she's not having any part of that. Through a playful exchange and the elusive arrival of the man with the guitar, good prevails.  Sergio is revived and going through life awake and not lost in the abyss of living life with your eyes closed triumphs.
Speech Therapy
Adam Jacobo in "Speech Therapy"
At the age of four, Adam begins to stutter and it will take 12 years of speech therapy to correct his speech. Adam relives his childhood memories in search of the day he started stuttering.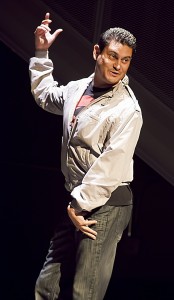 ATOD: Adam is one of the most talented actors with a range that can span from comedic to dramatic to utterly gut wrenchingly raw. Talking about the painful story of discovering why he developed a stutter at the age of 8. Acting out several scenarios that were seemingly traumatic from his mother making watch novellas, a broken heart, he traces the memory back to his birthday party in 1982. This is a tale of a boy with unanswered questions and a mysterious man that delivers a moment that would change him forever.
La Alquisimista
Estela Garcia: Remedios Varos "La Alquimista" projectsions by Matt Hill
She brings to life the painting, Papilla Estelar by Remedios Varo through mask performance. This is a fragment of a larger show that highlights the artist's life and work.
ATOD: First I have to say that this particular painting, Papilla Estelar is one that has had a rather personal impact on me. I saw it on exhibition at LACMA during the "Women in Surrealism" exhibit. My daughter and I walked past it and it's as if it called to us. We both sat and looked upon it with such a sense of wonderment. There is so much story, so much pain and beauty. Estela Garcia took that beauty and pain and translated it on the theatre floor in a way that not only depicted the story behind it but poured out her heart in the process. The show began as she played the role of the artist, Remedios Varos and moments later, she morphed into her becoming the subject of Papilla Estelar or more deeply, La Alquimista. Through careful movement, she takes the stars from the sky and grinds them up into dust and then feeds it to the hungry moon. It was, in every essence, surreal. After the performance I was able to speak a bit with Estela whom I first met at Cirque-A-Palooza. The passion behind Estela's rendition of this painting, while continually evolving, is contagious and beathtaking.
El Toro
An Award Winning Short Film by Juan Diego Ramirez
For the past 37 years, Timo has been visiting his nephew in California from Mexico. Carlitos discovers that Tumo has ever been to a Dodger game. El Toro is the story of obstacles they had to overcome to get to that Dodger game.
ATOD: This film is impacting from the very inset. It begins with the line:
Uncle Timo said there were only four things that mattered: Family, Dominos, Baseball, and Tequila.
ATOD: The story of a man eager to get back to what's familiar, he tells his grandson he has never been to a baseball game. Carlitos swears to take him and he gets the tickets and off they go. So close to the stadium, their car breaks down. Right in front of a park that happens to have a baseball diamond. This touching story of a man fulfilling a dream, even though it wasn't as expected, is so simple and unobstructed. It's impossible not to feel your heart swell.
Sueños, Frosted Flakes
Juan Enrique Carrillo – a solo piece with guitar, "Suenos, Frosted Flakes" with dramaturgy direction by Alejandra Ciscneros.
Mr. Carrillo is 1st grade teach at a primary center in East LA and on this day, he learns about family, dreaming big, and staying positive.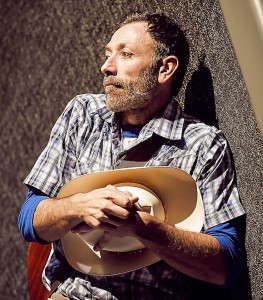 From the moment Juan enters the room, there is an undeniable energy. He begins with telling us about his 1st graders. Alessanadro, a student that always has to go to the bathroom or wants to talk about ice cream, and Jasmine, the overeager student who has ALL of the answers.
Throughout the evening, four love letters were read. The one that struck the biggest cord was letter No.3 read. It was poignant and real and honestly, we've all been lost and dissuaded and yet somehow, we still believe.
Thank you to everyone who put this together. It changed me.
About Inner-City Arts
Inner-City Arts, widely regarded as one of the nation's most effective arts education providers, is an oasis of learning, achievement and creativity in the heart of Skid Row, and a vital partner in the work of creating a safer, healthier
Los Angeles.
Providing access to the arts and the endless possibilities they offer, Inner-City Arts is an investment in the youth of Los Angeles. Creating a bridge between the studio and the classroom, Inner-City Arts' unique approach to arts education measurably improves academic and personal outcomes for children and youth, including those students with Limited English Proficiency who are at risk of academic failure.
Inner-City Arts' beautiful, award-winning campus—a safe and tranquil environment designed to fuel the dreams of children, especially those living in poverty who may believe dreams are for other children—is a source of inspiration to all who visit. During the school day, after school and on weekends, elementary, middle and high school students come to Inner-City Arts to work with professional teaching artists in well-equipped studios, receiving hands-on instruction in a range of subject areas within the visual, performing and media arts.
Equally essential to Inner-City Arts' mission, the Inner-City Arts – Annenberg Professional Development Program provides experiential training for educators, graduate students and others dedicated to bringing high-quality arts education to students of all ages and backgrounds. Programs for parents and families strengthen families and communities, supporting student achievement both inside and outside the classroom.