The Ranch Restaurant and Saloon
by Cord Montgomery, Greg Barraza, Tyler Dean
Photographs by Clarence Alford
The Ranch | 1025 E. Ball Road | Anaheim, CA 92805
(714) 817-4200 | FACEBOOK
Restaurant HOURS | Open Nightly | 5:00PM – 10:00PM
Saloon Hours | 18 & Over Sundays – Doors Open 5:30PM
Family Sunday 4:00PM – 10:00PM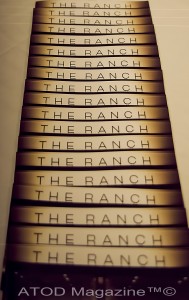 I had the great pleasure of sending my 3 writers and photographer: Cord Montgomery, Greg Barraza, Tyler Dean and Clarence Alford to experience the new launch of a phenomenal menu and a beautiful venue this past week. While I was unable to make it myself, I was proud to send in my exceptional staff to experience what I had hoped was an unforgettable venue. Turns out, it was. Thanks to Nancy Zwart for the invitation and to Chefs Michael and David Rossi for creating something these fellas won't soon forget. I look forward to coming in myself. For now, enjoy three very different perspectives of one unforgettable evening.
Part 1: CORD MONTGOMERY – Assignment WINE + KITCHEN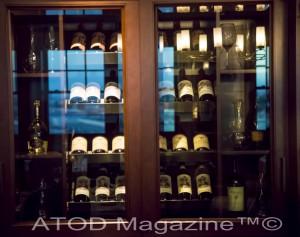 The elevator doors open and I am elated by the clinking of wine glasses by smiling people and a stylish yet simplistic décor of The Ranch: Restaurant and Saloon. A server behind a small wine bar welcomes me and offers a selection of white and red wines to commence the evening. I tell him I want to try a little bit of everything tonight; he smiles and asks where I'd like to begin. First, I decide to explore Napa and Paso Robles with Stronghold's Mandala 2010, an accessible red blend comprised of Cinsault, Grenache and Petite Syrah grapes. The bouquet of dark cherry and blackberries on the nose evokes images of a freshly baked pie, and when sipped, a welding of vanilla, black pepper and floral notes prickle the tongue, charming flavors pleading to be paired with spicy foods. I step inside the kitchen and see one of the dishes is lamb chops with a Moroccan twist of Merguez sausage—a seemingly perfect match for the Mandala and, when tasted together, knits a wide smile across my face. But the lamb is merely one of many dishes served tonight, and the crackle of fried Petaluma quail and braised short ribs being prepared seizes the rest of my appetite.
Chefs in pinstriped aprons hustle around stainless steel and granite countertops to drizzle sauces and creams on dishes such like Kobe beef Carpaccio with black truffles, each dish assembled with precision and gorgeous pageantry. I join the procession of eager foodies snatching up samples of each dish on the menu–hand-harvested diver scallops, various cheeses and hoisin-glazed duck meatballs to name a few—then grab a plate of the Chilean sea bass, ceviche and braised short ribs, and am incredibly happy that such a delectable array of dishes are self-serve because I will be having seconds and thirds … probably fourths.
One of the chefs is greeting guests with a smile and explaining each dish to excited patrons curious about the intriguing blend of flavors rarely associated with many of the dishes prepared. It is Executive Chef Michael Rossi; he has a noticeable charisma and is wonderfully accommodating to each patron, yet still possessing a skilled command over the kitchen, not hesitating to get behind the counter to prepare and dictate to staff as needed. Formerly a chef of Ambrosia and Napa Rose, he is described by staff of The Ranch as ever-evolving, never pigeonholing himself with his food, encouraging new flavors, creativity and education of everyone in his kitchen. The carnival of fine foods tonight exemplify his love for the deliciously unusual with so many dishes featuring exotic flavors plucked from North Africa, Peru and Italy—then fused with familiar, traditional favorites for an intriguing and inviting kick to the taste buds. I stop and talk to Michael, asking him if he has a favorite dish on the menu and he tells me that choosing such a thing would be like picking a favorite child: there's an unrequited love and thoughtfulness injected into each plate on the menu–especially the dessert menu by his brother and pastry Chef David Rossi—and narrowing the dishes to one over another is simply too difficult. I thank him and return to the wine bar to try the two featured white wines to complement my sea bass and ceviche.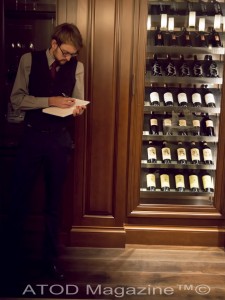 I'm poured Sierra Madre Vineyard's 2008 Chardonnay–wonderfully aromatic with tropical fruits and a dash of vanilla. It is refreshingly crisp on the tongue with bursts of apple and citrus that shake hands with the coconut curry in the ceviche seamlessly. The second white is a 2010 Greco di Tufo which is a decadent, delicious friend of the Chilean sea bass with its lemon and citrus flavors and the mild butter notes working well with the creaminess of the sea bass which has almost no hint of the sea at all.
The final red wine of the night is the Kenwood Vineyards Jack London Merlot 2009, a sensual, silky wine with a fig and plum fragrance almost plucked directly from the tree. On the tongue, it is tannic and bold with a full-body that invites pairing with bolder, smokier dishes like the braised short ribs. I pair both together and the smoke and fruitiness dance together nicely on the taste buds, like an old-fashioned brown sugar barbecue sauce.
Although only four wines were showcased at The Ranch tasting, it boasts a wine list featuring over 500 selections—some on display in the dining hall like Harlan Estate, Caymus and Chateaux Margaux, and the staggering selection allows for casual and refined connoisseurs alike to find something perfect for their desires. I walked around and admired the various wines behind glass surrounding the dining room, patiently waiting to be uncorked and enjoyed, leaving me with an itch to return and expand my palate with excellent pairings and flavors from the old world and new. If tonight's dinner is any indicator, I will not be disappointed.
PART 2: GREG BARRAZA – Assignment FOOD + STUDY
A confused look came over my face when I google-mapped the address to the Ranch Restaurant and Saloon; I was confused because the restaurant is in the middle of an industrial area of Anaheim. But what I found out once I finally arrived was that the Ranch provides all the flair of the best upscale restaurants. The Ranch is where "fine dining meets country western." The creations of Michael Rossi, Executive Chef, are beyond impressive. The full bodied food accentuates the dark woods and western touches in the event center. To make the venue more spectacular, The Ranch houses 14,000 wines, including Andrew Edwards' Private Selection wine.
The Study, one of The Ranch's private dining rooms, combines an intimate atmosphere while still having plenty of room. The Study is 645 square feet with a 40-person capacity. "All details and finishing touches have been selected by The Ranch's Owner and Founder Andrew Edwards." The Study is accented in warm and rich earth tones. The Study has a "country club" feel, largely due to the featured interior decor. The room showcases rare books, a beautiful bust of a mare, exquisite bookends and spectacular Spanish decanters.  This room is located on the southeast corner of the building, giving a 180 degree view of the City of Anaheim and Angel Stadium. Although it has a 40-person capacity, the guests are very comfortable, with plenty of room to enjoy the delicious cuisine. The Study features full AV and audio capabilities with a 12' drop down projection screen. To complement the room further, it is completely private. As for the amenities of the room: it boasts a collection of 5000 of the best wines for every palate. Williams Selyen 2009 Pinot Noir begin the selection. This Pinot prides itself as being the only Sonoma wine to receive a 100 point rating, and Cabral, the winemaker, was recently selected as winemaker of the year. The Selyen is followed by a 2004 Castillo Ygay and Carnival Love. Carnival Love's story is quite interesting; in order to aerate the wine, the sommelier places his or her thumb over the uncorked opening and turns the wine upside down and shakes the wine. This is completely unorthodox but effective. A 2010 Caymus Cabernet Sauvignon, Plumpjack Cabernet Sauvignon, 2005 Jarvis Cabernet Sauvignon, and a 2008 Pride Cabernet Reserve rounds out the distinct selection. In addition to the wines, the cabinet also features La Grande Dame and Ruinart Champagne, two of the finest champagnes on the market.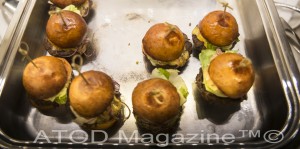 Chef Michael Rossi creates perfect symmetry between the restaurant and cuisine. The first presentation was the seafood table. The table featured a garlic shrimp cocktail and crab claws with sweet drawn butter. Adjacent to the shrimp and crab claws was the octopus salad. This was a very cleansing dish, by that I mean the octopus salad refreshed the palate, using sweet red peppers, asparagus, and capers to create a great dish. But the predominant feature of the table were the mollusks. A very clean offering of British Columbia oysters and clams provided a slightly salty ocean aroma paired with a very tasteful red sauce gave way to a memorable beginning to the evening. The final offering on the seafood table were the mussels. The mussel salad, with a cumin spice and red and yellow peppers, left the diner with a satisfying start.
The entrée presentation was superb! It began with an offering of American Kobe Carpaccio, Pecorino Romano, and a Black Truffle blend with Arugula. This was the perfect way to embark. Each flavor gave its unique perspective to the taste buds and left me wanting just one more bite. I am partial to ceviche; in fact, I consider myself somewhat of a ceviche aficionado, and the ceviche trilogy left me speechless. The individual offerings began a sweet symphony of taste bud dancing. The North Carolina shrimp—I'm going to presume this is an homage to the owner Andrew Edwards, who is from North Carolina—got its sweetness from the heirloom tomatoes; while the blue crab received its sweetness from the crab meat and coconut curry (so delicious!); and the Maine Lobster with mango and avocado truly separated the ceviche from its competitors.
As the main entrée dishes were served, I didn't think I had enough stomach, but each item gave its blissful aroma, and I knew I had carry forward. The slow braised short ribs with corn whipped potatoes exemplified the rustic ambiance; it was a blend of fine dining with down home barbeque. To further the red meat palate, I went for the mini lamb chops second. I am afraid I have to borrow a quote from some blogger who was behind me: "This was kick-ass!" Sun dried tomatoes and black olive chimichurri gave enough side flavor, yet allowed the lamb to stand on its own. One of the stand out dishes was the Country Fried Quail. The batter blanketed the quail perfectly, and the dish was sided with potatoes and barbeque bacon, but I think the agave mustard really set this dish over the top; it just sat on the wongue and allowed you to taste an excellent pairing. That said, the Chilean Sea Bass was my favorite dish. Chef Rossi blended a Maine Lobster Risotto with a bouillabaisse jus with the tender white fish and this just made me close my eyes and eat slowly because I did not want the flavors to end (I must admit, I went back for seconds of this dish).
The Ranch gives a great perspective on how to approach a restaurant. Owner Andrew Edwards put together a first class crew, and the presentation, design, and food showed he really did his due diligence. He has put together a unique dining experience in one of the most unique areas of Anaheim. This an experience that is necessary for anyone who wants great dining in Orange County.
PART 3: TYLER DEAN – Assignment DESSERT + TERRACE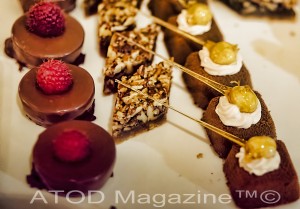 Making our way down a hallway, past the elevators that had brought us up to the sixth floor only an hour or so before (or was it longer—with all the musk and fervor of a hybridized classicism reminiscent of the best kind of upper-class decadence, it's easy to lose yourself in the wandering from room to room), Executive Head Chef Michael Rossi leads the way toward the dessert hall. Despite my leaving behind savory lamb shanks and kobe beef, it would soon dawn on me that I hadn't seen anything yet.
Rounding a final corner, Chef stops abruptly and holds out his arm in a gesture of welcome. Laid out before my eyes is a lengthy hallway; against one side, book-ended by double doors leading into The Great Room, four tables stand erect. An impressive construction of cloth and plating, however it's what is on the plates and trays that catches the eye: row after row of cups holding chocolate espresso pots de crème, suspended jellied strawberries in a cordial waltz with tiato-infused panna cotta, and miniature plates playing host to golden brown peanut butter chocolate bars complete with dabs of jelly in an unambiguous vintage medley. Next to these sit trays on which are arranged a chorus of dark and white truffle chocolates, sour sugar-coated dollops of candied fruit, and a collection of the sexiest white chocolate peanut butter cups you'll ever come across.
I grab one of the bars (aptly named "pb&j") and a pot de crème, and take a seat in a comfortable armchair set against the opposite wall where I can enjoy the milling streams of down-to-the-nines dressed men and women. Glasses of shimmering reds and whites dance lazily around the room as I slice into the handsome "pb&j" and take a bite—my senses immediately run amok to memories of schoolboy days and paper sack lunches. However, the orchestral refinement of this dessert's melody isn't overwhelmed with the same gooey pastiche of those bygone decades, but rather reveals itself in a panache of rich maturity and subsequent brevity on the palate. Taking a sip of the coffee, abundant in supply on one end of the handsome display of couture chocolates and sweets, seems unnecessarily tedious.
Music from within The Great Room begins to cull the milling crowd into its dimly-lit, comforting embrace; the others take up host around a free-standing table situated near one of the entrances as I find myself drawn toward the slow, sensuous voice of the performance within. Entering the room, I immediately gain a sense of melting into a warm membrane of anonymity. The room, although large in both size and available space, is demarcated by a lowered ceiling and even lower lights, whose purpose was revealed to my group earlier in the evening to convey the sense of intimacy that can oftentimes be lost during midnight dinner coups. Good company and sultry music dissipate any feelings one might have of claustrophobic tendencies.
The band at the front of the room belts out another piece, undulating beats and rhythms sidling up next to my fork as I now take a bite of the pots de crème. Humming alto notes collide with a perforation of revelatory excess, the taste of rich coffee and wanton chocolate come together in one of the still-surest matches made in heaven. Déjà vu is riddled throughout each bite—you know you've been here before, but was it ever this good? A transgressor of the senses, a year shaved off after every collaboration between spoon and crème, crème and lips. It's almost so good it's unfair. Taking a sip of the hot coffee would be overkill at this point, but I need something to break me out of the hypnotic stasis wrought.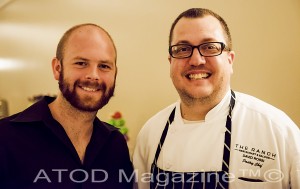 I take my leave of The Great Room and am met with an opportunity to meet the man behind the magic (and brother to the Exec Chef), Pastry Chef David Rossi. A man whose countenance bespeaks a friendly and candid nature, I feel comfortable stumbling through the usual rah-rah of silly questions before finally inquiring as to where David draws his inspiration from when coming up with a new entrée. Simply put, it's all a matter of trial-and-error. Oftentimes, he'll find himself at the grocery store picking up, say, cilantro, when his mind will begin mixing-and-matching items at the steady, undaunted pace of a wind-up watch. Speaking on some of his favorite Asian markets, David says he could easily spend an hour and a half wandering the aisles, picking and choosing ingredients for various concoctions. Other times, Chef will draw inspiration from shows, books, magazines, other desserts, and even other foods such as the lamb, pancetta, or seafood seen earlier in the evening (and that he played a major hand in preparing as well).
David mentions that one of his favorite ways to work desserts is to implement spices in a cohesive, modern fashion. Specifically, David says he really wanted to utilize the Vietnamese tiato herb in one of his dishes after dining out one evening. Soon thereafter, it would find itself smartly paired in the jelled strawberry and panna cotta dish that since our discourse began had been sitting patiently before me. Trying the dessert for the first time myself, I can say it is definitely a refreshing vision of the evergreen collaboration between fruit and cream. The tiato herb, one whose demeanor I cannot say I'm familiar with, did seem at times to lose itself in the flurry of milky iridescence and overwhelming sweetness of the strawberry concoction. However, an inconsequential slighting, trust me.
At the end of our discussion, I can't help but wonder what confectionaries a maestro of Rossi's caliber prefers to prepare for himself in the privacy of his own dwellings, and ask. His answer? Although friends joke that his shelves and pantries are filled with "everything", David says it would have to be the simple pleasure of indulging in oatmeal chocolate chip cookies, or freshly homemade brownies, that catch his fancy. Can't argue with that!
_________________________________
Follow ATOD Magazine™ and A Taste of Dawn™