QUICK TIPS For A Spontaneous Journey Up The Central Coast
by Dawn Garcia | Photographs by Dawn Garcia
A quick guide for where to stay and what to do if you ever take a spontaneous trip up the Central CA Coast!
At the beginning of this summer, I decided to do something rather spontaneous. I figured of all of the many topics I've covered, the food I've enjoyed, and the cities I've been to – everything I've written about or gone to has been fairly planned out. I figured it was time to be totally off-the-cuff, get in the car and just drive up the California Coast – during one of the busiest holiday weeks of the year no less: the 4th of July. I wanted to see what was possible if and when any one of my readers decided to take a last minute trip during a nationally busy time. And so, the journey began.
SANTA BARBARA
134 Chapala St | Santa Barbara, CA 93101
Starting in Santa Barbara, I traveled with one of my nearest and dearest and we met some friends at the Hungry Cat. We met my friend and her husband who were eagerly awaiting the arrival of their son – she was due in 3 weeks! Pregnant, hungry, and happy to eat, we ordered up some tasty treats (unfortunately many of which she couldn't have as a mommy-to-be). We started with oysters: Blue Point. Large, delicious, sliding off of the half shell with such a provocative ease, a half dozen just doesn't seem enough. I then order my favorite HC item: The Pug Burger with Applewood Bacon and I opt for the quail egg atop. Oh sweet meat, how good you are!! I have yet to have a bad meal here. Start with some bubbly or one of their hand-crafted cocktails and be prepared to leave well fed and happy.
Once Santa Barbara set in it was time to head North for a stop in Cambria before arriving in Big Sur for the 4th. The drive through the 101 with the ocean at your left, the green mountains on your right, roads that narrow and dust your mind with exquisite beauty – well, there's nothing quite like it. So we stayed at the Cambria Landing Hotel.
TO DO:
1. EAT at at Hungry Cat – Order Oysters t start, ANY cocktail, AND order the burger with bacon and quail egg. Trust me.
2. STAY at Casa del Mar. (Affordable) | Agave Inn (Totally different location and space for the curious traveler) |
Spanish Garden INN (For the Boutique lover of true Spanish style)
3. VISIT State Street and pub crawl (highest end pubs you'll find!)
TIP: DON'T Expect to do it cheap! Enjoy State Street, do some pub crawls, rent a bike and stroll along the water, check out the Mission, do some Saturday shopping, and if there's time make sure you go to Isla Vista and go to the original Freebirds. Get a burrito (they used to be $4.75 and while "inflation" has taken effect, it's still a fun local thing to do).
CAMBRIA

6530 Moonstone Beach Dr | Cambria, CA 93428
This was a very short trip, less than 10 hours total.
CAMBRIA LANDING INN – Arriving just after 11pm, we pick up our keys at a neighboring hotel that stays open for late arriving check-ins. Once parked, luggage unloaded, our room is adjacent to the rooms with the hot tubs. A feature I desperately needed to enjoy. But the hours ended at 10pm and so, I slump and pout in disappointment, wash my face, put on my pajamas, and listlessly fall into the bed. The window is cracked and the sound of the ocean crashing against the Cambria rocks lulls me to sleep.
TIP: Arrive before 7pm if possible so you can check in, enjoy the restaurant just a stone throw away (there's only one), walk on the ocean path, and get in enough time to hop in the hot tubs. There are two but they close at 10p. Also, pre-order breakfast if you're heading out early the next morning.
DO: SEE Hearst Castle (and the herd of wild zebras. Oh yes, really.), the sea lions sunbathing, the beach. STAY along the coast. Walk the walkway and stop at Morro Bay. Cambria also houses some of the cutest shops, wonderful little art galleries, and boutique hotels all about that are worth looking into.
BIG SUR
48510 California 1 | Big Sur, CA 93920
Onto Big Sur where we were off for the 4th of July extravaganza. We stopped for some drinks and a bite at Nepenthe which has one of thee most beautiful views of the coast and the mystical allure of Big Sur. Glorious green trees span the hillsides, pockets of shadowy forest and just past the Europe-like rocks, the great big blue. After some bubbles and another dish with bacon (hey, I'm not counting ANY calories on this trip), we stayed all of an hour, stopped briefly, and decided not to attend the event. While Big Sur is where I have escaped to write more than once, home to two of my favorite stops – Henry Miller Library and the Hawthorne Gallery (the spaces alone are worth seeing) –  this trip I made the choice to keep driving.  Turns out we decided to keep heading towards Monterey but we did enjoy a brief stop through the area that has always provided me (and Jack Kerouac and Henry Miller) with inspiration. The places that you must see are the following:
TIP – To EAT: Nepenthe | Ventana Inn Restaurant

To SEE: Henry Miller Library | Hawthorne Gallery | Big Sur Food & Wine Festival (this November!! Get TIX Here)

To STAY: Lucia Lodge (I took a writing sabbatical here, quaint and simple) | Ventana Inn (Luxury)
Dinner in MONTEREY – Restaurant 1833

500 Hartnell St | Monterey, CA 93940
One of the loveliest cities in California. Stopping here on the way to Los Gatos (a rather spontaneous decision), we ate at a restaurant that left an absolutely unforgettable impression: Restaurant 1833. Arriving just as the kitchen closed on the 4th of July, bellies literally aching with hunger, I begged to be fed and thankfully, to my delight, Restauteur Tobias Peach came in to save the day. He walked us through the beautifully decorated restaurant that has the charm of romance but the curiosity of California history – with a touch of a little intriguing darkness, and sat us upstairs. Compliments of the house, he sent out a shot of Mezcal to commemorate the evening and then well, then the feast began. I plan on returning to do a proper review but let's just say NOTHING lacked the sublime factors I look for in cuisine and every single dish was divine.
TIP: Start with Bubbles OR Mezcal and work your way through an impressive wine selection and a menu prepared by the deliciously talented Chef Levi Mezick (you will want to remember this name!). Try as many menu items as you can. You mouth will guide you, your palate will thank you, and your entire being will embrace you.
Hotel LOS GATOS & Spa

210 E Main St | Los Gatos, CA 95030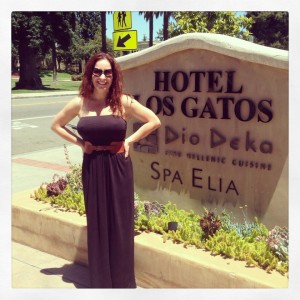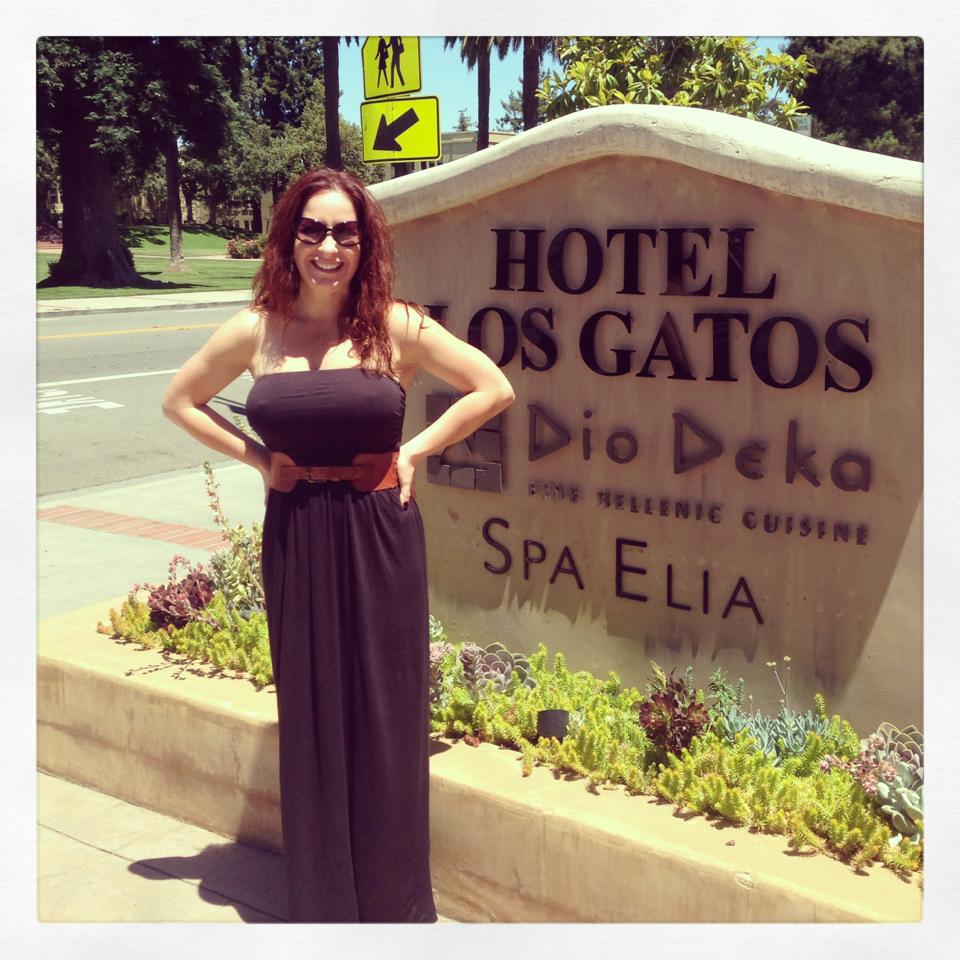 My first time in Los Gatos, I have to say this is one truly quaint and wonderful town. Restaurants, art, an easy going appeal, this is a great stop. Explore the town, indulge in the cafe's, the bars, the intrigue of a town named after CATS! And then, literally calling two hours before planning to arrive, the Hotel staff at Hotel Los Gatos & Spa really did everything they could to accommodate us. This hotel was modestly priced, has impeccable service, the charm of Spanish architecture, and took great care of us during our 3-night stay. Beginning with a beautiful lobby who were there smiling at near midnight, first impression was pretty great. This is a little gem in the middle of a town that I will definitely be returning to. The room was spacious, fridge stocked with everything, a beautiful terrace window or full balcony depending on the room, a courtyard, lobbies and entries that have such rich colors and beautiful detail, you don't want to miss it if you can help it. Live music, a well planned menu, wonderful bartenders, and a pool that is stocked with towels and water. While we spent most of our time wandering the city, I have no doubt the on-site Spa is nothing short of wonderful.
TO DO: Explore! Explore! Explore! There is so much to see in this town. Amazing restaurants, gorgeous terrain, friendly locals, random bars, the best pottery spot I've found Peroglyph!
THE GRAND FINALE!  InterContintental Monterey Hotel Clement
750 Cannery Row | Monterey, CA 93940
After having spent the previous 5 days bathed in the sweet wonder of bliss, it was befitting that our final stay was in the truly beautiful, Intercontinental The Clement Monterey. Hotels are my weakness and the one realm of hospitality I hold to the highest standards. The moment we drove past the Cannery Row sign, it was clear that this final stop on our adventure was going to be utter luxury. There is sophistication and there is near perfection. When I first heard of Hotel Clement, I looked into the property and everything in me knew this was not the standard "chain" hotel. It was a place where one goes to bask in beauty, swim in bliss, and revel in natural beauty. Upon arrival we were greeted by Valet and then made our way through the entry where the crisp tones of white and warm woods envelop the lobby and reception desk. We are told our room is almost ready and so we decide to walk over to Cannery Row and grab a bite to eat. Nothing fancy, just something yummy. We walk to Chart House and the food is decent. Nothing exceptional but it'll do. My friend, in celebration of being on our last leg of this excursion, orders a bottle of Cuveé and we happily toast and sip and eagerly look forward to getting into our room.
Once we finish eating, we stroll along the wharf and soon make our way back, almost like impatient kids waiting for Christmas, and we get our room keys. Up we go! Top floor, corner room, and it is breathtaking. Simple and very zen-like with tones of whites and walls of seagrass, a bathroom bellowing luxury with an oversized jetstream rectangular tub, a shower with multiple streams, dual sinks, and a large opening with shutters (for privacy when needed) – OR – a view that spans the entire ocean. A bath that leads to the ocean (visually speaking). Outside of the bedroom was a balcony and there, well, there we had the most unforgettable experience! We had a friend … a seagull I lovingly named SAM. Sam was cool. Not a pest. In fact he was sweet – and I hand fed him and he would leave and only return when I called his name! REALLY!! I wanted to adopt Sam. This really was the perfect finish to our trip. Every aspect of this room oozed quiet sophistication, romantic serenity, inspiration, sublime calm. I would have spent an entire week here – and probably would have finished my screenplay in record time! I was at total peace. Nothing was too over-the-top, the quality was well thought out. The simplicity was nothing short of wonderful. While it is certainly a luxury hotel, it never once felt pretentious or awkward. In fact is was exactly the opposite. The only thing I wished I would have done, looking back, was to dine at the C Restaurant for dinner. While I did go for brunch, I think the dinner menu would have taken me somewhere lovely.
I have to thank Cathy Faber who made this stay one of the best I have ever had. The architecture of the room, the tones of whites and grays soothing to ones demeanor set the tone for a night of serene calm and understated luxury.
TIP: Go to the Aquarium (most beautiful Aquarium I have ever been to), give yourself a few days to really enjoy everything Monterey has to offer. Make friends with everyone – they'll be your friends for life. Stroll Cannery Row. Do dinner at the Sardine Factory – BE SURE TO ORDER GELATO. Come with a willingness to relax, see sea lions frolicking just on the shore, sea otter playing in the kelp, and well, prepare to be blissfully content. And stay at this hotel!!!!
_________________________________
Follow ATOD Magazine™ and A Taste of Dawn™