Andy Comeau and Dawn Lewis
Andy Comeau is one of my favorite actors. If you don't know his name, you are missing out. If you've ever watched Showtime, you may be familiar with the infinitely well-written, astoundingly performed, screwed up family drama, Award Winning HUFF starring Hank Azaria, Paget Brewster, Andy Comeau, Anton Yelchin, Blythe Danner, and Oliver Platt. Andy played the most endearing, mentally disturbed, heart-wrenching, heart warming brother, Teddy. HUFF is based on Dr. Craig "Huff" Huffstodt played by Azaria who has a teenage patient kill himself in his office. It causes an onslaught of story that unravels through 25 episodes. Teddy, played by Andy Comeau, is a character that to this day is one that deeply impacted me. He was so easy to love and empathize with in spite of the transparent imbalance of his psyche. So – imagine my delight when I attended a charity event at the LA Doll Factory benefiting Downs Syndrome and looked up to see this dapper gentleman all scruffy faced and smiley and realized it was none other than Andy Comeau! I immediately went up to him and told him that "Teddy" to this day is one of my all time favorite characters and that I was immensely saddened to see that show end.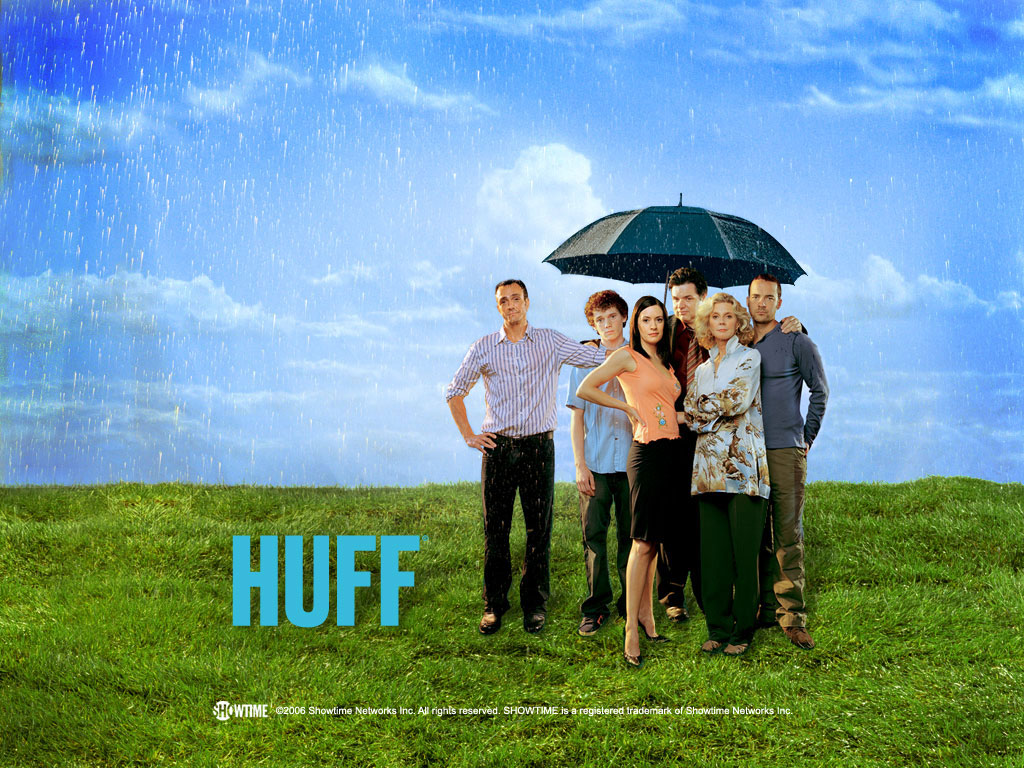 He was with an entourage of well-dressed, sexy men and women who, as I found out later that evening, were all part of his 19-piece band called Vaud & the Villains: A 19 piece New Orleans Orchestra & Cabaret Show. And they blew the lid off of that place! Vaud & the Villains may very well be the coolest band I have ever seen live. Not only is the music like a buzz that infiltrates your entire being, the whole "outfit" is straight out of a high-end Vaudeville show one would only dream of having had seen back in the day. The intricacies of every single detail, the stitching on the suits, the color schemes, the vibrancy of the soul emanated in every note that bellows out of the brass, the unequivocal tune that carries you to a place of sheer happiness – well, one would find themselves defiant not to wholly submit. As they play, I see Andy who moves about the stage playing various instruments and singing over the course of the performance alongside what can only be called sheer brilliance – the band takes me down to the streets of New Orleans to a time when appetites for the colorful were insatiable, souls resonated with jubilance in a sort of wonderful revolution of sound that could fill your entire being up with the purest form of life. It is sublime and that doesn't even do it justice. And then your eyes avert to the exquisite beauty of a woman with fair skin and ginger peach hair and you are drawn in. "Ginger" is actually "Peaches Mahoney" which is Dawn Lewis who also happens to be Andy's gorgeous and talented wife. Peaches sings, dances, entices and gives the stage a presence you can't take your eyes off (and a body most women would kill for!).

Andy and Dawn really are an impressive couple. They are, in fact, that sultry, intelligent picture of romance. Having met during a commercial years ago and creating Vaud & the Villains together, it seems like a tale one might read about in a classic Hollywood love story. Turns out not only are they friends, happily married and in love, exceedingly talented but also down to earth individuals that create something exciting together. They both agreed to do this interview with me and I couldn't be more thrilled to share their story. Enjoy getting know the man behind my favorite character and the woman who brightens his world.
*Oh, and Andy? Sorry about that whole reliving HUFF thing. I couldn't help it! Thank you both for allowing me to tell a bit of your story.
OUR INTERVIEW
Part 1. For Andy Comeau
ATOD Editor, DAWN GARCIA (DG): What was the very first TV show you ever saw as a child that opened your mind?
ANDY COMEAU (AC): Honestly the first shows I remember watching were the Lawrence Welk Variety Show and Walt Disney's Sunday Night Movie. I don't remember either one having a great artistic influence on me though. I just remember that you had to take a bath before you watched them. You have to remember though, at that time, TV was not what one would call, "enlightening"…
DG: When I first really became familiar with your work it was for your role as "Teddy", Huff's unstable brother. How did you transition out of that role when the day was wrapped?
AC: I don't remember really needing to transition out of the character at the end of the day. At that time, I spent a lot of time alone so maybe I was carrying him with me all the while. Teddy was a lonely character.
DG: I feel like no matter how troubled Teddy was, the love he had inside of him was immeasurable. What was your favorite part of that character?
AC: I think I was always surprised and intrigued by the unpredictable and fractured nature of his character. There was a deep soulfulness to him and a tragic awareness of his lot … damn… I had gotten over the show being canceled and now thanks to you, I am set back to longing …. thanks so much.
DG: Every artist tends to have multiple talents and while you play an instrument and have an amazing band, if you could pick something else, what would your dream CREATIVE job be?
AC: I'd like to live in Paris in a swank hotel for awhile and spend my days writing a novel and my nights playing music in a cabaret, getting drunk and not paying the bill.
DG: What word sets your soul on fire?
AC: Change.
DG: If you could close your eyes and envision the sound of bliss, what does it sound like?
AC: A child's belly laugh.
DG: Growing up with 9 older brothers and sisters had to have been quite an adventure. What is one of the craziest stories you have?
AC: Hmm…that is hard…we grew up on a farm and didn't really get into a lot of mischief. I'm not sure if our version of crazy was what you were imagining with this question but … 1) We used to feed the cows a crab apple and then run away with some in our hands. These were enormous creatures with no agility skills for stopping or turning really. And they were mad for crab apples. 2) We played a game called Lava Woman, where we'd all hide in the hay in the barn and my sister would try to find us by poking a long bamboo fishing pole up through the hay. I don't know why it was called Lava Woman. Or, 3) we played a game called Rodeo where one of my brothers would ride a bike and try to lasso us. If he caught you, he could drag you into the barn and beat you with a wooden tennis racket. Which he did.
DG: Favorite classic film? Foreign Film?
AC: Classic: Casablanca, Foreign: it constantly changes…right now it is Open Your Eyes or Let The Right One In
DG: A quote that always keeps you grounded?
AC: I like Margaret Mead's: "always remember you are absolutely unique, just like everyone else…"
DG: What has been your greatest challenge thus far in life?
AC: Staying employed.
DG: Best advice your parents ever gave you?
AC: Not advice so much as example … they have been married for 50 some odd years and have had to make so many adjustments in life. They are my greatest example of never giving up, of accepting short comings, compassion, of loving unconditionally … of family really. They are as simple as can be but yet so rare. If you have ever felt their affection and bond, you feel that you have been touched with one of life's great gifts.
DG: Who has been the most influential actor? Artist?
AC: I have always been amazed by Gary Oldman and Sean Penn for their ability to disappear. But then actors like Kevin Kline and Viggo Mortensen who don't really disappear, you love them anyway in whatever role they play.
Part 2. For Andy and Peaches
DG: Before we go into the music, how did you two meet?[/question]
AC | DL: We initially met on a JCPenny commercial. She was in love with me but she didn't know it until we saw each other again a year later and she had the good sense to throw herself at me. And I had the good sense to be paying attention for once. We've been together ever since.
DG: Top 5 greatest musical influences?[/question]
AC | DL: Bruce Springsteen, Kenny Rogers, Michael Jackson, The Stax recordings, James Booker. We love The Felice Brothers too.
DG: It is amazing to see up to 19 musicians on stage together – in actual unison – creating music that is not only flawless but entirely authentic. Did you ever have a moment where you thought, ok, how in the world are we gonna get 19 musicians on the same page?
AC| DL: Not the same page, I think the initial worry was how are we going to find everyone we need to execute this idea…and then when we got what we wished for, we wondered, how the heck are we gonna fit everyone on this tiny stage. We have five gigs set before we had a band or dancers and two months to assemble it.
DG: In a world that seems upside down, the music you create is so alive! If you could take the band anywhere in the world to play, where would you go?
AC | DL: We've been really burning to go to Edinburgh for the Fringe Fest and to Japan.
DG: How do you maintain a happy marriage while working together?
AC | DL: We both love the show so much. It is seriously like this living thing that we feel entrusted to care for and nurture. And we trust one another that we both want what is best for our marriage first and the project second. We also have very different skills and that helps wrangle such a large group and make it harmonious. And good sex. Really good sex.
DG: 3 Most important things readers should know about Vaud and the Villains.
AC | DL: 1. We always show up 2. There are occasional mostly unintentional wardrobe malfunctions 3. You get what you pay for.
DG: Do you have someone design your wardrobe for each show or do you all just have a set vision of how things should look?
AC | DL: We always had a specific idea of how we wanted the act to look. We began with photos and pieces of wardrobe here and there and most importantly individual characters for everyone. After five years of doing the act, the musicians really have taken that and brought in their own flavor and accents to bring their characters to life. The dancers costumes are made exclusively by Peaches. Vaud will buy stuff at the Goodwill and make it villain-fabulous.
DG: Who does what? Write music? Choreograph the dancers? Etc.
AC | DL: I have chosen all of the music that we do. We have original tunes that have been written by myself and Dawn and some of the other band members. But the actual music making happens in rehearsal and that is a very collaborative process. Dawn does all the choreography and has chosen the dancers and that is her realm, as well as any additional costuming.
DG: If you could perform with any musician at any point in history, who would it be and why?
AC |DL: I think we'd really want to play our music with James Booker. He was mentally ill, a homosexual, had one eye, was a convict, a black man, in the South in dire times, and a genius. We are enamored of his music and his story. If it were a living person, Bruce. He is a musical genius and knows how to put on a show that even rivals the spectacle of even a Vaud and the Villains show.
DG: There is a sense of wonderment to the music of V & V. What is the most magical aspect of what you do?
AC | DL: We have a deep love for the music that is true. We love the charge of transporting the audience to another place and time. We love the escapism of all that. The pageantry. And above all, we love doing it with this big, bawdy group of villains.
Vaud + Peaches
Vaud Overstreet
Charlatan, seducer, tenor saxophone.
Born 1892. Led a medicine show with a group of 19-35 people throughout the South from 1928-1934.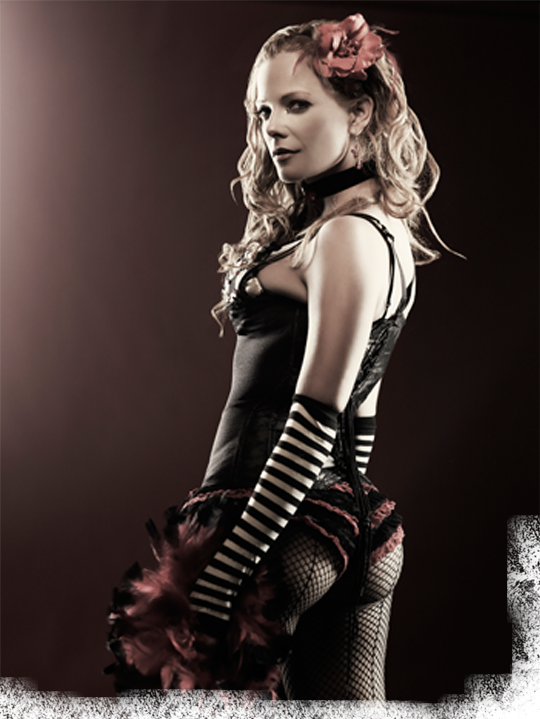 Peaches Mahoney
Pickpocket, canary, leggy dancin' dame.