Part 2: Experience LA Date Night.
So You Want To Impress Your Date …
Cover Photo by Dawn Garcia
LA is notorious for cool spots and a flurry of dating men and women. Always hoping to impress, most of the time, dates end up being lackluster by sheer lack of information. This is a list of some of the best spots in Los Angeles to woo, impress, and make you – and the date – unforgettable. (Let's just hope the date is the same!) In essence, trying something new is good for both of you. No one wants to be bored and you certainly don't want to be the one that takes EVERY date to the same place. This way, you're on it. Let's call it a public service to every potential dater. Now, at least you have a few tricks up your sleeve.
Stay tuned for Part 3 of this Series where I am going to give you a detailed list of all of the nuances and fun things to do, great places to dine, random spots to discover – for EVERY part of of your weekend beginning with Friday on through Monday morning. For now, enjoy a little dating detour …
Option No. 1  – SANTA MONICA
West Side Casual But Cool
Start with a Glass of Wine at Bodega Wine Bar
Make Dinner Reservations at Tar & Roses
After Dinner head to the Rooftop Penthouse at Shangri-LA
---
Option No. 2 – WEST HOLLYWOOD
Impressive And Chic
Start with a glass of bubbles at V Wine Bar
Make Dinner Reservations at Fig & Olive: Start with a Cocktail at the Bar
Make your reservation in advance and request a spot in the middle of the room OR above on the terrace.
After dinner, head towards Hollywood to Chateau Marmont for a nightcap.
---
Option No. 3 – DOWNTOWN LA
 Try Everything (you'll stay around 6th-9th Street)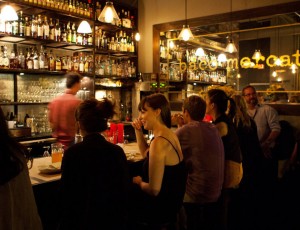 Start off by grabbing a spot at the bar at Bacö Mercat.
Make Reservations (in advance!) and have dinner at the truly memorable BESTIA.
Top the evening off with a little pre-prohibition at Caña Rum Bar.
---
This Article brought to you by:

To Sponsor an Article, please CONTACT us.
Follow ATOD Magazine™
---
ATOD Magazine is a Reader-Support FREE Online Publication.
This 1st Quarter Readers can make a one-time donation to our Writing Staff:

[cpDonation id='donatetoatodmagazine']