Newport Beach Film Festival Coverage 2014
"WELCOME NOWHERE"
U.S.A. + Bulgaria | 2012 | Running Time: 80 min
by Tyler Dean
---
'Welcome Nowhere' spotlights a culture of poverty…
---
It always blows my mind that in a day and age where we can communicate and socialize with anybody, anywhere in the world, at any given moment, our biggest problem remains to be that of racial prejudice, especially against minorities. In some ways we're doing better than our grandparents, and even our parents, but we all know we have a long way to go before we can even begin to mumble of having rubbed out perhaps one of the most embarrassing aspects of U.S., indeed World, history. Bringing the problem into full focus is director Kate Ryan with her impressively entrenching feature-film debut, Welcome Nowhere, a documentary putting on full display the lives of a group of Roma people living in unbidden squalor, the film simultaneously forces us to take a good look at ourselves and how we treat others, if you can get yourself to look in the mirror, that is.
A surface viewing of Welcome Nowhere might convey to the casual observer an understanding construed as all too familiar: a group of people—in this film's case, gypsies—are regarded as the bane of society, partly by their own volition (but mostly not, as usually becomes apparent), and are cast aside by the community and its leaders in the hopes that they will simply disappear. In her film, Ryan, who says she first started on the idea over a decade ago after learning about the blatant racism tearing through Europe, patches together a seamless quilt of humbling testimonies, heart-wrenching photos, and candid interviews (unsurprisingly, the most revealing of which being those where the interviewee didn't know the camera was rolling), all in an effort to "give a voice", a cinematic soapbox, to those who don't have one. But above all else, it's the real of Ryan's personal stake in getting across these people's plight—one which we're told numerous times throughout the film is only one example of thousands all over Europe—that shines through and stands this documentary apart from its contemporaries.
WELCOME NOWHERE: Trailer from One Small Instrument Pictures on Vimeo.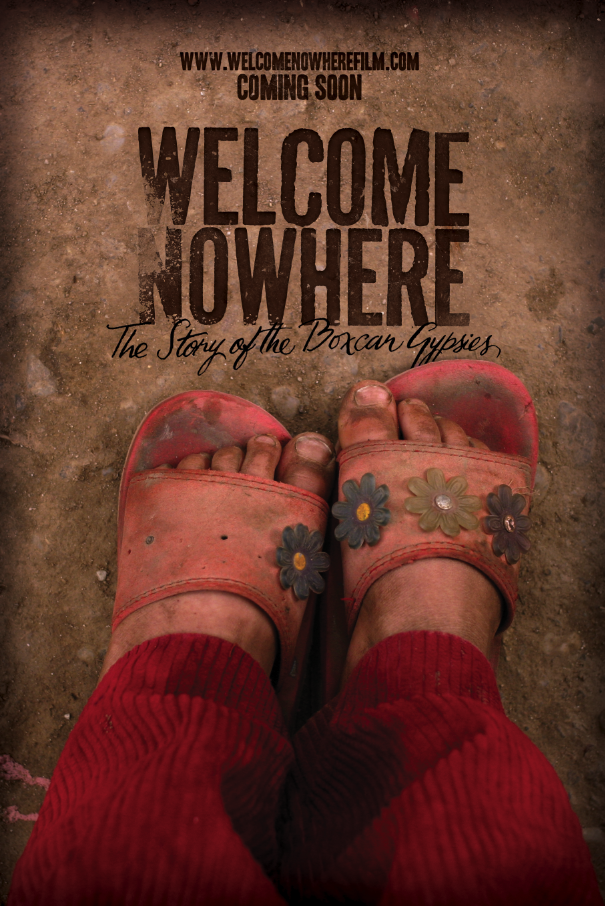 Following an entrepreneurial buyout from the government to build the European equivalent of a Walmart, a group of Roma people living on the building site in Sofia, Bulgaria are displaced from their paradise into a melancholic modern-day dystopia of broken down boxcars and rock-lined pools of mud for paths. Horse-drawn carts, smiling men, women & children, and dry, habitable land devolve over a series of photos and film stock into a minefield of stripped industrial utilities, feces, and childbirth.
As weeks turn into months, and then years, this specific group of Roma—a 200-plus enclave of increasingly diseased and famished people—continue to wait for aid from a government that seems to have all but forgotten their promise to build, and help them move into, permanent homes. With a front-row seat to conditions that will make your skin crawl, Ryan's merciless camera work captures the decade-long epilogue to a human condition that can only be described as "without hope."
As a by-product of said racism and, indeed, the political ethos of the time—highlighted by interviews with citizens of Sofia that seem to revel in naïve pompousness and uneducated fear—the boxcar community quickly unravels and soon becomes an animalistic parody of the "self-fulfilling prophecy." All the while, Ryan projects onto the viewer a sort of mirror via her and her crew's relationship with the Roma in order to show us that these men and women could very well be our friends, our family members. We follow one woman in particular, Stefka, as she navigates the boxcar community and her day job as a street sweeper. But it's at her home where we really see the impact that underprivileged living can have. Proudly showing off secondhand appliances, salvaged from a nearby junk heap, an unobtrusive Ryan forces the viewer to take on the role of interviewer while Stefka answers our silent questions. What becomes clear is that the Roma are not destitute because they are Roma, but simply because it was decided by citizens, very much like ourselves, that these immigrants are thieves, manipulators, violent, and uneducated. Anyone—anyone—would succumb to similar life circumstances if forced out of their, say, McMansion and into a home smaller than a suburban garage.
In short, Welcome Nowhere is a commentary on a truth rather than a people: we need to change ourselves—how we view the world as well as one another—before we can even begin to change the plight of those suffering abroad … or at home, for that matter.
"In the heart of Sofia, Bulgaria, a community of Roma Gypsies live in run-down train boxcars without bathrooms or basic sanitation. Placed there by the government more than ten years ago, they struggle to survive, waiting for help that never seems to come." [IMDB]
Welcome Nowhere was highlighted in NBFF's 2014 Women Direct! series, which sought to promote women-directed films in the line-up. The series played host to over 30 of these films by women, including the world premiere of the Women Direct! spotlight feature, Fort Bliss (dir. Claudia Myers), which was followed by a panel comprised of several female directors and representatives from the Alliance of Women Directors and Women in Film International.

---
The Newport Beach Film Festival seeks to bring to Orange County the best of classic and contemporary filmmaking from around the world. Committed to enlightening the public with a first-class international film program as well as providing a forum for cultural understanding and enriching educational opportunities, the Festival focuses on showcasing a diverse collection of both studio and independent films. The Festival supports the creation and advancement of innovative and artistic cinematic works from both emerging and seasoned filmmakers and proudly embraces the passion, vision, and independent spirit of these talented artists. With the integration of the local community and educational institutions, the Festival stimulates an interest in the study and appreciation of film and encourages people of all ages and backgrounds to participate.
Make a Change in the World … It starts with ONE person.