Opening This Week in LA: Plays + Comedy
Los Angeles may not be New York, but there is plenty of theatre to partake in. Below is a list of the ever-growing stream of theatrical brilliance gracing the City of Angels. Next time you ask, "What should we do", well, now you have the answer:
---
 It's Just Sex
The Secret Rose Theatre
11246 Magnolia Blvd.
North Hollywood, California
(818) 762-2272
August 22-October 12, 2014
It's Just Sex – A Comedy About Lust & Trust, written by LA Based playwright Jeff Gould, is an acclaimed, award-winning comedy stage-play that was a runaway success in each of its initial professional productions in Los Angeles and is currently running Off-Broadway in New York City. The Off-Broadway production opened June, 2013. There have been subsequent regional productions in San Diego, CA, Lakewood, Colorado, Athens, Greece and Auckland, New Zealand. Licensing deals are currently being negotiated for productions in Mexico City, Sao Paulo and Rio de Janiero, Brazil and Sydney, Australia.
"It's Just Sex" depicts the lives of three typical couples, each experiencing the trials and tribulations of married life, during one fateful evening. With the kids away at camp, they gather for a routine cocktail party. But as the liquor flows, party games are played in which secrets, truths and resentments are revealed, culminating in a surprising and wildly hilarious 'partner swap'. The results are hysterically funny and captivating when the drunken escapade clarifies and the characters must confront the resulting effects on their lives and marriages, and views of honesty, monogamy and relationship.
The play succeeds wonderfully, delivering a lively evening of date-night entertainment that is raucously funny, provocative, insightful, moving and ultimately uplifting. Audiences universally relate to the situations in the play and see pieces of themselves in each of the characters and couples. The 7-character ensemble can be cast in variety of ways. With 1 stationary set and few props and furniture pieces, the full-length play is easy to cast and stage, and inexpensive-to-produce.
---
The Goat, or Who Is Sylvia?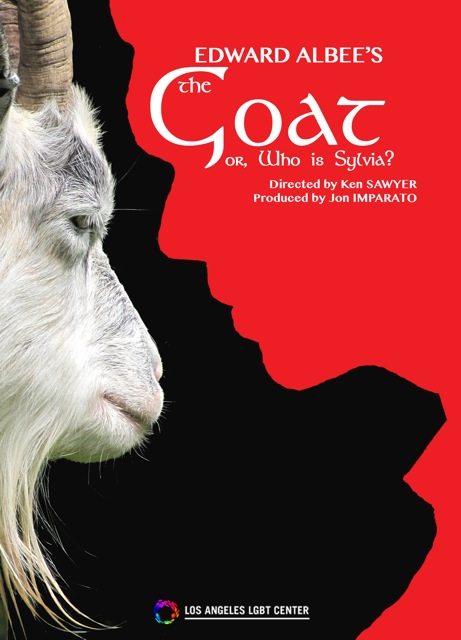 Previews September 17 & 18 at 8 p.m.
Opens Friday, September 19
Fridays & Saturdays at 8 p.m. · Sundays at 7 p.m.
Closing Date: November 23rd
Directed by Ken Sawyer
Produced by Jon Imparato
TICKETS: $20 | $30
"The Goat or, Who Is Sylvia?" is the tale of a married, middle-aged architect, Martin, his wife Stevie, and their son Billy, whose lives crumble when Martin falls in love with a goat. The play focuses on the limits of an ostensibly liberal society, challenging audience members to question their own morality and the way in which we choose to maintain humanity and dignity when taken to the brink of extreme chaos.
With Matt Kirkwood, Spencer Morrissey, Ann Noble and Paul Witten
Edward Albee's controversial Tony Award-winning play comes to the Davison/Valentini Theatre in a new production. What are the limits of tradition, tolerance and morality? Who gets to set the standards? How far are you really willing to go?
---
Haunted Screens: German Cinema in the 1920s
September 21, 2014–January 4, 2015
 Art of the Americas Building, Level 2
Haunted Screens: German Cinema in the 1920s explores masterworks of German Expressionist cinema. From the stylized fantasy of The Cabinet of Dr. Caligari (dir. Robert Wiene, 1919) to the chilling murder mystery M (dir. Fritz Lang, 1931), cinema during the liberal Weimar era was innovative in aesthetic, psychological, and technical terms.
Organized by La Cinémathèque française, Paris, the exhibition features over 150 drawings, as well as manuscripts, posters, and set models, the majority gathered by Lotte Eisner, German emigrée film historian and author of the pioneering 1952 text The Haunted Screen. Additional works come from the collections of LACMA's Robert Gore Rifkind Center for German Expressionist Studies and from the archives of the Academy of Motion Picture Arts and Sciences.
This exhibition is included in General Admission.
Join now and see it free, or reserve a ticket.

---
Is There Sex After Marriage?
WHAT: "Is There Sex After Marriage?" A World Premiere comedy.
WHO: Written and directed by Jeff Gould. Produced by Mike Abramson. Casting by Patrick Baca, C.S.A.
WHERE: Two Roads Theatre, 4348 Tujunga Ave., Studio City, CA 91604.
WHEN: NOW PLAYING through October 26, 2014 at regular show times: Fri. & Sat. at 8:00, Sun. at 7:00. Dark September 5, 6, 7 and October 3.
ADMISSION: General $34. Students/seniors $25.
RESERVATIONS: (323) 960-5770. Students and seniors use promo code 209.
ONLINE TICKETING: www.Plays411.com/sexaftermarriage
ESTIMATED RUNNING TIME: 70 minutes. No intermission.
CONSUMER ADVISORY:  Not for kids!
Roger and Sherry are a long-married couple who frequently have their friends Zack and Beth, and Joe and Mindy over to their home. All have been married for years. Joe and Mindy bicker quite a bit. Zack and Beth still have the hots for each other. Roger wonders why his own marriage is no longer as passionate. Sherry, involved in save-the-planet activism, devotes most of her time to her causes, and is frustrated by Roger's lack of interest in them.
One night, Roger and Sherry accidentally (honest!) find themselves at a swingers' party. What they see there and who they meet there startle them. Will they participate?
What they experience on that fateful night and in subsequent events will have unforeseen effects on their marriage. Can their love for each other and their union possibly survive? This is the third in a series of comedies about the dynamics of relationships between men and women from playwright-director Jeff Gould. They are "Troubled Waters," "It's Just Sex" and "Is There Sex After Marriage?". His first two plays were strong critical and commercial successes. Gould has also been an actor and comedian and is a professional poker player.
Gould's cast for "Is There Sex After Marriage?" includes (in alphabetical order) Rene Ashton, Joel Berti, Gillian Brashear, Challen Cates, Vince Duvall, Melinda Hughes, David Jahn, Angela Oh, Darren O'Hare Jaret Sacrey, Natalie Salins, Lisa Marie Summerscales, Chris Ufland , Brad Lee Wind, Autumn Withers, Jeff Witzke and Monica Young.
Stage manager: Hallie Baran. Scenic design: Allison Schenker. Lighting design: Steve Pope. Costume design: Jen Bendik. Executive producer: Jeff Gould.
Is there sex after marriage? Sure, just not necessarily with your spouse.
---
Impro Theatre's "The Western UnScripted"
by Impro Theatre
directed by Dan O'Connor and Stephen Kearin
August 27 – October 5
Wed – Sat at 8pm, Sun at 4pm

Tickets On Sale Now!
CLICK HERE for tickets
"An amazing comedy troupe that spins comedy gold right before your eyes."-LA Times
Using only their wits and audience suggestions, Impro Theatre saddles up and rides headlong into the dangerous high chaparral of places like Tombstone and Deadwood to create a new-fangled full-length play in the style of the great film westerns of John Ford and Howard Hawks. Complete with cattle barons, desperadoes, saloon girls, frontier women and slick no-account sidewinders, Impro Theatre manifests destiny every show!