Celebrate Pi(e) Day at King Harbor Brewery with Pi Bake Shop
(Los Angeles, CA) – King Harbor Brewery is getting a little calendar crazy on 3.14.15 as they will be celebrating Pi(e) Day with sweet and savory pies from Studio City's popular, Pi Bake Shop. Pi Bake Shop will be selling pies at the brewery from 12:00pm through 4:00 pm. Of course Pi(e) Day wouldn't be complete without a Pie Eating Contest.  Six competitors will have about a minute and a half to try and get their pies devoured with their hands tied behind their backs. One lucky winner will receive a ticket to King Harbor Brewery's 1st Year Anniversary Party on April 11th along with a growler and will take home a … PIE!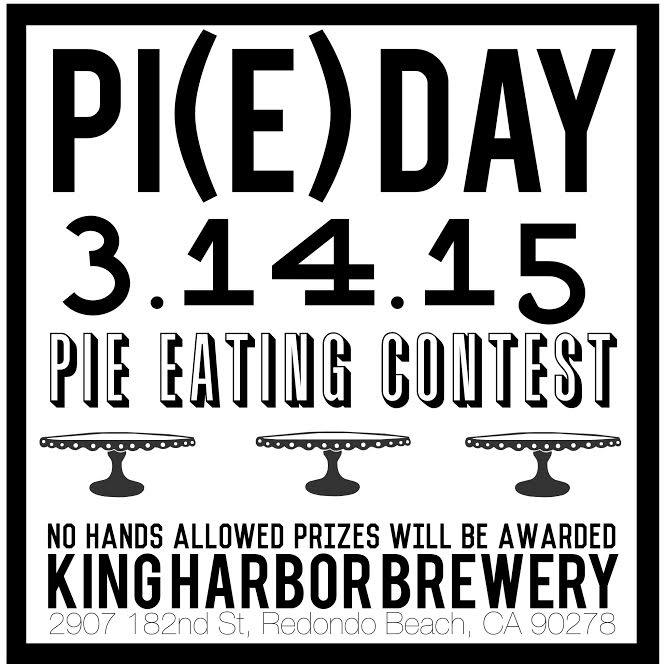 Spectators can grab a slice of heaven themselves; as Pi Bake Shop will be selling sweet and savory pies until 4pm. Keep an eye out for limited edition pies like a Pecan Pie with King Harbor Brewery's "The Swirly," an American Brown Ale, and a S'mores Pie with King Harbor Brewery's Abel Brown Ale.
WHO:       King Harbor Brewing Company
WHAT:     Pi(e) Day and Pie Eating Contest at King Harbor Brewery
WHEN:    Saturday March 14, 2015  12:00pm-4:00pm (Pie Eating Contest to begin at 3:00pm)
WHERE:  2907 182nd St. Redondo Beach, CA 90278
TICKETS:  FREE to attend. Beer & pies will range from $4.00-$12.00
Feeling competitive and want to show off your pie eating skills? Email jenn@localitela.com to secure your spot as one of our pie eating contestants!
[separator type="thin"]
About King Harbor Brewing Company
Way back in November 2012 Will and Tom and the great epiphany, like most brewery founders, that the corporate world was just not for them and greener pastures were out there for the seeking. Both being big fans of beer and having traveled all over the world searching out small breweries and unique styles they knew exactly what to do–open a brewery, obviously–but they knew that neither of them should be a professional brewer. So they sought out someone with a brewer education, years of professional experience, and a propensity for making damn delicious beer: Phil McDaniel (Siebel, Stone, The Bruery). KHBC is a production brewery in North Redondo Beach with a totally sweet tasting room. Come by and grab a couple pints.
King Harbor Brewing Company is located at: 2907 182nd St. | Redondo Beach, CA 90278.