Asa Meza: Industry Dinner Menu
When prix fixe just isn't the way to go …
iPhoneography by ATOD.
[separator type="space"]
Now let me begin by saying unless it is a full flight that is chef's preference, I have never been a fan of a prix fixe menu. Why? Because 9 out of 10 times, you rarely get a true glimpse into the flavor profile of a chef. All of the dishes chosen tend to blend together; one not really standing out from another. But – every time – I go in with the expectation that at least one dish will surprise me. Asa Meza is a gorgeous space in Hollywood and I'll begin there. The ambiance is lovely (the area where I was sat was reminiscent of Republiqué on La Brea). The space itself is fairly large with designated sections that each have their own personality. It showcases a multitude of cultural regions with an emphasis on Asia and Latin America.
I was thrilled to come in to try out the menu though tonight I was given the prix fixe menu. I would have liked to have tried items from their regular menu to really get a taste for what seems to be more of the heart behind Chef Lopez's cuisine. (The table next to us ordered like 7 different dishes from the standard menu and each dish looked – and smelled – far more interesting!) As a side note, "Industry Menus" tend to play it too safe in my opinion. I'm a writer by profession and I really am on the hunt for a story worth telling. I want service that stands out, cuisine that excites me, and an experience that surprises me. I'd always much rather prefer to be able to go in and try a menu based on things that aren't "predictable" rather than be confined to try a menu that, deep down, isn't a true reflection of what a chef wants to present.
There were 2 dishes that really stood out amidst the 8 we chose to sample but before I get ahead of myself, let's start at the beginning. Greeted by a very sweet server, I had some questions about the menu and the cocktail and wine lists. Here is the first little bump I ran into. The server was incredibly good but what seemed to be apparent in every server present that night (and I only saw three as it was oddly quiet on a Friday night) was that they didn't seem to have a real grasp on the menu, the wine list, or the specifics of the cocktails. Granted this is a new restaurant but a well-versed staff makes for a truly flawless dining experience. If the servers don't have all of the information they need, it makes it difficult for them to fully execute quality service. That honestly lies on the shoulders of the restaurant to take time to really train the staff on menu, cocktails, etc. Wouldn't you want your staff to be just as passionate about what you're serving as they are about their job? A little extra time training and preparing your staff is well worth the time and effort. The servers were wonderful and the lack of knowledge was not a fault of theirs – especially since it was something apparent in every server working that night.
The MENU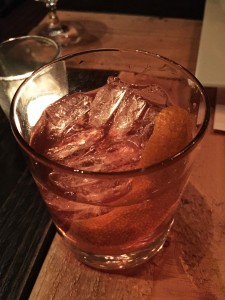 I begin the meal with the Asa Meza Old Fashioned – ango, agave, Mezcal, orange peel. (4 out of 5)
I quite enjoyed this! It is crisp on opening and well-balanced. I prefer the Mezcal to bourbon so I'm a BIG fan of this play on an original classic. I did ask to see a wine list but it seems the logistics of the wine list are still being worked out. There were only 4 wines-by-the-glass available: Chardonnay, Riesling, Shiraz, Cabernet Sauvignon. Our server brings over a tasting of the Cabernet Sauvignon.
Cabernet Sauvignon: Oveja Negra – Maule Valley, Chile
This is my first time having this wine and it is beautiful, sexy, and bold as hell and I loved it! So far, the limited selection of wines prove to be, beyond, well-thought out.
1st Course
BEET SALAD – red and gold beets, baby greens roasted pumpkin seeds, orange queso, citrus dressing
(This salad was made with fresh ingredients but the lack of citrus throughout made this a bit too dry, masking the true essence of the produce, especially the beautiful beets)
CAULIFLOWER SOUP – caramelized onion, tomato relish, cilantro oil, crispy crouton
(This was unbelievable. There was a finesse to this soup that shone through by traces of the cilantro oil and tomato relish. There was a hint of heat which added a component of complexity I was all too happy to partake of.)
2nd Course
HAMACHI SASHIMI – leche de tigre, sweet potato mousse
(Oh how I love a good cut of sashimi. I thoroughly enjoyed the citrus and sauce bathing the sashimi but there was something lacking in the sweet potato mousse.)
TUNA CEVICHI – rocoto, leche de tigre, sweet potato, choclo
(This was a huge hit in my opinion. The complexity of every single ingredient married well with a sophistication and playful blend of each component. Again though, the sweet potato accent threw off the balance of such a perfect dish. The bitterness without the pinch of salt to liven it up interfered with the gorgeous thoughtfulness of the tuna cevichi.)
3rd Course
SHORT RIB – braised in pear/gochujang with kabocha squash farro
(The short rib wasn't quite as moist as it should have been and the sauce was good but a tad too rich. It overpowered the meat itself which, with a little restraint, could really have popped.)
POLLO GUISADO – Puerto Rican stewed chicken, white rice
(This was, by far, one of the tastiest chicken dishes I've had in a while. The pollo guisado was literally cooked to perfection, full of moisture and the true spice and essence of Puerto Rican was illuminated by the flavors.)

CASUELA DEL MAR – prawns, mussels, octopus, calamari, tomato broth, crostini
4th Course
CHURROS – sweet corn sauce, dark chocolate
(Oh how I love a good churro. This, however, was not one of those. With an uncooked center and that delicious outer crisp one has come to love about churros, in this dessert, THAT was precisely what was missing. Instead this particular dish was chewy and lacking in "oomph". Couple that with two sauces that I was eagerly anticipating and, well, they fell short as well. Something as familiar as a churro should be made with a passion for taste and at least meet the standard expectation of being cooked to perfection. Sadly I have to admit that street churro stands outdo this overpriced version. $7.00)
TRES LECHES – raspberry compote, whip cream
(This warm and familiar dish blending three variations of milks and creams was tasty. I really enjoyed the tart and finely-balanced "sweet" of the raspberry compote.)
Overall, the "Industry Menu" was a bit of a hit and miss for me. I would have liked to have experienced the broader menu that seemed to really infuse a fair amount of cultural variety and span of flavors. The "Industry Menu" really lacked in showcasing the capabilities of the restaurant and unfortunately, left me with an uncertain impression.
Asa Meza is located at 1718 Vine Street Hollywood, CA 90028.
Hours of operation
Monday-Sunday: Lunch 11:00 a.m. – 4:00 p.m.
Social Hour: 3:00 PM – 6:00 PM | Dinner 5:00 p.m. – midnight
Friday and Saturday open until 2:00 a.m.
ABOUT
ASA MEZA: LOS ANGELES SPOT BRINGS ASIAN-LATINO COMFORT CUISINE WITH A FOCUS ON CRAFT COCKTAILS AND BEERS
Hollywood, CA (Tuesday, February 24, 2015) – Asa Meza is bringing Asian and Latin dishes to tabletops in the heart of Hollywood, located just steps from the Pantages Theatre. The new restaurant welcomes locals and traveling foodies alike to experience its unique flavors in the former home of Lexington Social House.

The space has been transformed from its core, creating a comforting and chic setting with an casual cafe, communal library room seating, two energetic bars and a tranquil patio illuminated by Japanese lanterns. The space inhabits a sense of community and comforting ambiance, creating the perfect urban hideout for guests to relax and enjoy distinct global dishes and cocktails.
The menu ranges from luscious oysters and a raw bar to one-of-a-kind Asian & Latin dishes. Chef Joey Lopez and his team – including Crudo Chef Rui Mateo and Pastry Chef David Rodriguez – have turned up the heat in Hollywood, striving to bring dishes their guests have never experienced before.
"I like to go back to a dish's origin when I am cooking. I start with simplicity and then build until I create a great flavor profile," Executive Chef Lopez said.  "We're creating dishes that take people back to times spent with family and friends over comfort foods. From anticuchos and linguiça to sashimi and ceviche, our wide-range menu features dishes using only the absolute freshest, highest quality ingredients right to your meza."
To complement every great meal is an amazing beverage. Assistant General Manager and Head Mixologist Justin Kim's signature craft cocktails and broad wine, beer and spirits selections create a memorable dining experience.  The extensive beverage program offers guests an opportunity to enjoy a variety of styles and flavors from Chile, Argentina, Mexico, California and Asia.
During the morning hours, patrons can enjoy artisan coffee from Stumptown Coffee Roasters and soothing leafs from the Art of Tea. By noon, guests can swing by with a friend to try one of the fantastic sandwiches, salads and in-house soups. Topping off the day during dinner, Asa Meza hand selects wines, spirits and craft drinks with the same discerning palate used for the seasonal food menu.
Equally important to Asa Meza is its sense of belonging to the Hollywood community, which is why it has partnered with community organizations like Project Angel Food, which supplies meals to those with HIV/AIDS and other terminal illnesses in the local surroundings of Los Angeles.