GRASON RATOWSKY
Vision, Creativity, Tenacity, Art.
Photos courtesy of Grason Ratowsky + Tram Tran
[dropcap letter="W"]hen you meet someone who creates, you can never quite be sure you'll fully understand their vision but once in a while, you get to a place in your own life where you no longer have anything obstructing the way you see things. You've been through enough to know when "real" presents itself to you and when it does, you find yourself lost in kismet. You see, all creatives have a secret longing to be deeply understood but for the most part, none of us feel understood. We get lost in our own rabbit holes of thought but sometimes we are stripped of any pretense and we not only open ourselves up to allowing others in but we begin to find the artistic connection with what may seem like strangers, but are in fact, kindred spirits. THAT – that is what I found when I met Grason Ratowsky. Invited to the launch of
BAREMADE
, I walked into a flagship store for Ron Robinson and a row of exquisitely designed bags and accessories greeted me. It's one of the few times design has truly taken my breath away.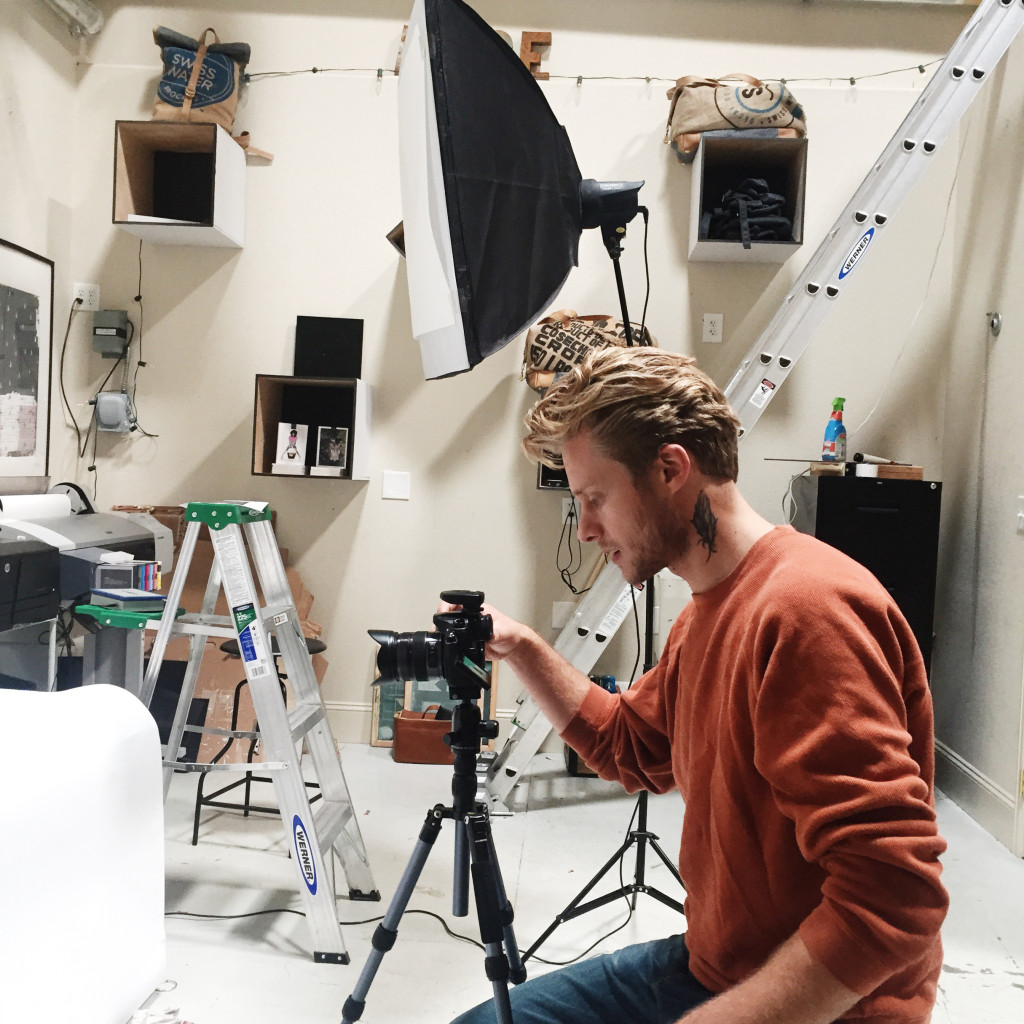 How? Intricate stitching, thoughtful lines, timeless distinction and a remarkable beauty that I can't say I've come across enough. I have particular tastes, admittedly. I'm always looking for design that pushes the boundaries yet embodies an air of sophistication that cannot be tethered or easily defined. In essence, I'm looking for something rare. And the minute I saw BAREMADE, I knew I'd found it. Lucky for me, that evening I had the honor of meeting and talking with Grason, the creator, designer, and passion behind the brand. I am pretty sure I oozed over the line when we spoke but I knew I needed to know more about him, the brand, and the heart of the man with such boundless vision. Thankfully, he agreed and below is the interview we did together.
You will not come across a more gorgeous design nor a more candid or heartfelt man. He sees design not merely as a tool but rather a vessel that strips us down bare and then finds a way to connect us all together in the purest of ways.
[button content="Shop BAREMADE" color="black" text="white" url="http://www.baremade.com" openin="_blank"] [separator type="thin"]
BARE is, to me, a completely stripped down version of fashion: simple, sophisticated, modern – with a sense of nostalgia. What is the most prominent element of the design for you?
Well Dawn, you pretty much nailed it. To me, BARE designs are a seamless marriage of timeless silhouettes & innovative, contemporary solutions. I strive to create items that will never simply fall into a fad and be looked past in years to come but that will stand the test of time while also providing modern, innovative solutions that lack in our current marketplace. All made by hand with the finest materials available of course.
What first inspired the brand?
My Father gifted me a burlap coffee sack that he brought back from Costa Rica. I was immediately drawn to the piece. It had stamps and indications of where it had travelled, borders it had crossed, places it had been. To me, there was such a value in the past life of this sack … so I learned to sew via YouTube, used my girlfriends old Singer sewing machine and whipped up some initial prototypes. When the BARE partners saw the prototypes they fell in love & BARE was born.
Tell me three places in the world: 1) that awakened your passion? 2) awakened your cultural epiphanies? 3) awakened your love of raw materials?
1 – Sevilla, Spain
2 – Marrakesh, Morocco
3 – Udaipur, India
If you could close your eyes and imagine a moment so extraordinary it set your soul on fire, what would be the first things you would need in order to recreate something reminiscent of that moment?
Music, wine and love.
What is your guilty pleasure?
I have too many to list. Picking only one wouldn't be fair to the others …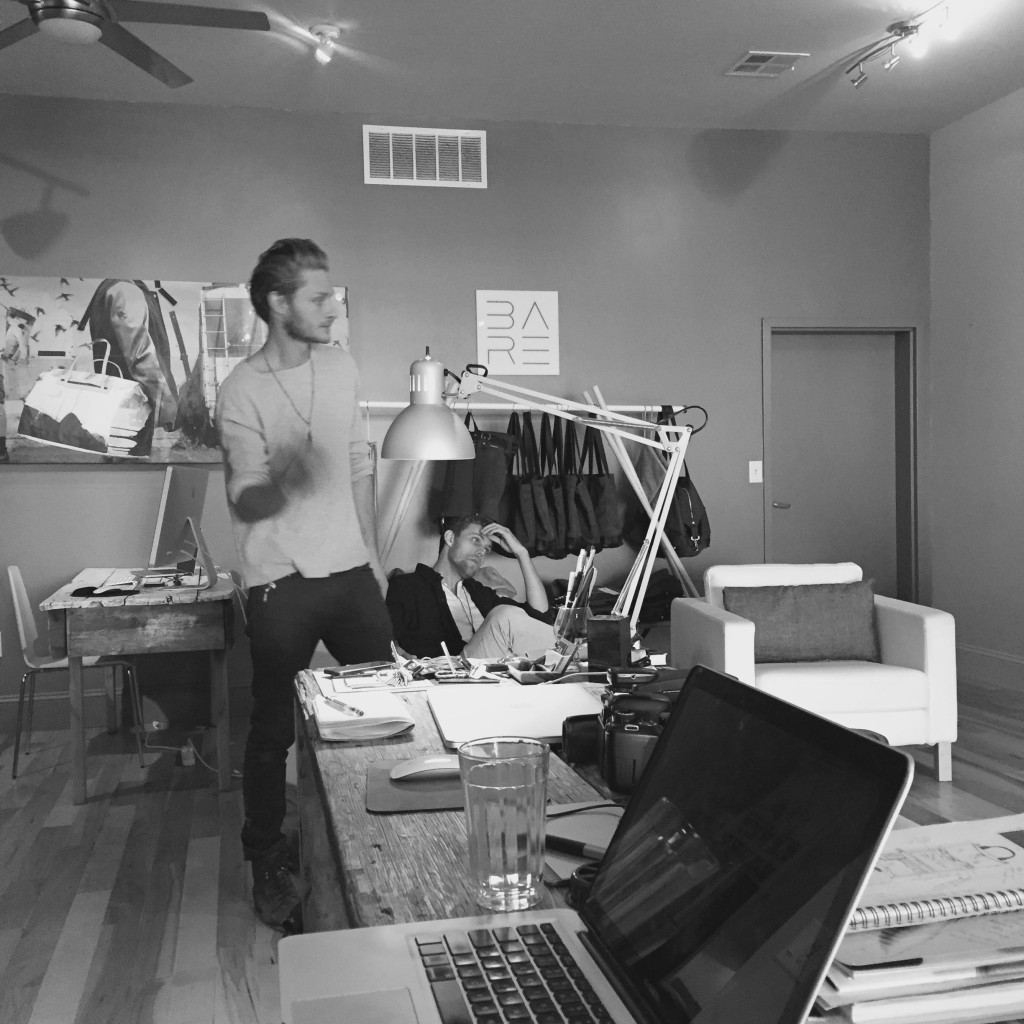 What has been the most challenging aspect of launching BARE?
When launching a company, especially anything design oriented, everyone you speak to has an input. Though I appreciate feedback, I think it has been a challenge for me to decipher through what is constructive advice vs what is baseless opinion … Your internal vision and direction is easily clouded over when you take in too much input from outside sources and to me it is important to stay steadfast on your innate authenticity.
5 countries you have yet to experience but would love to go to?
Japan | Israel | Norway | South Africa | Peru
What scares you?
I make a conscious effort to not play into fear. I don't believe it is healthy. With that said, I do have a reoccurring fear that what I create will not be received or understood well.
What are some of the biggest surprises of design that you've come up against?
Understanding what people want. As a designer I find what is lacking in the marketplace and try to improve on that absence. The key is to not only design for yourself but to give the people what they want.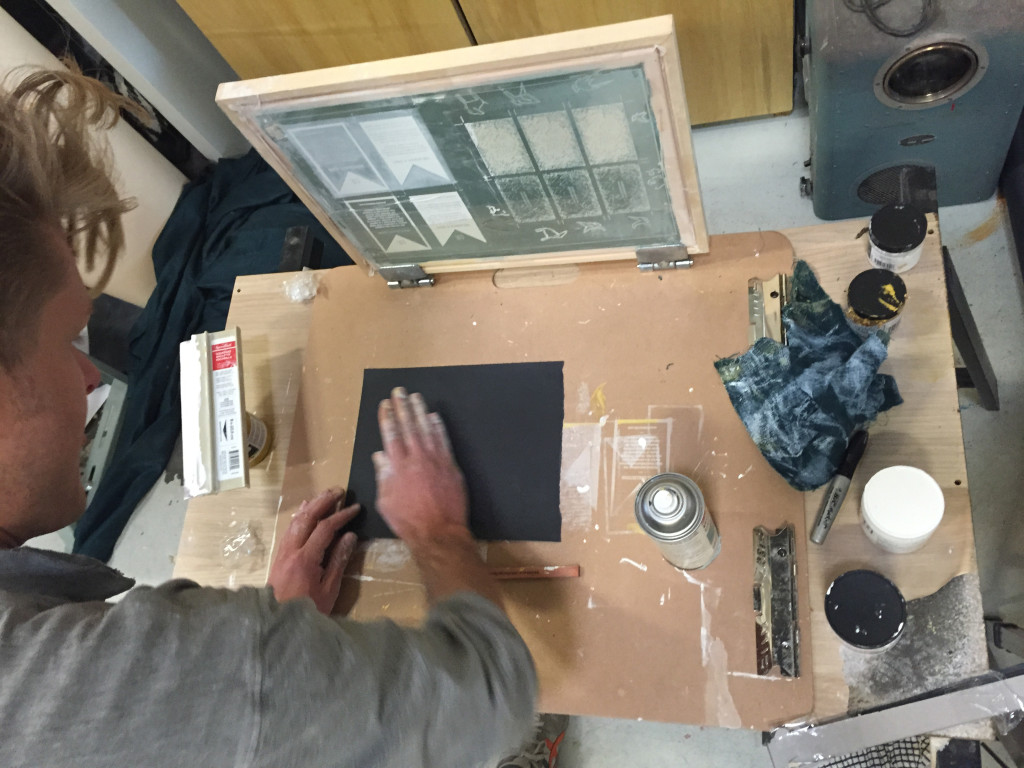 What is next for BARE?
Many many things. Its funny when you have a company, especially in this industry because the public only sees a sliver of what is happening at all times. There are so very many moving parts. I'm designing a year ahead at all times and that isn't just the products. I design and code all of our websites, marketing materials, do most the photography, and most all other creative that the public sees. Its not all me by any means, I'm simply saying that so many things are happening at once for the current and future that I wouldn't even know how to begin to describe. Collaborations, Campaign rollouts, amazing new product, industry changing processes & so forth. I can say that its all very exciting and to stay tuned with our development.
What is a memory from childhood that always makes you smile?
When I was a kid I'd ask my Mom to shave cool images in my hair like lightning bolts or suns or lizards. The great thing is, she would do it. That is a good memory & lesson that always makes me smile.
What is the oldest piece of clothing you own?
It's an accessory actually. A pocket watch from my great grandfather. Inscribed and dated 1913.
What is the craziest place you've ever been?
I'm not sure about the word 'craziest' because any place you go that is extremely different from your norm seems a bit crazy when in reality you are simply not used to it. The most different place I've been is India. It is an unbelievably beautiful chaos that is so different from any other place I've been.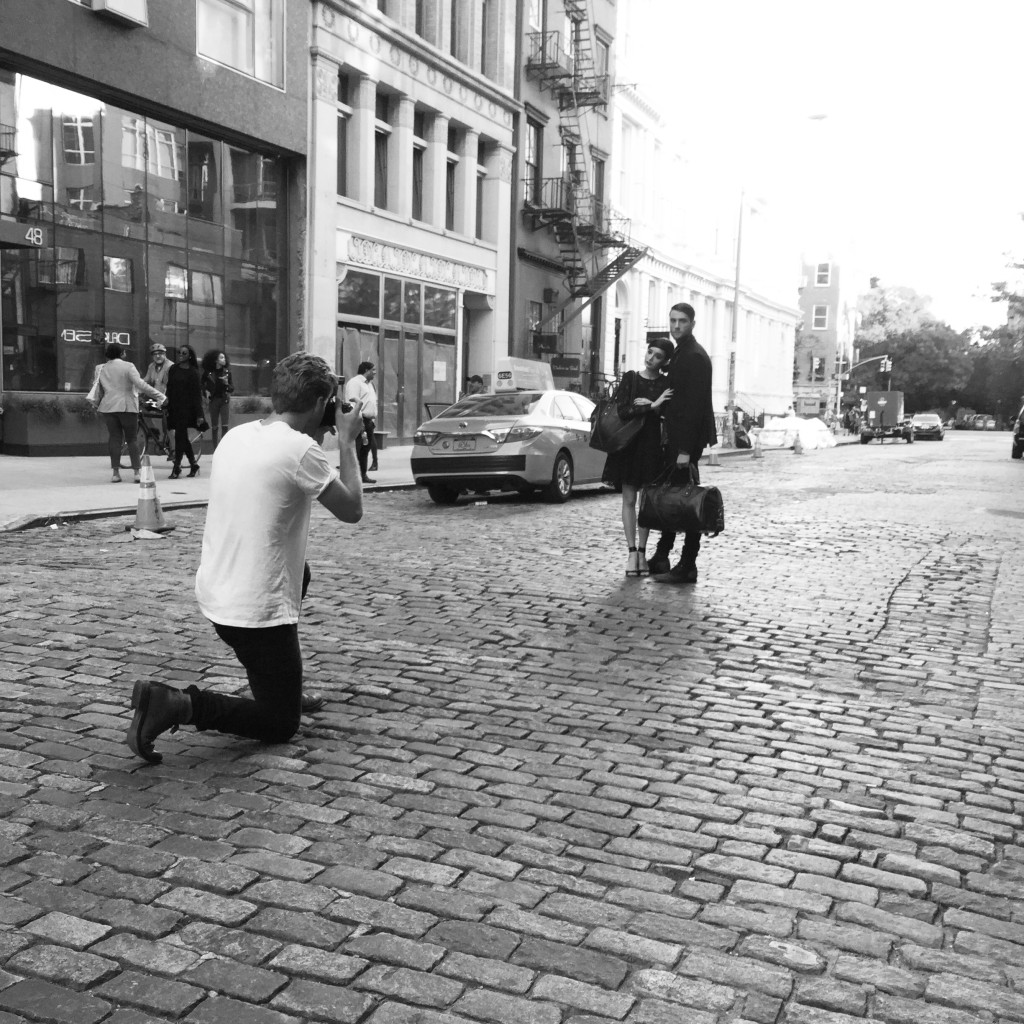 Name a song that you will spontaneously break out and dance to at any time.
Any song from Pure Funk Volume 1 or 2.
Tell me the first 5 books you can think of that changed the way you saw the world.
One Hundred Years Of Solitude
Shantaram
Love in the Time of Cholera
On The Road
Cannery Row
Something no one really knows about you.
Hmmm. Well, I'm currently trying to learn to tap-dance.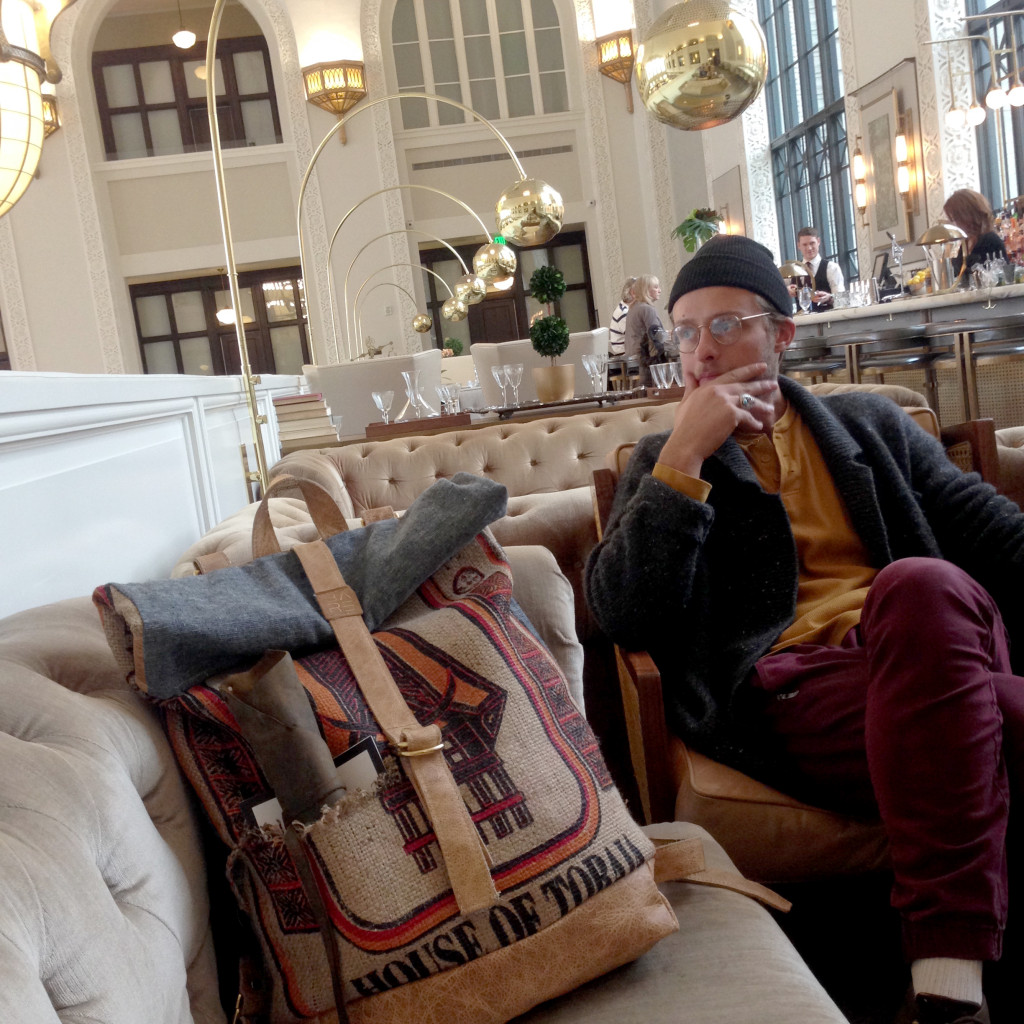 What made you decide to make such exquisite bags for such doable prices?
With any BARE product we want to make it accessible to most income ranges. The design, function, form and versatility come first. We then try to source the very best materials paired with handmade craftsmanship and offer it to the masses at a prices that don't seem like slaps to the face. Basically, we truly believe in the product and not just a name brand.
Best advice you've ever been given?
Stay humble & stay hungry.
What is your favorite word?
Limitless.
From the moment I met him, I was a fan and this interview was something that tapped into the most creative part of me. Thank you Grason for taking the time to invite me into your world and for allowing me to share your story with readers.
Here's to limitlessness …
[separator type="thin"]