#TuesdayTrendReport: Spirits
cover photo by Annie Wang
Work is the curse of the drinking class.
[dropcap letter="T"]his year, industry leaders in wine and spirits came together in Las Vegas to share new brands, the latest vintages and explore the ever evolving world of mixology at the
WSWA Convention
held at
Caesar's Palace
. While wine trends are certainly at the top of our list, this time around, it was the boozy world that really beckoned our attention. Traveling from Los Angeles, I decided to delve into the bottomless world of spirits. What was I looking for? Unique new brands that had interesting flavor profiles, clever branding + packaging, and above all, quality. As I entered the grand ballrooms at Caesar's, one thing is for sure: the industry is bursting at the seams with options so – I figured the ultimate goal was to see if there were any commonalities in terms of approach. And I found a few.
While it's really difficult to narrow down common trends (when you aren't the one slinging cocktails), I was eager to stroll down the aisles of brands, private suites, and such to really find something that stood out. As the world of whiskeys, vodkas, bourbons and infused spirits continue to make their way into the thirsty mouths of consumers, the level to which they have risen is impressive.
I went to WSWA in the hopes of finding a few unique brands and that's exactly what I found. While I was introduced to dozens of new brands, I selectively tasted only some. Below are the ones I tasted that really roused my curiosity: Guotai, GOLD BAR Whiskey, Myschyf Hemp Liqueur, Purely Syrups, Bellissimo Prosecco, Mad March Hare Poitin.
Other notable mentions are Heaven Hill Distilleries, Blackheath Beverage Group, Perfectomundo Tequila.
[separator type="thin"]
Guotai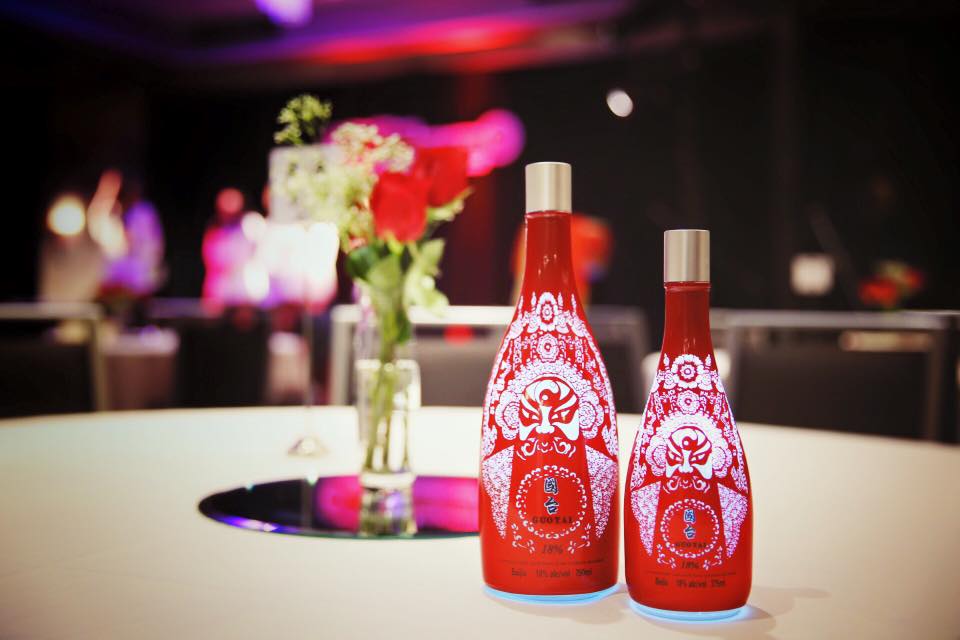 Baijiu is China's most popularly consumed spirit. This ancient spirit is made of the purest sorghum and wheat and is distilled seven times to give it a taste that really is amazing! I talked with Guotai rep, Paul Varga, to learn a bit about the history behind it, the process of distilling, and where it's made. In some of the most remarkable lush landscapes of Maotai Town in China, this baijiu is culminated and created and the love for making it is apparent in every sip. So how is it I've never actually had it until this convention? Logistics. It's just recently in the US. That's really the only explanation and chances are, I have had it disguised in some tasty mixology concoction along my journeys. That said, this Baijiu beverage is one that really was entirely new to me … and I loved it! It's complex and earthy while being smooth and sweet. That level of a beautifully made drink genuinely makes this the spirit that got my attention. New to the United States marketplace, Guotai is made with cultural reverence, refined tradition and modern innovation, all the while being respectful of the ingredients and true to the region from which it derives.
From Guotai Legend to Premium and Premium Lite, there is something for everyone. I'll be posting more on this brand soon.
The Dragon Cooler
-2 oz. Goutai Legend
-1 oz. Fresh Pineapple Juice
-¼ oz. Fresh Lime Juice
-½ oz. Simple Syrup
-¼ oz. Club Soda
Glassware:  Highball | Garnish:  Rosemary Sprig
Fresh pineapple and savory rosemary makes this cocktail a surprisingly refreshing drink. Perfect for the summer months.
[separator type="thin"]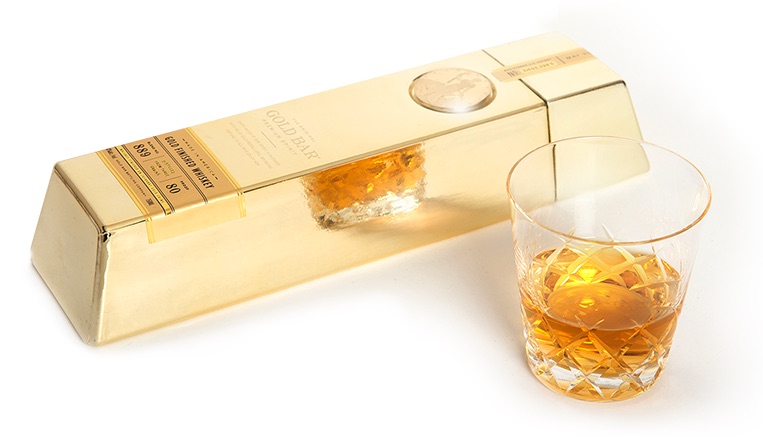 A brand whose packaging incites conversation, the gold bar encased spirit has something to say. Made in America, using a rare 24-karat gold filtration process, GOLD BAR Whiskey isn't meant to be ignored. With notes of vanilla, honey, crisp fruits and herbaceous undertones, it's pretty damn good neat and no doubt would be an elevated addition served with some it's favorite libation counterparts. The real luxury behind this brand is the attention to detail. In fact each gold bar bottle carries a handmade coin insignia designed by legendary American artist, Steven Noble. Just like the care put into making the whiskey itself, the pristine lines and undeniable craftsmanship behind the design is something worth celebrating (and should you find this to be your new "go-to" may also contribute to quite the interesting coin collection!).
Available in USA and Canada.
GOLD BAR Whiskey Sour
-1.5 oz. GOLD BAR ®
-0.75 oz. freshly squeezed lemon juice
-0.5 oz. simple syrup
-2 dashes Angostura bitters
-Splash of orange liqueur
-Egg white of one egg
Dry shake all ingredients. Then shake all ingredients on ice and strain into a coupe.
[separator type="thin"]
Much like the name implies, this lively spirit is a little too good on it's own. Made with a unique blend derived from hemp and pistachio, this is perhaps absinthe's nemesis. Why? Because the suggestive green fairy on the bottle isn't playing around. Created by Garett Hagan and Drew Shprintz, the personality behind the brand is just as big as the green liqueur itself.  Having a background in the bar and nightlife scene, it was out of a simple conversation that the idea for Myschyf was born. Now a uniquely made spirit, it drinks well neat or secretly guised in the bellows of a fellow mixologist. After sampling a multitude of options, I rather enjoyed it in an old fashioned, though I prefer it neat. The creamy nuances met with the nutty surprise is like nothing I've ever had. Something odd about it and honestly, I liked it. It's dangerous because you can drink a whole lot of it without even realizing! Watch out Green Fairy, I think a Green Pixie is coming for you.
Myschyf taps into the more sexual side of our drinking nature.
Old Fashioned Myschyf
-1oz. Richland Rum
-1oz. Myschyf Liqueur
-3/4 oz. simple syrup
-2 to 3 Filthy Black Cherries
-3 Dashes of orange bitters
-1 orange slice
Procedure: Muddle orange, cherries, bitters, simple syrup. Top rocks glass with ice and pour spirits and stir.
Garnish: Filthy Black Cherries
[separator type="thin"]
Syrups and Bitters are one of those coveted creations that when you find a good one, you tend to never forget it. Purely Syrups are a naturally made syrup with a vast spectrum of flavor but the two that really leant themselves to my particular tastebuds were the Habanero and the Ginger Root. Neither are what you'd expect (and no, I didn't have them together). Serving up a spicy margarita is one of the Founders, Brooklyn-based entrepreneur, Joshua Bloom. Made using 3R Tequila (another story worth exploring; one of romance and history) and the Habanero syrup, the syrup is gripping and smooth and way more beautiful than I expected. Honestly, this syrup would kick up any marinade, cocktail – or – mocktail for that matter, and probably be an amazing dressing. Point is, made with organic ingredients, with no coloring or artificial additives, these syrups REALLY stood out. (And I almost missed them!)
Josh founded this company alongside San Francisco mixologist, David DeRinzy, and Telluride, Colorado-based Steven Craig. What you have are three very well versed visionaries with a very flavorful take on everyone's must-have bar repertoire.
In honor of Cinco de May, I chose their signature cocktail recipe to share with you thirsty readers. Seriously, make this one at home!

Cinco de Mayo
-2 oz. Mezcal
-1 oz. fresh lime juice
-3/4 oz. Purely Syrup Habanero
-1/2 oz. Ancho Reyes Chili Liquor
Combine all ingredients into mixing tin and shake vigorously for 6 seconds. Strain over one large ice cube in cocktail glass. Garnish with thinly cut lime wheel and / or Jicama stick.
[separator type="thin"]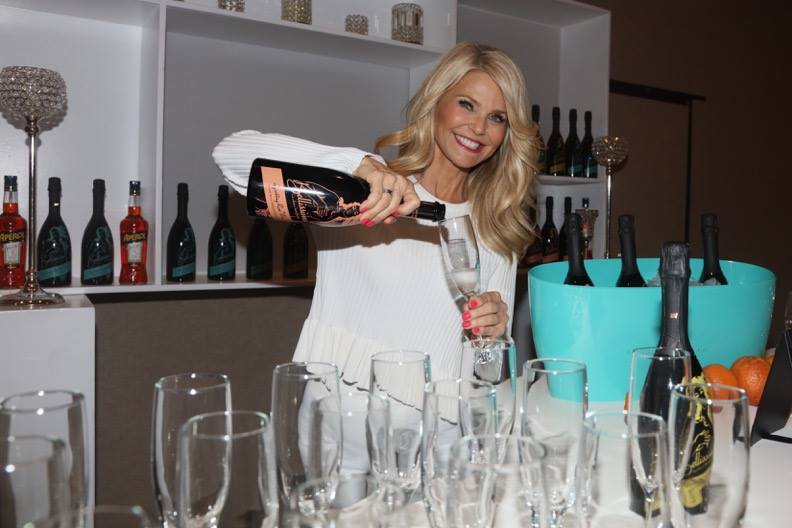 Ok, right off the bat it's only fair to say that it was Christie Brinkley's passion that lured me to try this Prosecco. As an avid fan of sparkling wines, cava, cuvée and champagne, I'm finicky with my bubbly. So when I had the opportunity to talk to Christie about her new brand, it was the spark in her eye that inspired me. Made with all organic grapes (among the first of it's kind) – AND – the offering of a zero sugar version of the brand line, anyone who loves a crisp palate cleanser or a sip of bubbly on a gorgeous summer's day will find some contentment in Belissima. At first breath, the notes on the nose are of green apples and nectarines with hints of pear and then fresh herbal sprigs plucked from the Italian countryside. In other words, it's simple and fresh and certainly worthy of a spot on the table.
You can read about our one-on-one interview in #TuesdayTalks with Christie Brinkley later this month!
Bellini
-4 white peaches (can use peach juice)
-1 part sugar syrup
-4 parts Martini Rossi Prosecco
Whip up your peach puree – just peel and blend the peaches, then strain it strain and refrigerate until cold
Mix 2 parts of peach puree with one part of sugar syrup
Add about 20ml of the peach puree mix to your Champagne flute, then gently pour Prosecco into the glass. You want to leave the peach puree undisturbed at the bottom of the glass at this stage
Just before serving, stir to mix the peach and Prosecco well
[separator type="thin"]

Talk to me about anything Irish and I'm in. Lovely people, gorgeous lands, and happy drunks so when I meet an Irishman who talks to me of one of Ireland's oldest and original drinks? I'm all in. First off, learning about poitin was quite a newfound knowledge. With a tale that lends itself to a healthy dose of fantasy and a hearty peck of disbelief, the story of just how poitin became what it is, is an old Irish legend … but it's still a damn fine story. Forced underground during prohibition, barrels of alcohol were stored and over time – as the laws became open to interpretation – the local enforcers found themselves a wee bit thirsty and one man was there to help. I could go on but rather than dismantle the myth (or, perhaps truth) behind this Irish gem of a drink, I'll let you do your due diligence and decide whether or not the tales of how its inception began are fact or fiction. Either way, this poitin goes down like a hot cocoa in winter: easy, intoxicating and unforgettable. With a fathomable ease, this Irish spirit isn't harsh or fiery on the finish. In fact it's smooth and quite nice on the nose. Remnants of old school practice, copper pots and history mold this divine spirit, locally sourced, malted barley into something a Mad March Hare may suggest in a bout of questioned sanity. One thing's for sure? It wins awards for a reason.

Mooney's Mule
2 oz Mad March Hare Poitín
2 oz Apple Cider
1 oz Ginger Beer
½ fresh Lime
1 Cinnamon stick
Mix well, ice and enjoy …
[separator type="thick"]
Discover Artist, Gill Button