When Art Invites Your Palate
Art, Fare, Wine … and Sotheby's
[dropcap letter="L"]os Angeles is home to some rather extraordinary artists, museums and galleries. As is often the case, art begets art and so, when we have the opportunity to feast our eyes, our palates and our appetites in the company of intellects and savants, one cannot help but celebrate. This week at the forward thinking, artist supportive museum, the
Hammer Museum
, winemakers, artists, editors, journalists, and designers gathered to commemorate the 8th Edition of
Vendemmia D'Artista
. This particular creation, designed and interpreted by renowned Artist,
Yutaka Sone
, brought together Ornellaia Vineyards' 2013 L'Eleganza. A rare and exquisite sought after wine, tonight we all raised our glasses and allowed the beautiful abundance of grapes well-cared for to rest on our lips and nestle on our palates and bid on some truly exceptional wines. The art by Yutaka Sone was truly breathtaking … ornate landscapes with a mindful love of sipping wine in the most beautiful places. His sculptures represent an airy connectedness and his images on the Ornellaia bottles represent that same fluidity and grace. Paired with cuisine prepared by James Beard's Award Winning Chef,
Suzanne Goin
, from the onset of the first course, these wines would be in good company.
Our first pairing and final dish were the most impactful, menu-wise: Diver scallops with black rice, carrot purée, and preserved citrus peel were the starter paired with a 2013 Poggio Alle Galle Dell'Ornellaia. A bright wine with notes of crisp apple, there were subtleties of creaminess that balanced the surprising kick of heat from the scallops. By far, this dish was my favorite. While each course to follow was good, it was the wines that stole the show – 2 gorgeous reds: 2003 Ornellaia and a 2013 Ornellaia. The 2003 was big and bold with a sense of story that playfully opened up on the palate with every sip; the kind of wine you long to drink again. The 2013 was equally wonderful with deep berry notes and a touch of herbaceous undertones. As the evening rounded out and dessert was served, the earl grey pavlova with milk chocolate custard and whipped crème fraîche was decadence in every bite. The final pairing being the 2011 Ornus Dell'Ornellaia. With the culmination of sweet and earthy coupled with the beautiful balance of the pavlova, this was indeed a duo to remember.
With Sotheby's paddles in hand, this evening was meant to celebrate the craft that lives and breathes within all facets of creativity and as a result of this evening's dinner, they collectively raised approximately $128,000 for the Hammer Museum Los Angeles. If you have an opportunity, spend some time exploring Ornellaia Vineyards online and should you be so fortunate as to be roaming the terrain of Bolgheri, Italy, do pay them a visit.
For those of you in Los Angeles, while you are adventuring in search of modern art, The Hammer Museum should be at the top of your list. Below is a detailed look at the evening …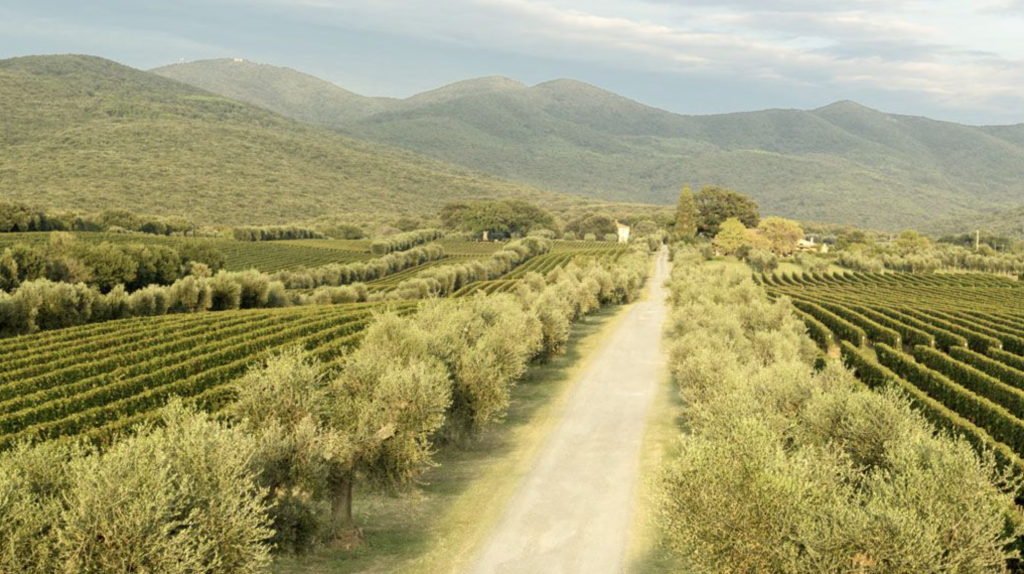 Renowned Artist Yutaka Sone Interprets Ornellaia 2013 'L'Eleganza' for the 8th Edition of Vendemmia D'Artista; Benefit Auction Raises 114,000 Euros With All Proceeds Donated to the Hammer Museum in Los Angeles
Ornellaia's Vendemmia d'Artista project has now donated more than 1.5 million euros to art foundations across the globe.
Los Angeles, CA, May 23, 2016 – Ornellaia, one of Italy's iconic estates, is proud to announce the fulfilment of the 8th edition of Vendemmia d'Artista, a project that showcases the marriage between the world of contemporary art and fine wine.
On May 19, Ornellaia held an exclusive benefit auction at the Hammer Museum in Los Angeles, which included nine special-edition bottles created by Japanese artist Yutaka Sone to capture the essence of Ornellaia 2013 'L'Eleganza' (Elegance).
The auction took place as part of a gala dinner during which Andrea Fiuczynski, EVP/Chairman, Sotheby's Americas, oversaw the bidding. The auction raised 114,000 euros, with all proceeds going to the Hammer Museum in Los Angeles. The auction proceeds will benefit the museum's exhibitions, collections, and nearly 300 annual public programs, all of which are free to the public.
[columns_row width="third"] [column]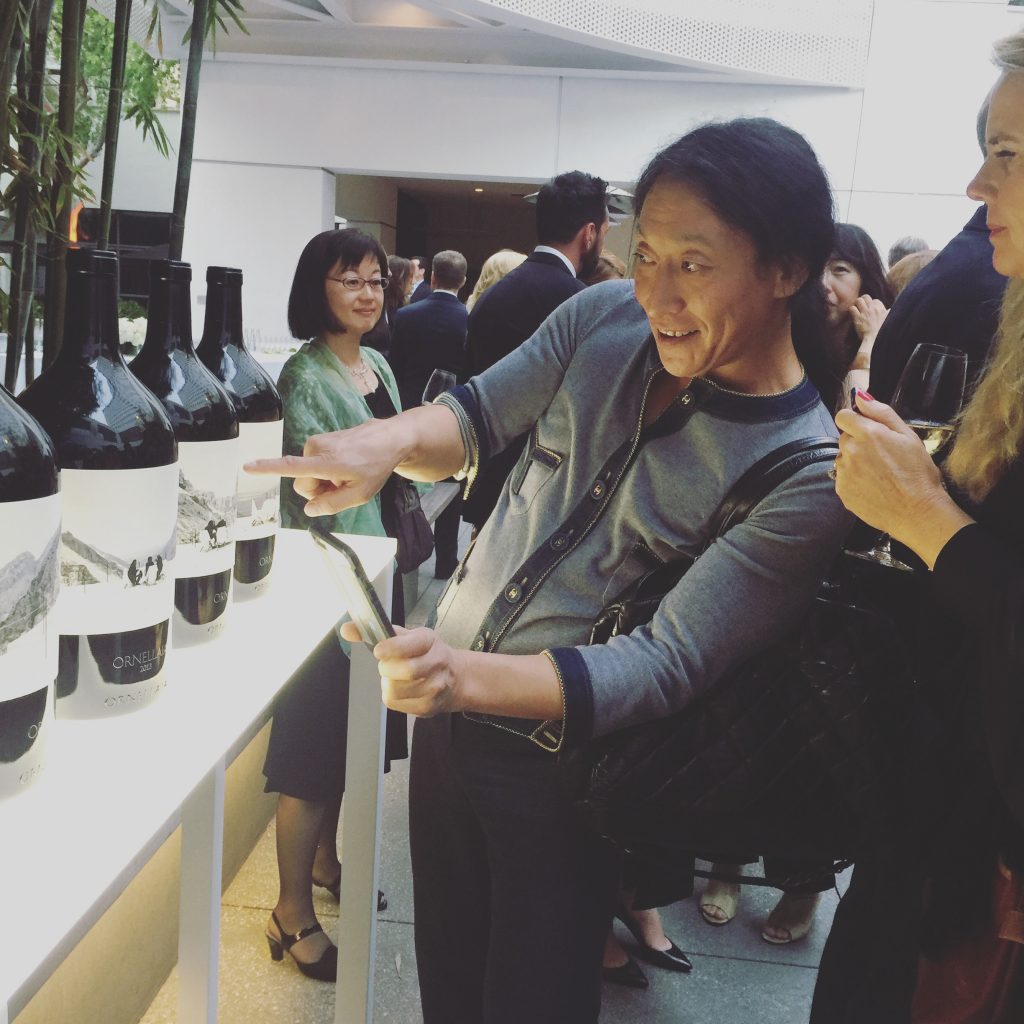 [/column] [column]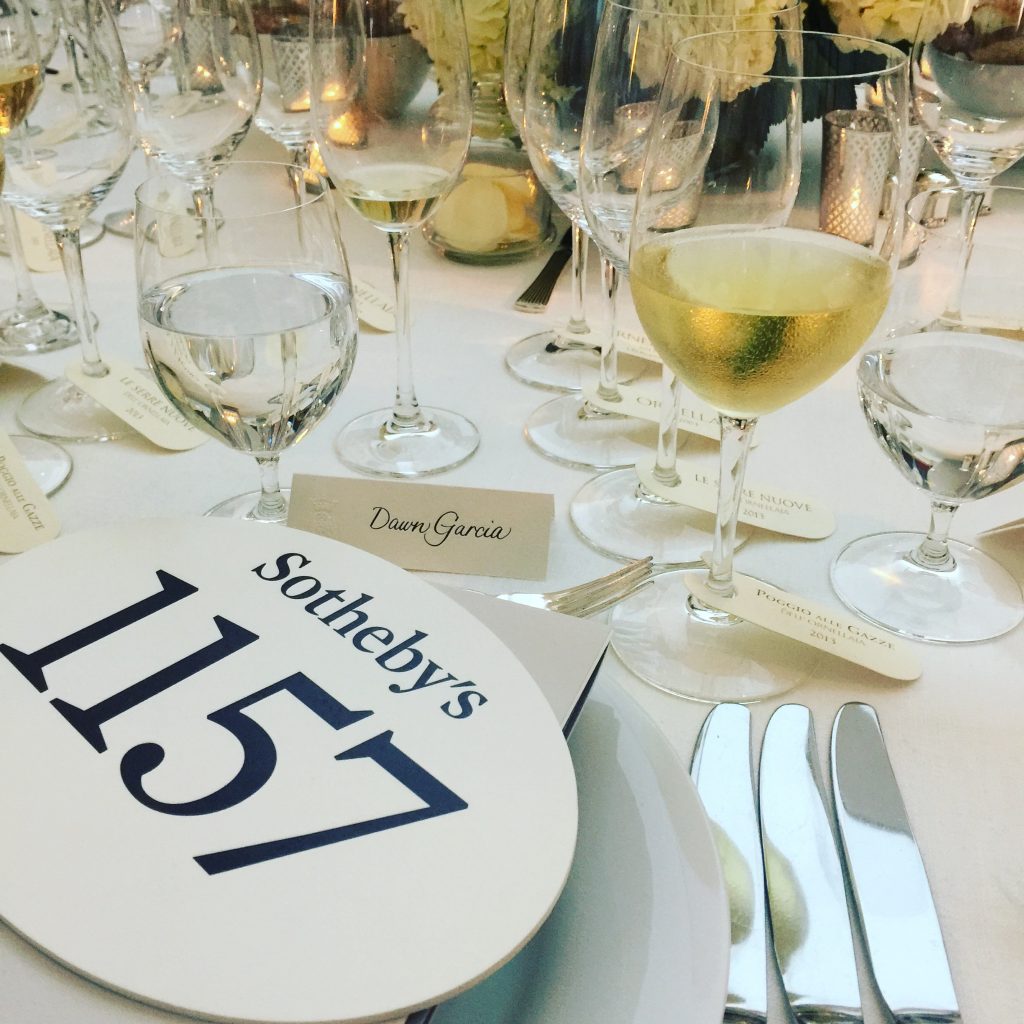 [/column] [column]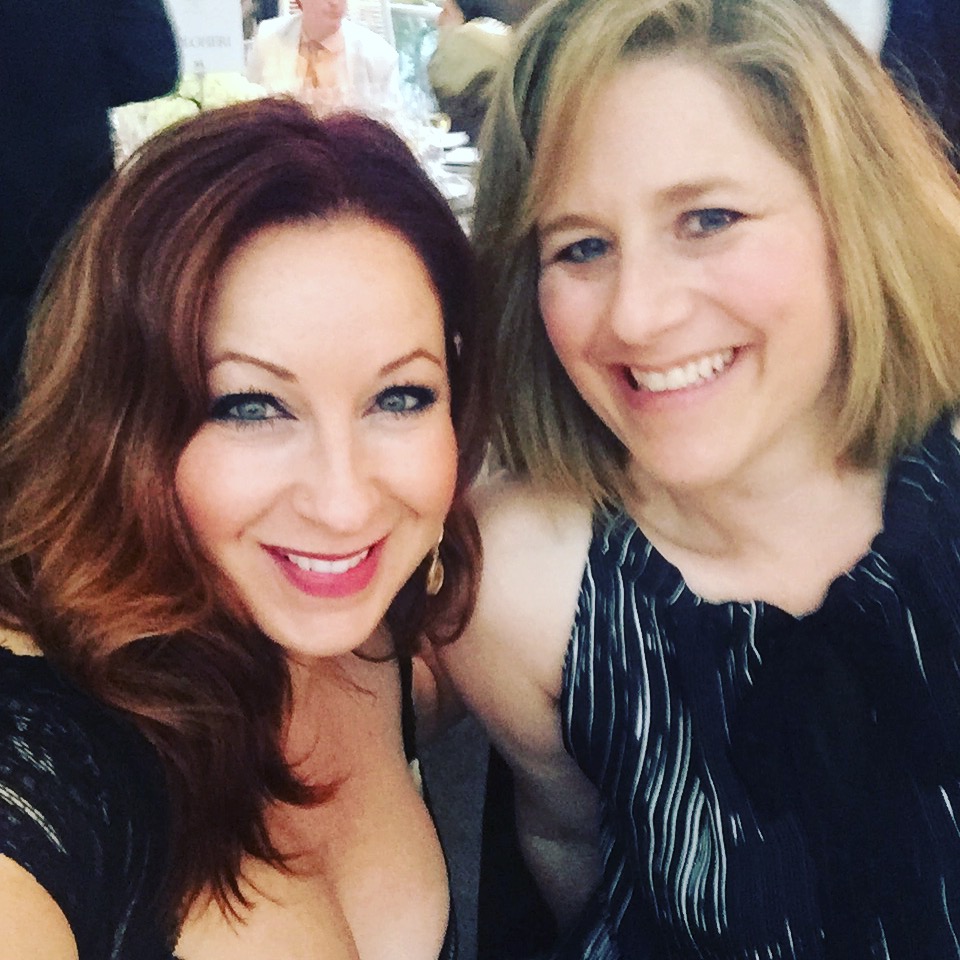 [/column] [/columns_row] [columns_row width="third"] [column]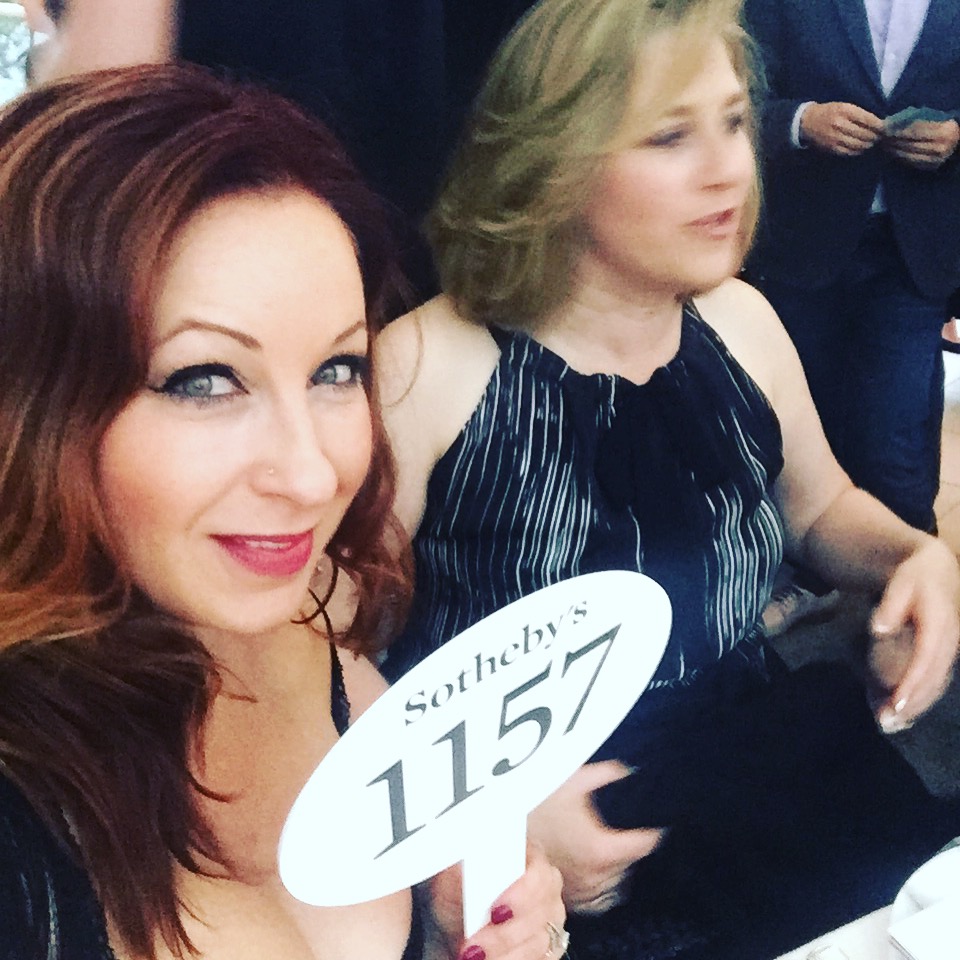 [/column] [column]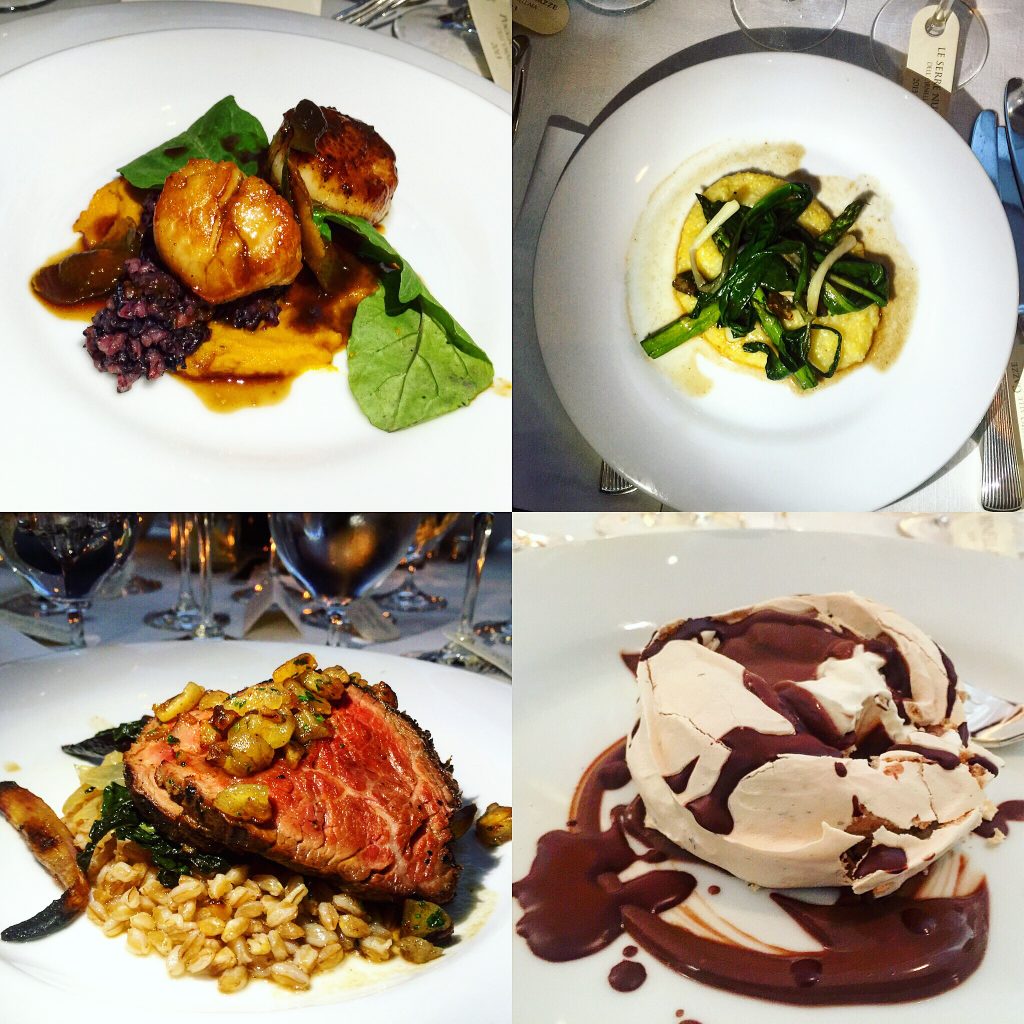 [/column] [column]
[/column] [/columns_row]
To interpret the unique concept of L'Eleganza, Yutaka Sone created a site-specific work of art that is now part of the Ornellaia estate's contemporary art collection, and exclusive bottle labels, individually signed, that went to dress the 109 large-size bottles of Ornellaia: 100 3-liter double-magnums, 8 6-liter Imperials, and a single 9-liter Salmanazar. In addition, he created a special 750-ml bottle of Ornellaia that will be included in every six-bottle wood box.
Launched in 2009, Vendemmia d'Artista celebrates the unique character of each new vintage of the estate's flagship wine, Ornellaia, by commissioning an artist of world fame to interpret a theme chosen by the estate and Vendemmia d'Artista art curators Bartolomeo Pietromarchi, Director of the Maxxi Museum in Rome, and Maria Alicata.
"When I began this project, and as I have worked with marble all my life, I knew exactly where I needed to go to interpret L'Eleganza of Ornellaia 2013 vintage," stated Yutaka Sone.  "I decided to visit the marble quarries of Carrara where Michelangelo used to take the stone for his celebrated sculptures. My two dear friends, Luc Tuymans & Rirkrit Tiravanija, accompanied me on this special journey and together we enjoyed a picnic in this magical place, high in the mountains, surrounded by the pure white marble cliffs facing out to the sea and beyond. For me this place epitomizes the sublime elegance of nature and it inspired me as we shared food, great wine, conversation and our close friendship. As you see from the labels I have created, I wanted to interpret the values of sharing, of friendship and the extraordinary uniqueness of this experience."
"Vendemmia d'Artista has reached its 8th edition," stated Giovanni Geddes da Filicaja, Ornellaia CEO. "Its proceeds will continue to go towards restoration of artworks that are part of our international heritage. In six years, we have been successful in donating more than 1 million euros across the globe, just a very small part of what we have committed ourselves to raise in the future."
Jamie Ritchie, Sotheby's CEO & President, Americas & Asia said, "The Vendemmia d'Artista series is a wonderful way of combining the characteristics of each vintage of Ornellaia with a world class artist's interpretation of that specific year. For the eighth edition, Sotheby's Wine are delighted to continue our collaboration with the launch of Ornellaia 2013 L'Eleganza Vendemmia d'Artista, through a very special dinner and auction benefiting the Hammer Museum in Los Angeles."
"The Hammer Museum is thrilled to partner with Ornellaia, Sotheby's, and the renowned artist Yutaka Sone to present this collaboration. We are honored that Ornellaia selected the Hammer to benefit from the wine auction this spring. I look forward to a lovely evening celebrating art and wine in Los Angeles," said Ann Philbin, Director of the Hammer Museum.
"Spring 2013 was much cooler than normal and resulted in later budding and delayed flowering, compared to previous vintages," explained Axel Heinz, Ornellaia's winemaker and Estate Director. "In the end, this was a great advantage, since a prolonged summer followed these cool temperatures, offering us textbook growing conditions and perfect ripeness at harvest time. Ornellaia 2013 is a dense wine with vibrant colour and a marked aromatic complexity built around a limpid, brilliant fruitiness. Fine spicy and balsamic notes underscore all this. Complex, crisp nuances of fruit on the palate are framed by delicate yet firm racy tannins that display a rare harmony between firmness and fleshiness. What is striking about Ornellaia 2013 is its long and delightfully aromatic finish, which leaves a lasting impression of elegance. I will always remember this vintage because of the delayed start to the vines' growth cycle that gave us some cause for concern. This was swiftly remedied however when Mother Nature intervened and provided us with great conditions for another classic vintage of Ornellaia."
[Best_Wordpress_Gallery id="25″ gal_title="Ornellaia"]
About the Hammer Museum
The Hammer Museum at UCLA offers exhibitions and collections that span classic to contemporary art, as well as programs that spark meaningful encounters with art and ideas. Through a wide-ranging, international exhibition program and the biennial, Made in L.A., the Hammer highlights contemporary art since the 1960s, especially the work of emerging and under recognized artists. The exhibitions, permanent collections, and nearly 300 public programs annually—including film screenings, lectures, symposia, readings, music performances, and workshops for families—are all free to the public.
Admission to all exhibitions and programs at the Hammer Museum is free, made possible through the generosity of benefactors Erika J. Glazer and Brenda R. Potter.
About Ornellaia – www.ornellaia.com
About Folio Fine Wine Partners – www.foliowine.com