A Little Room For Improvement
Food Photos by Dawn Garcia
---
Federal Bar | 5303 Lankershim Boulevard | North Hollywood, CA
[dropcap letter="T"] he Federal Bar sounds like a swanky throwback to a little prohibition but it happens to be a local bar (borderline sports bar) and eatery located in the middle of an ever growing community in the outskirts of LA, known to locals as NoHo. NoHo stands for North Hollywood and is an area eager to find it's place in the creative community. The Federal Bar is located just off of Lankershim and is a different sort of place. It's not fancy by any means nor are they trying to be. When you walk in you are smack dab in the middle of the bar. A bar that is consistently crowded with thirsty patrons and die hard sports fans. Don't get me wrong, it's not Champs or any sort of generic sports bar. It has character, even if it does have a strange smell I can't quite pinpoint. It's not spilt beer, it might simply be the smell of time.
Either way, once you are greeted by a hostess you're shown to a table in the bar (and yes, there's an actual bar with stools you can walk right up to). The tables are nondescript with an unusual pleather/vinyl top which can make it easy wipe up spills but unfortunately leaves a little sticky residue behind from previous diners. Either way, it's understated. So while anywhere in the restaurant honors Happy Hour (a total plus), there's an entire back area that I would have liked to have discovered. It seems there is live music, bands, performers and the like that make their way to the underbelly of the Federal Bar.

---
On the Menu
Jalapeño Peach Gimlet | Bombay London dry gin, giffards creme de peche, fresh jalapeño, fresh lime juice
This wasn't what I expected. It tasted a little too much like peach schnapps and while it looked good,
I never even got a hint of the lime or jalapeño.
The creme de peche was way too overpowering and honestly, just not very good.
Not Your Father's Root Beer
Just like it sounds, only better. This is a 6% alc beer and it's seriously delicious!
Martini | Vodka w a splash of Vermouth, extra dirty
This was a decent martini.
Joel Gott | Cabernet, Napa CA
I had never had this before and while not California's finest, it was a decent glass of wine for $12 a glass.
[columns_row width="third"] [column]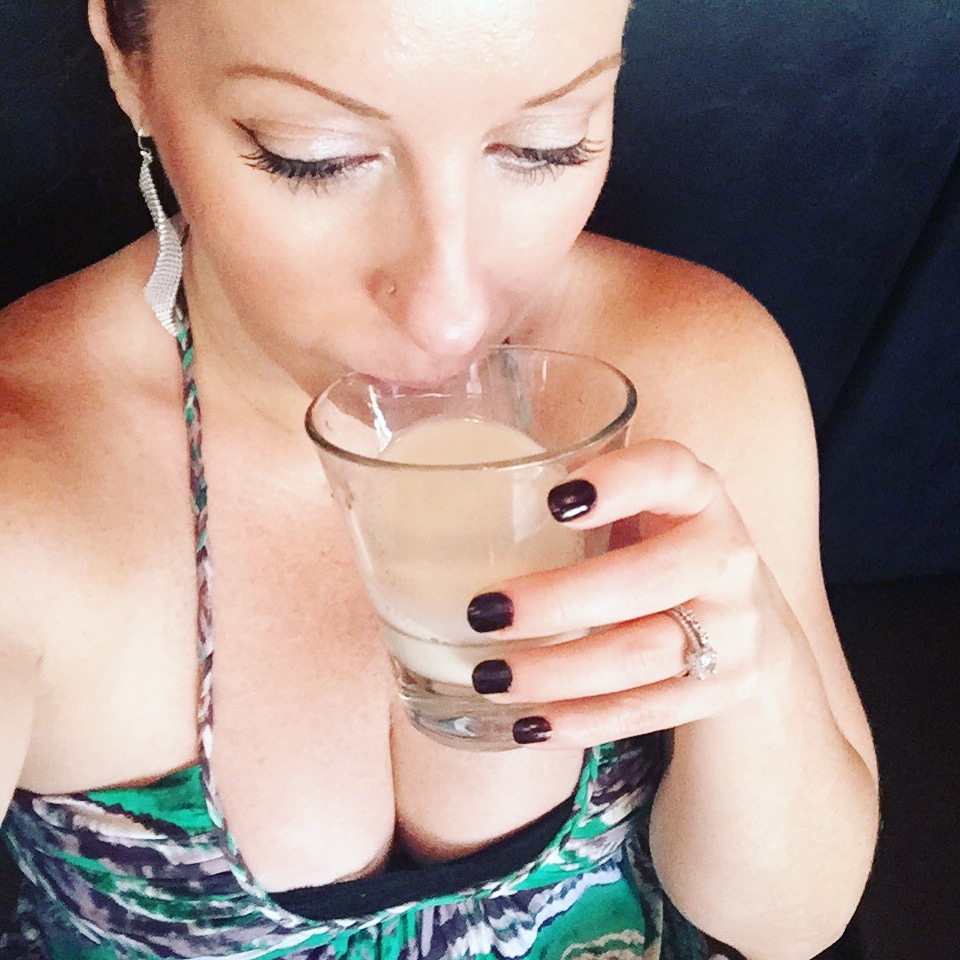 [/column] [column]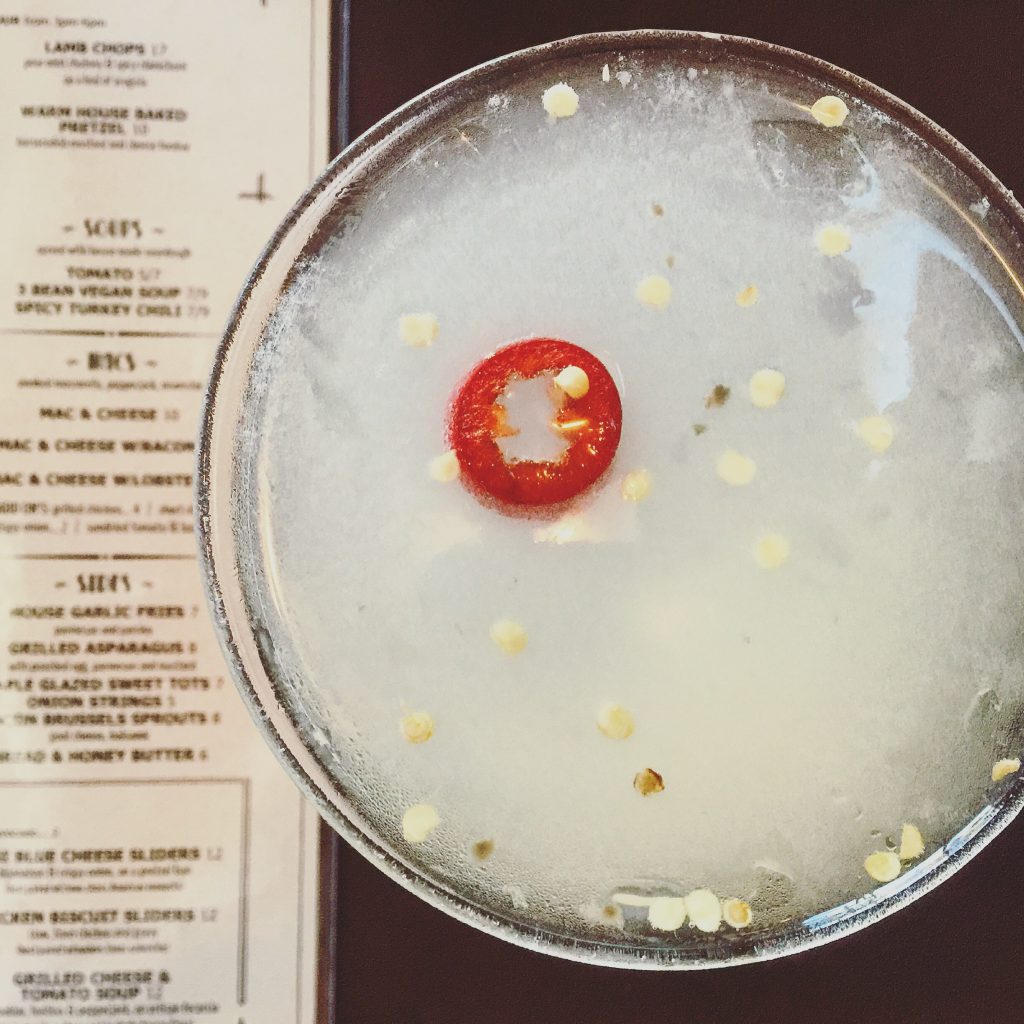 [/column] [column]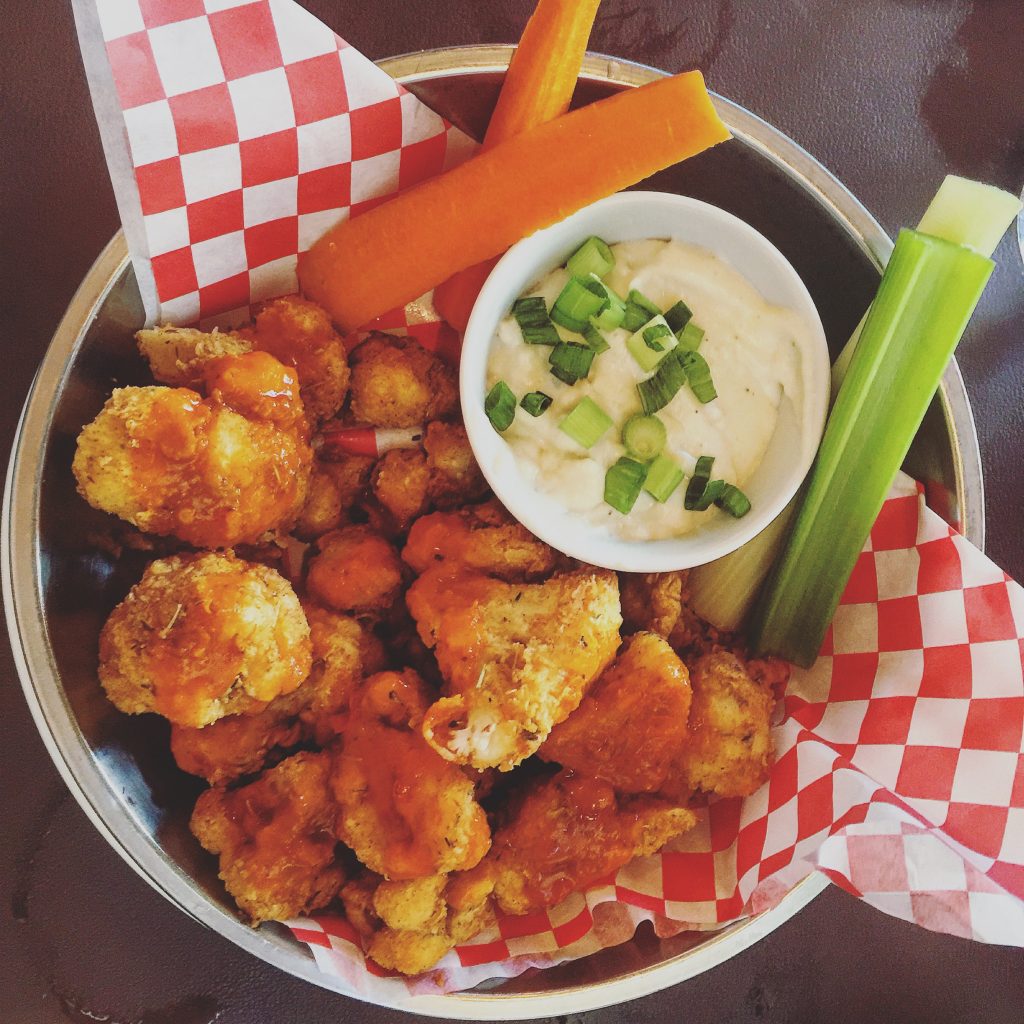 [/column] [/columns_row]
Crispy Buffalo Cauliflower | with blue cheese fondue
By far my favorite dish. I've never had cauliflower that tasted this incredible. The buffalo mix of spices with the combo of being flash fried was phenomenal. While the "blue cheese fondue" wasn't really a fondue at all (I was expecting an actual fondue dish), it still tasted good when used to dip.
Short Rib Poutine | gravy, house fries, parmesan, fried egg
I've been spoiled with sensational poutines so I have high expectations coming in. This was just ok. Granted we had the gravy on the side and maybe that would have made the difference. That said the fries were cooked well and the hint of salt and spicy on the fries was also good. The egg was a bit overdone on the whites so we didn't quite get that perfect cook but we still had the gooey center we wanted.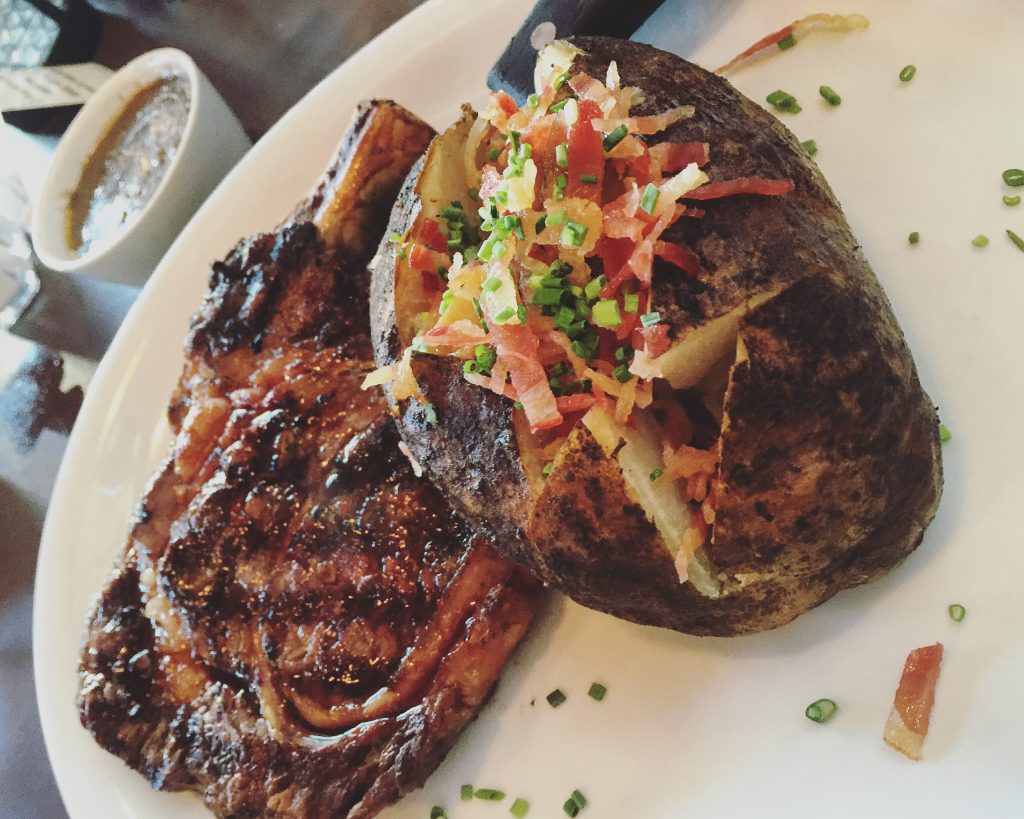 Beet & Burrata Salad | red & golden beets, arugula, spicy walnuts, lemon basil dressing
I love beets and it's definitely the season to delve in. This was a traditional salad. The spicy walnuts were a nice touch but I would have liked a bit more tang from the lemon vinaigrette to really drive home the flavor.
Steak & Bake | 12oz Ribeye with garlic butter and a loaded baked potato
The steak: We ordered it Medium Rare and it arrived Medium Well. A little disappointing but the flavor on the steak was tasty. The "loaded" baked potato however was lacking. I was expecting cheese and a potato well seasoned and this was really just a plain baked potato with some bacon and a few extras. I'd say skip the potato altogether and try something else with a bit more punch – like the Dirty Chips.
[columns_row width="third"] [column]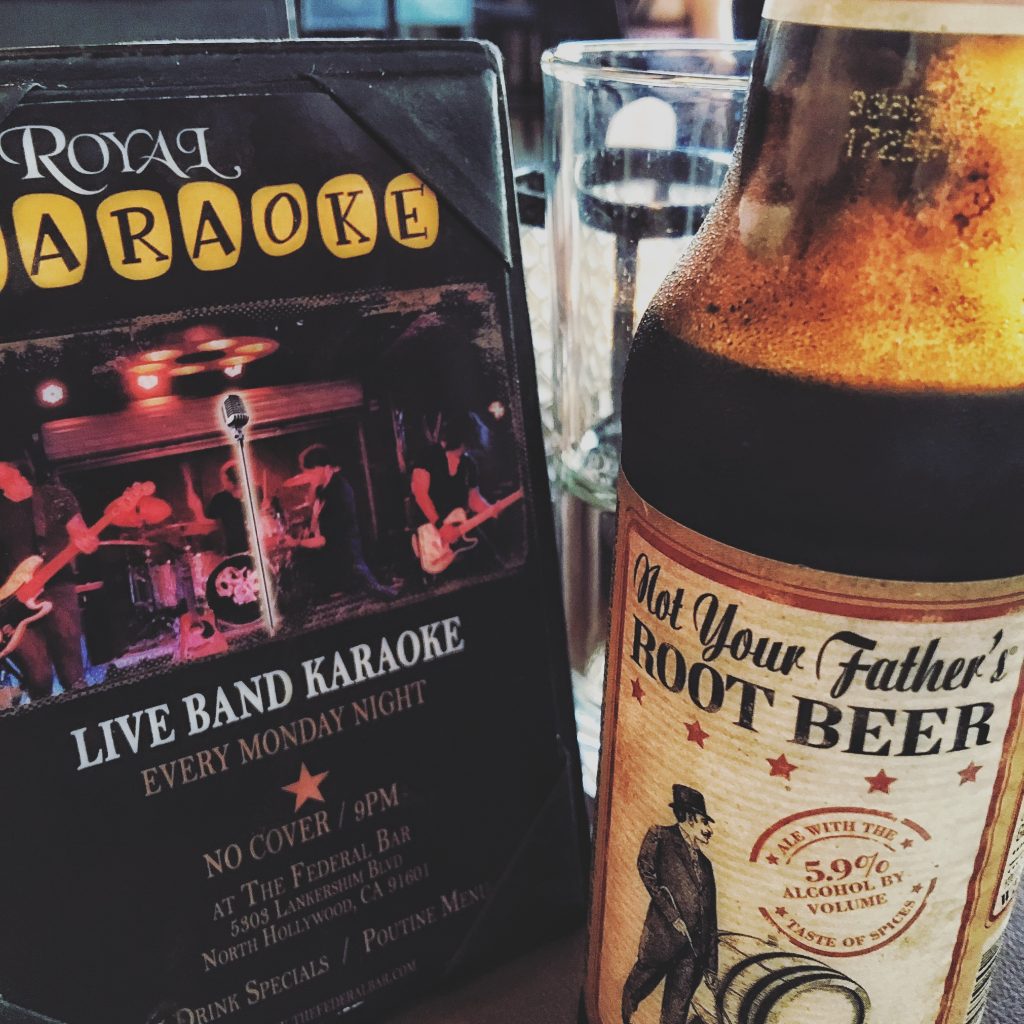 [/column] [column]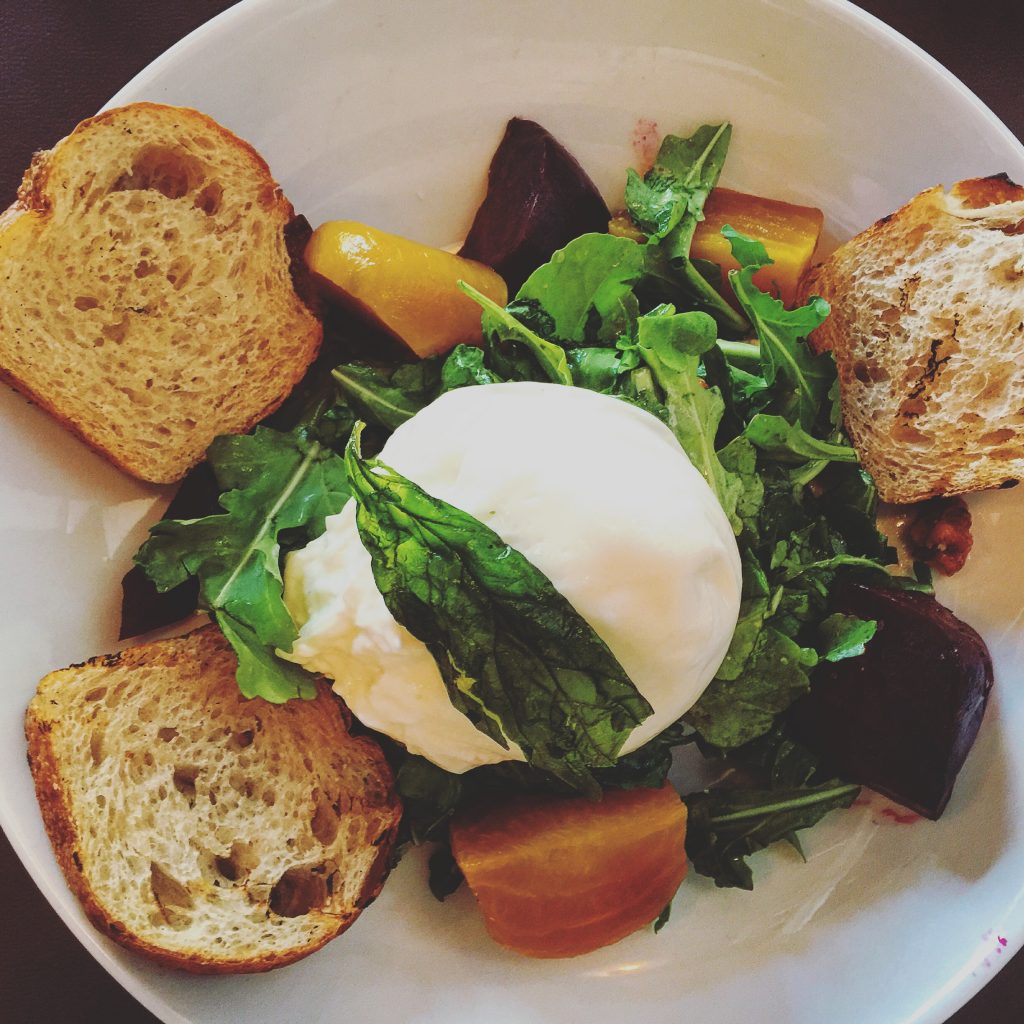 [/column] [column]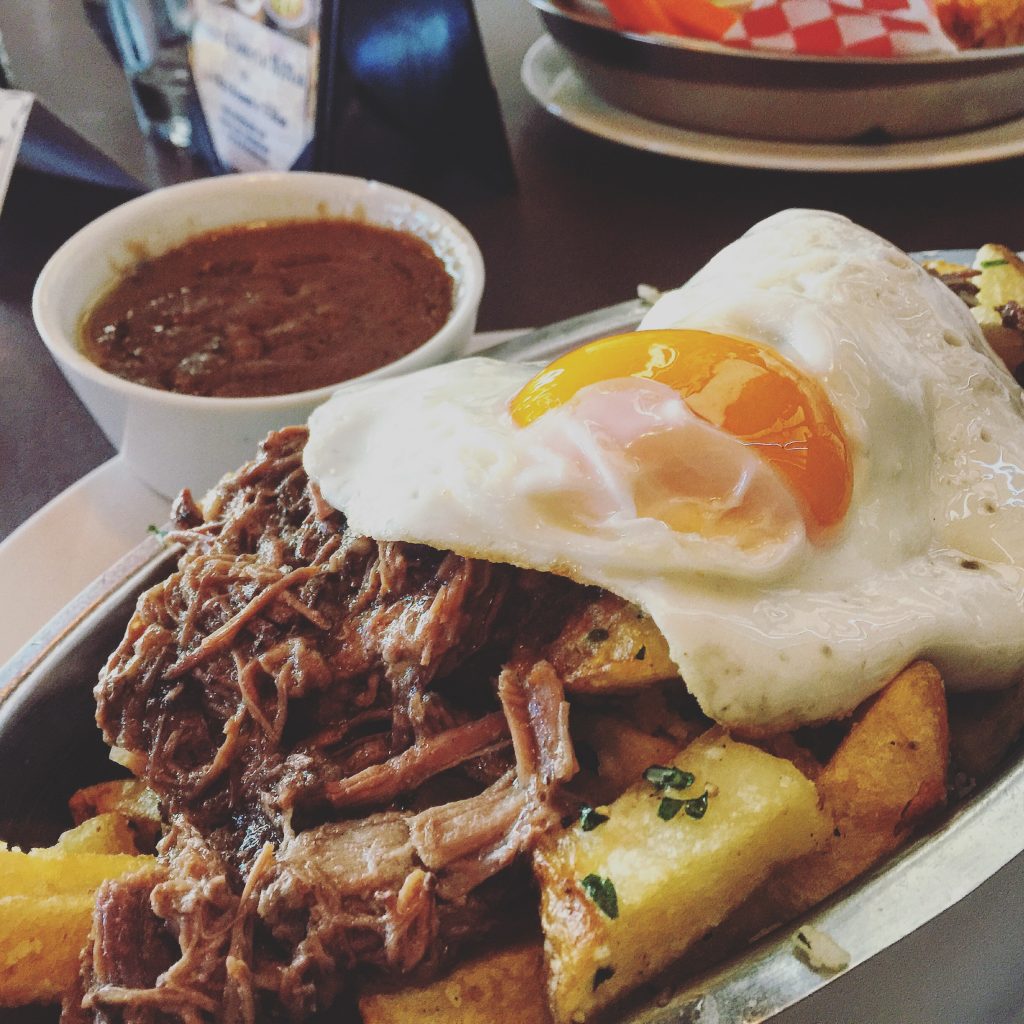 [/column] [/columns_row]
Dirty Chips | blue cheese, picked jalapeño, green onion, sweet pepper relish, bacon, and cilantro creme
These are genuinely habit forming. They're a totally different approach to potato chips and they don't skimp on ingredients which I find worthy of mentioning.
Elvis Pie | Chocolate with creamy peanut butter on a butter baked crust.
This was insanely dense and too rich for my taste. I think a little less chocolate to offset the density could have created a lighter dessert and some slow churned vanilla ice cream. It just needed something to really make an impact.
White Russian | Kahlúa, Vodka, fresh cream
This was a yummy White Russian. No frills (vanilla cream would definitely bump this up a few notches)
but it was a sweet finish to the dinner.
---
REVIEW: While I get the ideology behind The Federal Bar, I'm looking for really something unique with exquisite food and drink – or – at the very least, a place to frequent. I may come in for the Dirty Chips + Crispy Buffalo Cauliflower but as it stands, I don't know that this would be my preferred watering hole. With a few improvements in the cocktails and a few better wine options, it could be a place to meet with friends. That said, it's definitely a good place to grab a beer and watch a game if you're looking for a spot in the valley that isn't Barney's Beanery.
NOTE* – The Federal Bar is participating in DineLA and the menu has options from hot dogs to vegetarian bowls.
---