Le Diner en Blanc Returns to Los Angeles
Written + Photographed by Allison Levine
[dropcap letter="L"]OS ANGELES | It was 5:30pm on a Friday night. A table, two white chairs and a white tablecloth were ready to go. A basket – 
or two –
 were packed with food for the evening, along with plates, napkins, glassware and silverware. The wine was chilled and ready to go. Finally, the outfits for the night were donned, elegant dress in white from head to toe. Across the city, everyone was ready for
Le Diner en Blanc
, waiting anxiously for the secret location to be disclosed.
Le Diner en Blanc was created in Paris nearly thirty years ago and has taken place in over more than 70 cities around the world: New York, Miami, Sydney, Singapore, Mexico City, Johannesburg, Montreal, Tokyo and Abidjan. On Friday, November 4th, more than 2,000 foodies, fashionistas, and cultural enthusiasts descended upon the Music Center in Downtown LA for the 3rd edition of Dîner en Blanc Los Angeles.
[columns_row width="half"] [column]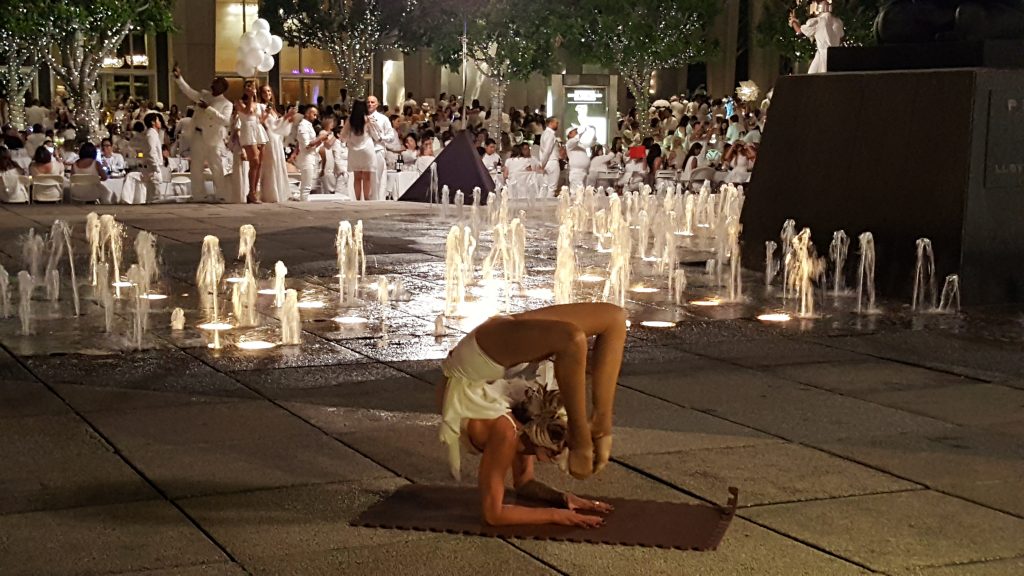 [/column] [column]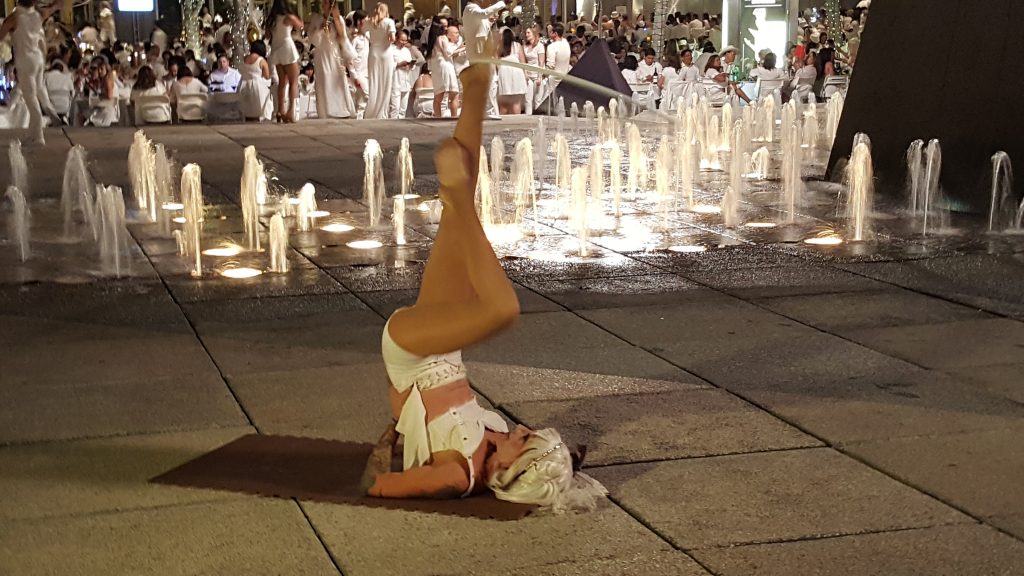 [/column] [/columns_row]
With the Dorothy Chandler Pavilion, Mark Taper Forum and Ahmanson Theater as the backdrop, guests set up their tables and table settings in their designated sections around the "Peace on Earth" sculpture and fountain in the center of the plaza. Lights twinkled from the trees as tables were set from simple table décor to more elaborate centerpieces. Originality is encouraged, as long as it is stylish and tasteful, and creativity is on display.
[columns_row width="half"] [column]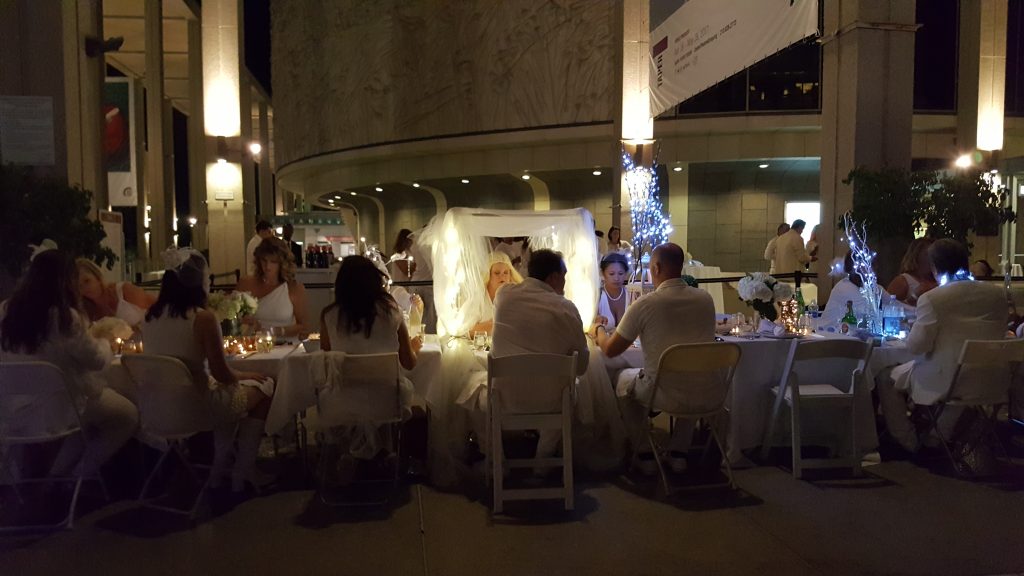 [/column] [column]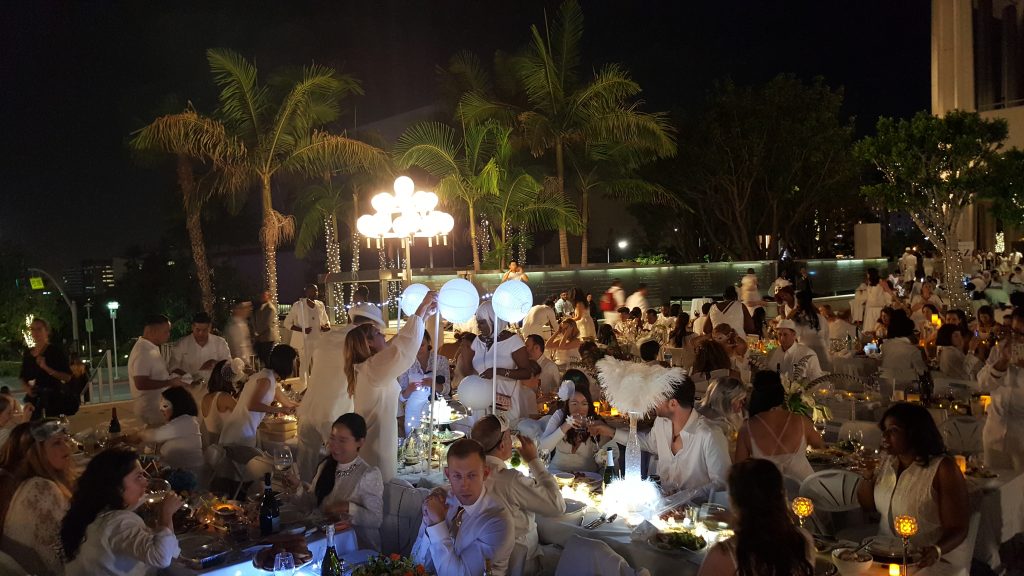 [/column] [/columns_row]
People from all over gathered together to share a gourmet meal with good friends and make a few new ones. I met quite a few people. Among them was Cherie Sogsti who came up to Los Angeles from San Diego for her second Diner en Blanc. Cherie and her friend Karem Bass were dressed head to toe in sparkling lights.
Next to them were Kelsey Unger, who previously attended a Diner en Blanc in Paris, and her husband Scott Unger who were wearing white masks. The two parties had just met but were already having fun together. That is what Diner en Blanc is. It is a time for people of all types to come together and celebrate life amid food, music, entertainment and dancing.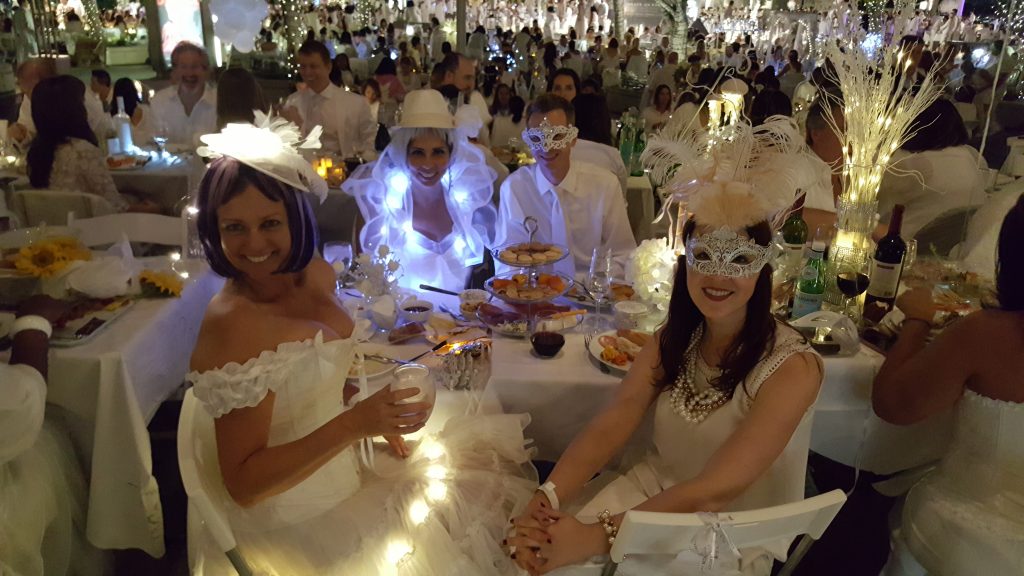 Once the tables were set and everyone was seated, the evening commenced with a waving of a cloth napkin. It is a spectacular scene to see thousands of napkins waving in the night.  After dining, there was the lighting of sparklers to let guests know they were free to mingle and dance. And at the end of the night, a trumpet was sounded, notifying guests that it was time to pack up their belongings, pick up all their trash and head home for the night.
Another successful event …