#theATOD5 Five Reasons to Love Symmetry Breakfast
photos ©by Michael Zee
[dropcap letter="W"]hen you travel the world, you begin to understand the beauty of coming together, of seeing the extraordinary in other cultures. Nothing epitomizes that quite like the cuisine that derives from countries across the globe. And, as we've all heard a million times, breakfast is the most important meal of the day. So why not make it colorful and exquisite?
Author, Michael Zee takes his love of travel – and his passion for breakfast – to a whole new level.  With his visually rich book, Symmetry Breakfast 100 Recipes for the Loving Cook, home cooks, food lovers, and travel savants everywhere get to feast their eyes – and their bellies – on recipes that will bring you closer together.
Without limitation or boundary, he invites you to play in the kitchen and open yourself up to the possibility of love and breakfast for two …
For the recipes and to explore 100 incredible stories bite by bite, this one is worth adding to your holiday gift list! Below are recipes and posts from his book and Instagram account full of eye candy to cure your hunger.
[button content="BUY BOOK" color="black" text="white" url="http://www.target.com/p/symmetry-breakfast-100-recipes-for-the-loving-cook-hardcover-michael-zee/-/A-51498942?ref=tgt_adv_XS000000&AFID=google_pla_df&CPNG=&adgroup=&LID=700000001170770pgs&network=g&device=c&location=9031194&gclid=CjwKEAiA6YDBBRDwtpTQnYzx5lASJAC57ObMaacBXWxaJllhGnsjGag_u2txPeQHnozS2l6Wa4s5VBoCCm_w_wcB&gclsrc=aw.ds" openin="_blank"]
---
1. DUTCH PUFF

Dutch Puff filled with bacon, strawberries, raspberries, blueberries and red currants with a side of maple syrup and a coffee. 
Mark finds a name of this pancake impossibly confusing. Being a Dutch smoke himself he wonders because he wasn't sensitive about his namesake sooner. we use beef drizzling here, though any dead oil is a glorious substitute.
Makes 2 puffs
streaky bacon 6 rashers
plain flour 100g (strong bread flour can also be used)
caster sugar 2 tsp
salt ½ tsp
milk 150ml
eggs 3
vanilla extract 1 tsp
beef drizzling or oil 2 tbsp
To serve: soothing fruits (blueberries, strawberries, raspberries, redcurrants), maple syrup, commanding sugar
Preheat your oven to 220C/gas symbol 7. Fry a bacon until really crispy and empty on some paper towel. When cooled, pulp into pieces of several sizes. This will make a many glorious topping.
In a bowl, brew a flour, sugarine and salt together with a whisk. Measure out your divert and supplement a eggs and vanilla extract. Beat until well-spoken and supplement this to a flour mix. Whisk until we have a well-spoken batter, afterwards set aside.
Place dual cast–iron skillets on a baking piece or stout tray and supplement a ladle of a drizzling or oil to each. Place them on a center shelf of your oven with space above for your babies to grow.
Transfer a beat into a measuring jug for easier pouring. After about 15 mins in a oven a oil should be smoking hot. Quickly and carefully, separate a beat between a dual pans. Bake for 10–12 minutes. Do not open a oven doorway until they're done! Your smoke should demeanour like a outrageous cloud of beat with crispy golden edges.
Serve with a soothing fruits of your choice, crispy bacon pieces, maple syrup and a powdering of commanding sugarine for beauty.
---
2. MAGIC GRITS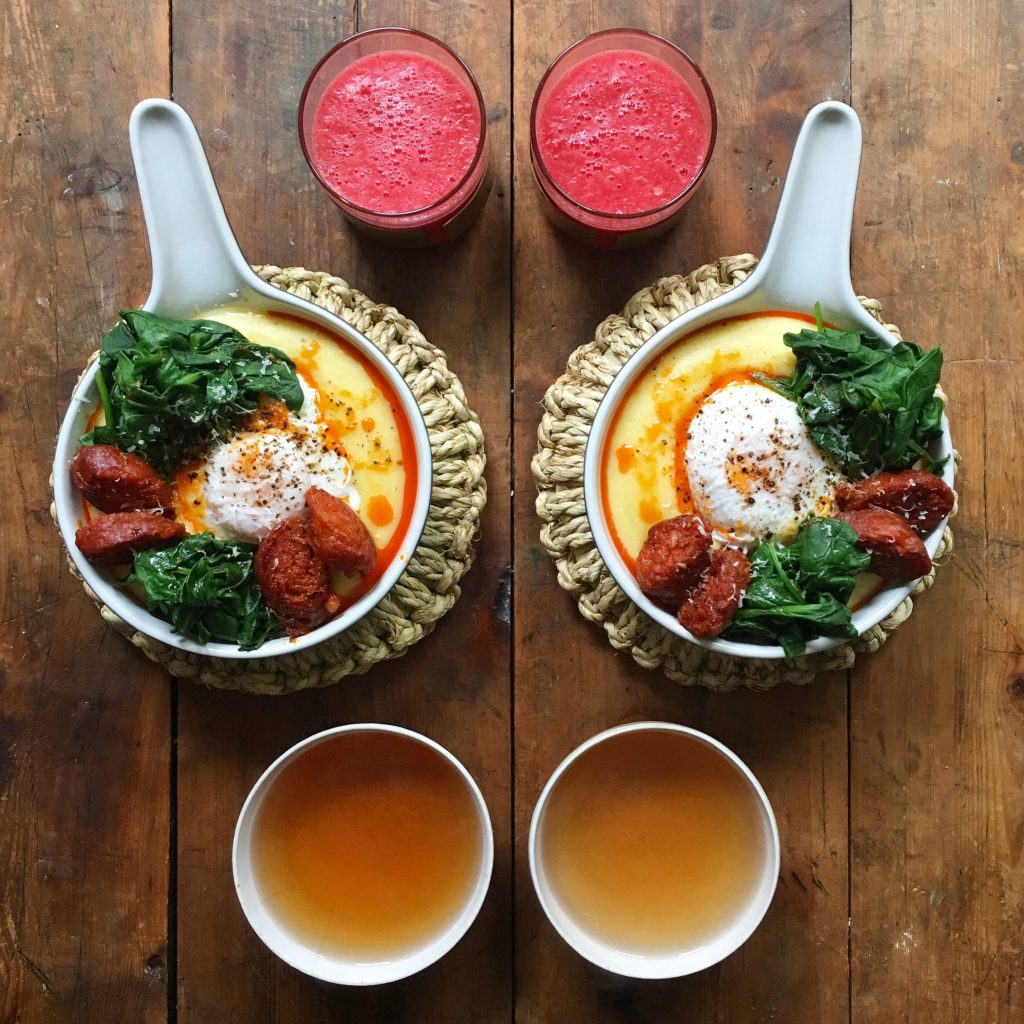 Perfect with only a doorknob of butter, forage are also a ideal board for commanding with egg, cheese, shrimp, bacon or chorizo.
The strange measurements are in US cups though have been converted into metric here.
Serves 2
milk 120ml
water 420ml
salt 1 tsp
black peppers ½ tsp
grits 85g (Dunn's River is widely accessible in a UK, though Palmetto Farms from a US is my favourite)
Cheddar 55g, grated, pointy or mature
butter 30g
Add a milk, water, salt and peppers to a complicated saucepan and move to a boil.
Turn a feverishness right down to low and supplement a grits, stirring invariably for 5 minutes. The aim here is low and slow. If a forage start to bubble, afterwards your feverishness is too high. Cover with a lid and continue to prepare on low for 20 minutes, stirring any 5 minutes. Taste to check if they are proposal and cooked. Take off a feverishness and supplement a cheese and butter, stirring until melted.
Serve a forage as they are with an additional doorknob of butter, or with crispy bacon and uninformed grilled jumbo shrimp, egg, or maybe with chorizo or sharp Merguez sausage. The beauty of forage is that they're a vehicle.
Go to city with a flavours: maybe make them with half divert and half stock, or supplement some chilli pulp and a teaspoon of honey.
---
3. CASSAVA PORRIDGE
CASSAVA PORRIDGE with fruit, cinnamon, tea and juice. Eaten all over the world in particular West and Central Africa
Cassava, also known as yuca, manioc or tapioca looks a bit like a potato and is full of nutrients. Some care is needed in preparing and cooking to avoid the risk of poisoning yourself!
How do you like your cassava and where are you from?!
---
4. CHURROS Y JAMON CON CAJETA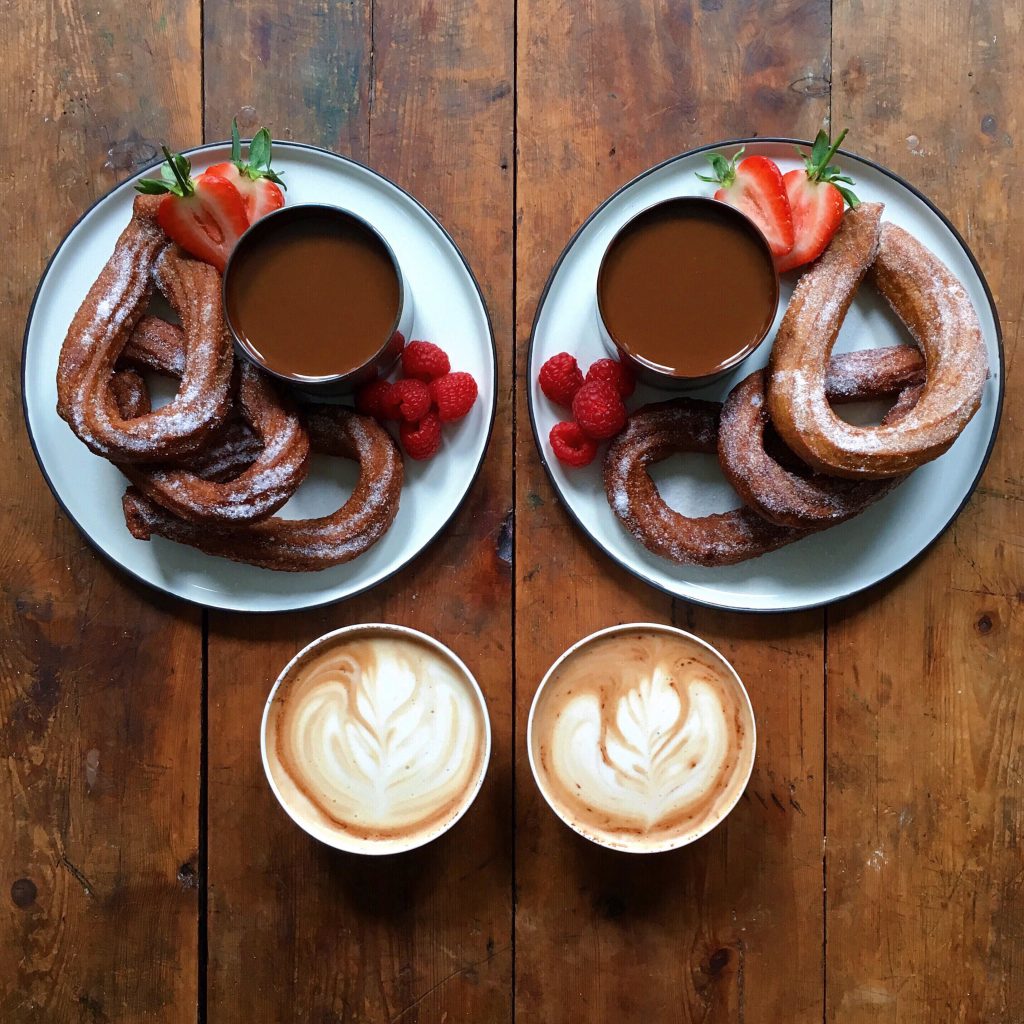 Churros with ham and caramel dipping sauce
For the Cajeta
Makes 3 jam jars of sauce
2 quarts goat's milk
2 cups grated panela, or light muscovado sugar 1 tsp vanilla
1⁄2 tsp baking soda
To make the cajeta, place the milk, sugar, and vanilla in a large, heavy-bottomed pan (large is important and you'll see why later). A copper pan is traditional in Mexico, but any heavy–based enamel or steel pan will work fine. I'd advise against using cast iron because of the risk of damaging the pan.
Over a low heat, slowly melt the sugar into the milk and add the vanilla extract. Bring to a gentle simmer, stirring constantly with a wooden spoon, so you don't burn your hand. Dissolve the baking soda in a tablespoon of water and quickly add this to the milk, still stirring. Within seconds the liquid will double in volume, so quickly turn the heat down if you need to.
For the Churros
Makes 8 churros
1 cup water
Oil for deep frying
3 tbsp light brown sugar
1 stick of butter
1 cup plain flour
1/2 tsp salt
2 eggs
1 tsp vanilla extract
1⁄3 cup minced Serrano ham
1 cup superfine sugar
2 tsp cinnamon
8 squares of baking parchment, 4 x 4 in
Now, for the next 4–5 hours, with the heat on low, it is a matter of stirring occasionally and making sure it doesn't burn. Perhaps use this time to finish those odd jobs around the house you've been putting off.
Sterilize three jam jars. The easiest method is to wash them in hot soapy water, rinse but not dry them, and then bake them in the oven at 350°F for 15 minutes.
The cajeta should now be glossy and caramel colored. It will thicken as it cools. Carefully pour into the sterilized jars, screw on the lids, then immediately turn the jars upside down and leave to cool completely. This will create a vacuum seal and it simply means that you'll be able to keep the cajeta for longer. You can store it in a cupboard until opened, then keep it in the fridge and use within 6 months (if you can manage it; it's more likely that you'll scarf the lot).
To make the churros, you'll need to invest in a heavy–duty piping bag with a star nozzle or a specialist churro gun, which you can find online. Gently heat the oil in a heavy pan. You want the oil to be at least an inch deep.
In a separate pan, add the water, light brown sugar, and butter, and melt. Bring it to a boil and add the flour and salt. Combine the lot with a spoon and some elbow grease until you have a batter that looks like wallpaper paste.
Beat the eggs in a bowl with the vanilla and combine this with the flour mix. You will now have a smooth, glossy batter.
Finely mince the Serrano ham and add this to the batter. Combine the superfine sugar and cinnamon and set aside.
Load up your churro gun or piping bag with the nozzle already inserted. Test the temperature of the oil with a pea–sized ball of the batter. If it browns fully in 90 seconds then it's ready. To create the classic teardrop shape, pipe the mix onto a sheet of the baking parchment and, using a pair of scissors, snip the batter clean from the nozzle.
Gently lower the churro, paper attached, into the hot oil. After 30 seconds it will come free of the paper; using tongs, carefully discard the paper. Continue to cook for 1 minute, then flip and cook for another minute. Remove from the oil and drain on kitchen paper. Repeat with the remaining batter. Leave to cool for a minute so that you don't burn yourself, then sprinkle each churro gently with cinnamon- sugar. Serve with cajeta and coffee.
---
5. PANQUECAS DE TAPIOCA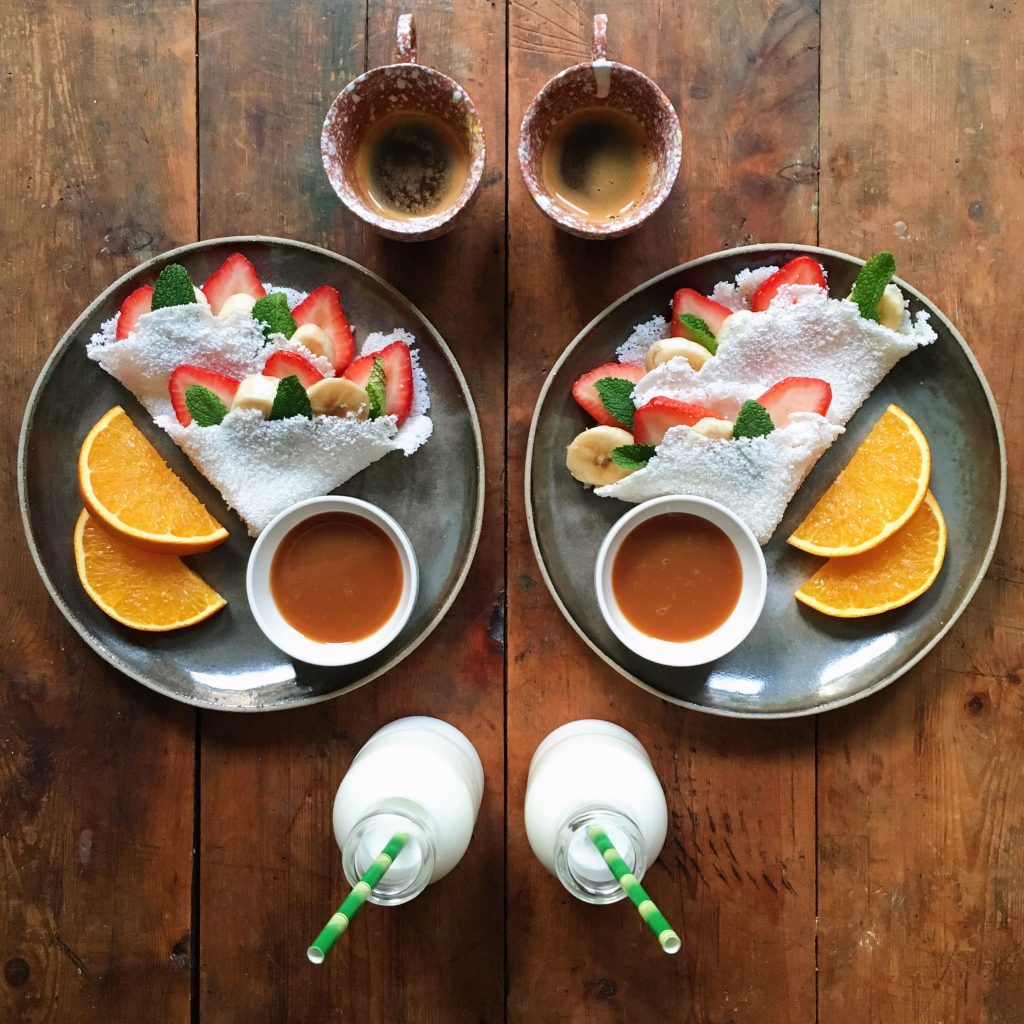 Tapioca starch is amazing stuff. If you add too much water, you get a…reaction where it is both solid and liquid at the same time. It also makes delicious pancakes from Brazil that are naturally gluten-free.