Gray Malin | A New Way To See The World
Art and Fancy
Photos Courtesy of Gray Malin©
[dropcap letter="A"]nyone with a pulse and a sense of whimsical perception knows the name
Gray Malin
. A truly magnificent lens through which he sees the world, I have not only had the pleasure of meeting him, hearing his story in person but have watched his career evolve into the impressive landscape of creative expression that it is today. Notably the man behind the art at the famed Parker Hotel in Palm Springs, Gray's zest for adventure has taken him all around the world enabling him to share his untainted view of design, travel, beauty and curiosity – and – we're all the better for it.
After the release of his book BEACHES and the latest book available for pre-sale, ESCAPE, I had the privilege of talking to Gray about life, the journey, living in LA, and finding out what inspires him …
All photos available for purchase at: www.GrayMalin.com
[columns_row width="half"] [column]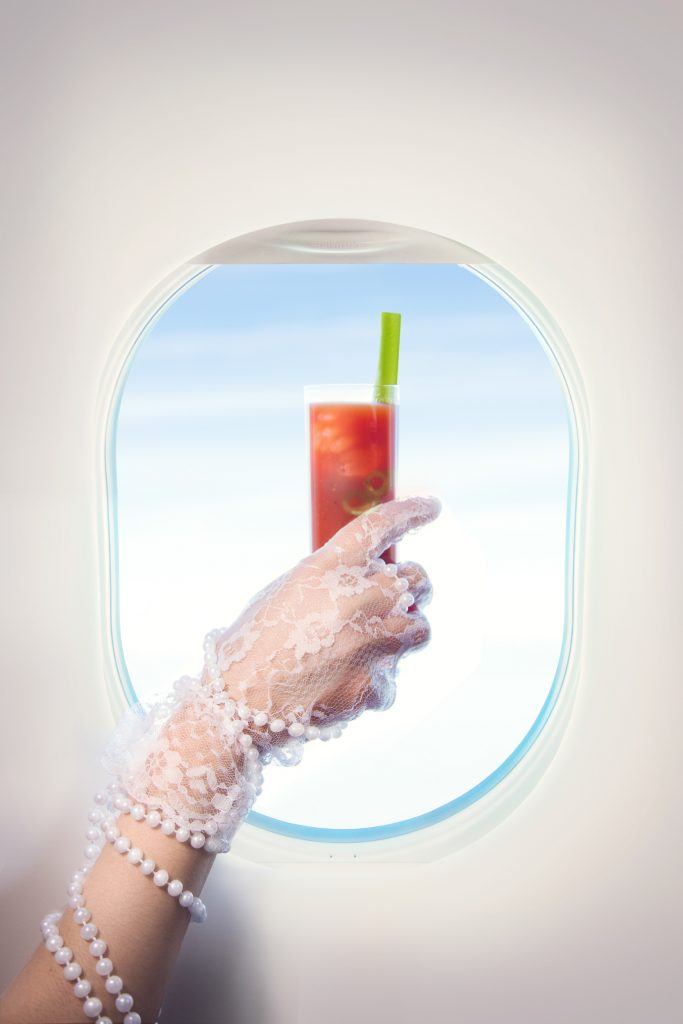 [/column] [column]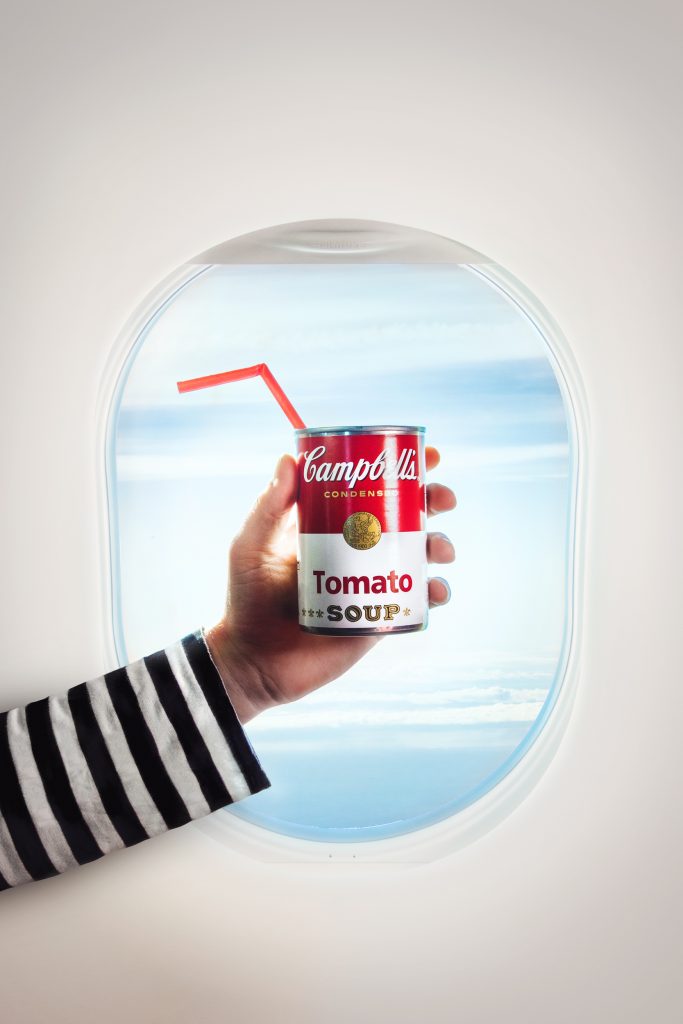 [/column] [/columns_row]
[separator type="thin"]
When you were selling prints at the Swap Meet, at what point was it clear you could do this full time?
In 2009, I decided to take out a booth at a Sunday swap-meet in West Hollywood at Melrose and Fairfax. I was primarily selling Black & White landscape photography, as that was my initial focus. The Prada Marfa series first debuted during these days, too. Right away, I was able to see what connected with people and what did not. Though it was a humbling experience, I met so many incredible people in the community and was able to display my work effectively, eventually making a name for myself.
What has been one of the most challenging shoots thus far?
Antarctica was the most gratifying shoot however my series 'Art of Living' had the most difficult set of obstacles to overcome. Shot in Bora Bora, the concept was to create a juxtaposition of organic beauty mixed with man made designs. To accomplish it, we worked with local engineers to build the 15 x 15 foot mirrored platform, as well as freight-shipped all of the mid-century modern furniture utilized in the series. It was a lot of work, but the results were well worth it!
[columns_row width="half"] [column]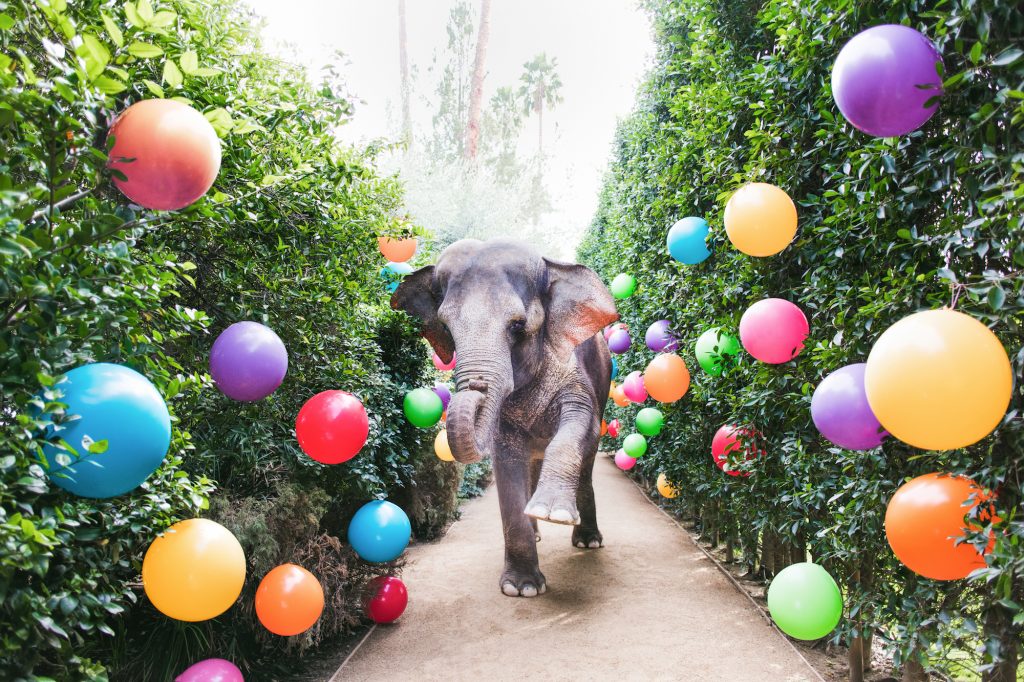 [/column] [column]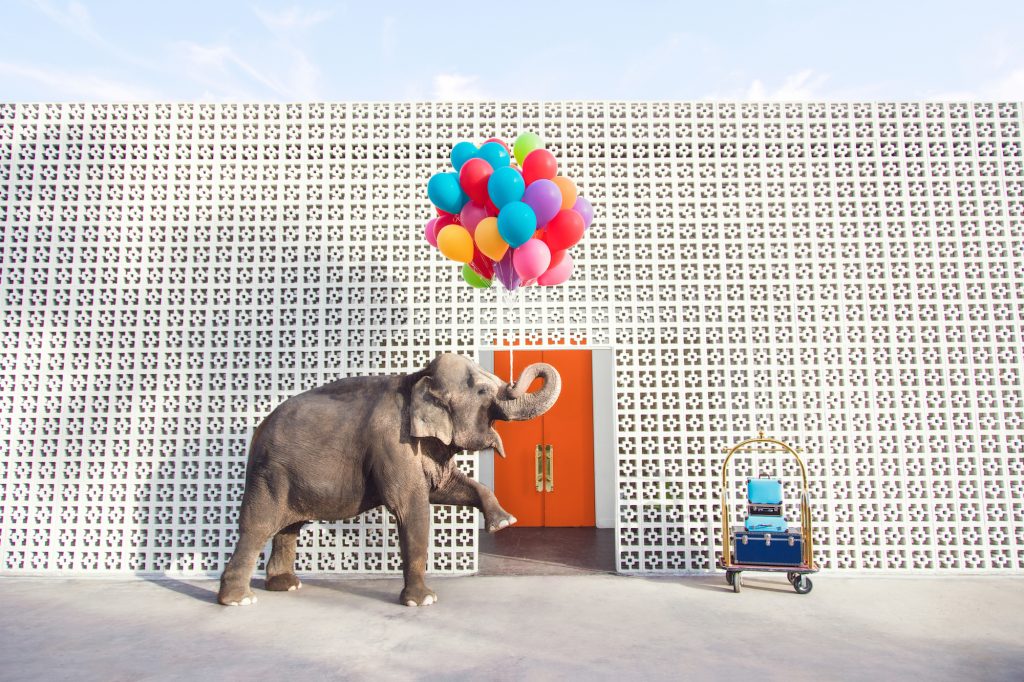 [/column] [/columns_row]
[separator type="thin"]
In your series at the Parker, your use of animals is beautiful. What was one of the comical moments doing that shoot?
The animals were very easy to work with as we absolutely had trainers on hand to direct the crew and myself on how to interact with them to keep them as happy models. With my third and most recent installment of the series, I had the chance to be picked up by the elephant's snout. It was so cool! I felt like I was in a cartoon. Working with all of the animals in all three installments of this series was so much fun- I wish I could live in this fantasy every day.
In your series that put you on the NY Times Bestseller List, you take us through the aerial world of sand and leisure. Of that series, what location had the most surprises in terms of land and seascapes and, how did you navigate through that?
The creation of my Á la Plage series began in in 2013 and has been an ongoing obsession, ever since. Commemorating my largest aerial series, Á la Plage, into my first art photography book, BEACHES, was a huge moment in my career. Making a book was something that I aspired to from the beginning; so to make it into a realization was completely surreal. Every beach has it's own unique idiosyncrasies but 'the beach' itself is universal. It's joyful and calming, it's something that everyone can relate to and remember a happy moment being spent along sandy shores.
You shoot from a helicopter. Are you ever scared up there?!
There is always an element of danger with these shoots because you're always at the whim of the weather.  That's what makes it fun, though!  When I shot my series, Snow Polo, in Switzerland, I had to go up in 20-30 minute intervals because the freezing wind was so powerful, we had to really pay attention to what the weather would allow. I couldn't have been happier with the results and it's certainly a moment for the memory books.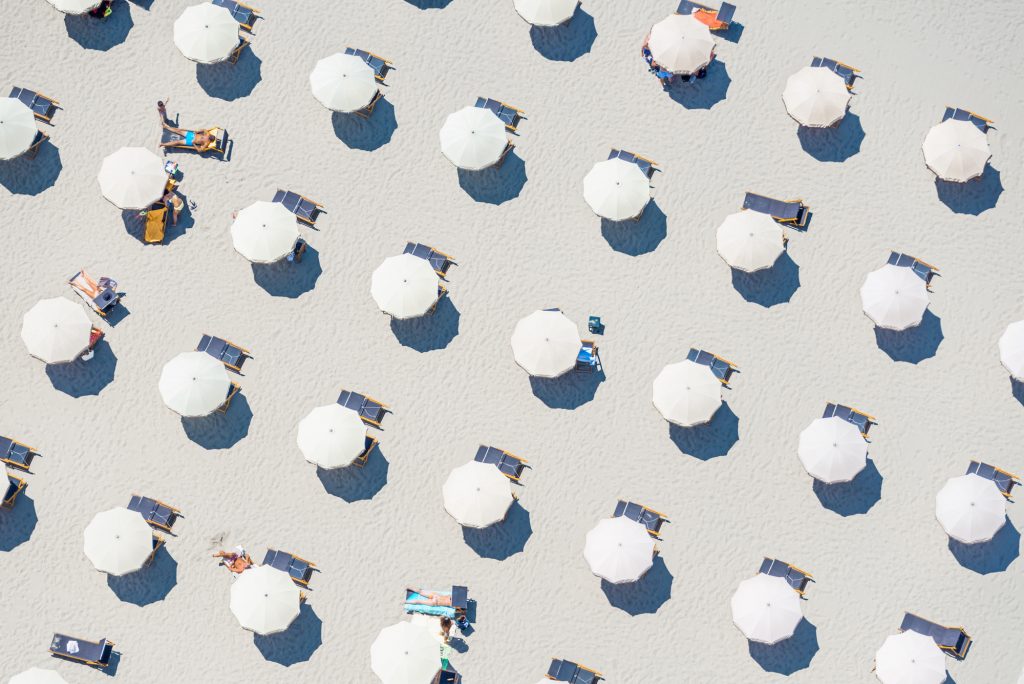 [separator type="thin"]
In your newest beach series, can you tell us a story about working with the locals and how you arranged some of the shoots?
All of my beach aerial series: Á la Plage, Italian Geometric and Art Deco Miami were shot from a doorless helicopter. It isn't organized below, rather I find patterns and colors that catch my eye, and then shoot accordingly.
What is your guilty pleasure?
Mexican food and a margarita
Now married and living with your husband and dog in WeHo, what's your favorite room in your 1930's bungalow, favorite piece of furniture and your favorite piece of art?
I really love the rattan chair hanging in the master bedroom and our new backgammon set from this cool east coast brand, Oomph Home!
If you could go back to your teenage self, what advice would you give?
Always be courageous, be true and most importantly – just be you.
[columns_row width="half"] [column]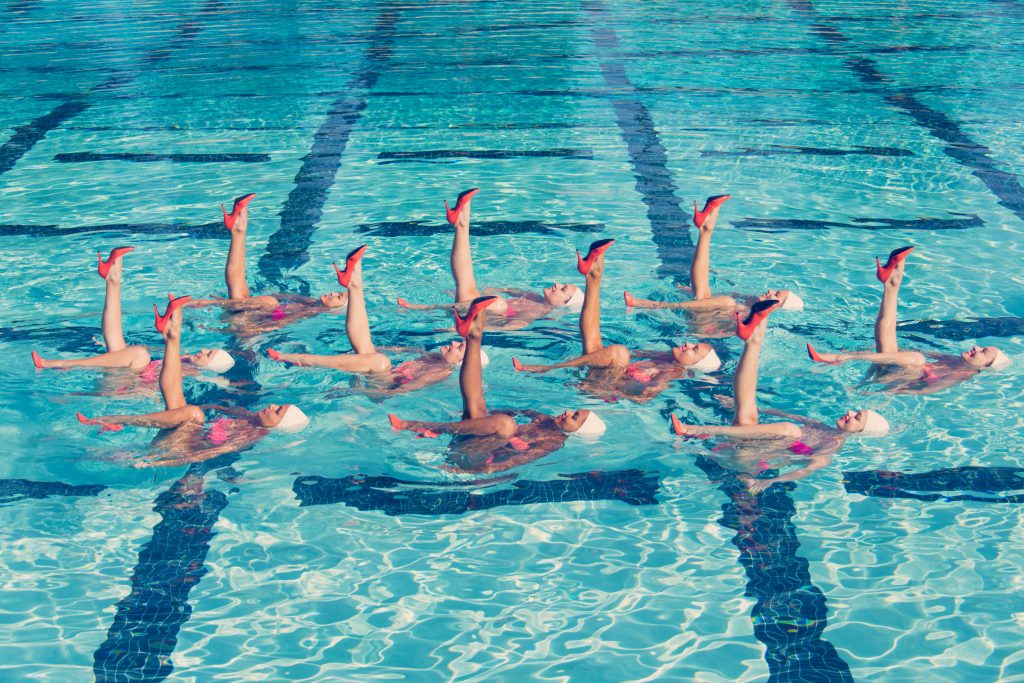 [/column] [column]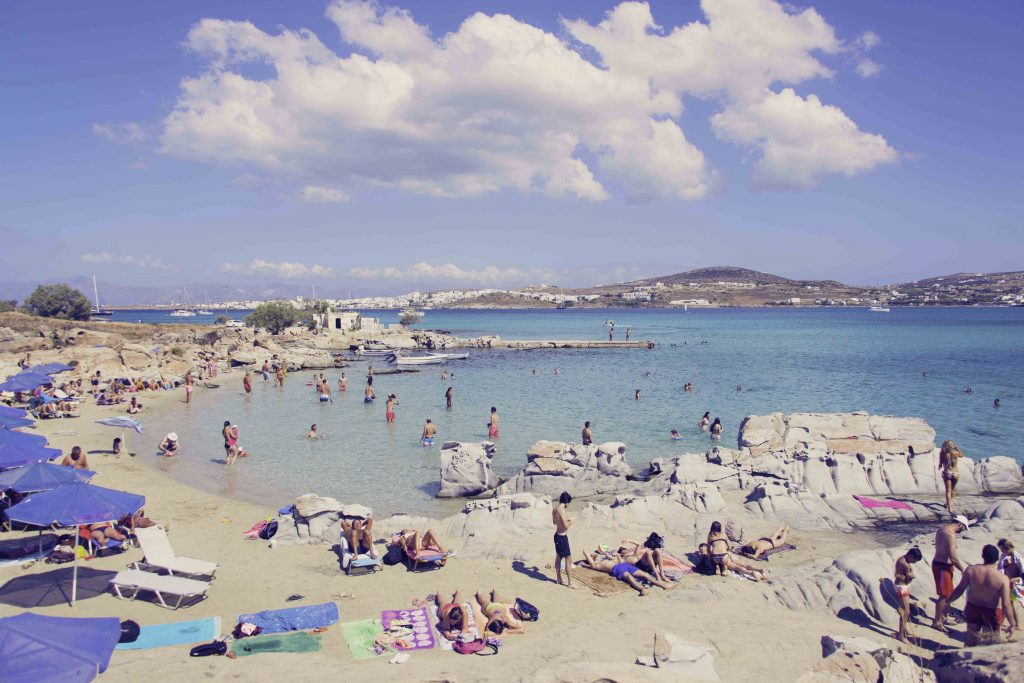 [/column] [/columns_row]
[separator type="thin"]
What was the first piece of art or design that you came across that opened your eyes to the extraordinary beauty around you?
André Kertész was the first photographer whose work really moved me when I was younger. I got to see an exhibition of his in Paris a few years later and I remember thinking I just had to be a professional photographer one day. I am a huge admirer of Slim Aarons, too and consider it a compliment to hear comparisons.
Where haven't you been that you'd love to go?
There's still plenty of uncharted territory! Japan, Morocco, more of the Caribbean … the list goes on.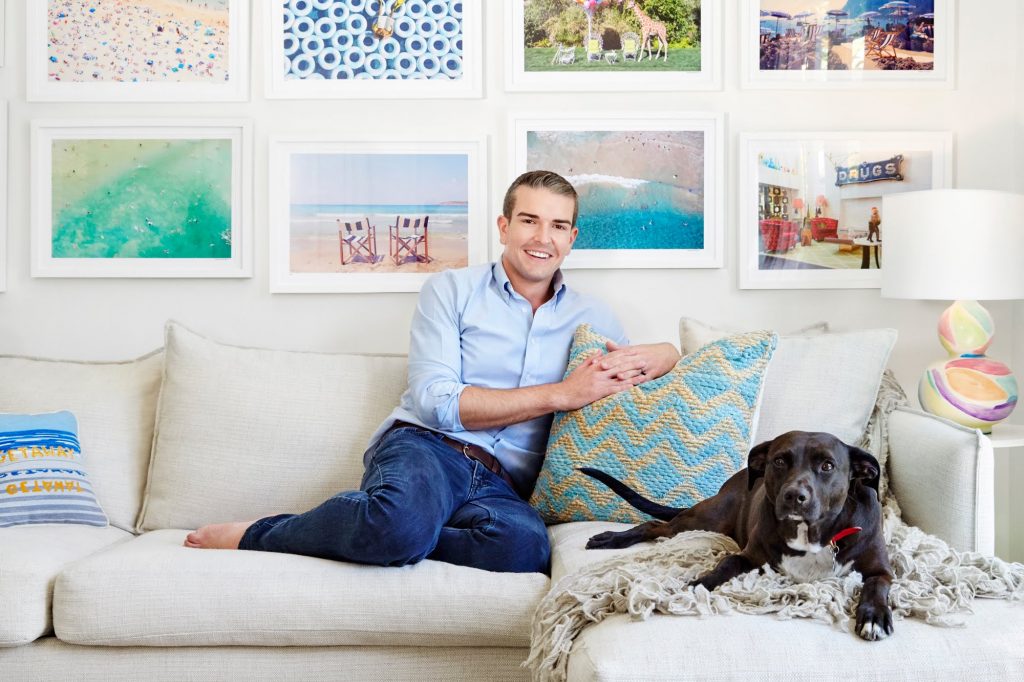 What is your favorite word?
Joyful.
What makes you feel most alive?
Travel.
[columns_row width="half"] [column]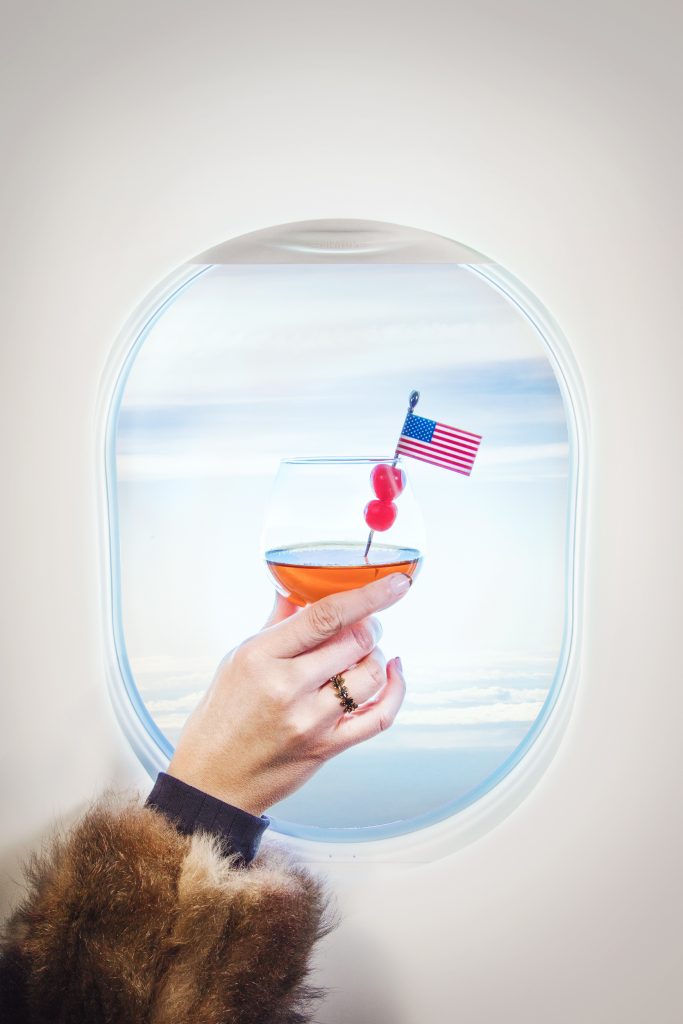 [/column] [column]
[/column] [/columns_row]
[separator type="thin"]
What is something about you readers would be surprised to know?
I love a good Romantic Comedy movie night.
Growing up, what did you want to be as an "adult"?
A baseball player.
What encourages you?  
My staff and my husband.
If you could go back to any era, which era would you want to exist in?
The 1950's and 60's.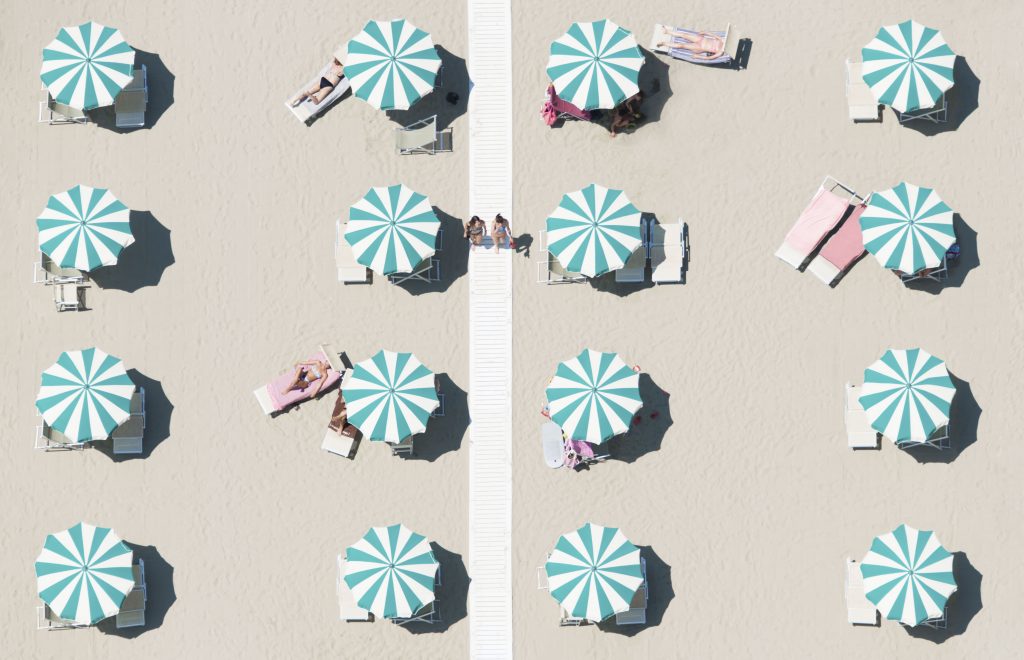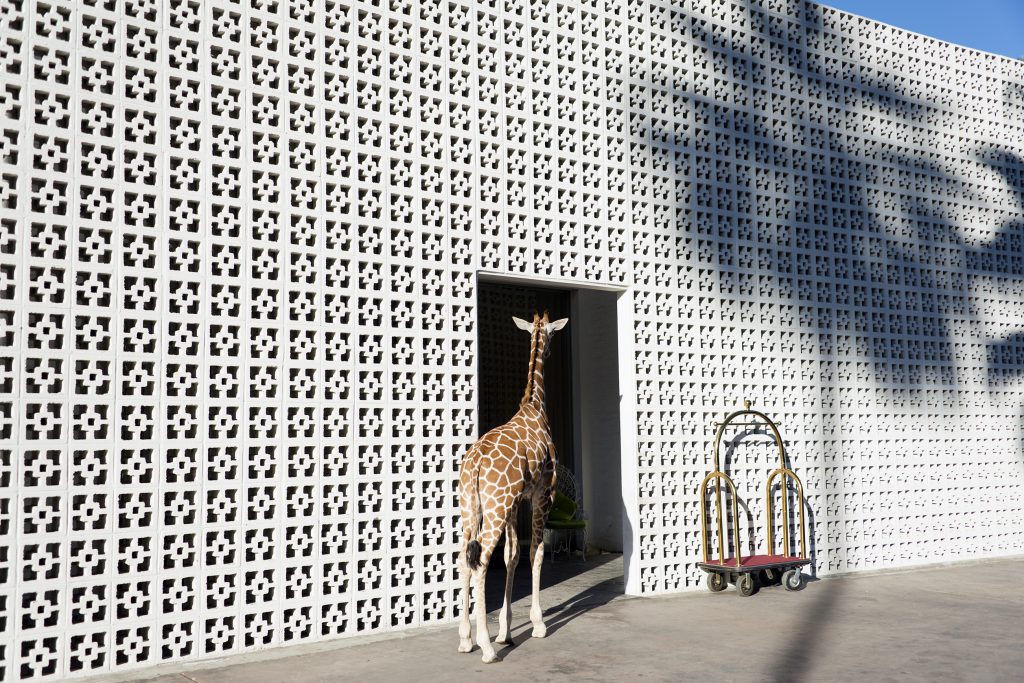 Gray Malin is a US fine art photographer and New York Times bestselling author,[1] who shoots aerial bird's eye views of beaches and landscapes around the world, in locations that include the United States, Antarctica, Australia, Europe, and South Africa.[2] In 2015, he was recognized by LinkedIn as part of their Next Wave: A List of 150 Professionals, 35 and Under, Who are Changing the Way We Do Business.[3]
SaveSave
SaveSave
SaveSave
SaveSaveSaveSave
SaveSaveSaveSave
SaveSave
SaveSave