Product Reviews for Foodies
DRINK | eat | COOK
cover photo by Vincent Madero
[dropcap letter="W"]e love products that make our lives easier …
and tastier
! With millions of choices out there, it's like finding a needle in a haystack in terms of getting the intel on what's good. We get that (
more than you know!
) so we reached out to some of our clients and asked them to send us some product samples to review, play around with, and share with readers. We were pleasantly surprised with a handful of them.
Below are our products picks we're confident are well worth the investment.
---
Citrus Zinger
REVIEW: We drink water A LOT! And anything that makes that process more engaging, we're on board. The Citrus Zinger is a water bottle that allows you to juice fresh lemons, carry your fresh berries or cucumber or any other fruit infuser all in one. It's the perfect way to start (and continue) your healthy day.
ABOUT: When life gives you lemons, give it the Citrus Zinger. It's so simple, so easy, and so tasty. Designed specifically for citrus fruits, Zing away with lemons, limes, clementines, and more. The Citrus Zinger offers an easy way to extract juice and flavor from citrus fruits and infuse them directly into your water bottle. Creating delicious lemonades, limeades, and orangeades, the Citrus Zinger flavor infuser is great for the active, on-the-go water drinker.
[button content="BUY HERE" color="black" text="white" url="http://www.zinganything.com/product/citruszinger" openin="_blank"]
---
Liv & Val's Keepsake Kitchen Diary
REVIEW: Ok, first off – finding a recipe book that caters to our wild whims and not-quite-so-precise measurements is near impossible, but finding a book that realizes cooking incites memories? Well, that's down right crazy … or is it?! Lily & Val have created a Kitchen Diary to store all of your recipes, your pinches of this, sprigs of that and do it in a way that is visually adorable and timeless in appeal. This is our go-to kitchen diary for our ongoing recipes and culinary concoctions.
ABOUT: The Keepsake Kitchen Diary ™ exists as a functional, beautiful holder for your most treasured recipes, but we've made room for what makes the recipes precious: the memories. Each spread provides ample space to record dates, occasions, and thoughts in a meaningful way.
The Keepsake Kitchen Diary ™  is a one-of-a-kind heirloom and DIY cookbook that will bring joy to you and the people you love for generations.
[button content="BUY HERE" color="black" text="white" url="http://lilyandval.com/products/the-keepsake-kitchen-diary" openin="_blank"]
---
Padma's Exotic Rice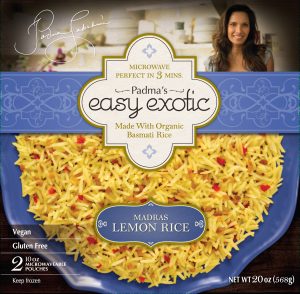 REVIEW: Yes, this would be the same Padma Lakshmi we watch with adoration as she looks effortless and beautiful speaking intelligently on the subject of cuisine alongside Tom Colicchio on Top Chef. She may be a statuesque beauty but she also happens to be responsible for a brand new freezer-ready line of exotic rices. While we tried quite a few, there was one that really stood out: Madras Lemon Rice.
Exceptional, fresh, spicy and definitely a rice I would eat regularly. This is the kind of flavor I expect from a true Indian dish: traces of coriander, lemon, hot peppers laced throughout to give your mouth a zesty kick.
ABOUT: Madras Lemon Rice – Padma's grandmother made this authentic South India lemon rice recipe every weekend and it has been passed down for generations in Padma's family. It is a staple in family feasts across Chennai and Southern India. The basmati grains are sourced in the Punjab region of India. The grains are lightly spiced with red jalapenos and black mustard seeds, and then combined with the unmistakable aromas of lemons. The nutty addition of Indian gram lentils also gives it a lovely texture and added protein.
[button content="BUY HERE" color="black" text="white" url="https://www.instacart.com/products/1883252-padma-s-easy-exotic-madras-lemon-rice-20-oz" openin="_blank"]
---
Tulsi Organic Indian Tea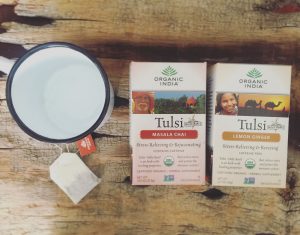 Tea is one of those healing and wonderful "me time" kind of things. A big fan of natural and organic teas that have complexity and story, we found that Tulsi Organic Indian Teas warm every part of your soul while giving your tastebuds something to delight in. Our favorites are the Masala Chai + Lemon Ginger. The Chai has rich essence of cinnamon, chai spices and black tea and the Lemon Ginger is incredible after a full meal, settling your stomach and refreshing your palate.
ABOUT: Tulsi, the "Queen of Herbs," is infused with healing power and revered throughout India as sacred. Abundant in antioxidants, certified organic Tulsi Teatastes great, relieves stress, increases energy and boosts your natural immune system.
[button content="BUY HERE" color="black" text="white" url="http://organicindiausa.com" openin="_blank"]
---
Trudeau Baking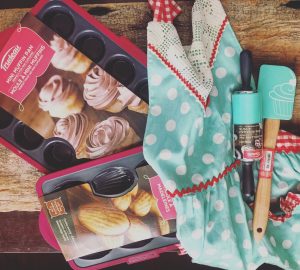 Mini Muffin Pan, Madeline Pan, Mini Rolling Pin, Cupcake Spatula
REVIEW: We wanted to round up a few fun baking items to encourage you to play at home and Trudeau has so many options! We are fans of baking in style so these 4 items are our picks for the pastry chef within. The Madeleine baking pan makes your fanciful cookies look exactly as they should … and a tip is to inject your madeleine with a chocolate filling to really impress. The mini muffin pan is perfect for homemade blueberry, apple crisp muffins or your own cupcake creations. The rolling pin and spatula just look plain darling (and are useful) especially next to a cute vintage apron (this one courtesy of Anthropologie!). This line really channels the inner gourmet baker within!
Learn More …
[button content="Mini MUFFIN Pan" color="teal" text="white" url="https://www.trudeaucorp.com/ca_en/structure-20-mini-muffin-pan-09914072.html" openin="_blank"] [button content="Structure 9 MADELEINE Pan" color="teal" text="white" url="https://www.trudeaucorp.com/ca_en/structure-9-madeleine-pan-09915023.html" openin="_blank"] [button content="Mini Rolling Pin" color="teal" text="white" url="https://www.trudeaucorp.com/ca_en/mini-rolling-pin-09915058.html" openin="_blank"] [button content="CUPCAKE Spatula" color="teal" text="white" url="https://www.trudeaucorp.com/ca_en/large-cupcake-silicone-spatula-09913034.html" openin="_blank"]