[title maintitle="CHAYA VENICE" subtitle="Keeping The West Side Well Fed"]
I am so sad to announce yet another Los Angeles fixture is over. As of today, Chaya Izakaya Modern is no longer.
Chaya was a Venice Beach restaurant that has been around for years, but the space and the cuisine had fallen behind in today's culinary innovations—until now. With a recent renovation and a culinary update, Chaya has really stepped up their game. Once a place to go for bento boxes and lunch meetings, it's revised what once was into what is. From casual dining décor with sophisticated modern Asian influence to the private dining area adorned with gorgeous artwork, furniture, a shoji screen and slated wood, this is now a proper Japanese-infused beach front restaurant.
Located a block away from the ocean and the Venice Boardwalk, Chaya has really taken the culinary climate to heart. Knowing diners no longer want stuffy—they can come here, relax, and indulge in fine dining level cuisine with a fully revamped menu in both the bar and the kitchen. This renovation has not only saved a local favorite but has given foodies something to salivate over.
[title maintitle="The Bar Program" subtitle="Sake + Mixology"] [columns_row width="half"] [column]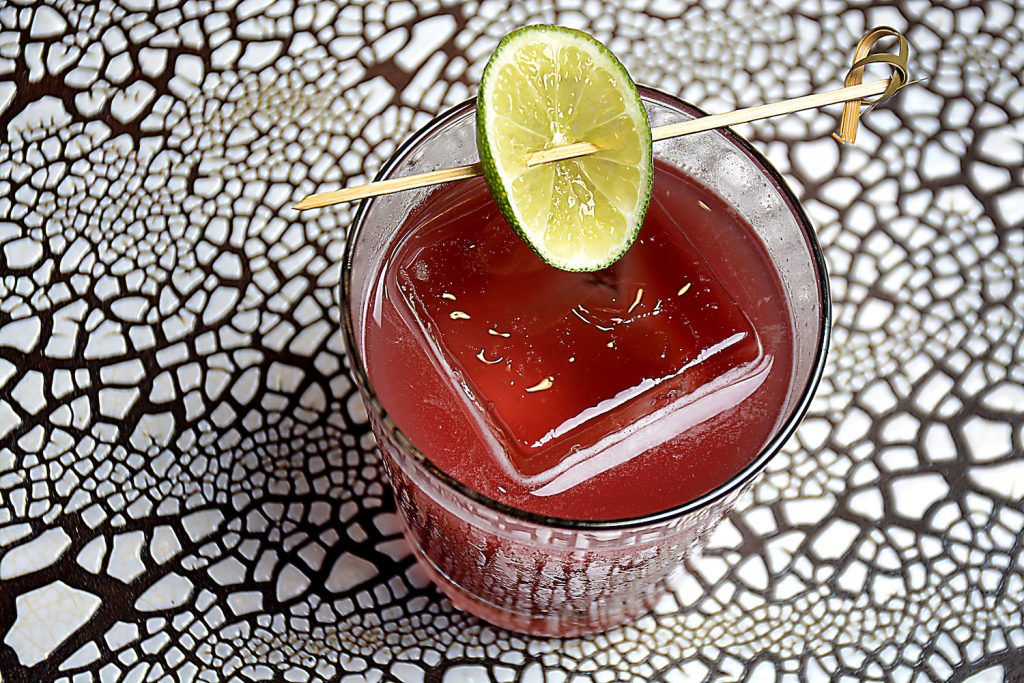 [/column] [column]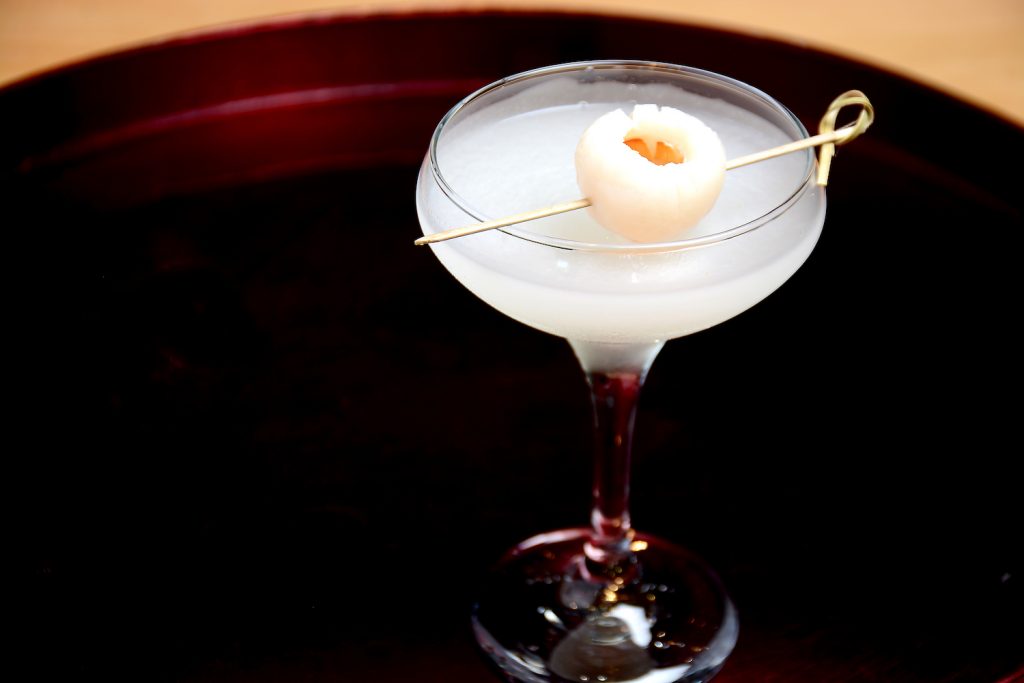 [/column] [/columns_row]
Sake flight anyone? The introduction of a true Japanese sake flight sets Chaya apart. Having been to Japan numerous times, sake isn't simply a spirit I love—it's one I deeply appreciate. The tradition and precision that goes into making a true Japanese sake is one to rejoice and the options at Chaya range from traditional and light to big and bold. The beauty being that they present it uniformly yet beautiful with cheat sheets to explain the type of sake and its origin story.
For those that may not know, sake is a sacred Japanese tradition that takes place throughout the country. With cedar balls on the outside door of sake distilleries, it signifies that age and readiness of sake's drinkability. Usually passed down within the family, sake is a hands-on approach to making a beautiful spirit.
With two flight options: The Exceptional + The Original. I went with the latter. The original flight consists of junmai, ginjo, daiginjo sakes representing an earthiness and simplicity mirroring Japanese tradition. Two cocktails I recommend ordering are the Watermelon Margarita made with tequila, agave, lime, watermelon and the Far East Side made with sake, tequila, cucumber, lime, and shiso. Both exude layer by layer of flavor like ribbons unraveling from a tidy bow.
[columns_row width="half"] [column]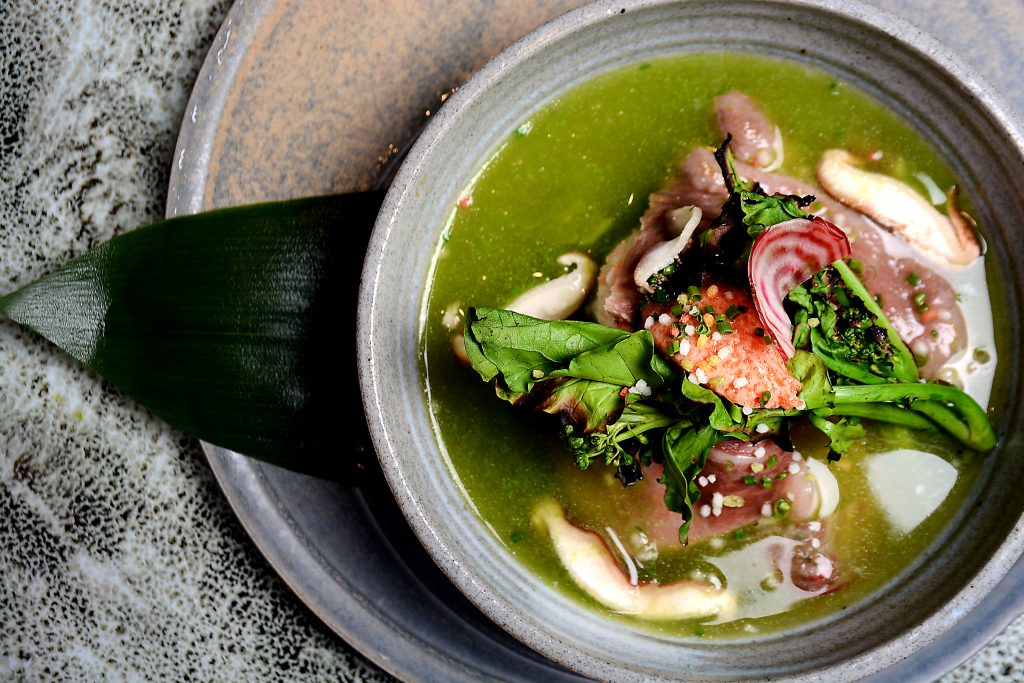 [/column] [column]
[/column] [/columns_row]
With service that has always been on point, the new menu is abundant in flavor, freshly plucked seafood, rich flavors, and refined presentation. We begin with oysters and the Ichiba market salad. I adore a lovely oyster that isn't briny and has the creamy texture with that essence of kelp and salt reminding you of the seductive quality of these shelled ocean gems. The Ichiba market salad is served displaying bright colors from the deep happy red of the pomegranates, the calming orange of the baby carrots, and the lush greens–but its the smoothness of the golden cashews tossed in the ginger carrot dressing that adds a dose of savory and perfect balance.
While each restaurant has their own way of serving octopus, this is a tentacled seafaring friend I'm much more finicky about in terms of being cooked well and spiced with finesse. Chaya's octopus is wonderful and the garlic chili aioli with spicy green papaya adds an element of surprise in a way I haven't tasted elsewhere. The star of the evening however is the ribeye steak with roasted potatoes and three-peppercorn butter. Juicy as I bite in to this tender morsel of beef, notes of peppercorn thrust towards the edge of my tongue and a brief moment of silence ensues.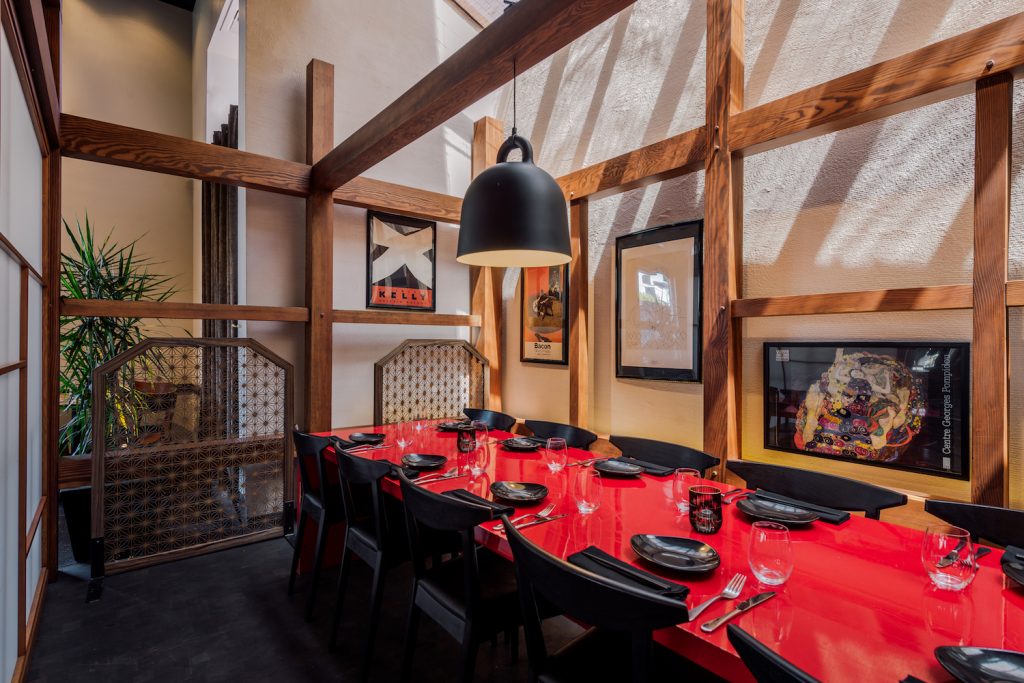 [title maintitle="The Assessment" subtitle="Change Is Good"]
When I began this magazine, it was because restaurants I had grown up frequenting in my hometown of Santa Monica and Venice Beach had closed. Most of which was because old school restaurants were unwilling to adapt to the growing demands of savvy diners and ever-changing culinary trends. I have been coming to Chaya for meetings and creative pow-wows with local artists and filmmakers over the years and had become increasingly disenchanted with their menu and bar program—so when I found out they were renovating and doing a menu and bar program reinvigoration, it gave me hope. Now having had visited and tried the new menu, experienced the gorgeous and inventive new designs, and partaken of the beverage program I can say I have once again found love here. And I'm grateful. Thank you to the culinary team and beverage director for adapting, re-awakening, and appreciating your ingredients, history, and clientele.
[columns_row width="half"] [column]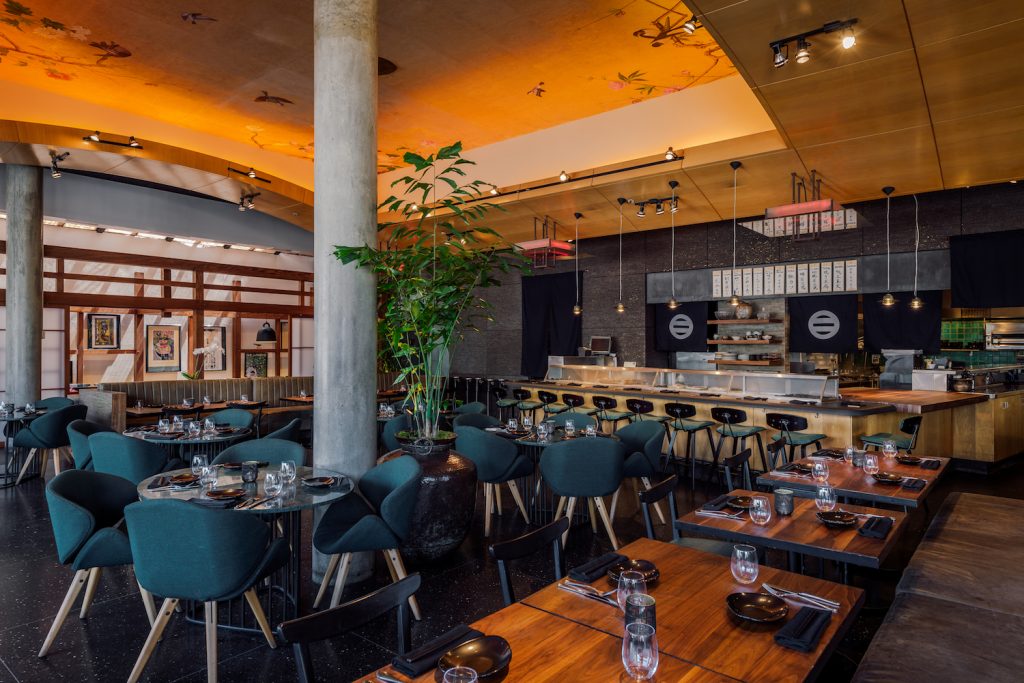 [/column] [column]
[/column] [/columns_row] [title maintitle="Their Story" subtitle="Centuries of Tradition"]
Chaya's story begins in the early 1600s when they opened their mother restaurant, Hikage Chaya. Hikage Chaya was a teahouse located on a mountain pass near a harbor in Kamakura, Japan. They smell of fish and spices invited weary travelers in and when they stepped inside they were met with a destination unlike any other. It wasn't until 1893 when they completed the Imperial Summer Villa in Hayana, that they truly came to be an established gathering place for dignitaries, matriarchs and patriarchs, and those who wanted to be in the presence of the emperor.
Coming into the modern era, by the 1970s Hikage became known as the destination for weddings and events but it was in the 1980s at the opening of La Marée de Chaya. Their culmination of French and Japanese cuisine fused into a restaurant where artists, the Hollywood elite, and locals flocked to. Now with the reinvigoration of the Venice restaurant, you can expect a range of tradition, healthy food, and a thoughtful space.