[title maintitle="Boise or Bust!" subtitle="Wine, White Water River Rafting and so much more …"]
Coming to Boise, my knowledge was limited to potatoes, Basque influence, and nice locals. I had no idea that after four short days, I would have the best doughnut I've ever had, ride the front of a white water river raft like a boss, swim against the freezing white water tide until my hands went completely numb, or had wine on the verge of greatness.
From visiting farmers markets to wandering the art-filled streets, Boise was far more adventurous than I'd imagined. I found that Idaho has grapes that will inevitably get to the place Paso Robles has risen to, that creativity and activism are becoming the underlying fiber bringing Boise into progressive times, that not everyone here is conservative or LDS, and the culinary and bar scenes are pretty on par with some notable big cities. All of that said, I thought it was high time I share all of the things I discovered.
Boise is the capitol of Idaho. Home to 217,000 people and another 400,000 in the Boise-city Nampa counties, Boise is positioning itself as a city to watch. As more progressive mindsets trickle in, the abundance of creativity, recognizable coolness factors high on the list. Much like the humble beginnings of Austin, Texas, Boise has taken innovation, sustainability, and bringing the past and the present together and is triangulating a broader future.
---
[title maintitle="Art + Culture" subtitle="Get Your Freak On"]
Throughout the city of Boise you'll stumble upon pieces of art whether you're looking for it or not. It's a beautiful reminder that there is a creative underbelly in this city clamoring its way out and making some noise. You'll find electrical boxes adorned with vibrant colors and messages of hope, sculptures that remind you that we are a collective whole, historic and artistic insignias throughout the city sounding in such a way, you feel alive. Located off of the lively 8th Street, Freak Alley Gallery is one of the largest outdoor art galleries in the Northwest. Commissioned by the city, artists were given designated portions of walls to create to their heart's content. There is so much to take in as you stroll along the alley. The art is haunting, deep, prolific, funny, and socially and politically outspoken. It is the gleaming representation of how art can transform a city and ignite change. As I strolled through Freak Alley Gallery, I came upon so many brilliant pieces of work but knowing that artists were given free-reign to share their creativity with the city is what leaves an indelible mark on ones soul, and makes you view Boise in a far more intrinsic light. You'll find so much to be happily consumed by including JUMP which houses over 50 steam engines dating back to 1885.
"Art in public places adds meaning, stories, and beauty to our public environment. Our city's Public Art program is well loved; citizens recognize value in this investment and appreciate efforts to transform non-descript streets and vacant lots into environments that are vibrant and new. More than two-thirds of the artists commissioned live in Boise—as a result our public art authentically reflects Boise's local character, more tightly binding us to one another and to this place." – BoiseArtsAndHistory.Org
Art to discover: Basque Block, Freak Alley Gallery, Jack's Urban Meeting Place (JUMP), Skate Park
[columns_row width="half"] [column]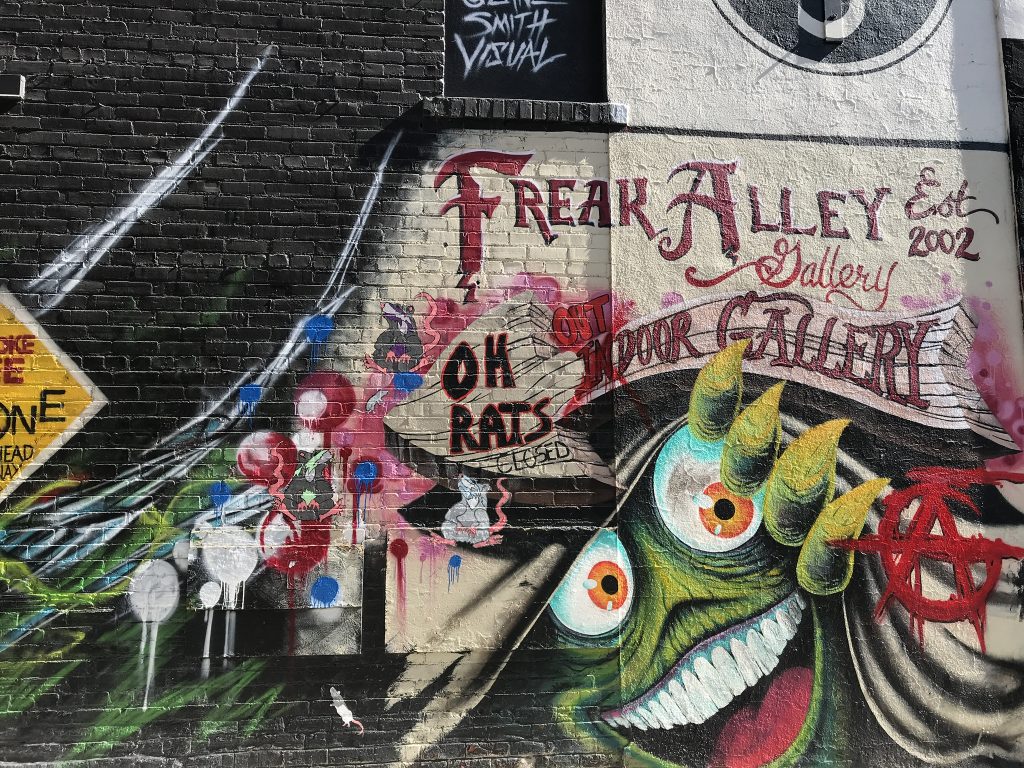 [/column] [column]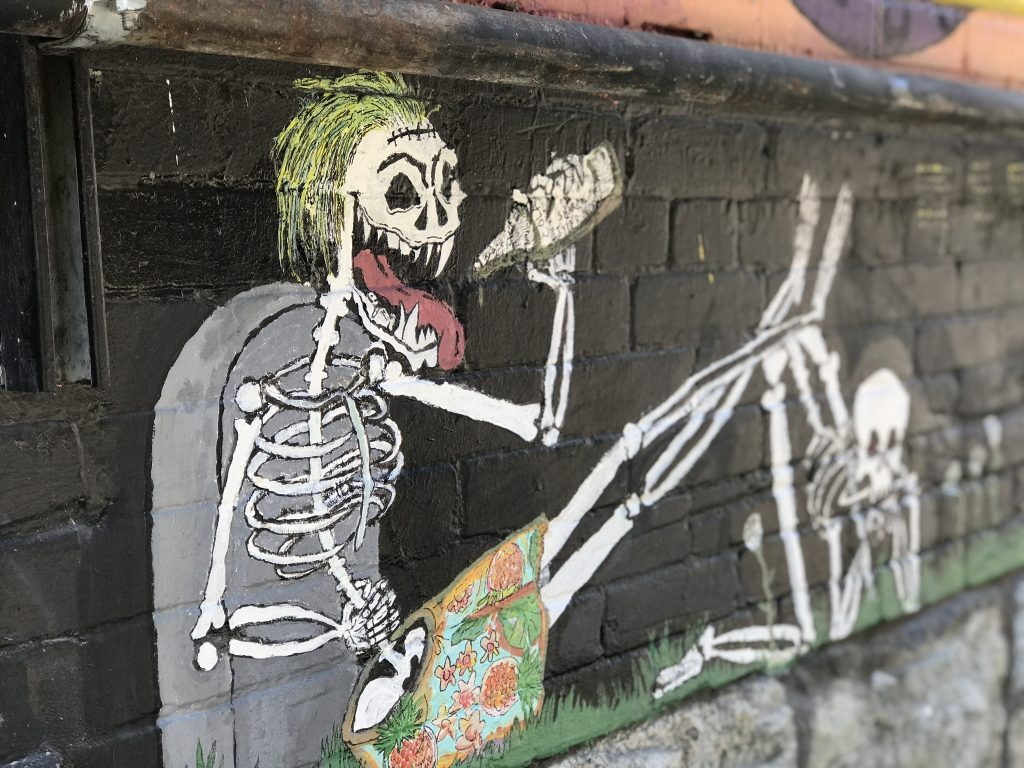 [/column] [/columns_row]
---
[title maintitle="Food For Days" subtitle="Pot-ā-to/Pot-â-to"]
The more I travel the more I realize that the gateway to any one place exists in the food they serve. In Boise, sure, you will find traditional American fare but it's the cuisine you happen upon when you stroll downtown that reassures you that global fare is on the rise. When I took that stroll? That is when I really understood the intention of this city—grow, change, welcome in tastes from around the world and do it with an edge.
MAKE HOMER PROUD! Donuts are the greatest invention since sliced bread—which I still don't totally understand why that was all the rage. Needless to say, donuts are perfection, and anyone who says otherwise must have been denied them as a child. They are sublime and in recent days, pastry chefs and bakers wised up to our need for inventive concoctions. Gone are the days of boring, wasted gluttony and Guru Donuts delivers on more than just their store name! Serving seasonal donuts like Girl Scout, The Clark Griswald, the Hipsterberry, or their vegan selection that includes Alice in Wonderland, Oh Joy, or The Holiday Spirit these sweet rounds take you and your sweet tooth on a welcomed journey.
TACO, TACO! Allow me to introduce you to tacos that envelop flavors of Mexico, Central and South America at The Funky Taco. A well-designed eatery with modern elements blended with ultra artsy and industrial accents, Funky Taco's menu consists of locally sourced ingredients. It has a sense of humor and a creative spirit that cannot be labeled or confined. Serving linner tacos (lunch meets dinner) such as the Flower Vegan (squash blossoms), Macho (ancho), Piggy Stardust (pork butt), TNT (yellow fin), and more, its clear they're not interested in being "regular". Offering up kimchi quesadillas, Oaxaca panko fried cheese bites, and a handful of more playful choices, the chips and salsa alone set the tone. Killer salsas and hot sauce made in-house assure you that what's to follow is worth enjoying with a beer—and their selection is impressive. Want ambiance? When you sit down to eat, the bursts of cobalt blue booths, the pop-art featuring Anthony Bourdain hanging above the kitchen, or Blondie and Bowie that sprawl the walls makes settling in something to look forward to.
WINNER-WINNER-VEGGIE-DINNER! Boise is at no shortage of restaurants. In fact they have over a hundred restaurants and breweries within a six-block radius. That said, while I was able to try several hot spots for dinner (Capitol Cellars, Bittercreek Ale House & Red Feather, Boise Fry Company, High Note Cafe, Brickyard, Chandler's, Wild Root Café & Market), it was Juniper on 8th that won the prize for tastiest dinner. The restaurant itself is charming with tall ceilings lined with brick and time, and they have a cozy bar and multiple seating options from patio, main dining room, to the loft terrace. Ordering the Kennebec rosemary fries and pork belly fries to start with, both have exceptional flavors and the fries are beyond exquisite. (Yes, Boise lives up to its potato reputation!) Next up I decide to tone down the heart-stopping meats and order their beet-carrot burger. This may be the most flavorful, interesting vegetarian burger I've ever had. Made using farm-fresh veggies, you can expect to turn your favorite carnivore into a happy vegetable eater. It's that good. The subtlety of flavors all brought together to make one exceptional bite, you can taste the pickles, the pickled onionscreaminess of the butter leaf lettuce, fresh carrots, and Calabrian mayo and no one outdoes the other. Simply put, they nailed it. While here, come thirsty because the selection of wines, beer, and clever cocktails are legit.
[columns_row width="third"] [column]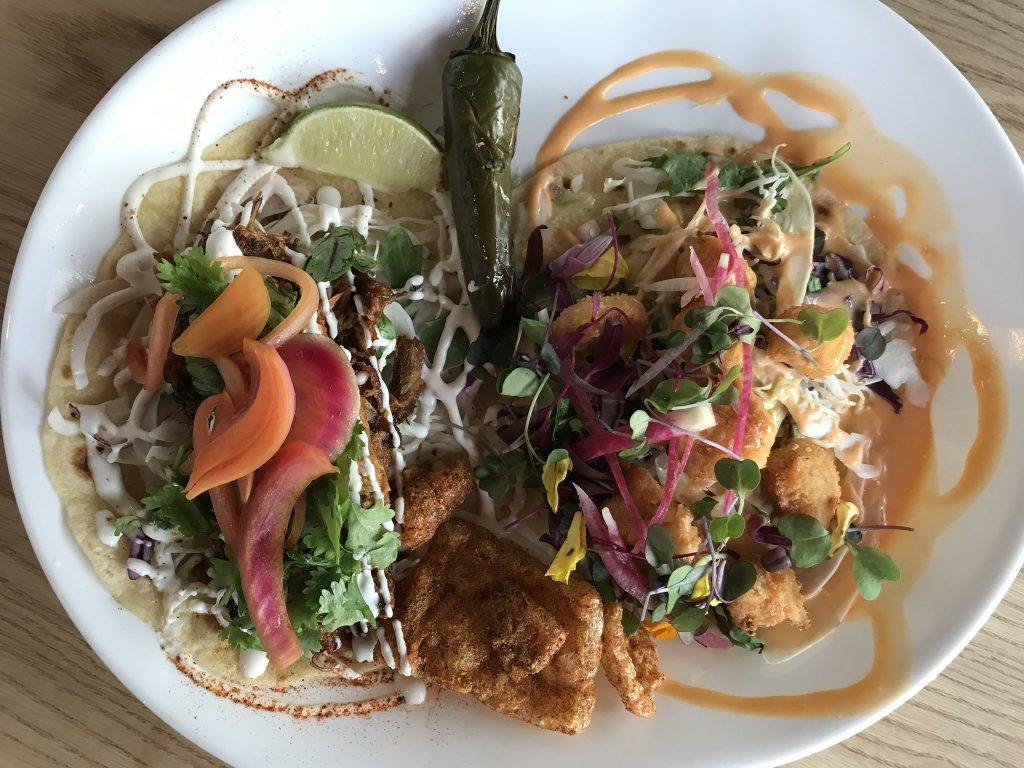 [/column] [column]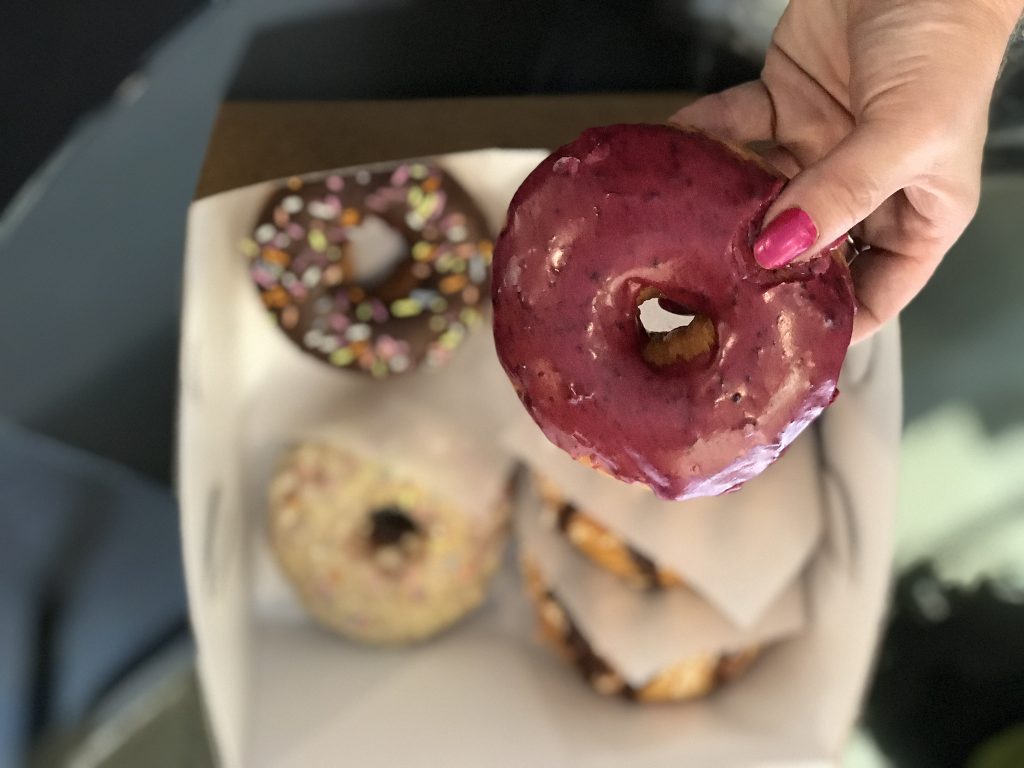 [/column] [column]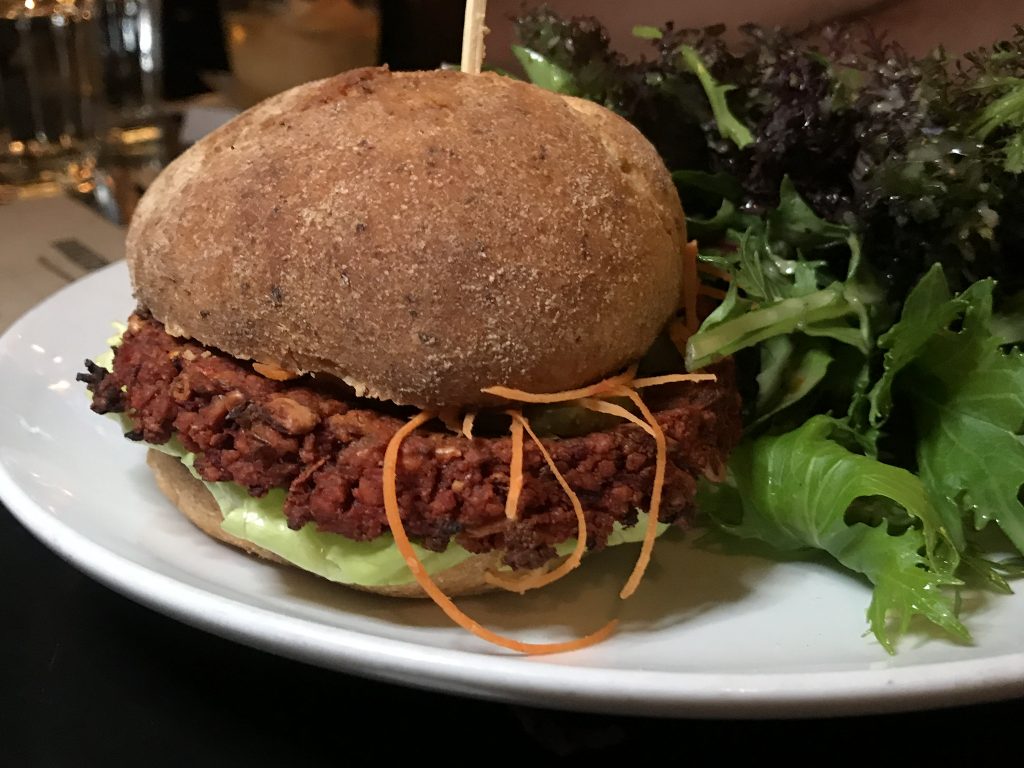 [/column] [/columns_row]
---
[title maintitle="Drink Up" subtitle="Wine + Cider"]
Boise boasts agriculture—and rightfully so—and now that extends into the wonderful world of viticulture with more wine varietals than you'd possibly imagine. From chardonnay, Syrah, cabernet, Tempranillo, Grenache, rosé and more, Boise grapes are not just fruitful, they're on the edge of becoming what Paso Robles wines is: sublime. In it its infancy, the wine region consisting of over 50 wineries is burgeoning with terroir bringing such complexity and flavor profiles, with some time, it may rival the greats. This is a wine region that should maintain on your radar as it grows, refines, and finds its steady footing. That said, some wineries have already exceeded humble beginnings. My favorite winery is Sawtooth Winery located in the Snake River Valley.
Founded in 1987, winemaker Meredith Smith graces our palates with wines that are sophisticated yet approachable, complex yet finessed, bold yet understated. With a passion for utilizing the best grapes possible, Smith's portfolio of Malbec, Chardonnay, Riesling, Tempranillo, Syrah and more showcase more than ability. Her down-to-earth attitude makes the elegance of the wine spring to the surface and linger in a beautiful way. The winery itself is located on an estate with breathtaking views of the valley and rustic contrasted with modern accents. The 2012 Syrah is one to savor as notes of earth, fig, plum, black cherry and berry ruminate with a finish that has a sound tannin structure. The 2013 Trout Trilogy Carmenére is another interesting red with notes of oak, berry with a tinge of herbs like eucalyptus that dance on the tongue with a finish that ties in the likes of apple and berries. That said, Smith is known for her award-winning Chardonnays which exemplify her expertise and patience, allowing the grapes to come into their own. Should you have a chance, visit this winery and tasting room and ask for their reserve collections as well.
For all you beer lovers out there, Boise has ciders and brews that will appease even the most pretentious beer lovers (if that's a thing). With dozens of breweries, one cider house takes the cake: Meriwether Cider. Heading to the newest location on 9th Street in downtown, Meriwether serves cider proper. With a collection of 20+ ciders to choose from, from tried and true to seasonal and experimental, cider lovers rejoice because they know what they're doing. Choosing flights of five at a time, you'll have ample opportunity to blow through their menu (if you're not too buzzed to remember what you're drinking). My suggestion is to eat first and come ready to relax a bit and try ciders until you find the one you can't live without.
Wineries to visit: Par Terre, Sawtooth, Cinder, Split Rail, Coiled, Telaya, Koenig, Williamson, Ste. Chapelle, Scoria
[columns_row width="half"] [column]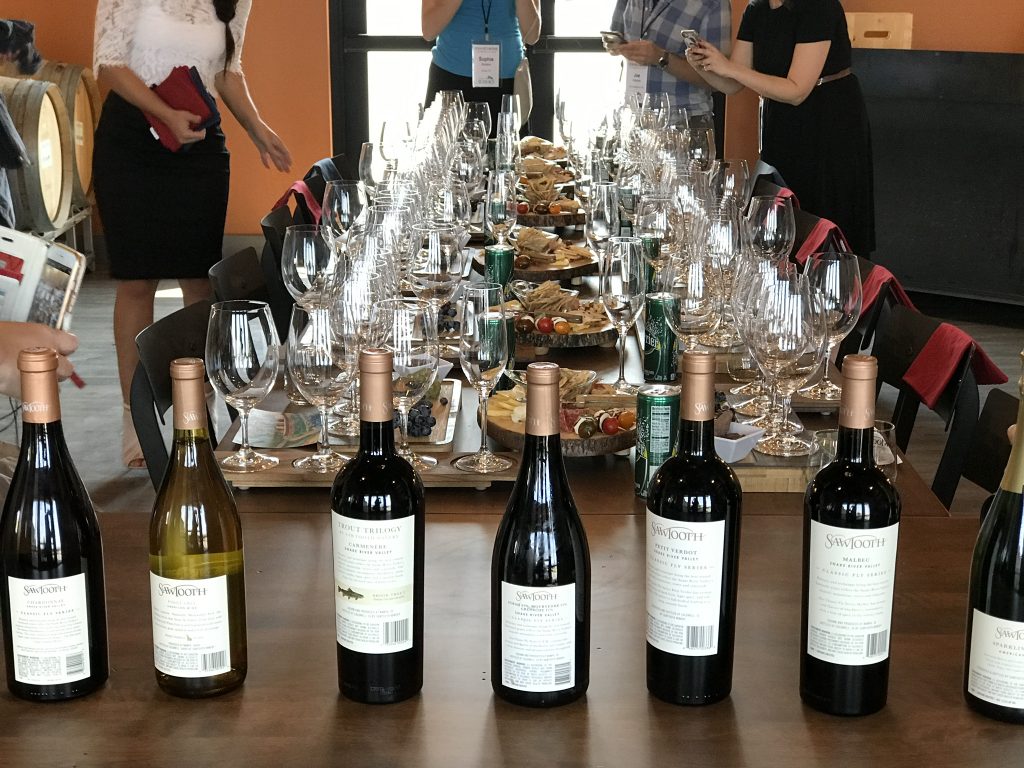 [/column] [column]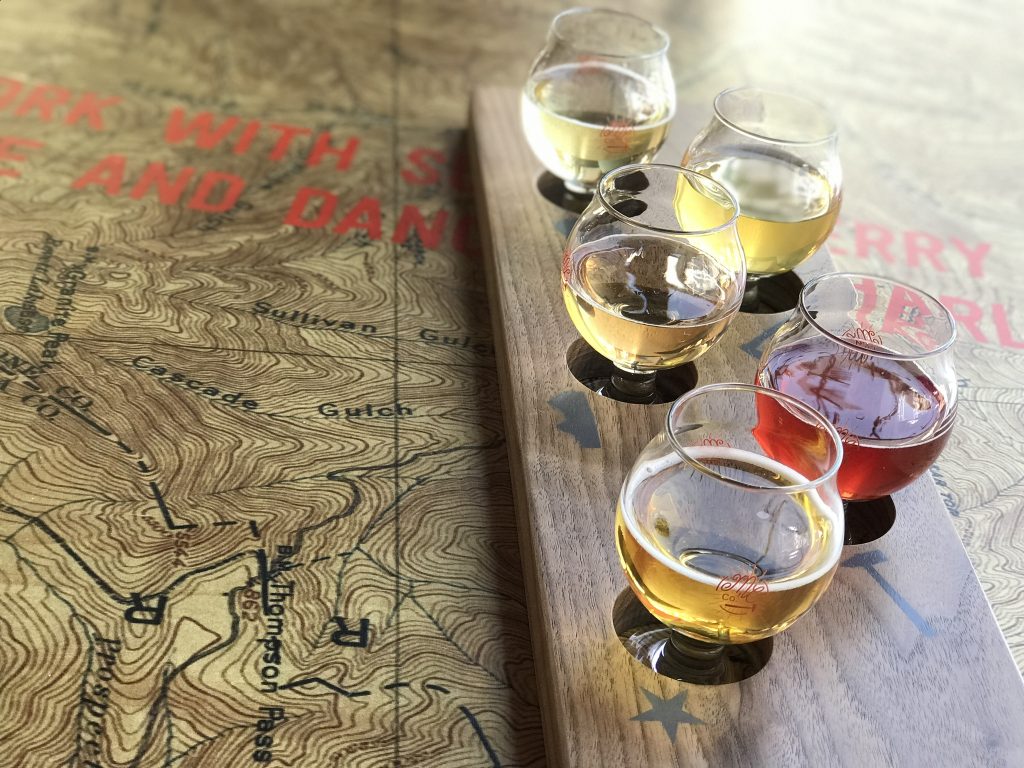 [/column] [/columns_row]
---
[title maintitle="White Water River Rafting" subtitle="Like A Boss"]
Bucket lists are usually confined to jumping out of airplanes or climbing to the top of the Eifel Tower but white water river rafting has long since been on mine. This year I was invited to check that off my list when I accompanied a handful of journalists and tourism folks and visited Cascade Raft and Kayak on Payette River in Idaho. First suited up in a full-coverage bodysuit and waterproof booties, we were given the rundown of safety, proper paddle technique (basically not taking out a fellow rafter), and then hopped on an old school bus heading down to the mouth of the river for a three-hour adventure.
Guided by our raft expert Casey, my crew of five and I took on the Payette River like pros and I decided it was time to check off two more items on my bucket list (one of which I didn't even know I wanted to do)! As we glided along the river, bouncing and rocking all while paddling in unison, Casey asked one simple question: anyone want to go for a swim and ride the river? I don't know what came over me but my hand shot up like it was possessed.
What happened next is a blur but basically he gave me a few simple rules: swim like superman, float on your back–DO NOT KEEP YOUR HEAD UP—go under the water like when you surf a wave, and something else I clearly forgot. Before I knew it, I was plunging into ice cold waters amid a sea of rafters, and I was heading straight for a level 3/4 white water. It was too late to turn back so I swam like I knew what I was doing into the white waters now looking more like my death bed than a playful bunch of white caps. And then it happened. The waters pulled and they pulled hard and fast and off I went! Ducking in between the white peaks of angry water, sometimes taking some in through my nose, trying not to panic as I laid on my back rocking like a rag doll while my hands moved like frantic frog legs until I could no longer feel them.
They went numb. While it was the longest minute (probably more like 20 seconds) of my life, I did it! I did my best underwater superhero pose (no one saw me), and smiled because not only did I white water river raft (in the actual raft) I swam against the stream and survived. There was nothing I couldn't accomplish that day! So when I finished my freezing cold swim back to the raft and felt my hands come back from the dead, Casey asked if I wanted to bull ride the front of the raft. Did I not just tackle those waters? Hell yes I was going to bull ride that raft! And I did. And I didn't fall or lose my grip even though my hands wanted to let go and smack me. I did it. And now I can say I checked three things off my bucket list thanks to Wines of Idaho and Idaho Tourism. And Casey. He really deserves all the thanks on this one.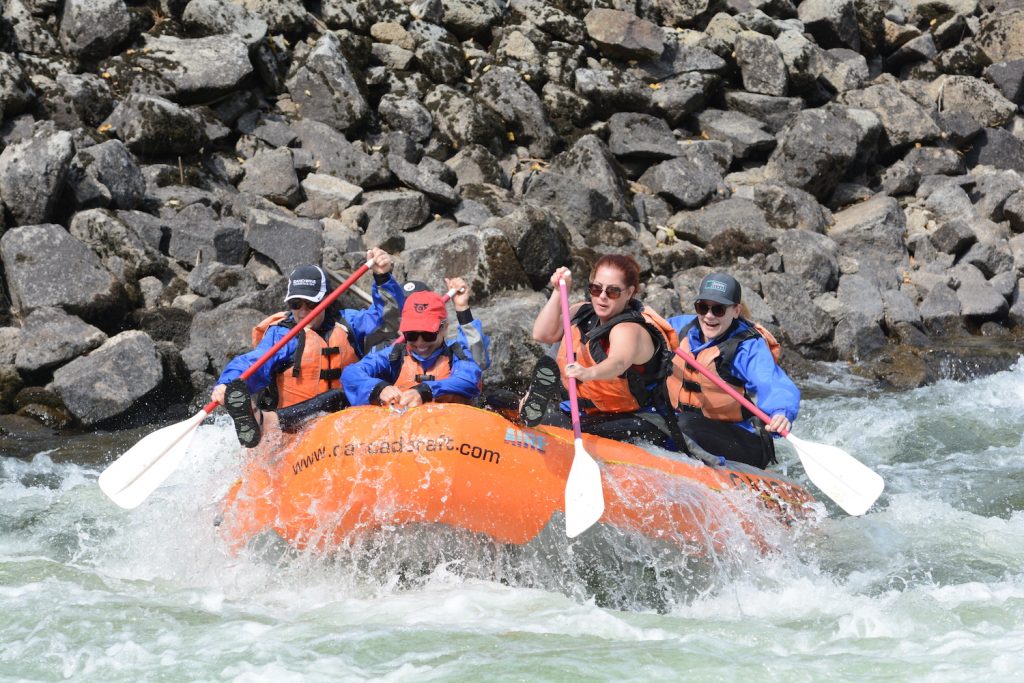 ---
Boise surprised me and I'm quite happy it did. So next time you're wondering where to go, I say give Boise a shot. Hop on a plane (flights are inexpensive), head to 8th Street, wander the capitol, visit the Snake River Valley, and confront your white water river rafting dreams. You will be so glad you did.
www.VisitIdaho.org | www.IdahoWines.org
---
Photo Gallery by Dawn Garcia
[Best_Wordpress_Gallery id="54″ gal_title="Boise"]