Lythgoe Family Productions Present
Aladdin and His Winter Wish
reviewed by Dawn Garcia
photographs by Clarence Alford
Pasadena Playhouse | 600 Playhouse Alley #300 | Pasadena, CA 91101
 

Josh Adamson as "Evil Abanazar" (US and UK Tours of Peter Pan 360)
Ashley Argota as "The Princess" (Nickelodeon's True Jackson VP)
Jordan Fisher as "Aladdin" (Disney's Teen Beach Movie)
Ben Giroux as "Wishee Washee"
Richard Karn as "The Sultan" ("Home Improvement")
Bruce Vilanch as "Widow Twankey" (Broadway's Hairspray)
Tony Award-winner Ben Vereen as "The Genie" (Broadway's Pippin and Jesus Christ Superstar)
Enter into a second year of the beautiful world of pantomime theatre created by Lythgoe Family Productions at the Pasadena Playhouse and what you'll find is a happiness you need to warm you this time of year. The experience begins with an interactive Wonderland in the courtyard, a game of "knock down a lantern", a trip to see Santa, and a room filled with activities from making your own crown to fighting with magical swords. It is a fun escape from the every day and with two kiddos with me for tonight's performance, I was able to experience it their way.

The show opens with Aladdin played by Jordan Fisher and a cast of dancers singing Jai Ho. Bodies begin to move and as I look over to my almost 7 year-old, the smile on her face as she dances and sings along speaks volumes. True to everything the Lythgoe family stands for, the Bollywood number is a high energy introduction to the next two hours. With a cast full of recognizable faces from Bruce Vilanch who plays Aladdin's mother, Richard Karn playing the Sultan, Ben Vereen playing the Genie, and a worthy cast of supporting actors it's the stars, Ashley Argota and Jordan Fisher that truly steal the show. I was in awe when Jordan belted out Ray Charles' "You Don't Know Me". His voice was truly expansive, his emotions raw and beautiful, and his singing and sense of self was incredibly evolved. This young man sings with such soul!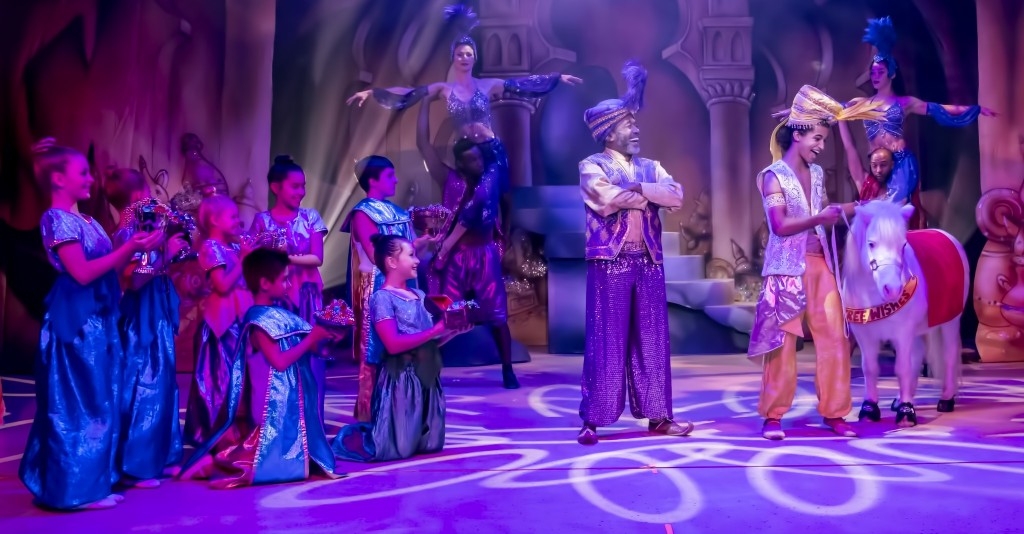 The story unfolds with delightful twists on the original tale. The most standout moments were Vilanch singing, "I'm Too Sexy" and his quick-witted one-liners,  the candor of Argota and her stage presence in every scene, Vereen's genuinely heartfelt hysterical portrayal as the Genie, the honest humor of Giroux as "Wishee", the fun of seeing Karn in an entirely new kind of role and doing so with finesse – and – it comes back to Fisher who blew me away. His comedic timing, sweet vulnerability, sheer talent as both a dancer and singer, and an ease that seems far too mature for a performer his age is what I found absolutely compelling.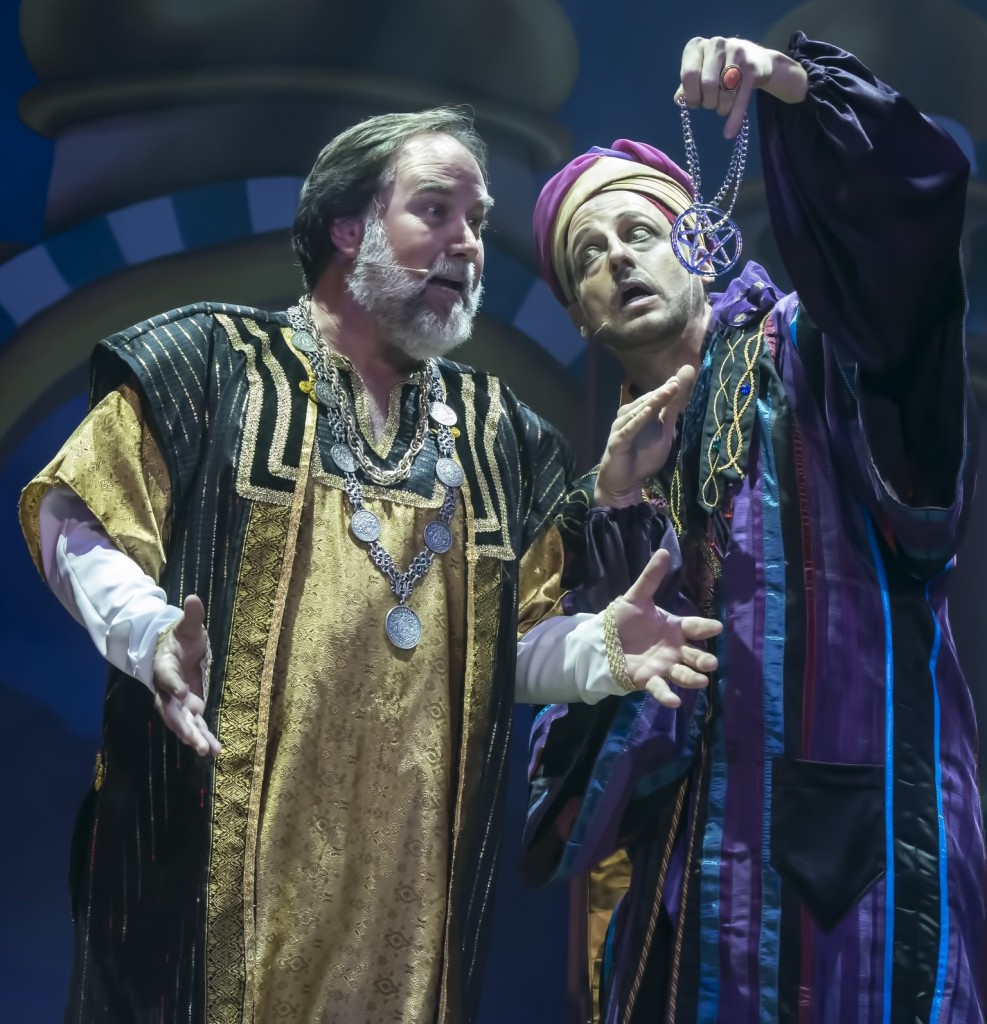 The repeated line, "Nothing is impossible when you have dreams" bellowed loudly. Once again the Lythgoe's have written and created a body of work that exemplifies the core of what creativity actually is. Through the interaction of the courtyard, the winter wonderland of blown "snow" at its end, and the cast of diversity and unequivocal breadth, it's no wonder these holiday gems are so much fun. Tickets are on sale now. I highly recommend getting yours.
---
ABOUT THE PLAY
An updated version of the classic Arabian Nights tale, in the style of a traditional British family Panto, ALADDIN AND HIS WINTER WISH is a singing, swinging and soaring adventure that features family-friendly magic, with a comedic twist, dancing (with "So You Think You Can Dance" alumni), a live pony and contemporary music from "Jai Ho" (Slumdog Millionaire) to "Treasure" (Bruno Mars) and many more. A Panto is known for its interactive style and humor that appeals to everyone from ages 2 – 102!
Before every performance, guests and their families are invited to enjoy a Citi® Presents: Winter Wonderland event in The Playhouse's Engemann Family Courtyard, complete with holiday carolers, crafts, activities, games, and photo opportunities, as well as special on-site benefits for Citi cardmembers. If you loved A SNOW WHITE CHRISTMAS last holiday season, you won't want to miss this brand new musical premiering this December at The Playhouse!
Golden Tickets are available as an add-on to any child's ticket for an additional $100.00 each and are limited to 10 Golden Tickets per performance. A Golden Ticket allows the ticketholder (children only) a special on-stage sing-a-long experience during the production, a gift bag with special surprises from Giggles N' Hugs, an ALADDIN AND HIS WINTER WISH collectible poster, and one free photo with Santa!
---
This post has been brought to you by our friends at TOM'S Shoes:
Follow ATOD Magazine™