[title maintitle="A Divine Dive " subtitle="in Palm Springs"]
Step into the heat of the desert and into circa 1950s, and there amid the turquoise and white cabanas, the clear blue water mosaic-tiled pool you'll find Dive Hotel. Aptly named for Lulu, the original 1950s neon diver that greets you as you enter through the sandy white walls, the 11-room adults-only boutique hotel is as darling and quaint as one would expect in the glorious and ever-so-retro Palm Springs. Desert oasis is how Palm Springs gained its prestige among so many glamorous travelers back in the starlet days, where golf reigned supreme and basking in perfectly tailored swimsuits happily glued to the bodies of the Hollywood elite positioned themselves poolside with a happy (and chilled) cocktail in hand.
The swanky vibe of Palm Springs has been revived and Dive is among those sweet little hotels that call your name, and ever so compellingly. Greeted with a complimentary rosé as the sweeping heat brushes across your flesh like an eager lover, the reception area is a sweet little room tucked neatly to the side upon entry, and just as you find your feet begging for the cool of the pool, the white daybeds and hand-carved hand entice you to take in the warm temperatures and find your footing. And when you melt in, and you will, you do so with little reluctance.
[columns_row width="half"] [column]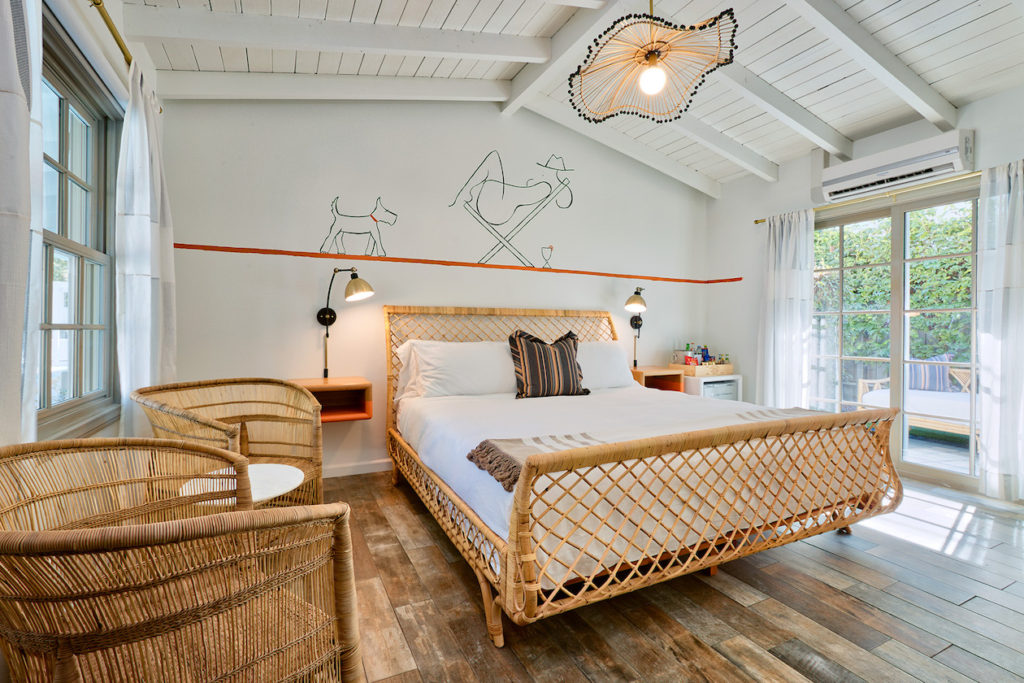 [/column] [column]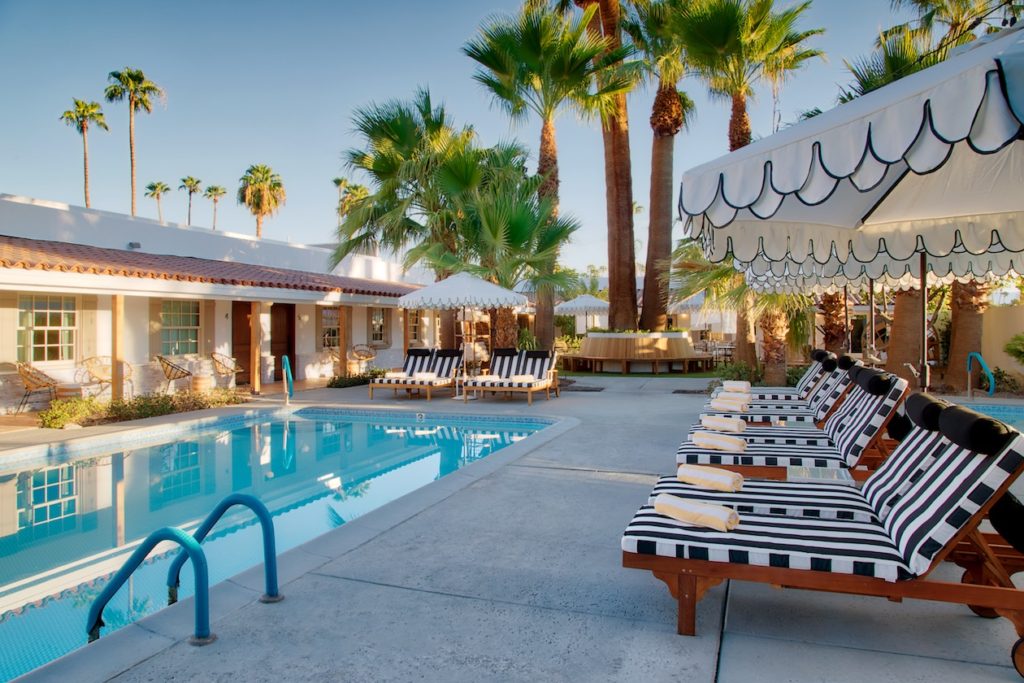 [/column] [/columns_row]
Life after the outbreak of the coronavirus has never felt so sweet. Locked indoors with only our brains and a selected group of those fortunate enough to be closer than six feet apart, the idea of leaving the new dystopian-esque world for a chance of normalcy was all too good to pass up. In fact as I write this, the lull of the water rushing over the white concrete walls in the orchard courtyard delude my mind into believing waterfalls are but a few steps away. The promise of a brisk cool evening is nowhere in sight and the swelter of blistering midday heat has left night with the same heavy thickness one hopes to escape. But hey, this is Palm Springs and for the first time in what seems like forever, I'm actually sitting outside writing.
No dishes to wash or put away. No laundry glaring at me to hurry up and finish. No meals to make. No drama. No responsibility. Just a few hours of solitude, a few well-earned conversations with strangers, and a chance to feel that for a while the world hasn't stopped functioning as if it knows a well-intended staycation when it sees one.
Travel and vacationing have most certainly taken on new meaning, and the idea of jet-setting or being in large swarms of people no longer seems as viable as it used to. Alas, the new normal is something we're all adapting to and making the first leap into an area a short drive away from Los Angeles, Ventura, and beyond is strangely unsettling, but once you've arrived, the worries just outside the hotel walls seem to dissipate.
The hotel has a story to tell and that story unravels in every pocket of this modest property.
Dive is where you go to escape the stressors of the everyday and sink into something more calming. The hotel design and layout includes a beautiful pool, black and white chez lounge chairs, two white and turquoise cabanas that are available on a first come first serve basis, a small orchard garden with nesting chairs and trees adorned with hanging chandeliers. They have a fire pit with Adirondack chairs situated in a circle at a safe distance apart but inviting nonetheless—even in the swelter of the summer heat.
[title maintitle="Hungry + Thirsty" subtitle="Breakfast, Drinks, and Afternoon Eats"]
Dive Palm Springs is special for so many reasons including its Founders, Dale Fox and Abdi Manavi. Fox and Manavi have a deep love of vintage aesthetic, swanky design, and a rather romantic lens from which they view the world and hospitality. Designed by California designer Vanessa Schreiber, Dive emits a colorful prose of white, blue, turquoise, and accents of green, varying textures from cool to warm, exciting and soothing.
The bar and dining menu at Dive is also a cut above. Meals are priced reasonably and breakfast is included in your stay, which is a refreshing change. Breakfast options range from French-pressed coffee, fresh orange juice, Greek yogurt, fresh berries and granola to eggs or avocado toast, bloody Mary's or mimosas (though the avocado and cocktails do carry an additional charge). The afternoon menu has a salad, cheese board with crackers and honey, sandwiches and whatever they decide to make that day. Nothing on the menu exceeds $25 including cocktails which includes an array of options but my favorite was the spicy margarita, summer salad, and the cheese board. The homemade cuisine is delicious and is presented in the quaint manner the hotel embraces.
In the midst of the spontaneous orders of quarantine, the beauty of Dive is that because of its limited rooms, capacity is also limited. In times like these staying within a healthy range of human interaction matters and during my stay, capacity was under 10 guests and it was lovely. Dive is officially among our editorial picks of must-stays.
To book your room, visit www.DivePalmSprings.com or call for Reservations at (760) 323-2231.
© 2020, photos below by Dawn Garcia
ABOUT
The Founders of Dive, Dale Fox and Abdi Manavi, were on a mission to bring a unique aesthetic and whimsical concept to the burgeoning Palm Springs scene. Dale worked closely with California-based designer, Vanessa Schreiber on the design concept for Dive. The team spent 8 weeks completely reimagining the original 1950's property and stepped into their own time capsule to create a design concept that transports guests back to the casual elegance of St Tropez in the 60's. The name of the property was inspired by the iconic pool and Lulu, Dive's eight-foot diving girl neon work of art dating back to 1954.
[separator type="thin"]