[title maintitle="Pop, Gin, Bang" subtitle="Cocktails worth some fireworks"]
Fourth of July has been the annual event most of us have looked forward to since we were kids; the fireworks bursting their beautiful light into the night skies, hot dogs and hamburgers, weekend fairs, and a chance to be with people you love—and this year, that all changed. In fact the way we view the lens of life these days has changed dramatically, and as such, changing the way we ring in some much needed independence this year will have to be more of an at-home experience.
Gray Whale Gin, founded by Marsh and Jan Mokhtari is an homage to the migratory pattern of the gray whale. Using ingredients found along the California Pacific coastline, Marsh and Jan's gin represents more than mere spirits. It represents a quest for conservation, an appreciation for nature, and a love for coming together.
This Fourth of July, Golden State Distillery has crafted two libations utilizing the herbaceous and flavor-forward Gray Whale Gin that celebrates the independent spirit in us all.
Photos courtesy of Gray Whale Gin.
---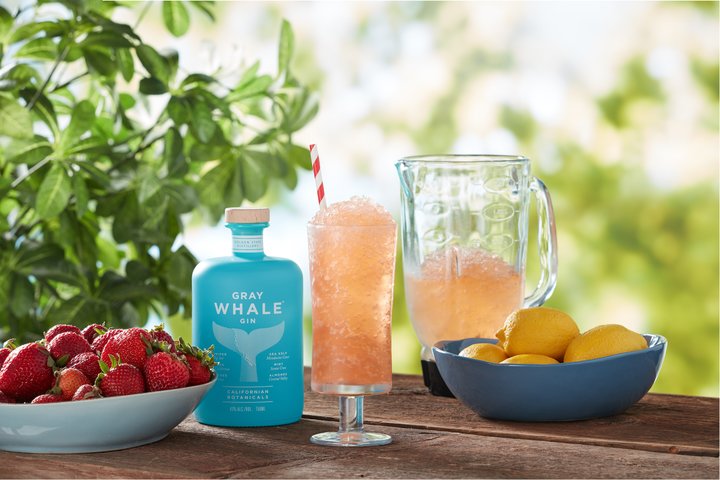 Gray Whale Gin Frosé
INGREDIENTS
 3 oz Gray Whale Gin
6 oz Fleurs de Prairie Rosé
1 oz elderflower liqueur
1 oz lemon juice
Handful of strawberries, de-stemmed (you can use as few or as many strawberries as you want)
INSTRUCTION
Combine ingredients in a blender with a few ice cubes and pulse until a light slushy consistency is achieved.
Pour into a glass and enjoy!
Yes, it's that easy.
---
[columns_row width="third-and-two-thirds"] [column]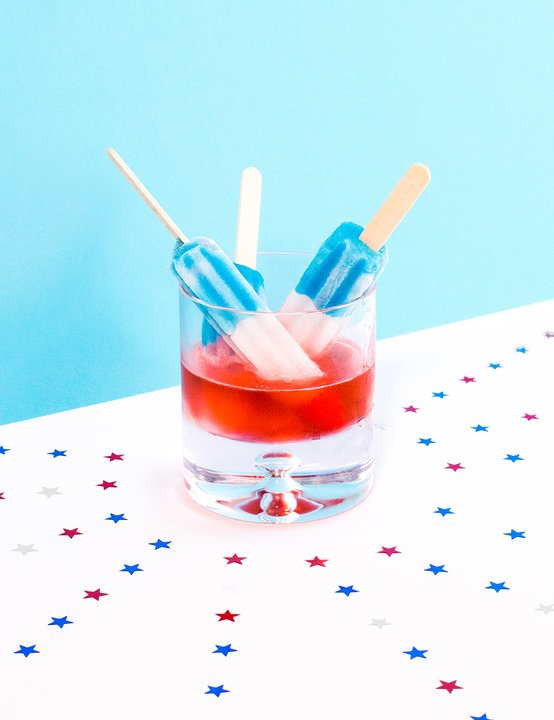 [/column] [column]
Gray Whale Gin on the Rock-ets
A true red, white, and blue cocktail that invites you to revisit your favorite popsicle from back in the day. You know the one…
INGREDIENTS
3 oz Gray Whale Gin
1 red, white and blue popsicle
INSTRUCTION
Pour. Dip. Enjoy! 
[/column] [/columns_row]
---
For more cocktail recipes, visit: www.graywhalegin.com

About Gray Whale Gin
Gray Whale Gin is a California-made, consciously crafted spirit celebrating the Gray Whale. The spirit takes the drinker on a gustatory journey up the Pacific coastline along the gray whales' 12,000- mile migration pattern from Baja California through Mendocino (terminating in the Arctic). Each of the botanicals in the gin are wild-foraged or organically farmed along the migration path of the gray whale. To boot, proceeds from each bottle of Gray Whale Gin go towards Ocean conservation, home of this beautiful creature. Gray Whale Gin is available online via via Reserve Bar, Caskers and Drizly SRP $40.
A portion of our profits support Oceana. Oceana is the largest organization in the world solely devoted to marine conservation.
Their vision is to make our oceans as rich, healthy and abundant as they once were, creating the ideal environment for marine life like the California Gray Whale to survive.
About the Mokhtari's
Marsh is a food & adventure show host on the Food Network, National Geographic, and the Travel Channel. Jan is an award-winning creative director and filmmaker, creating campaigns and content for some of the world's largest brands. In 2016, they combined their super powers and founded Golden State Distillery. A distillery that celebrates California and supports the Golden State through nature and wildlife conservation.