[title maintitle="Female Owned, TrūFlora" subtitle="Sustainability and Mindfulness"] [dropcap letter="M"]indfulness is a concept that seems simple yet oddly intangible in today's climate. However there is one industry that is taking mindfulness and health to greater heights. Cannabis was once referred to as something teenagers used, or people who lazed the day away watching TV, eating Cheetos, and maybe playing foosball or hacky sack, but its since evolved into a far more pristine way of life. Turns out, its CEO's, professionals, nurses, doctors, diplomats, cancer patients, kids with ADHD, those suffering from arthritis or other autoimmune diseases that are consuming cannabis in its many forms.
Introduced to the consumer marketplace as medicinal back in the 1960's, it wasn't until 1994 when California led the charge of legalizing medicinal marijuana that perceptions began to change, including how cannabis related to overall wellness and quality of life. In fact, it was when those in the medical field identified that humans have a built-in endocannabinoid system that it became clear cannabis and our physiology were in sync with one another (and benefited from use of cannabis).
Not only does smartly cultivated cannabis by way of flower, edibles, and tinctures help ease the tension of daily stressors, but it can actually relieve many of your aches and pains, and is absent of the long-term effects of alternatives like alcohol consumption.
Over the last five years, the cannabis industry has soared, and as a result has made its way to the mainstream by way of dispensaries, gourmet edibles, and even once revered luxury retailers like Barneys New York (in Beverly Hills*) opened a short-lived high-end cannabis store carrying cannabis paraphernalia (at prices a little out of touch with the community). Much to the chagrin of COVID-19, it seems cannabis consumption is thriving, as are its sales.
Now that the industry has shaken off the associated stigma to create a truly refreshing approach to living—and its undeniable appeal to women are making their way into occupying the space—one Los Angeles woman is paving the way. East-LA's Cornerstone Wellness and TrūFlora Co-Founder and Latina, Erica Kay believes in the power of the flower and her approach has led to a successful and sustainable cannabis business model.
TrūFlora is a California cannabis brand that believes the best flower is rooted in the immaculate cycles of nature. When grown, harvested and enjoyed with intention, cannabis has the power to connect you to a deeper sense of self, releasing tension and stress. Offering three varietals of herbal blended "spliffs" (pre-rolls) made at their farm Sunboldt Grown in Humboldt County, each spliff is sourced from organic, sun-grown cannabis mixed responsibly with herbs designed to calm, uplift and raise your frequency. Partnering with Sunboldt Grown's cultivator, Sunshine Johnston, known as a true "Living Legend" of California Cannabis (a craft that has been generational in her family), the partnership is one that Kay knew without a doubt was essential to cultivating top-notch, uncompromising product.
However curious to see what the present conditions were in the wake of the pandemic, continual shut-downs and stay-at-home orders issued in the state, we wanted to talk to Kay to see how the brand and dispensary are faring.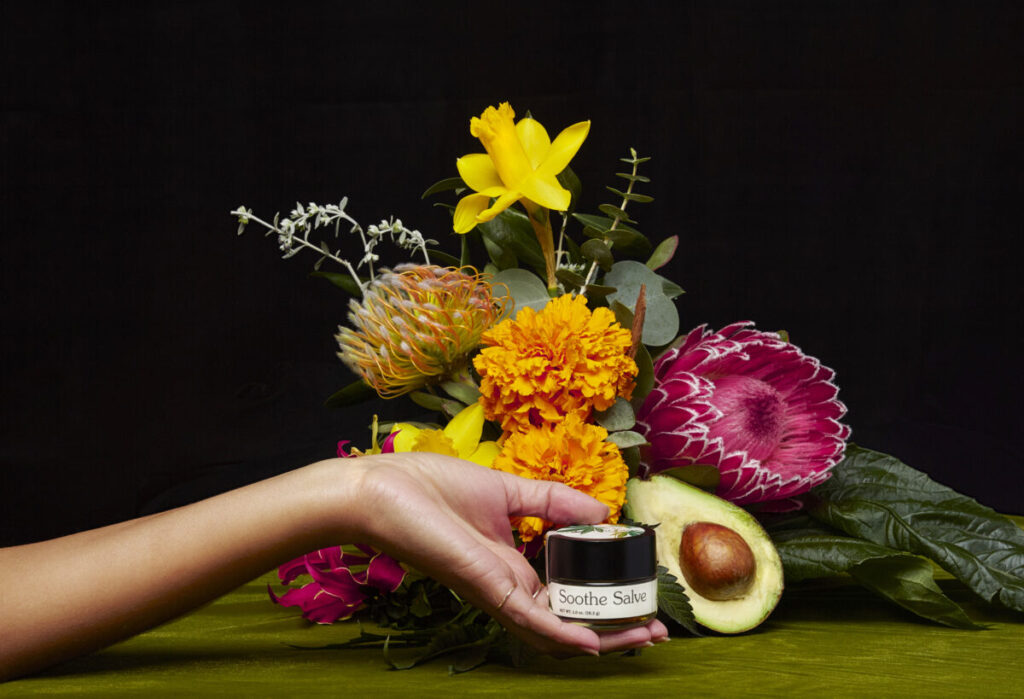 1. How have you adapted to the present pandemic in terms of client access?
Thankfully we were able to swiftly switch over to taking all of our orders online through our dispensary, Cornerstone Collective. Many people depend on and use our TrūFlora products as plant medicine, so it was important for us to continue to provide safe access. With this in mind, we were able to quickly install an express window pick-up service at our Eagle Rock location, along with safe distance protocols so our customers could feel supported in getting what they needed in a timely manner.
2. Do you see a sales increase in cannabis?
In general yes, but currently with the present pandemic, we haven't seen a major shift. Initially, at the start of Shelter-In-Place orders here in California we saw a huge surge of people buying larger quantities than usual, similar to people panic-buying in super markets during the first few months of the shutdown. Once dispensaries were deemed an essential service and people no longer felt a fearful scarcity mindset, we started to see sales level off and return to normal.
3. One continual issue in the cannabis industry is how brands are adapting to a new need for storytelling. What is the story of how TrūFlora came to be?

Whole plant medicine and learning about the therapeutic nature of cannabis has always been our passion, and inspired us to establish the first evidence-based cannabis wellness center in California—Cornerstone Collective—over 13 years ago. I personally have always liked to blend my cannabis with other herbs for taste and effect, and found it surprising that no brand had done that correctly, using responsibly sourced, all-natural ancient blended herbs.
Our line of high-quality herbal spliffs and salves include a thoughtful combination of medicinal herbs and organic, sun-grown cannabis. Damiana, Lobelia, and Skullcap are examples of some of the herbs we use in our blends to reduce anxiety, and to uplift one's spirit. Blending cannabis with other medicinal herbs increases the terpene content and creates a highly medicinal entourage effect.
We are happy to source from some of the best medical marijuana, and organic medicinal herb growers in California.
4. How sustainable is your packaging and carbon footprint on the whole?
One of the difficult adjustments we've had to make with Prop. 64 is the excessive cannabis packaging and labeling requirements. We come from the days where we could recycle and use absolute minimal packaging. Currently we source locally, and like to support fellow small businesses, but are continuously on the lookout for more locally available, affordable sustainable packaging.
5. What are the plans for expanding (if any) the TruFlora brand line? Edibles? New pre-rolls? 
Currently we are offering our two herbal spliffs, Feel Good and Wings, and our Soothe Salve topical. We are always testing out different herb and cannabis combinations so you might see some new CBD blends available in the not-so-distant future.
[separator type="thin"] [columns_row width="third"] [column]
[/column] [column]
[/column] [column]
[/column] [/columns_row] [separator type="thin"]
ABOUT ERICA KAY
Erica Kay, Co-Founder of LA based Cornerstone Dispensary and cannabis brand TrūFlora, is no stranger to the Cannabis Industry. With 15 years experience, she has had her hand in almost every aspect of the business and has a comprehensive understanding of who's-who in the game. When it came time for her to select where she was going to source flower for TrūFlora's Herbal Blended Spliffs, she knew that without a doubt, there is no better supply than Sunshine Johnston's at Sunboldt Grown.
ABOUT TRŪFLORA CANNABIS
TrūFlora is a California cannabis brand that is committed to providing the highest quality products, while celebrating the original culture of the California cannabis grower. TrūFlora believes the best flower is rooted in the cycles of nature. When grown, harvested and enjoyed with intention, it has the power to connect you to spirit and activate your intuition.
All TrūFlora ingredients are sourced from small farms dedicated to sustainable, mindful horticulture. They find that carefully harvesting herbs by hand creates a more effective plant medicine. This harmonious relationship supports their commitment to full-spectrum healing, allowing the botanical powers to unveil their complete, cosmic powers.
TrūFlora Herbal Blended Spliffs come in a 2-pack or 7-pack of three different blends — Wings, Feel Good and Comfort Zone — and are available at Cornerstone Dispensary in Los Angeles.
ABOUT CORNERSTONE WELLNESS
At Cornerstone, we are passionate about helping people.
Our Cornerstone Cares compassion program is committed to providing safe and complimentary access to high–quality medical cannabis for our low income medical members.
To qualify for enrollment you must become a member at Cornerstone, and have a valid MMJ card. You must also show proof of your low income status in the form of your most recent tax return, and enrollment in the following programs: SSI, SNAP, CAL-Works, or General Government Assistance.
ABOUT SUNBOLDT GROWN
All Sunboldt cannabis is grown directly under full, outdoor sun, and planted and harvested according to Nature's Moon Cycles. Under the helm of master cultivator Sunshine Johnson, the growers (aka "terroirists") at Sunboldt Grown believe that artificial-light doesn't have the same kind of connection to the cosmos that the sun does.
Passed down over three generations, Sunboldt's land occupies over 10,000 square feet of a native aquifer located on sacred land between the Eel River and ancient redwoods in Southern Humboldt County. The Eel River Valley flood plain gives Sunboldt cannabis all the water it could ever need, enabling Sunboldt to practice Dry-Farming, using only its rich native soil to foster each season's growth, and no excess water.
Sunboldt's land is encircled by a perimeter of juicy heirloom melons, blackberry brambles, marigolds, peppers, tomatoes, basil, apple & pear trees, which enhances the richness and depth of its flavor.