[title maintitle="Good Reads" subtitle="Culinary Musts"]
There are few things as nice as a good read, a salivating story, cookbooks you want to use, and getting insight to the spirits we genuinely love to consume. Having scoured through dozens of submissions, the cookbooks, history, tale of the cocktails, and a look at an age old herb and how it can heal make these five books my pick for extraordinary reads, and luscious instruction.
[separator type="thick"] [title maintitle="Wine Country Table" subtitle="by Janet Fletcher"]
Californians have a lot of reasons to love where we live but wine country is one of our most illustrious claims to fame. Wine Country Table is a look at sustainable harvest, California vineyards, and the incredible farm-to-table cuisine that makes eating and drinking here so unforgettable. Written by New York native, Janet Fletcher and photographed by Robert Holmes and Sara Remington, this is more than a cookbook with wine pairings. This cookbook explores California farms, Napa and Sonoma Valley and Paso Robles wines, the intricacies of each region and their ever impressive micro-climates that make for breathtaking sips. The book also gives recipes that are just as beautiful and lovely as you'd expect.
Fletcher is widely known for writing about wines and the vines they begin and thrive on. This book is not only stunning but gives you insight into parts of our agriculture most may never have known. From recipes to learning about families and farmers, Wine Country Table is an exceptional addition to any auteur and novice's growing coffee table book collection.
Some recipes Janet shares are: Warm apricot and cherry crisp, frittata with broccoli rabe and sheep cheese, scallop crudo with avocado and pink peppercorns, pizza with artichokes and arugula pesto, grass-fed burger with avocado and chipotle mayonnaise. 
---
[title maintitle="From Blarney to Blarney" subtitle="by Sean Muldoon, Jack McGarry, Tim Herlihy, and Conor Kelly"]
Irish whiskey is one of those things of fables and yet it's entirely real—and comes with more stories about its inception than there are open pubs in Ireland. Thanks to New York's famed bar, The Dead Rabbit, four gents spent four months traveling across the Emerald Isle to stop in as many historic pubs and distilleries as time would allow, and tell a story of 50 of the 200+ places they visited.
The fun really begins when the masterminds behind 2015's "World's Best Bar," Dead Rabbit Grocery and Grog, share 12 original mixed-drink recipes tailor-made for Irish spirits.
Having the pleasure of doing a Tullamore D.E.W. tasting with authors Jack McGarry and Conor Kelly at Downtown LA's Bogart-esque, Bar Jackalope located inside Seven Grand, this would be the first time I was introduced to their new book, From Barley to Blarney: A Whiskey Lovers Guide to Ireland. The book is quick-witted and an in-depth intro to the world of Irish whiskey, including iconic bars, pubs, distilleries, a look at family legacies and the regions that make Ireland so genuinely gorgeous and full of taste. As the whiskey scene flourishes around the world, it's the Irish that seem to have a grasp on a spirit that has the complexity and finesse a willing palate craves. Those who read Barley to Blarney will be tempted to do two things: pour a glass of whiskey, and head to Ireland immediately.
---
[title maintitle="Edibles" subtitle="Small Bites for the Modern Cannabis Kitchen"]
Learning about cannabis has opened our eyes to its benefits, its multiple uses, and of course how beautifully it can pair with quality ingredients for edibles and gourmet dishes. Edibles: Small Bites for the Modern Cannabis Kitchen by Stephanie Hua is a top-notch cookbook that takes cannabis and elevates it with primo ingredients, innovation, and an official breakdown of dosing.
Designed for bakers of all skill levels, Edibles: Small Bites for the Modern Cannabis Kitchen includes simple recipes like Spiced Superfood Truffles alongside more advanced recipes like Strawberry Jam Pavlovas – all brought to life with vibrant photography.
The book accounts for basics like how to make cannabis butter and oils, as well as understanding how this magical leaf and flower can enhance our tastebuds and our overall well-being. Taking a look at how to make everything from gourmet cannabis cupcakes to espresso chocolate coating to herb pesto, the Edibles cookbook is one for novices and connoisseurs alike.
---
[title maintitle="Love & Lemons Everyday" subtitle="by Jeanine Donofrio"]
Jeanine Donofrio is known for creating some of the most exquisite and stunning vegetable recipes, all displayed in the photography exhibited at Love & Lemons. The recent cookbook, Love & Lemons Every Day offers everyday recipes that can turn breakfast into a decadent experience or a dinner into divinity. Whether using butternut squash to make a creamy queso, or sweet potato transforming into chocolate frosting, Donofrio has her pulse on something otherworldly.
Sometimes all you need is a little spark of inspiration to change up your regular cooking routine.
Whether you're making burritos or using heirloom carrots, this is an A-to-Z guide to eating clean and using fresh ingredients to create extraordinary dishes. Featuring over 100 recipes, practice charts, seasonal produce guides, and a how-to on utilizing all of your vegetable, Love & Lemons Every Day is not only a visual stunner but a practical and approachable look at plant-based eating.
---
[title maintitle="Pot in Pans" subtitle="by Robyn Griggs Lawrence"]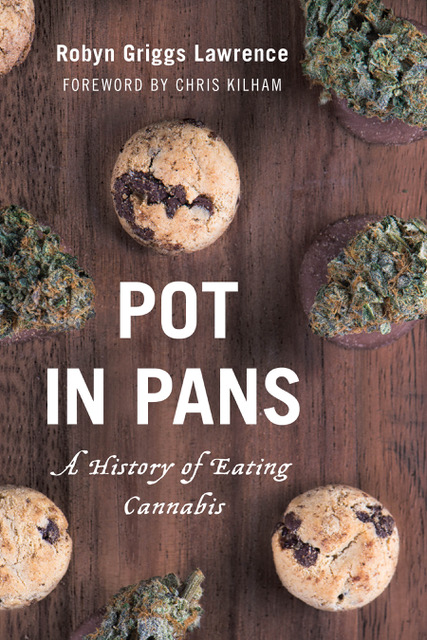 Pot in Pans: A History of Eating Cannabis written by Robyn Griggs Lawrence is one of the most comprehensive overviews of cannabis history, and how it has been instrumental in the development of cuisine since the dawn of its discovery. Talking about food trends, using cannabis as an ingredient of ancient Persia and India, to going further into how cannabis provides essential nutrients and medicine to the human body—and has done so since cave people came upon it—this is a must-read for anyone in search of the fundamentals of cannabis.
The book explores the debate over the cannabis plant's taxonomy and nomenclature, then follows as it co-evolves with humans throughout history, beloved by the masses, reviled by the elite, and shrouded in conflict and secrecy.
From the Islamic confection majoun and hashish , to U.S. drug czar Harry Anslinger, Lawrence delves deep into the legends, the myths, and the truth of how and why cannabis is so essential to the advancement of mankind's wellness and serenity.
It's the story of the rowdy band of artists, rebels, and intellectuals who partook of majoun's charms and an activist who made the pot brownie a symbol of compassion. It's the story of how cannabis cookery and hash eating survived through decades of global prohibition and the birth of a skies-the-limit cannabis-infused food industry as U.S. states and countries have legalized.
Having worked with Lawerence at SENSI Magazine, I can assure readers that her ability to take a seemingly complex subject matter and make it cohesive and entertaining is well worth the read. Pot in Pans is more than a clever story about cannabis and the empires it has been a part of. It is a book that lends itself to the modern growth of the plant, an education of its value and potential, and an insightful glimpse into a world we're all only just now learning to fully grasp and understand.