[title maintitle="Taco Tuesday" subtitle="Tacos y Margaritas, Muy Sabrosa"]
Taco Tuesdays are for the lovers. The friends. The kids. The Chicanos and Latinos. Hell, tacos are for everyone! This month is Hispanic Heritage Month, so every Tuesday we're going to share some of our favorite recipes for tacos and margaritas!
We know you're going stir crazy, so on the in-between days when you're not ordering Doordash? Get your taco game face on and show us your #ATODTacoTime! Tag us on Instagram @atasteodawn.
National Hispanic Heritage Month celebrates and recognizes the contributions Hispanic Americans have made to American society and culture, and honors five of our Central American neighbors who celebrate their independence in September.
I'm proud to have grandparents from Mexico and Spain, and this month am elated to once again celebrate Hispanic culture in so many Latin American and Chicano countries and provinces through the power of community… and food!
[separator type="thin"]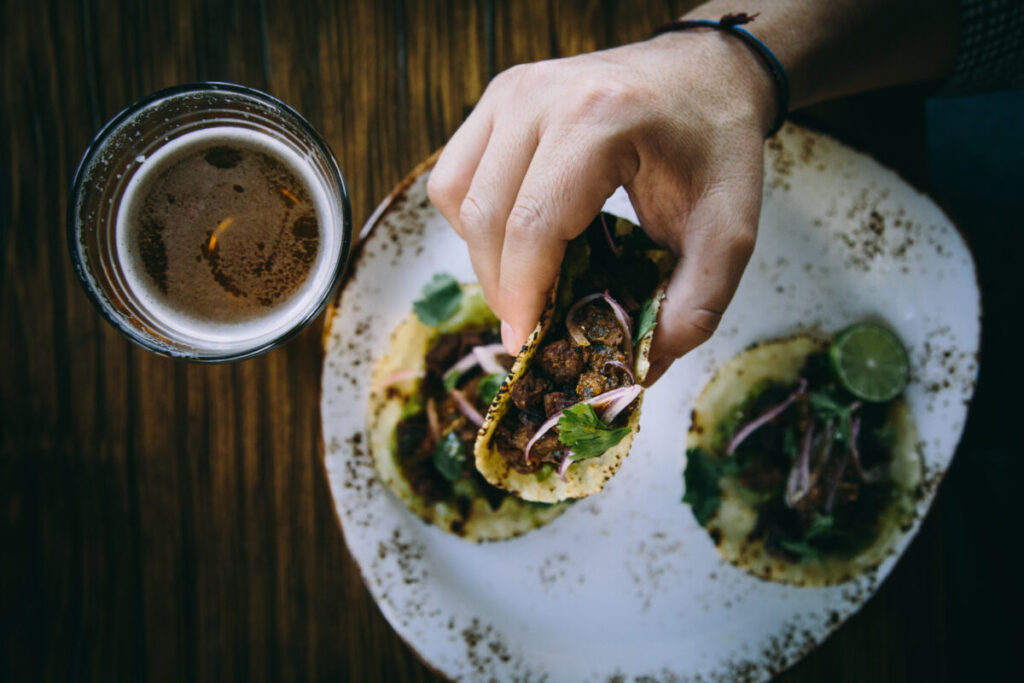 BARBACOA TACOS
Prep Time: 10 minutes | Cook Time: 2 hours, 10 minutes
Serves 2-6 (You need a Crockpot of Instapot)
Ingredients
Instructions
Slow cook. Combine all ingredients in the bowl of a slow cooker. Toss gently to combine. Cover and cook on low for 6-8 hours, or on high for 3-4 hours, or until the beef is tender and falls apart easily when shredded with a fork.
Shred and toss. Using two forks, shred the beef into bite-sized pieces inside of the slow cooker. Toss the beef with the juices, then cover and let the barbacoa beef soak up the juices for an extra 10 minutes. Remove the bay leaves.
Then? Get ready to eat!!
[separator type="thin"]
Vegetarian Tacos with Avocado Sauce
Ingredients
1 small Japanese eggplant, chopped into 1-inch pieces
1 cup chopped summer squash
1 red bell pepper, chopped into 1-inch pieces
1 cup cherry tomatoes, sliced
extra-virgin olive oil, for drizzling
1 cup cooked black beans, drained and rinsed
1 avocados, diced
chopped cilantro
1 serrano pepper, sliced, optional
crumbled cotija cheese, optional
sea salt and freshly ground black pepper
Avocado Tomatillo Sauce
1/3 cup tomatillo salsa
1/4 cup pepitas
1/2 avocado
handful of spinach
2 tablespoons extra-virgin olive oil
lime juice, to taste
sea salt and freshly ground black pepper
Instructions
Preheat the oven to 400° F and line a baking sheet with parchment paper. Place the chopped eggplant, squash, red pepper and tomatoes onto the baking sheet. Drizzle with olive oil and pinches of salt and pepper and roast until golden brown around the edges 25-30 minutes.
Meanwhile, make the sauce. In a food processor, blend together the tomatillo salsa, pepitas, avocado, spinach, olive oil, lime juice and pinches of salt and pepper, to taste. Chill until ready to use.
Assemble the tacos with the black beans, roasted vegetables, diced avocado, cilantro, serrano, and cotija, if using, and generous scoops of sauce. Serve with extra sauce on the side.
Notes
Store extra sauce in the fridge for 2 to 3 days.
[separator type="thin"]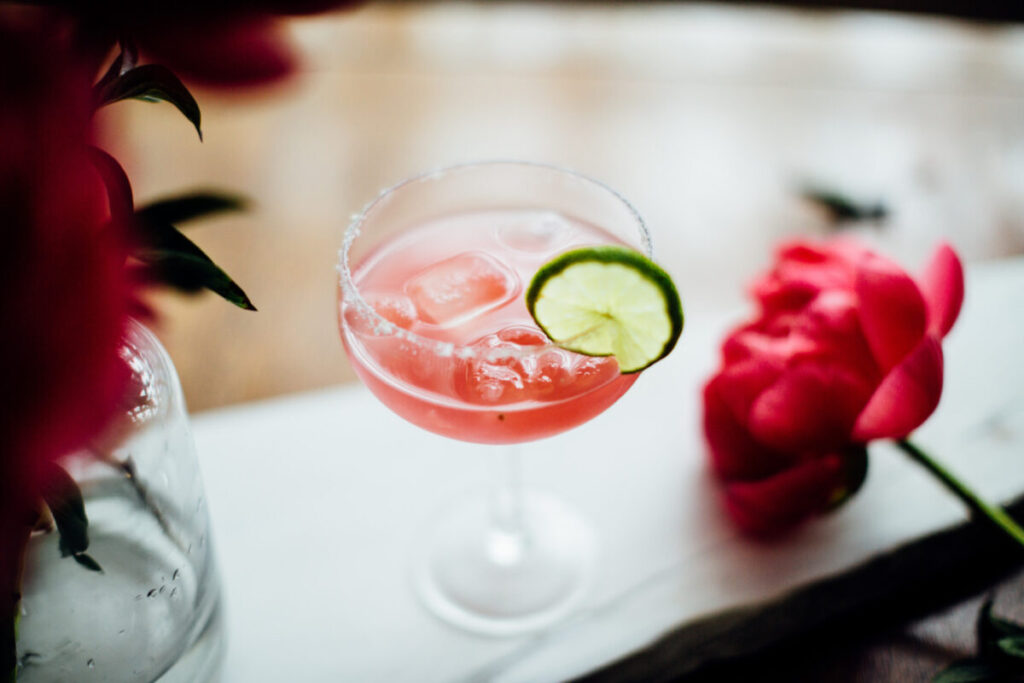 Blood Orange Margarita
INGREDIENTS
2 ounces tequila or mezcal
1/2 ounce rosemary-infused Cointreau (See Editor's Note)
3/4 ounce blood orange juice
1/4 ounce lime juice
1/2 ounce agave syrup (simple syrup optional)
Garnish: blood orange wheel
INSTRUCTION
Add all ingredients to a cocktail shaker.
Add ice and shake until chilled.
Strain into a rocks glass over ice. (Salt rim optional.)
Garnish with a blood orange wheel.
Rosemary-Infused Cointreau
2 large sprigs rosemary
10 ounces Cointreau
Add rosemary (broken up so it is completely submerged) to 10 ounces of Cointreau. Cap and let the mixture infuse for 24 hours. Strain, and bottle.
[separator type="thin"]