[title maintitle="Wine+Art" subtitle="An Introduction to Today's Artists"]
Art is intrinsically woven into the very fiber of our being. Used to express history, loss, love, passion, truth, justice, unspoken words, or unveil cultural beauty, it is what makes us civil. That is one of the reasons we are so proud to be the Media Sponsor of this year's annual CASA's WINE+ART event with exceptional sips and a profound, socially immersive, culturally significant art auction. Featuring over 170 artists, I wanted to share my interview with seven artists whose work continue to change the landscape of Los Angeles and cities around the world.
[separator type="thin"] [columns_row width="half"] [column]
[/column] [column]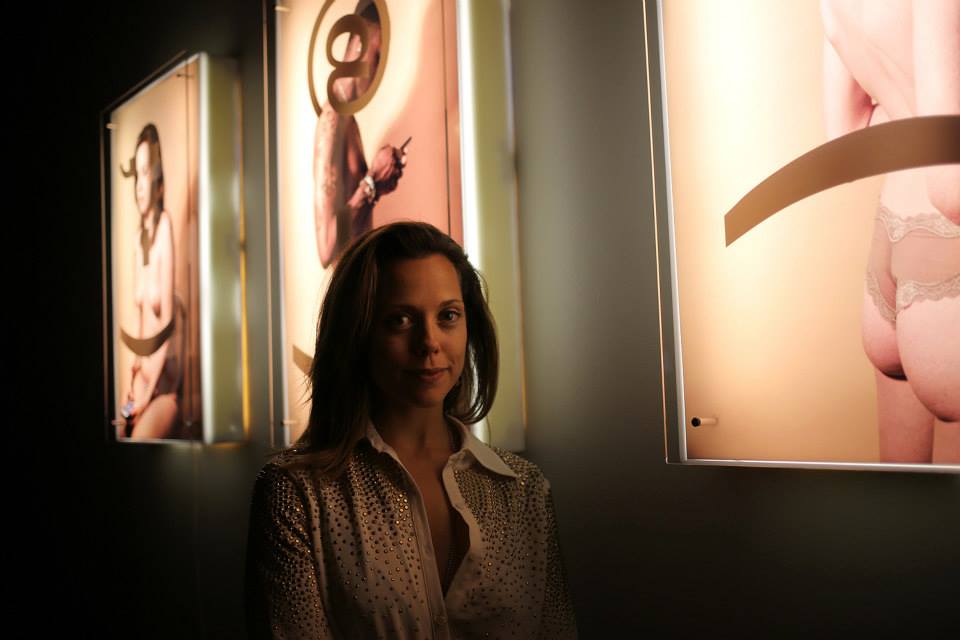 [/column] [separator type="thin"]
WRDSMTH | A screenwriter, author, storyteller, and artist, WRDSMTH may be one of the artists that has deeply impacted my own personal journey. With similar backgrounds in terms of writing, he takes all that he feels, emits, and tells and translates that into extraordinary artscapes. His signature however is the added element that sets him apart: A vintage typewriter that sets the stage for an ideology that invites the branding appeal of bygone eras. His message is always one of love, unity, and hope with truth being the underlying sentiment behind his contagious optimism. He tells a love story that acts a poetic simile of life.
Jana Cruder | The first time I saw Jana Cruder's work was at the 2016 LA Art Show. Her exhibition, Way of the Modern Man, was avante garde and so creatively necessary, thousands of people stood to take part in her social experiment. Inside a large clear box was a volunteer man or woman—fully naked—with nothing but a cell phone. You would watch their physical stature change as they physically bent to meet the phone. Somewhere nearby was Cruder who would text messages and questions in real time from random strangers to the man or woman inside the box. That was their only form of communication. It's a powerful sociological and anthropological look at the evolution of man and the impact of mobile technology.
[columns_row width="half"] [column]
[/column] [column]
[/column]
Cody York | With pieces like Feeling Blue, Cody York has an incredible ability to take what may seem like simple color and turn it into beautiful art; an emotional well that speaks volumes. His work is stunning and complex utilizing techniques like layering, sanding, brushing and scraping that revive the imagination with abstract visuals that come to life on the canvas. His work engages, leaving you with a sense of assurance and internal contemplation.
Anthony Mastromatteo | The work of Anthony Mastrometto can be described as intricate. The visual appeal is minimalistic with a social message that screams. An intellectual on many levels, Mastromatteo creates pieces that question the contrast of modernism and a vintage mindset from daring us to look at what hero means to understanding the elements of design and structure. Like those that poise philosophy, Mastromatteo intertwines deep thought into his work.
[columns_row width="half"] [column]
[/column] [column]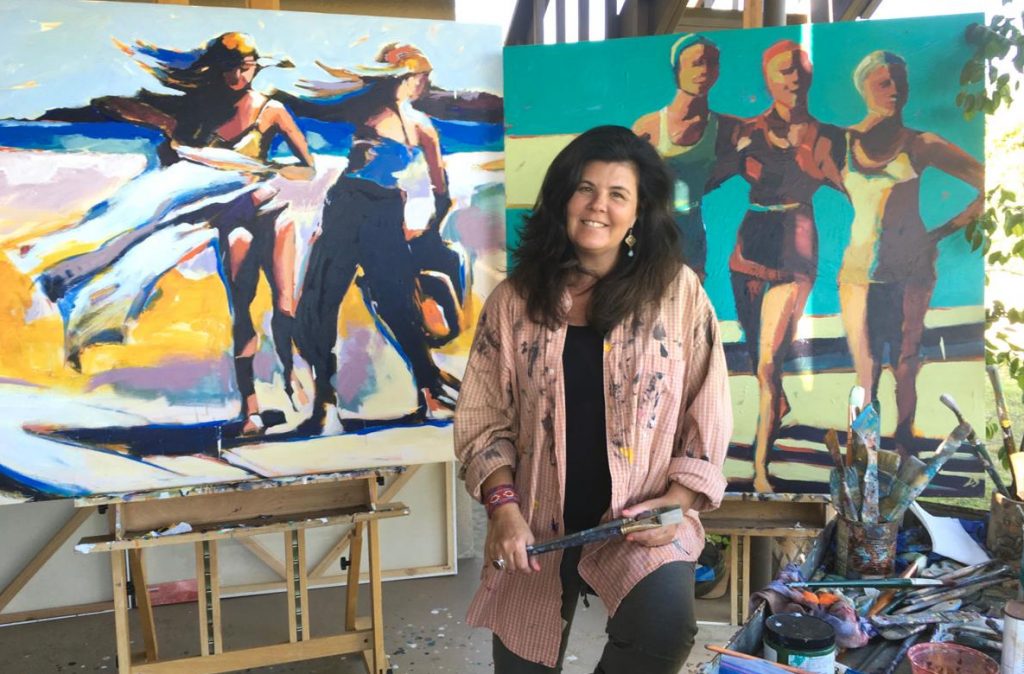 [/column] [/columns_row]
The Kaplan Twins | In today's world of influencers and millennials, there are artists like the Kaplan twins who find the humor and tongue-and-cheek in the midst of it all. Unafraid to bare it all, this duo takes art to new heights through suggestive pieces that play on social media overload to literally dipping their bums in paint and sitting on their original creations in a series called, Sat On Your Face. Paying tribute to those before them, their take on contemporary expression is edgy, controversial, and relevant—which is why they're a pivotal part of today's pop art scene.
Daniela Schweitzer | Having the pleasure to see Daniela's work at an art exhibition in Santa Monica, her work has this gorgeous fluidity to it that exemplifies old school advertising with a contemporary twist. Argentinian born, LA raised Schweitzer offers art lovers something wonderful and refreshing with bursts of color, imagery that taps into a sense of wonder, and a welcomed sense of community. Her work has the emotional touch of Van Gogh's art made for Gaughan with the love and spirit of a woman painting pieces that will find a home in your heart. It really is so inherent to the liberated soul, it's near impossible not to find a piece you'll fall head over heels for.
Each artist has so much to offer this often chaotic world, sprinkling it with so much beauty and thoughtfulness, we have reason to celebrate. It's an honor to share their responses, and I hope you will join us at the CASA LA Wine+Art event happening on November 3rd.
[button content="BUY TICKETS | Promo Code: ATOD" color="teal" text="white" url="https://casala.org/wineartatod/" openin="_blank"] [separator type="thin"] [title maintitle="Create For Good" subtitle="Inspiring Change and Hope"]
Which artist inspired you as a child?
WRDSMTH: I was a fan of The Beatles, so John Lennon is worth noting. I was a student of Art History, so JMW Turner's Romanticism works left an impression. I was a also comic book kid, so Frank Miller is a god in my book.
Jana Cruder: Joyce Jenneson, when I saw her light painting with women I was inspired to start making images. I was inspired to see a woman photographer and at 15 years old said if she can do it so can I.
Cody York: My father.
Anthony Mastromatteo: I was not aware of the arts and painting as I child. My eyes opened during a trip to the Cleveland Museum of Art during my senior year of high school. And my eyes were opened while looking at JMW Turner's "Burning of the Houses of Lords and commons." I have spent the rest of my life trying to figure out what actually happened in that moment.
The Kaplan Twins: As children we were always inspired by Andy Warhol and a lot of other pop artists. We really loved the way they were able to comment on pop-culture and make a splash in the media. They were known not only for the work that they made but also as branded personalities. They weren't afraid to tap into commercialization. We were drawn to pop art because it simples and it's commentary on pop-culture resonates with the public and it is easy to look at and easy to understand and very relatable, like the work that we make.
Daniela Schweitzer: Matisse.
[separator type="thin"]
What was the first piece you did that really put your art in the public eye?
WRDSMTH: Early on in my street art career, I ventured to London and used the backside of several phone booths as my canvas. When I placed 'The Only Lie' in Covent Garden, it got noticed pretty quickly.
Jana Cruder: My work Way of The Modern Man – premiered at the LA art show in 2016 to 50,000 people.
Cody York: A distorted Jack Nicholson portrait drawing that I did in High School. It won an artistic achievement award and a gallery showing at the Arvada Center for the Arts and Humanities in Arvada, Colorado.
Anthony Mastromatteo: I painted a floral still life with roses and a blue checjered pitcher. A prestigious gallery happened to be visiting the school I attended with a client during my painting of the piece. The client expressed interest and purchased it upon its completion. That was in 1999. And here I am today…still painting.
The Kaplan Twins: The first piece of art that we did that was in the public eye was the oil painting stills from Kim Kardashian sex tape. This went sort of viral because it was very controversial. A lot of people labeled it as porn but we argued that because we put it in a different context it wasn't porn anymore, it became a piece of art. It also was a lot about media exploitation and the way that our society is able to generate conversations. If we keep talking about something and talking about something enough it becomes popular and we are the ones to generate that.
Daniela Schweitzer: When I painted a plain air painting of my hometown plaza in Argentina. I was 13, I received an award, and the piece got to travel and go to the State and National levels. It is hanging in the walls of my parents house in Argentina (Same town).

What about CASA LA has motivated you to want to be a part of Wine+Art this year?
WRDSMTH: I always aim to pay it forward and I have some good friends involved the organization and the event. So I am very happy to be participating in this year's event.
Jana Cruder: I love that they support artists as well as the funds go to such a great cause. I believe in this cause, it is so important.
Cody York: The fact that my art helps children in need is extremely motivating, and I had such an amazing time at the last one.
Anthony Mastromatteo: The answer to this is really simple. They asked me. I explored the organization and could not say "no." Tara Grand had the boldness and courage to ask. And then they continue to treat my work and my participation with respect, so I will continue to do so as long as my work offers benefit to their mission.
The Kaplan Twins: We love giving back especially for something that really resonates with our hearts.
Daniela Schweitzer: I get to see foster children, and their life histories so often in my medical practice at CHLA. When I heard of the CASA LA auction it felt incredibly right and close to my heart.

If you could visualize your work in any gallery in the world, where would you want your art to be seen?
WRDSMTH: I'll cite the Louvre in Paris, however I'd much rather be commissioned to paint a massive piece on a wall outside the gallery.
Jana Cruder: It's a toss up between HA– USER & WIRTH — Ditch Projects and PS1 in NY.
Cody York: Arken Museum of Modern Art in Copenhagen, Denmark.
Anthony Mastromatteo: I want a painting hanging in the Prado Museum in Madrid, Spain. Three of my favorite artists are well represented there—Albrecht Dürer, Hieronymus Bosch and Diego Velazquez. That is my aesthetic lineage. It is there that I would like to place a painting on the wall.
The Kaplan Twins: Would love to be able to show our art everywhere and do a traveling art show and just show it in every city in the same way that musicians go on tours and are able to play for all of their fans would love to give everyone the opportunity to see our work.
Daniela Schweitzer: North CA Bay Area, New York, Europe, Latin America including Argentina of course!
[separator type="thin"]
What inspires you today?
WRDSMTH: I know my words and my work are resonating with people and the ongoing ripple effect that is occurring fuels my creative fire and motivates me on a daily basis.
Jana Cruder: I'm truly inspired by social change and the environment. I feel my energy is shifting to supporting messages to help the earth and live in a better balance. Its imperative to the survival of humans on this planet that we start playing along wit nature and find a better balance. My work has taken a shift a bit from examining the roles and relationships of humans to each other and their environment to focusing on a project about the 1% of the natural old growth forest left and the Redwoods being endangered.
Cody York: Nature, technology, the future and the human spirit.
Anthony Mastromatteo: I am inspired by trying to find significance in day-to-day experience and material culture as it presents itself to me in Tallmadge, Ohio.
Kaplan Twins: We're super inspired by creative people who aren't afraid to step out of their comfort zones and push boundaries and collaborate and do things that are different than what people would expect. The disrupters. We're inspired by millennials like ourselves. Older generations are always giving millennials shit and looking down on us, but I think we're the most creative people there are today because we're not afraid to take risk and we're not afraid to do things that are different. We're not afraid to give up a 9-5 job to follow our dreams and make things happen for ourselves.
Daniela Schweitzer: People.