[title maintitle="All We Have Now…" subtitle="Is Backyard Drinking."] [dropcap letter="B"]ars. A wonderful place we could once escape to forget our crappy day, celebrate a win, drown our sorrows, vent our work woes, reconnect with people from our past, steal kisses, laugh in public—
in the presence of other humans
—all made possible by the people serving up something magical behind the counter housing copious amounts of alcohol.
Bartenders? We miss you. Truly. Madly. Deeply. You provided us the liquid courage, the bold words, the quiet introspection, the sloppy tears, the accidental "I Love You's", the poorly recited jokes, the sucker punches, the bad dancing, the sheer joy, and the sense of belonging we need.
No I'm not saying we're a bunch of muppets who drink too much. (The recent uptick in alcohol sales suggests were that to be true, we're in good company.)
I'm simply saying the: Dark/Gorgeous/Shady/Eccentric, Designer/Oddly interesting/Strangely endearing/Kitschy, Pretentious/Weird/Snooty, Overpriced/Perfectly mediocre/Neighborhood-y… BARS … are something we long for.
Sadly now, we are left to our own imagination and the recipes you lot have graciously shared with us to attempt at home. Thank you for making sure we still function in a wonderful drunken fog, while trying to surmise how the world we live in is so catastrophically sucked into some Shaun of the Dead-like wormhole.
You're definitely a hero of sorts. No way we could get through this without you.
To that end, one libation-making duo has given us Beautiful Booze. A golden hardcover book with a cocktail mirage of exceptional drinks meant for you to make at home. From stocking your home bar to making homemade bitters and syrups, this may be the most comprehensive coffee table cocktail book we've ever seen.
Thanks to Natalie Migliarini and James Stevenson, life with alcohol is about to get so much better. We picked the most unusually beautiful and interesting cocktail recipes that not only fascinate, but also seem possible to make, and we asked Natalie and James to share the story in the book of each drink.
[button content="BUY THE BOOK" color="yellow" text="white" url="https://www.amazon.com/Beautiful-Booze-Stylish-Cocktails-Make/dp/1682684938″ openin="_blank"] [separator type="thin"] [title maintitle="Bring Me A Banana" subtitle="page 31 | Classic to Modern"] [columns_row width="half"] [column]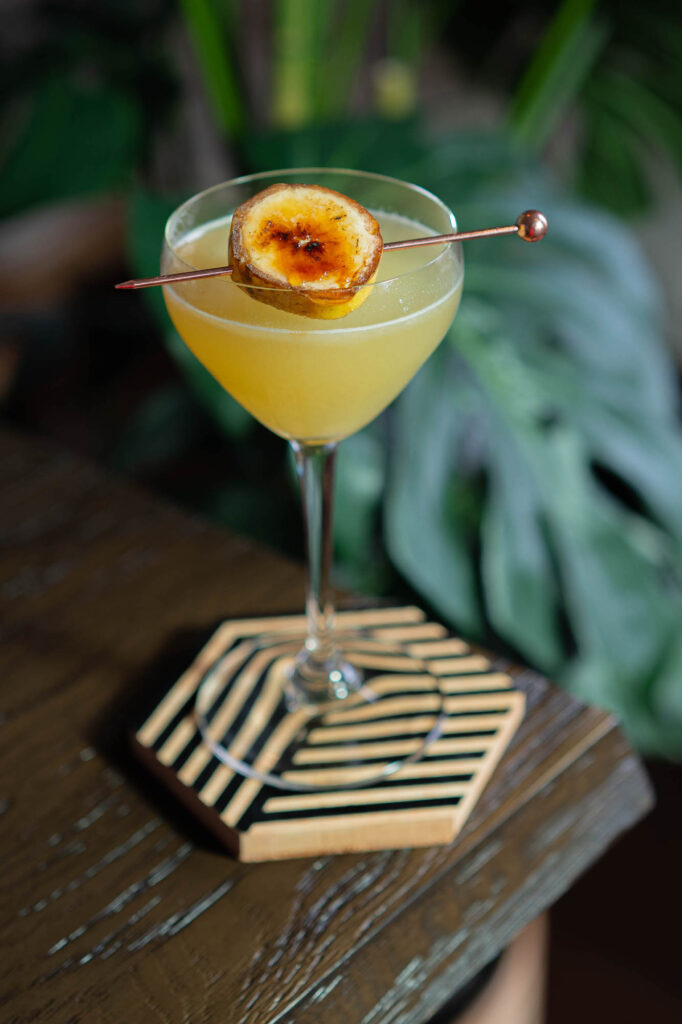 [/column] [column]
In New Orleans, culture doesn't come down from on high, it bubbles up from the streets." — Ellis Marsalis
We love any excuse to use our bar torch; it's not something we would consider a necessity in the bar, but it does make like easier, and certain cocktails more delicious; such as this decadent Daiquiri. After creating this cocktail, we remained in New Orleans to finish some writing and visited one of our favorite bars; Compere Lapin. The team created a cocktail for us using caramelized banana, which was torched on the bar in front of us. It was delicious, and the flavor of the caramelized banana was still discernible through the rest of the ingredients.[/column] [/columns_row]
INGREDIENTS
1.5 ounces Moderately Aged Rum
¾ ounce Lime Juice
½ ounce Simple Syrup
5 Caramelized Banana Slices
METHOD
1. Muddle banana in a cocktail shaker with simple syrup
2. Add rum, lime juice and ice to the cocktail shaker
3. Shake for approximately 30 seconds to chill and combine ingredients
4. Double strain into a Nick & Nora glass
5. Garnish with a caramelized banana slice
To caramelize the banana, cut the slices of the banana and coat one side with granulated
sugar. Torch the sugar with a bar torch until satisfactorily brown and caramelized. If you
don't have a bar torch, simply prepare you banana and broil it in an over; it takes a little
longer though the result is exactly the same. Using this method, you can broil a lot more
banana and use it in a syrup or dessert.
[separator type="thin"] [title maintitle="Big Boy Bramble" subtitle="page 77 | Day Drinking"] [columns_row width="half"] [column]
[/column] [column]
Brambles can be some of the most impressive looking cocktails when correctly executed, with the syrup, or whatever you use, layered on top of the cocktail. Using crushed ice in Brambles is a great way to add that additional effect as the syrup, in this case, slowly proceeds down into the rest of the drink.
This effect, however, isn't the same as floating bitters on top of a cocktail, whereas a bitters float is often used to give complexity to a cocktail, and is nice to sip through, the syrup is not.
This is a purely visual effect, and you should most certainly stir the syrup into the drink before it is consumed. The use of grapefruit juice in this cocktail, adds another layer of flavor and increases the bitterness, which is eventually balanced by the syrup when mixed correctly.[/column] [/columns_row]
INGREDIENTS
2 ounces Gin
1 ounce Lemon Juice
2 ounces Grapefruit Juice
1 ounce Blueberry Syrup
METHOD
1. Combine all ingredients, except syrup, in a cocktail shaker with ice
2. Shake for approximately 30 seconds to chill and combine ingredients
3. Strain into a beer glass
4. Fill glass with crushed ice
5. Float syrup over the top
6. Garnish with Maraschino cherries and an edible flower
[separator type="thin"]
[separator type="thin"] [title maintitle="Prazak Pickle Back" subtitle="page 201 | Happy Hour"]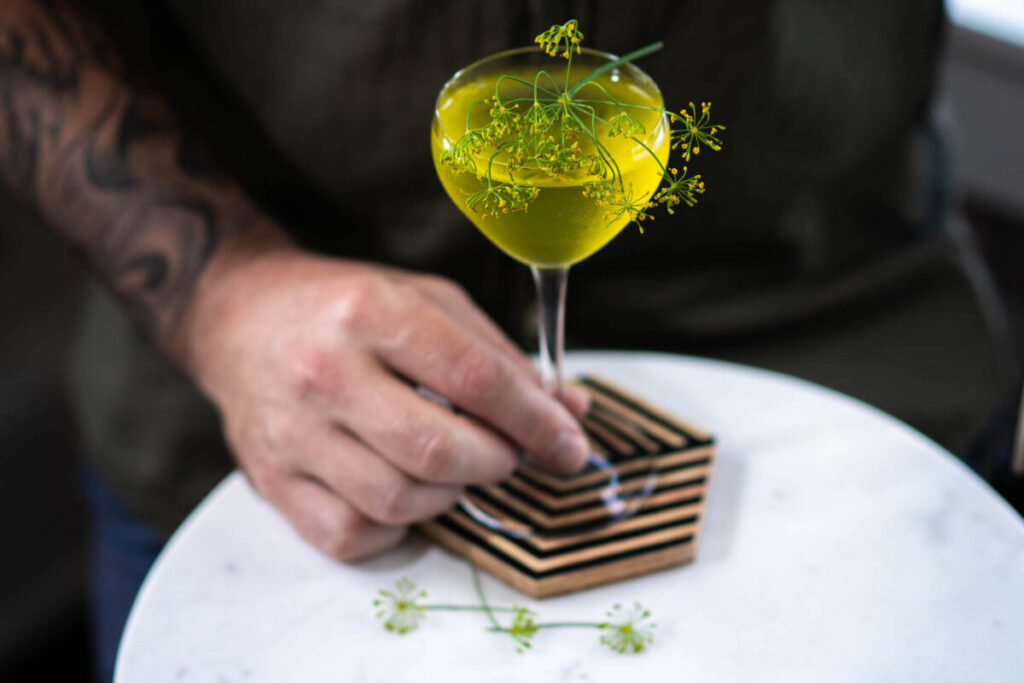 We're pretty sure by this point, you know about Natalie's obsession with Daiquiris, and our destination Daiquiri experiments. Well, here is another marvelous example of how this challenge has opened our eyes, and palate, to a new and wondrous cocktail creation. While in Prague during late 2018, we savored a few libations at the famed Anonymous bar; yes, the bar where the staff all wear Guy Fawkes masks. The bartender, Dominik was amazing, and after we sampled a few of their inventive cocktails, we decided it was time for the destination Daiquiri test. Consequently, one of the greatest Daiquiri's to date was conceived; and we haven't stopped thinking about it since.
We couldn't remember the exact recipe but distinctly remember the pickle juice and absinthe. So we created this version, ensuring these two ingredients played a significant role. Don't be scared though, this cocktail is soft and subtle, just like the profile of the yellow Chartreuse. And the combination of these notes in this cocktail, supported by the blanc vermouth, is delectable. You can use any pickle juice for this cocktail, and maybe you want to use some little pickles as a garnish. Though we found some fresh dill blossom to use, which added a great aromatic quality to the cocktail.
INGREDIENTS
1 ounce yellow Chartreuse
1 ounce blanc vermouth
¼ ounce absinthe
½ ounce pickle juice
2 dashes grapefruit bitters
METHOD
Combine all the ingredients in a mixing glass with ice
Stir for approximately 30 seconds to chill and combine the ingredients
Strain into a Nick & Nora glass
Garnish with fresh dill blossoms
[separator type="thin"] [title maintitle="Angry Inca Orchid" subtitle="page 213 | Beyond Your Bar Cart"] [columns_row width="half"] [column]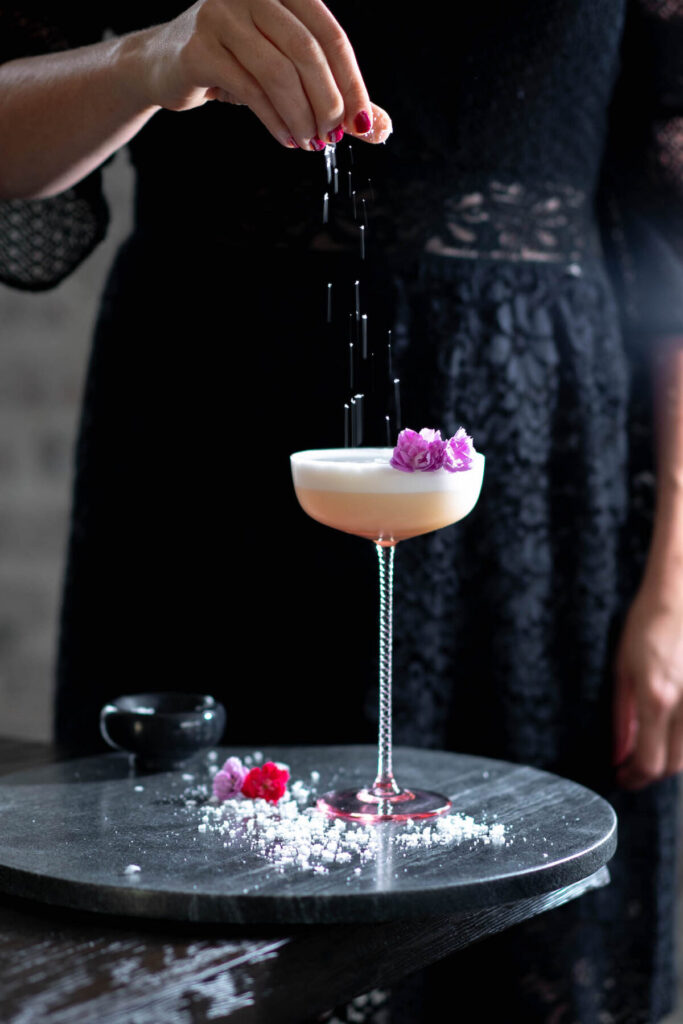 [/column] [column]The classic Greyhound is such a great cocktail to use as a base when you want to mix something creative and delicious for your guests; or while experimenting at home. This is our Pisco Greyhound Sour, but Angry Inca Orchid sounds cooler, and this cocktail definitely deserves a cool name. We transformed it into a sour because we favor the addition of egg white in citrus-forward cocktails; as it gives them a smoother, more balanced profile. Once we added the egg white, we realized the cocktail was more like a Pisco Sour, another exceptional classic cocktail, and followed the proverbial rabbit. Converting the Greyhound into a Pisco Sour meant adding sugar, which was ideal, as the cocktail tasted somewhat unbalanced. We found the addition of lavender syrup contributed a wonderful floral note to the final mixture. A touch of salt and we have a whole new cocktail; far from where we started, yet closer to where we want to be.[/column] [/columns_row]
INGREDIENTS
1.5 ounces Pisco Quebranta
2 ounces Ruby Red Grapefruit Juice
½ ounce Lavender Syrup
1 pinch Sea Salt
1 Egg White
METHOD
1. Combine all ingredients in a cocktail shaker with ice
2. Shake hard for approximately 30 seconds to chill and combine ingredients
3. Strain out ice
4. Shake again for approximately 30 seconds to further emulsify ingredients
5. Double strain into a coupe glass
6. Garnish with edible flowers
[separator type="thin"] [title maintitle="Speyside Monastery" subtitle="page 272 | Nightcap Cocktails"] [columns_row width="half"] [column]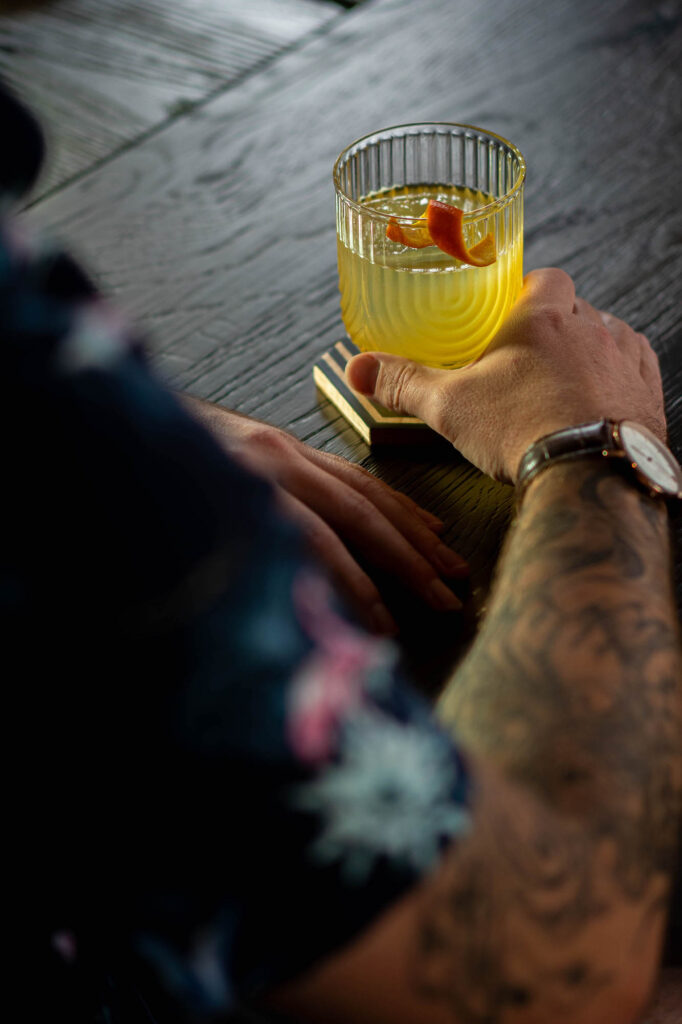 [/column] [column] Scotland, Spain, and France come together harmoniously in this delightful tipple, with the scotch playing the leading role, and an additional 173 ingredients boosting this concoction like a rocket ship. A rocket ship may be a stretch, but it sounded good. I'm sure there is plenty of cross over between the 43 botanicals found in Licor 43 and the additional 130 that make up the essence of yellow chartreuse.
Using these two ingredients to add sugar into the concoction in the place of syrup adds so much more. Subsequently balancing the concoction with lemon juice to accentuate the cocktail while emphasizing elements in both the Licor 43 and yellow chartreuse worked wonderfully.
The final result is balanced, with a profile leaning toward an acidic candy, without the sugar overload you may expect.[/column] [/columns_row]
Whoever said laughter is the best medicine had clearly never tasted scotch." – Anne Taintor
INGREDIENTS
1.5 ounces Speyside Single Malt Scotch Whiskey
½ ounce Licor 43
½ ounce Yellow Chartreuse
1 ounce Lemon Juice
METHOD
Combine all ingredients in a cocktail shaker with ice
Shake for approximately 30 seconds to chill and combine ingredients
Double strain into a double old-fashioned glass
Garnish with an orange twist
[separator type="thin"]