SNC-Lavalin, Kinross Gold among Canadian players still dealing in Russian resources
Despite sweeping sanctions after the invasion of Ukraine, some Canadian resource extraction and manufacturing ventures haven't been directly punished for continued business with Russian partners
By
As Russia's military lays siege to Ukrainian cities, SNC-Lavalin Group is among a number of high profile multinational companies trying to distance themselves from investments and operations within Vladimir Putin's authoritarian regime.
Despite sweeping sanctions designed to choke off and punish Russia for its violent assault on democracy, many Canadian-based companies have continued to do business with Russian partners in resource and related sectors, including hundreds of millions of dollars worth of mining, manufacturing, oil and gas projects.
It is not clear whether any sanctions may affect them.
SNC-Lavalin has been attempting to divest from a joint venture with Rosneft, the Russian state-controlled oil and gas company at the heart of federal government sanctions.
The joint venture is one example of stakes that several Canadian companies told The Narwhal they still hold in Russia, even as a flurry of Western companies pull out of the country in response to the Feb. 21 invasion of Ukraine, and as Canada continues to ratchet up sanctions against Russia-linked individuals and slap tariffs on Russian imports.
Investments and partnerships in Russia are nothing new for multinationals. Oil giant Exxon teamed up with Rosneft in 2012 in a deal that saw the Russian company invest in Exxon's asset in the Cardium formation that produced thousands of barrels of oil per day in Alberta. But in 2020, Exxon sold it off to a "private party," the company's Canadian affiliate Imperial Oil confirmed to The Narwhal on March 1. It has not publicized details about how that sale went or whether it made a profit.
Canada hit key personnel at Rosneft with fresh sanctions on March 2, as well as individuals at another Russian state-owned energy firm, Gazprom, the company behind the Nord Stream 2 pipeline that Germany has now halted. On March 3, Canada also slapped tariffs on Russian imports. Deputy Prime Minister and Finance Minister Chrystia Freeland said March 3 that the total number of people or entities sanctioned "or in the process of being sanctioned" by Canada since Russia first invaded Ukraine in 2014 is now "more than 1,000."
"Canada's support for Ukraine and its people is unwavering," said Foreign Affairs Minister Mélanie Joly in a statement released on March 2. "We will continue to meet every act of aggression by Russia's leadership with measures designed to weaken its ability to wage war. As the horrific events in Ukraine continue to unfold before our eyes, it is clear more must be done. Those who aid and abet Russian aggression will be held accountable. Canada stands with Ukraine."
In recent days, multinationals such as oil giants BP and Royal Dutch Shell have moved to sever ties with Kremlin-linked entities. Those two companies announced in late February that they planned to walk away from tens of billions of dollars in Russian stakes connected with Rosneft and Gazprom.
When asked by The Narwhal how the government plans to deal with Canadian companies or investors who said they plan to maintain their operations or investments in Russia, Global Affairs Canada said it's monitoring the impact on business and investment, and any violation of the sanctions, which is a criminal offence, can be investigated by the Canada Border Services Agency and the Royal Canadian Mounted Police.
"The Government of Canada recommends that companies assess their operations, take any appropriate action to comply with Canadian sanctions measures and export and brokering controls, and uphold high standards of human rights and responsible business conduct," spokesperson Patricia Skinner said in an email.
Here is a look at some of the Canadian companies still doing business in Russia, along with some Russian companies that have operations here.
SNC-Lavalin
Project management | Montreal
SNC-Lavalin's joint venture with Rosneft has been in a company called OAO VNIPIneft, a Moscow-based engineering firm specializing in oil refining and petrochemical projects. Montreal-based SNC-Lavalin once saw OAO VNIPIneft as lending its "local expertise" to help strengthen the Canadian firm's "strategic position in Russia," describing it in 2009 as a "leading engineering company with 80 years of experience."
More recently, however, it has been trying to exit the deal. "We started the process to divest this joint venture in 2019-20. This is still ongoing," said SNC-Lavalin's senior director of external communications Harold Fortin in a March 2 email. "We are following the situation closely to ensure that the ongoing divestment process in OAO VNIPIneft is made in compliance with the applicable provisions."
When SNC-Lavalin first revealed its 48 per cent stake in OAO VNIPIneft in 2009, the company had high hopes for the deal opening the door to Russia's oil and gas market, the Globe and Mail reported at the time. SNC-Lavalin reported about $43 million as its share of annual revenue from OAO VNIPIneft, and said the company had about 900 employees and had been involved in dozens of refineries and other industrial projects.
In August 2021, SNC-Lavalin said it had sold off its oil and gas business to focus on "core engineering services." The sale of that business and the decision to divest from OAO VNIPIneft demonstrates the company's commitment to pull away from Russia, Fortin said. Other than the ongoing divestment, he added, "we have no current commercial activities in Russia."
Asked if any U.S. or Canadian sanctions apply to any interests that SNC-Lavalin has in Russia, Fortin replied that "the sanctions position is now rapidly evolving."
Company president and CEO Ian L. Edwards did not mention the joint venture during SNC-Lavalin's fourth-quarter earnings call on March 3, nor was he asked about it by any analysts on the call. Edwards said the company has been focused on "winding down and disposing of non-core businesses, and exiting underperforming geographies," including the sale of the oil and gas business, "an important strategic milestone for the company in our effort to de-risk the business."
Canada has imposed several waves of sanctions against Russian individuals and organizations under the Special Economic Measures Act, to respond to what the government has called as a "violation of the sovereignty and territorial integrity of Ukraine" as well as "grave human rights violations."
The sanctions are essentially an asset freeze, and block any dealings on any person or entity listed in the regulation's schedule. This means no person in Canada, and no Canadian outside Canada, can "deal in any property" that is held by, or on behalf of, one of the listed names. They also cannot "enter into or facilitate" any transactions related to those dealings, provide any services or make any goods available.
Magna International 
Automobile manufacturing and technology | Aurora, Ont.
Magna International has six manufacturing facilities and roughly 2,500 employees in Russia. On March 3, Magna said in a statement to Reuters that it would idle its operations in Russia. It was not immediately clear whether workers would be laid off. Magna's 2020 annual report lists $345 million in "external sales" coming from Russia in 2020, and $120 million in "fixed assets" in Russia that year.
"Like most in the international community, we remain deeply concerned with the very unfortunate situation in Ukraine," Magna vice president Tracy Fuerst said in a statement.
The day before, Louise Colledge, Magna International's global director of external communications, had confirmed that the company's operations in Russia were still running. Colledge did not respond to questions about whether the company's interests in Russia were subject to U.S. or Canadian sanctions.
"We continue to monitor the very fluid situation and are working closely with our customers to respond to changes as quickly as possible," said Colledge. "Our focus is on maintaining business continuity."
She added that the Russia-Ukraine war is "a very unfortunate development" and the company was "respectful to the human aspect of this situation and [wishes] for the best to all those impacted."
Azarga Metals
Mining | White Rock, B.C. 
Azarga Metals acquired the Unkur Copper-Silver Project in Zabaikalsky, in eastern Russia in 2016. The company lists a "pre-tax net present value of US$203.6 million" for Unkur on its website. It says its work so far has been on geologic mapping on the surface, as well as geochemical sampling, drilling and other activity.
Director Gordon Tainton confirmed March 2 that the B.C.-based company still owns the project, and that it was Azarga's only interest in Russia. Tainton denied the project is subject to U.S. or Canadian sanctions and offered "no comment" when asked if he has plans to withdraw or scale back Russian interests.
Hatch
Engineering and development consulting | Mississauga, Ont. 
As Russia bombed hospitals and schools in Ukraine on Wednesday, Hatch declined to answer questions about the status of one of its projects at a mine in Russia's far east region of Khabarovsk Krai. The mine is owned by Polymetal International Inc., which is headquartered in St. Petersburg.
Polymetal's largest shareholder is the Russian billionaire Alexander Nesis, the British newspaper The Times reported. Nesis is on the U.S. Treasury Department's list of Russian oligarchs — which has come under fire for being copied from a Forbes list of billionaires — but neither he nor Polymetal are included in Canada's sanctions. He founded Polymetal and his brother Vitaly is the company's CEO.
Polymetal provided the Russian government with $170,006,000 in payments in 2019, according to the company's filings. The total includes mining royalties and other licensing fees.
Hatch's work with Polymetal involves helping the miner double its capacity to process gold. Hatch, which has offices all over the world, began working with Polymetal in 2017 and plans to wrap up in 2023. Hatch has offices in St. Petersburg and Moscow, and wouldn't say if it has any other ventures in Russia.
"We are very concerned about the conflict in Ukraine and our first priority is the safety of our employees," said Lindsay Janca, Hatch's global director of public relations, in an email.
"As a company with global operations, Hatch fully complies with the laws of all jurisdictions in which we operate. We are monitoring the situation and will follow governmental sanctions and other business constraints placed on Russia."
Kinross Gold
Mining | Toronto
The recent scramble to exit Russia has found Toronto-based mining company Kinross Gold exposed as part of an investor-led push to sell off Russian holdings. After initially saying it would forge ahead in Russia and that its mines were operating according to plan, Kinross abruptly announced March 3 that it would suspend activity "for the safety and well-being" of employees.
Russia has been a "great place" for Kinross, which operates two facilities there, CEO J. Paul Rollinson said during the company's four quarter earnings call last month, according to the Financial Post. The Kinross Kupol mine is located in the Chukotka region, accessible along an ice road in Siberia's far northeast about 1,000 kilometres from Alaska. The company, one of the world's largest gold producers, has said the facility has "one of the lowest operating costs" in the company's portfolio.
The company is also doing feasibility studies at a second site, the Udinsk resource pit at Chilbatkan, located further to the south in Russia's far east. Work completed last year "reaffirms Kinross' view of the asset as a low-cost and high-return project," and Kinross expects to start production in 2025, the company's website says.
In 2014, after Russia annexed Crimea, the company hired three lobbyists with ties to then-prime minister Stephen Harper's Conservative government in a push to avoid sanctions. In the end, Kinross saw "enhanced" profit margins that year, Rollinson said last month, according to Post.
"All I can say is we've operated there successfully for many years with strong support from the Russian government," Rollinson said. "We're good in our communities. We pay our taxes. And we think we're quite welcome there, and it's been a great place for us."
In 2013, Kinross contributed about $105.5 million in taxes, royalties and payments to Russian governments.
On Feb. 23, the day before Russia invaded Ukraine, the company said in a statement that it wasn't affected by U.S. sanctions against Russia and had no plans to stop operating, noting that its mines are 7,000 kilometres from Ukraine. Its facilities have a full years' worth of supplies on hand, with 98 per cent of their employees local to Russia. Kinross also refines gold in Russia, and said it "retains flexibility to sell its gold domestically and internationally."
"Kinross has successfully operated in Russia for more than 25 years and has previously managed through similar situations while complying with applicable laws," the Feb. 23 statement said. But the company's assurances didn't assuage the concerns of analysts, some of whom said Russia could seek to nationalize Kinross assets there.
In its March 3 statement announcing the suspension of operations, Kinross said it hasn't been affected by current sanctions against Russia. It didn't respond to questions from The Narwhal about its long-term plans for its Russian assets.
The company's position has already pushed some backers to divest, including Toronto-based Purpose Investments, which manages an estimated $14 billion in assets.
Purpose Investments / Wealthsimple
Financial services | Toronto
On March 1, Toronto-based Purpose Investments, which manages an estimated $14 billion in assets, and Wealthsimple, which manages over $15 billion, published a letter pledging to sell off Russian investments. It was signed by 100 business leaders and investment managers who called on others to follow them, the Toronto Star reported.
In an interview with The Star, Purpose Investments CEO Som Seif said that the firm has started selling off shares of non-Russian companies which have significant holdings in Russia. He specifically mentioned Kinross Gold.
The Chief Information Officer at Purpose Investments, Greg Taylor, told The Narwhal that they sold the Kinross position "early in the crisis," and Purpose is "not adding it back until the company (Kinross) clarifies its position on the crisis."
Taylor said the company didn't have any direct holdings of Russian companies and didn't have any bonds directly in Russian companies. "All of our Russian exposure was via (Exchange Traded Funds) that traded in U.S. markets," he said in an emailed statement. The largest of these positions was three per cent of one fund, he said.
He said all of Purpose's divesting from Russian company exposure, and companies with significant business in Russia was completed by close of business on Feb. 28.
At Wealthsimple, communications director Rachael Factor said the investment firm had banned buying of stocks of Russian-listed companies on its brokerage platform, as well as "companies with more than 50 per cent of revenue from Russia." Users with those holdings can still sell them off, she said.
Wealthsimple also runs managed investment portfolios: Factor said its "Standard portfolios" hold two Exchange Traded Funds that represent about 0.2 per cent of Russian exposure.
"Right now, no new money is being invested in Russian securities and we are working with our index providers to remove existing holdings and/or find replacement funds," she said.
Nordgold
Mining | London, United Kingdom and Moscow, Russia
Multinational Nordgold operates the Pistol Bay exploration project in Nunavut, on the west coast of Hudson Bay. Nordgold began work there in 2011 and holds the mineral rights to 860 square kilometres of land. The company is backed by Alexey Mordashov, an oligarch dubbed Russia's richest man who met with Vladimir Putin the day the Russian president began his invasion of Ukraine.
Nordgold is controlled by the family of Mordashov, a billionaire steel baron who has come under fire from the European Union in recent days for his financial interest in Rossiya Bank, which Canada has sanctioned, and which the bloc calls the "personal bank" of senior Russian officials who benefitted from the country's annexation of Crimea. The European Union also said it believes Mordashov invests in pro-Russia TV stations that helped destabilize Ukraine.
In 2019, Mordashov transferred some of his shares in Nordgold to his sons, Nikita and Kirill, saying the move was meant to help them learn how to manage portfolios. Under pressure this week, he transferred a US$1.1 billion stake in the company to his wife and stepped down from his role as a director. He still holds up to half of Nordgold's shares.
Mordashov has called for an end to the bloodshed in Ukraine, calling it a "tragedy" that people on both sides are dying and Russia's economy is collapsing. "I have absolutely nothing to do with the current geopolitical tensions. I don't understand why sanctions have been imposed against us," he said.
Nordgold's camp in Nunavut, located near the hamlet of Whale Cove, operates from June to October. Late last year, the municipality of Whale Cove signed off on Nordgold's plans to move the camp to a different location that would allow it to open earlier in the year, in March. The territory's government approved the change in January.
Whale Cove and the Government of Nunavut didn't respond to requests for comment from The Narwhal. Nordgold, which is not on Canada's list of sanctioned businesses, didn't answer questions about whether the company has been affected by sanctions or whether it plans to continue operating in Canada.
Spartan Delta 
Oil and gas | Calgary 
Russian oligarch Igor Makarov bought a 21 per cent stake in Spartan Delta Corp. last spring through his company Areti Energy, becoming the Calgary natural gas company's largest shareholder.
Makarov was born in Turkmenistan and is a former track cyclist. He previously founded the natural gas company Itera, a precursor to Areti, which entered a joint venture with Russian state-controlled oil company Rosneft in 2012. The following year, Rosneft bought out Makarov's remaining shares of Itera for $2.9 billion.
Areti — which is Itera backwards —  is based in Geneva, Switzerland. Neither the company nor Makarov have been sanctioned by Canada.
Spartan Delta didn't respond to questions from The Narwhal about whether it has been affected by sanctions. Areti didn't answer when asked whether it plans to continue holding a stake in the Calgary company. In a statement to the Financial Post, an American PR firm representing Areti denied that Makarov has any ties to Putin.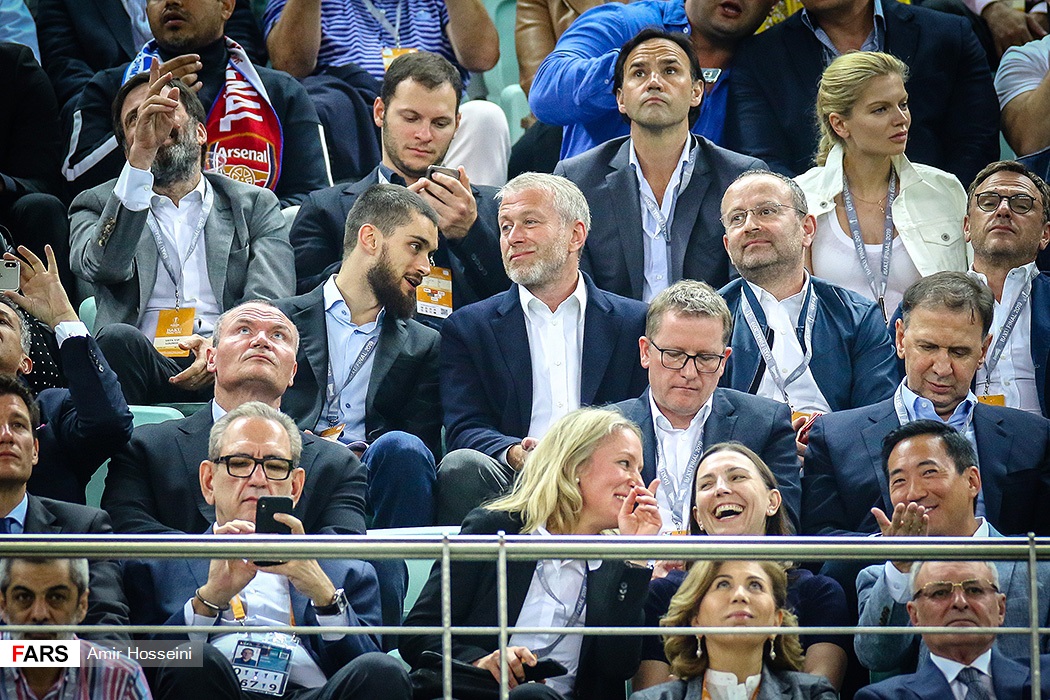 Evraz
Steel manufacturing and mining | London, United Kingdom
Moscow-founded Evraz runs facilities in Regina and four cities in Alberta, and supplied materials to build the Trans Mountain pipeline expansion. TC Energy has also said that an Evraz plant in Saskatchewan supplied the "majority of materials" for the 390,000 tonnes of pipe it said it needed for its 670-kilometre Coastal GasLink pipeline. The pipeline company said this resulted in hundreds of millions of dollars spent on materials purchased in Canada.
Evraz is in the spotlight this week over some of its backers' ties to the Kremlin. One significant backer played hockey with the authoritarian leader. The company's biggest investor, Roman Abramovich, is a billionaire long alleged to be close to Putin and received a US$450 million dividend from Evraz the day after Ukraine was invaded.
Abramovich, best known as the owner of England's Chelsea Football Club, is a wealthy oligarch who owns a yacht with a missile-detection system and a $200 million home near Kensington Palace, among other properties. His wife is a longtime friend of Ivanka Trump, daughter of former U.S. president Donald Trump. He owns a nearly 29 per cent stake in Evraz. Last year, Russian dissident Alexei Navalny — who was poisoned and imprisoned by Russia in 2020 — included Abramovich on a list of "key enablers and beneficiaries of Russian kleptocracy."
Under increasing scrutiny this week, he announced that he would sell his soccer club. Meanwhile, a United Kingdom MP alleged the billionaire was also seeking to get rid of his British properties in an effort to avoid having the assets frozen. He was also present for peace talks in Belarus between Ukraine and Russia, with a spokesperson saying he was "trying to help" end the war.
The company's other top shareholders are Russian oligarchs Alexander Abramov, Alexander Frolov, Evgeny Shvidler and Maxim Vorobyev. Neither they nor Abramovich are included in Canada's sanctions.
Vorobyev's brother Andrey is the governor of the Moscow administrative district, according to Russian independent media outlet Meduza, which has also reported that as of 2018, Vorobyev was part of a casual hockey group with Putin called the Night Hockey League.
Evraz, one of Regina's biggest employers, has already delivered all the pipe needed to finish the Trans Mountain Expansion, Freeland said this week. The company also provided pipe for TC Energy's now-cancelled Keystone XL pipeline.
Evraz did not respond to questions from The Narwhal about whether it has been affected by sanctions. The company has previously emphasized that its Canadian operations are headed by a subsidiary based in the United States. Its stock plummeted as Russia attacked Kyiv.
Updated on March 8, 2022, at 6:20 p.m. ET: This story was updated to include a response from Global Affairs Canada.
Updated on March 3, 2022, at 6:35 p.m. ET: This story was updated to include news that Magna has idled its Russian operations.
---
This article by The Narwhal, is published here as part of the global journalism collaboration Covering Climate Now.
originating