TIDE LINES
(Documentary, Canada, 100 Minutes), dir. Andrew Naysmith
Viewed at Newport Aquatic Center,   1 Whitecliffs Dr, Newport Beach, CA 92660
Viewed on June 12, 2014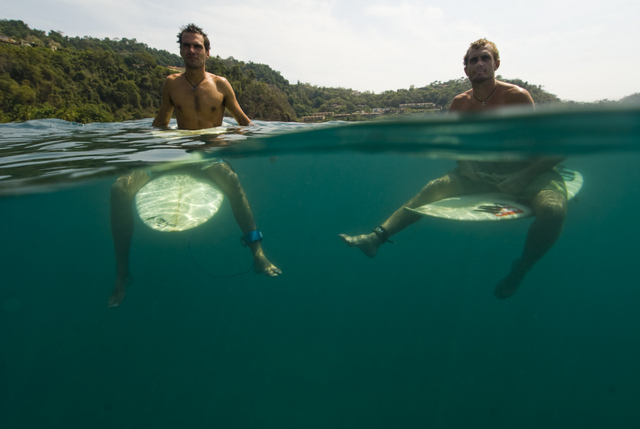 Fishing with plastic: Andrew Naysmith drops a line on conservationists
In recent years, filmgoers have found themselves with a plethora of road trip movies, from Alexander Payne's familial-chasm study Nebraska (2013), to Anne Fletcher's more comedic-driven The Guilt Trip(2012), and even a couple we've reviewed, such as Erin Faulk's Twitter odyssey Follow Friday the Film (2013) and Jason Priestley's charmingly anything-but-straightforward Cas & Dylan (2013). And while those films vary in theme and existential iconography, the one thing they all have in common is that they take place on endless asphalt-hewn vistas (it could be argued that Follow Friday is more of global-village walkabout limited to the physicality of a four-door Audi). But what about the open ocean? In a first-film tour-de-force that shouldn't be as good as it is, Andrew Naysmith's Tide Lines (2013) is not only a lusciously descriptive portrait of some of Earth's most beautiful coastal lands, but a sign of the times to come if we, as a global community, don't get our act together.
Screened at the Newport Aquatic Center in an appropriately outfitted loading bay bedecked with a battalion of canoes, sailing equipment, and assorted oceanic what-have-yous, Tide Lines is the global nautical road trip tale of two brothers, Ryan and Bryson Robertson, and a mutual friend, Hugh Patterson, who set sail with the goal of traversing some of the world's most beautiful coastal lands over the course of three years, surfing and sunning when they aren't goofing around on-camera. But the trip has a much more serious endeavor in mind: that of uncovering the seriousness of our global waste issues, raising plastic awareness, and teaching others what they can do to help preserve our oceans and beaches.
Housing the three men during their "Ocean gybe" is the sailing ship "Khulula", which we're told means "to run free" in Zulu. Early scenes show their [Ryan, Bryson and Hugh's] wherewithal as well as their knack for maintenance and repair when the first meeting between boat and men is met with the first of many proverbial bumps in the road: crumbling wood, missing radios and satellite equipment, and an array of scratches and other cosmetic issues. Soon all is well and the men set out, only to be met with a Category 1 hurricane 150 miles off the coast of La Paz, Mexico. Luckily for the filmmakers, they outrun it. One thing's for sure—they have our attention.

One of the smaller issues I have with the film becomes apparent early on, with its demarcation of time. Although the filmmakers let you know what the date is at appropriate intervals, I have to be honest and say that twenty or so minutes in it means nothing to me because I'd forgotten the date the Khulula had set sail. So when the camera captures the beautiful Marquesas Islands jutting out of the sea and a bewildered Hugh commenting on them in awe, audience members don't really know why, until it's mentioned rather casually that the trio haven't seen land in almost a month.
When the Khulula comes across an island or destination, the following takes place: the three men pick out a 100-meter track of wind-swept coastal land, and gather, categorize, and log as much trash as they can find in that section. The results are revealing: seemingly uninhabited areas, surrounded by rocky monoliths and ivy-patched formations, are home to such majestic creatures as schools of disintegrating soda bottle caps, the hulk-like shells of abandoned fishing buoys, and scores upon scores of abandoned flip-flops. In the segment concerning the latter, Hugh comments on how he can't even keep up with the number of flip-flops the tide brings in every second (they stop counting at 331). When one of the men picks up a handful of sand and shows it to the camera, we see that the very ground under their feet is mostly composed of grain-like plastic, perhaps in even greater quantity than actual grain.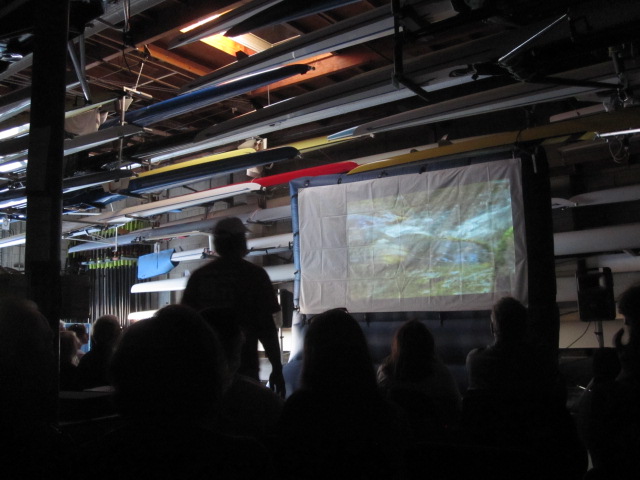 And that's just on land. When the men begin experimenting with catching trash at sea, with what can only be described as a device akin to a butterfly net with a filtered jar attached at the end, the results are even more revealing. The men exclaim in horrified fascination upon discovering that the glassy, clear ocean water around them is actually layered five meters deep with the grain-like plastic they'd found on the beach. In one of the more jaw-dropping sequences—and I'm not joking, this had me horrified—the crew decides to fish with plastic garbage instead of live bait. You can already guess that they were successful in catching a rather large specimen. Hugh muses that if these fish are consuming these particles of plastic waste, then being caught and sold in markets around the world, then we are literally eating our own trash. Food for thought.
Intermittently juxtaposed against these forays amongst the fishes are trips to local schools and community centers where the trio hopes to educate children and community members vis-à-vis. In a sort of comedic twist, the sentimentality and cheeky ambition of the three are apparent during their first visits where, without any sort of outline, power point, or presentation, and clad only in board shorts and t-shirts, they answer questions and explain their mission in a very grassroots manner. As time goes on, they do hone their craft, prepare slides, and even dress for the occasion, but there's something to be said of, not just one, but three individuals who are able to act on and maintain—as well as continually educate themselves on—their goals in an effort to perfect their practice. In the case of Tide lines, theirs is the conservation of global coastal lands. When Ryan is seen later in the film being interviewed on news networks with rote confidence, it gives you a warm feeling to know that these three guys who just did it Nike-style are saying, in their own way, that you can too.
It isn't hard to see why Tide Lines is definitely one of the more important films on the festival circuit today. What it lacks in the finesse of a more polished film it more than makes up for in content. Fair warning, it will definitely come off as simplistic at first, perhaps to a fault: at the screening I attended, three men walked out only minutes in—and although they were the first, they were also the last. What we have here then is a film that knows what it wants to be, and succeeds in its own way, by merit of a charming ruggedness matched only by that of the film's subjects and subject matter, as opposed to any technical wit from the filmmakers (whom, to their credit, never reveal themselves, aside from some impressive criss-cross "dolly/dingy" shots near the end). However, what is exciting is that Naysmith and co. were able to produce a successful film, one that organically propels its viewers to the frontlines of coastal land conservation, and for that we should be excited to see where he may strike next.
The SYNOPSIS
Two brothers and a friend set sail from Mexico with a dream to circumnavigate the world and surf. Over the course of three years, their lives would change dramatically through the beaches they visited, the people they met and a newfound sense of global community through the oceans. Tide Lines is the true story of Ryan, Bryson and Hugh on a sailboat called "Khulula" and their inspiring voyage across the sea in search of adventure, plastic awareness and education. [via NBFF]
The Newport Beach Film Festival (NBFF), in partnership with Orange County Park sand Newport Bay Conservancy, presents TIDE LINES, directed by Andrew Naysmith. This film is a presentation of the NBFF's quarterly Environmental Film Series.
For more on Ocean Conservation, visit the Marine Conservation Institute site to see what you can do in your area.
---
Follow ATOD Magazine™