A Taste of Dawn™
ATOD is a company devoted to supporting and promoting Chefs, Winemakers, Artists, Musicians, Lifestyle Products, Restaurants, Hotels, Philanthropy, and Travel around the world.
"Enthusiasm is excitement with inspiration, motivation, and a pinch of creativity."
Our motto is simple: Inspiring the world to savor every moment.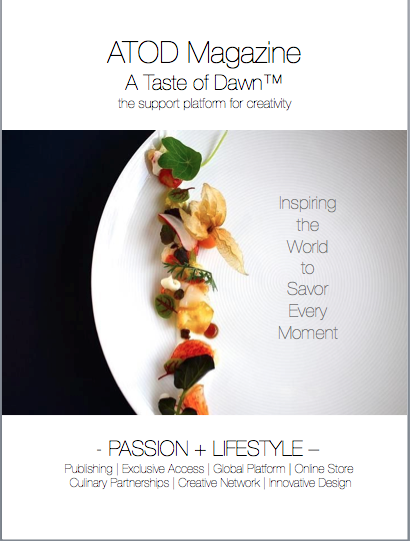 COMPANY HISTORY
A Taste of Dawn™ was founded and created by writer, screenwriter Dawn Garcia in November 2010. It began as a Tumblr blog and after a few months of posting, it received an overwhelming response and "A Taste of Dawn™ – the Magazine" was born. Launched on May 27, 2011 the site became a resource for readers to learn about restaurants, wineries, hotels, venues, unique and premium products, special events, philanthropy, and innovation around the world. Soon after it then evolved into a resource of exclusive interviews with some of the best chefs, winemakers, artists, photographers, journalists, filmmakers, visionaries, and entrepreneurs around the world. In September of 2012, ATOD Magazine: A Taste of Dawn™ re-launched and re-branded with a new design and the readership, global reach, and prestige increased exponentially.
With over 20 years of working within the Film & Entertainment Industries, Dawn has become intrinsically familiar with quality in every sense of the word. While doing research, conducting production meetings, or launching marketing campaigns, she understood early on that quality and value are everything. Couple that with a great story and authentic content and the draw becomes unparalleled. Whether restaurants, hotels, or products, seeking out quality and value, uncompromising taste, and finding a way to make that available to anyone with a healthy curiosity is what has set her and "A Taste of Dawn™" apart in every way.
MISSION STATEMENT
Our Motto: Life is meant to savored. The mindset behind A Taste of Dawn™ and all of our corresponding divisions of ATOD™ is simple: enjoy every moment, live life well, and never compromise quality.  Founder, Dawn Garcia believes that every moment, every experience – should be an unforgettable story. Each of us have an emotional connection to experiences we've had whether over a meal, sipping a glass of wine, traveling, staying in a hotel, driving a certain car, living in a certain area, or simply exploring every aspect of living. Life in and of itself IS a brand. How you choose to share that with the world is entirely unique to you.
Staying in Hotels and dining in Restaurants and Authentic homes around the globe, Dawn Garcia has enjoyed all kinds of fare from fresh fish speared that day by local tribesman in Belize, having private dinners prepared by Michelin trained Chefs, to dining at 5-star restaurants . She has stayed in huts in the middle of the rainforest while howler monkeys and pumas traveled just outside of her door and has slept in hotels that have everything but sinks plated in gold. The experience is what is most important. The idea behind A Taste of Dawn™ (ATOD) is that everything we do has a story worth telling – or at least it should. ATOD Magazine™ and now "A Taste of Dawn RADIO™ (ATOD Radio™)" are about savoring life and telling that story.
The goal of A Taste of Dawn™ is to tell the story of Restaurants, Chefs, Winemakers, Artists, Musicians, Photographers, Philanthropists, Visionaries, Filmmakers, and Hotels around the world; Showcasing various properties, venues, travel destinations, and highlighting unique events to offer a one-stop website for readers. As an avid believer that quality and value are the driving force in today's economy, the mission is to deliver quality content and tell the story of both well-known AND unknown Restaurants, Chefs, Artists, Musicians, Hotels, Spas, and Event Locations around the globe in search of a broader audience.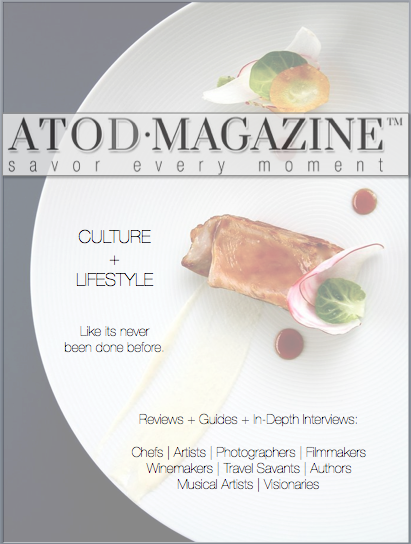 ATOD Magazine: A Taste of Dawn
THE DARE
ATOD Magazine was created and founded by Writer, Dawn Garcia, as a dare. Having written fiction, poetry, journalism, screenplays, plays, blogs, and anything in between – a friend dared her to write about Food for a job opening he saw online. One thing you should know about Dawn is she never backs down from a good challenge. And so, as she started to write a review, she realized to her, eating was so much more than mere food. It was an experience. It was an opportunity to take in every sense through sheer observation. She was never by any means an expert. The way she sees food is much like she sees most mediums of art:
"They are nurturing, beautiful, soul stirring necessities in life that feed the deepest parts of who we are. Without food – we would literally cease to be. Without art, at least in my world – breathing would not be possible. Food, photography, film, art, journalism – these are all essential modes of expression. Each one telling a story that only enhances the every day because let's be honest: in this very fast-paced world we rarely stop to recognize the things happening right in front of us. We miss what's alive, what's happening spontaneously right at that moment. We rarely stop to pause and look at the masterpiece on the plate before us – and when we do, it is even more rare that we savor that first bite that enters our mouths, begs us to let our tongues swirl around, and recognize the very textures and flavors culminating within. Every palate is different. No two people experience that bite the same. Much like wine. Much like photography – and film – and art. These are the ways in which we associate our emotions. These are the ways in which we see reflections of ourselves, the moments we dare to see world through a different set of senses, and above all – the one way we are all united – if only for a moment."
WHAT'S IN A NAME
"A Taste of Dawn": A Name that is tongue in cheek, and a little suggestive. After people started inquiring as to when she would be writing another one, the natural evolution began. With a love for 1940's nostalgia, it was a natural fit to create a timeless publication with quality content, passionate story, an "old-school" feel and a visual undertone of beautiful sophistication. The site soon evolved into a resource of not only food reviews, but everything that embodies living life to the fullest. Through interviews, reviews, travel features, and original content, ATOD has become the voice of creativity.
THE EVOLUTION
While it began with food reviews, the Magazine now covers Food + Wine, Art + Music, Film + Photography, Travel + Leisure and conducts some of the most in-depth interviews in the field. Founder and CEO, Dawn Garcia created a product comprised of everything she deems to be beautiful and colorful in the world. With a background in film, entertainment, fashion, art, and media – ATOD Magazine is a reflection of everything Dawn loves, hence why the name is befitting. As luck would have it, she gets to share that love with readers all over the world and in turn meets the most amazing Chefs, dines at some of the most interesting restaurants (from the hole-in-the-walls to Michelin rated and James Beard Award Winning establishments), she feasts on photography, goes to museums, sees incredible theatre, spends hours upon hours learning about what's happening in this world, and attempts, every day to taste a little bit of life. If you've ever met Dawn Garcia you know she cares deeply about the world. In a state of such chaos, tapping into the true beauty of living – coming across artists and visionaries around the globe – well, it allows her to tell others about what she's found. This idea is felt throughout the company.
THE BRAND
ATOD Magazine™ has now branched out and ATOD has grown. ATOD Magazine has expanded and ATOD+ = creative publicity was created.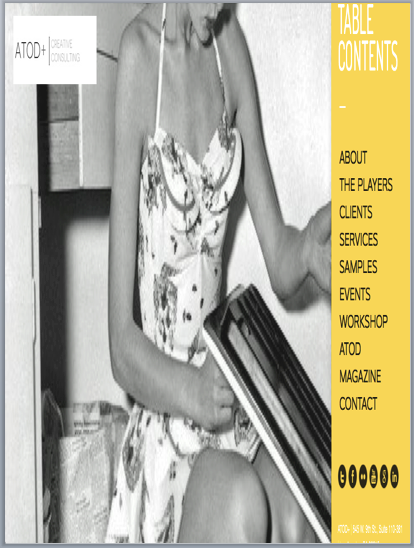 ATOD+
Under the umbrella of ATOD Magazine:
Creative Publicity is more than a concept. It's story. ATOD+ is a boutique creative consulting firm that takes your brand and creates content that tells the story of who you are, what you do, and how you're unique. Partnering with incredible talent is what we do. The goal is to guarantee you have the most authentic voice in an industry where being an original ensures longevity.
ATOD+ was designed to offer solutions, innovation, passion, and above all make sure you ARE successful. Modeled after the parent company, ATOD Magazine™: A Taste of Dawn, utilizing story along with a mission to make every aspect of art and creative vision everlasting, ATOD+ acts as a creative liaison
It is more than PR, social media, consulting, websites, marketing, or events – let's give your brand the fresh appeal and innovative voice it deserves.
*Clients include music legends, athletes, artists, designers, entrepreneurs, restaurateurs, writers, etc.
CONNECTING-THE-DOTS
In addition, ATOD Magazine has a Network of incredibly talented Photographers, Artists, Chefs, Venues, and more. Whatever you're looking for, we will help you find. After all, that's why we started: To share some of the most memorable restaurants, hotels, museums, and visionaries in the world. With combined experience in their respective fields, everyone we refer OR critique has a story. The purpose is in utilizing innovation, originality, creativity, and above all, the power of story.
WRITING FOR ATOD Magazine
ATOD is also in the process of searching for contributing writers to join the team. If you believe you have a voice that should be featured on the website and you'd like to be a part of this magazine in support of Chefs, the Arts, Cinema, Restaurants, Travel, Hotels, and beyond please direct a submission to:
submissions@atodmagazine.com
In the Subject Line: SUBMISSION
---
LETTERS TO THE EDITOR
Please submit any letters to the Editor by emailing: dg@atodmagazine.com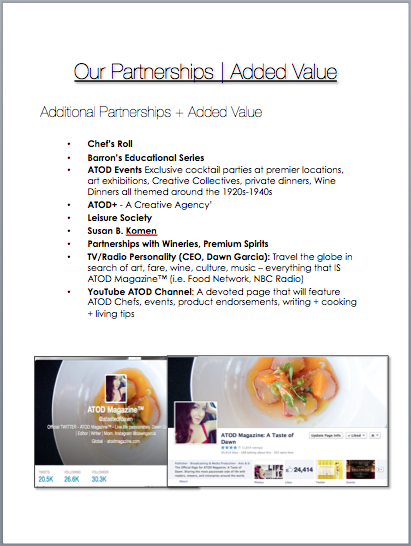 PRODUCTS
ATOD Magazine: A Taste of Dawn™
A Taste of Dawn RADIO™
ATOD +™
ATOD EVENTS™
---
Follow ATOD Magazine™