(AUSTIN, Salt Lick BBQ Pecan Grove Pavilion)
by Dawn Garcia
Last night I arrived in Austin. Bags in tow, rental car picked up, freeways mastered, and the long FM 150 to Highway 1826 and voila! Salt Lick BBQ, Pecan Grove Pavilion. I arrive to attend the Austin Food & Wine Alliance 3rd Annual Event: Live Fire Challenge! Beef Supremacy & Fire Mastery. My friend, Anne Rosenberg of William Chris Vineyards, patiently waits for me to arrive and finally, after a few wrong turns, I'm there. We check in, and begin to peruse the grounds now lined with tents luring us with the scent of meats. With a long line of very talented chefs and pastry chefs, the palate was eager to taste and hungry to satisfy. I tasted just about everything and in the end, it was Sway Thai that won me over. Their Jungle Curry had the most incredible blend of texture, flavor, taste, and spice and honestly, it's one of the best dishes I've had. The crisp pea pod atop it is the crunch that just sent it over the top. I also have to congratulate Sway for their S'mores that ended up being the perfect finish to a VERY happy run of meats, spice, and flavor represented by all of the Chefs at the Challenge. Thanks to Austin Food & Wine Alliance for allowing me the opportunity to attend and to Jane Ko who met me there and took so many phenomenal shots. There are notes beside each plate I tried. So here are The Winners:
1st Place:
Sway Thai's with Jungle Curry
2nd Place:
Jason Dady's with Tongue & Cheek
3rd Place:
This was a TIE between Kristine Kittrell with Coconut Beef with Blistered Beans + Jeff Martinez with Lengua de Res.
Fore more coverage, visit the Facebook Page + Twitter + Instagram
The lineup:
Named the best barbecue in the U.S. by Bon Appétit Magazine, Franklin will make his third appearance at Live Fire! and attendees will be treated to his award-winning brisket.
(ATOD: Unfortunately, I wasn't able to try this.)
Winner of Edible Communities 2012 Local Hero/Food Artisan Award and 2013 James Beard book award nominee for single-subject with Afield: A Chef's Guide to Preparing and Cooking Wild Game and Fish, Griffiths will prepare Flatiron Tacos with Carrot Top Salsa.
(ATOD: This was full of flavor, the only thing I wanted was just a little more balance to keep it from being dry.)
Laura Sawicki of Sway (Austin)
Finalist for 2013 James Beard nominee for Outstanding Pastry Chef and 2013 CultureMap's Tastemaker Award winner for Best Pastry Chef, Sawicki will offer a sweet take on fire-kissed dessert with Smoked Hazelnut and Chocolate S'mores.
(ATOD: I saw this upon entrance but decided to make this the last thing I ate. Considering the gluttonous amount of meats and desserts I had, this could have put me over but instead it was a heavenly finish.)
Rene Ortiz of Sway (Austin)
Finalist for 2013 James Beard Award for Best Chef: Southwest, Ortiz will serve Jungle Curry made with Texas Beef, Red Chili & Coconut Cream.
(ATOD: I don't think it gets any better than this. The salt, the savory, the spice, the crunch, the texture, the taste, the FLAVOR! The meat cooked to perfection, this was one of the most perfectly balanced bites I've ever had. This is the WINNER! Cannot wait to come in to the restaurant and feast proper.)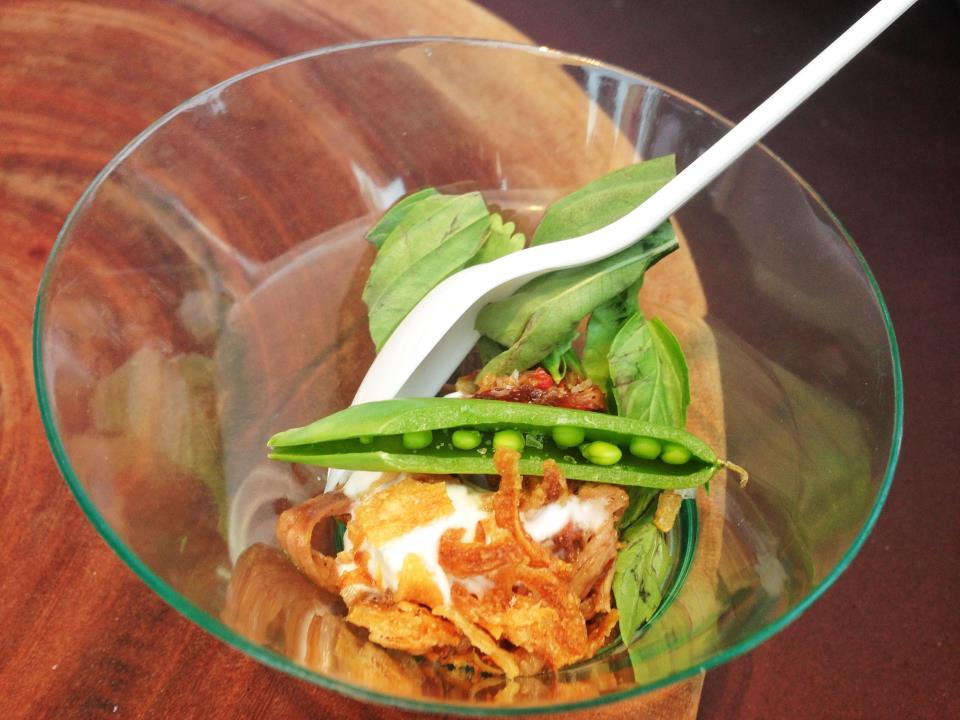 Finalist for 2012 James Beard Award for Best Restaurateur: Southwest, Dady makes his third appearance at Live Fire! and will prepare Tongue and Cheek utilizing beef tongue, cheek and ribs.
(ATOD: Not only is Jason charismatic but when he tells you to taste every single element in one bite, you know he means it. And I did. This was the 2nd runner up for innovation and flavor.)
Finalist of Food & Wine magazine's The People's Best New Chef: 2012 Southwest, Elliott will prepare a Roasted Culotte of Beef with Pickled Strawberries and Ramp Consomme.
(ATOD: Ned never disappoints. The strawberry atop the beef soaking in the ramp consomme gave this dish a lot of wonderful taste. I'm a huge fan of F & D and can't wait to go back in and eat as much as my appetite will allow!)
Josh Watkins of The Carillon (Austin)
2012 Star Chef Austin-San Antonio Rising Star Winner, Watkins will create Beef Chuck Ribs from Richardson Farms.
(ATOD: I wasn't able to try the ribs but I'll be heading into the restaurant during my stay.)
2011 Houston Rising Star Chef, Rucker will make his debut appearance at Live Fire! and will serve Corned & Smoked Beef Rib with Fermented Wild Onions.
(ATOD: This was a dish I wasn't able to try.)
Kristine Kittrell of Mulberry (Austin)
Formerly of Jeffrey's Restaurant, Kittrell will prepare Coconut Beef with Blistered Beans.
(ATOD: The meat was cooked absolutely flawlessly on this dish and the crisp of the beans with the moisture of the reduction is what made this dish one to thoroughly enjoy.)
Sonya Cote & Tink Pinkard of Homegrown Revival (Austin)
Winner of Edible Austin's Local Hero Award and named among the Top 10 Badass Women Chefs by Daily Meal, Cote's Live Fire! dish will be Flank Steak Roulade with Sweet Onion & Arugula.
(ATOD: This had SO much flavor! I love the concept behind Homegrown Revival and for me it was the culmination of duck fat and steak that made this dish stand out.)
One of San Antonio's most acclaimed chefs, Perez will serve Matambre with Rice & Chorizo.
(ATOD: This was a dish I didn't try.)
Lucas will create three beef dishes – Argentinian style.
(ATOD: Didn't get an opportunity to taste this.)
Cookbook author and famed owner of the Salt Lick, Roberts will share his celebrated Brisket with Stuffed Mushrooms and Sliced Brisket on a Homemade Tortilla, each paired with a local craft brew.
(ATOD: Sadly, this one I really wanted to taste but the line was long and my tummy was growling. I'll be back to dine with you Salt Lick!)
Celebrated ramen maker who brought Austin's first authentic ramen house, Aikawa will present Oxtail Ramen with Beef Tongue Chashu.
(ATOD: This was a fun concept for Ramen. A hearty blend of flavor with the subtlety of oxtail and beef tongue. I'm hoping to go into the restaurant and sit down with Chef Tatsu to taste more.)
From Austin's favorite El Chile, Martinez will prepare Lengua de Res.
(ATOD: This was delicious! I chose the red pepper sauce which bursted with the right amount of "kick". I look forward to going in to the restaurant and trying more of his cuisine.)
Janina O'Leary of Trace (Austin)
After having worked in some of the country's most prestigious kitchens including Michelin three-star restaurants Daniel and Per Se in New York City, celebrated pastry chef O'Leary will prepare Meyer Lemon Budino and Chocolate Bourbon S'mores.
(ATOD: These were good but it was too sweet for my tastes. I would have liked to have seen more lemon come through to keep it a bit more tamed and less overwhelming.)
Just named winner of 2013 Food & Wine magazine's The People's Best New Pastry Chef, Elliott will prepare one of her in-house made desserts to complement the Live Fire! beef fest.
(ATOD: I missed Jodi's creations but tonight I get to feast on more and will give a FULL report!)