Every so often there is an image that grasps onto me and seeps into the very depths of me…
It's usually unsuspecting and almost always sheer awakening. I started this new creative endeavor because imagery is one of the most powerful methods of expression. Visuals by way of the snap of the shutter and the playful dance of words. The images chosen in the "Featured Image" posts are by Photographers and Photojournalists I have met and partnered with specifically for this new avenue of creative collaboration.
Below is the image that made me first fall in love with David Carol's work. From then on, I knew the street photography he produced would forever change me. It has. Please enjoy the pleasure of what I lovingly refer to as "Gelato". Each image and piece of writing is available for sale with original signatures from both photographer and writer. Inquire for pricing.
_____________________________________________________
GELaTO
Photograph by David Carol
the image at the top of this page infected me with joy. Below is a smaller reminder and just below that, how I imagine it would sound were it to have a voice.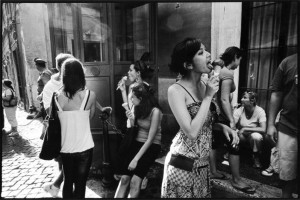 FROzEN INTErPRETATION©
by Dawn Garcia
The fix of heat now gasping for air, coddling the flesh of the awaiting bare shoulder, elongated necks, thirsty passerbys – thriving as it moves through the shadows now burying themselves in the cool of the stone.
Their hands reach for the mound of perfection suddenly becoming the great escape for their tongues.
Their mouths harnessing effortlessly across the plump, round scoop.
Their sandals pause.
Shoes soften, bleeding into the hot ground beneath them.
The sounds seem to mute.
The slurp and licks of women feasting on gelato now permeate every open space.
Summer in Italy.
The awakened gelato.
_____________________________________________________
About the Photographer + Writer

David Carol – Street Photographer | Photographer | REAL.
DAVID J. CAROL attended the School of Visual Arts and The New School for Social Research where he studied under Lisette Model. He is the author of three award winning photography books. His first monograph was 40 Miles of Bad Road… a ten year retrospective of his personal work from 1993 through 2003. His follow-up book ALL MY LIES ARE TRUE… was a collection of photographs taken throughout his twenty five year career. His latest Non-Book "THIS IS WHY WE CAN'T HAVE NICE THINGS!" was released with a lecture and book signing at The Center for Alternative Photography in New York City. His photographs and books are in the permanent collections of many museums and corporations, including The Getty Museum, LA, Ca, The International Center of Photography, New York, NY and The Museum of Fine Arts, Houston, TX. David lectures, mentors and reviews portfolios privately as well as for organizations such as ASMP and Palm Springs Photo Festival. He is the Director of Photography at CBS Outdoor and is a weekly contributor to Emerging Photographer Magazine and a writer for Rangefinder Magazine with a monthly column called Photo Finish that features the personal work of professional photographers.

Dawn Garcia – Writer | Editor
Screenwriter | Dreamer.
Website | Facebook | Twitter  | Instagram
Dawn Garcia has written since she could put pen to paper. Though she started in the film world as a Makeup Artist, she always had a passion for words. While she has been in every creative environment, her passion is to live life in the BIGGEST possible way, enjoying every moment along the way. She channels her passions through writing, branding, and creating authentic products. She'd be the first to admit she really never imagined she would become a writer by profession but writing has always been a part of her life. After a cumulative 18 years in film and entertainment, 5 years in Advertising, a spontaneous visit to the Wine Country, and an even more impromptu meeting with Francis Ford Coppola, an entirely new world opened up to her. She wrote her first piece of fiction in 1998 and from then on, it was clear what she was meant to do. One of the most valuable things she learned from Francis Ford Coppola was in something he said:
"Never let anyone dictate why you create. Do it because you love it".
As fate would have it, she does. Born in Santa Monica, California, Dawn has spent her entire life drawn to film, literature, and the arts. She loves anything that brings humanity together. And yes, she is tenacious.
Dawn was destined to explore the world of words. "What's the point in having a voice if you never use it?" – she answers when asked why she writes. A woman with a purpose, the idea that nothing is impossible and words can be a worthy opponent, she believes that every experience deserves it's own story and that somehow, maybe, her words, will leave this world a bit more beautiful than when she found it.
A published writer, Dawn continues to work on a variety of writing projects spanning the gamut. She is the successful Founder | Editor of ATOD Magazine: A Taste of Dawn™ and the Radio Host of A Taste of Dawn™ RADIO (ATOD RADIO™)  She has a loyal following and believes powerful content ensures success. Dawn Is also currently working with William Morris Endeavor as a screenwriter and Food Personality. Writing isn't a mere hobby for her, it's what she is passionate about it and what pulses through her veins. She resides in Southern California with her daughter.