TOTSY the Band – Sexy. Talented. A Playground for Your Ears.
Part I by Dawn Garcia | Part II by Alexis Murine
Videos by Dawn Garcia | TOTSY "Dope on a Rope" courtesy of TOTSY
the Hotel Café | 1623 1/2 N. Cahuenga Blvd | Los Angeles, CA 90028
TOTSY the BAND | Facebook | Twitter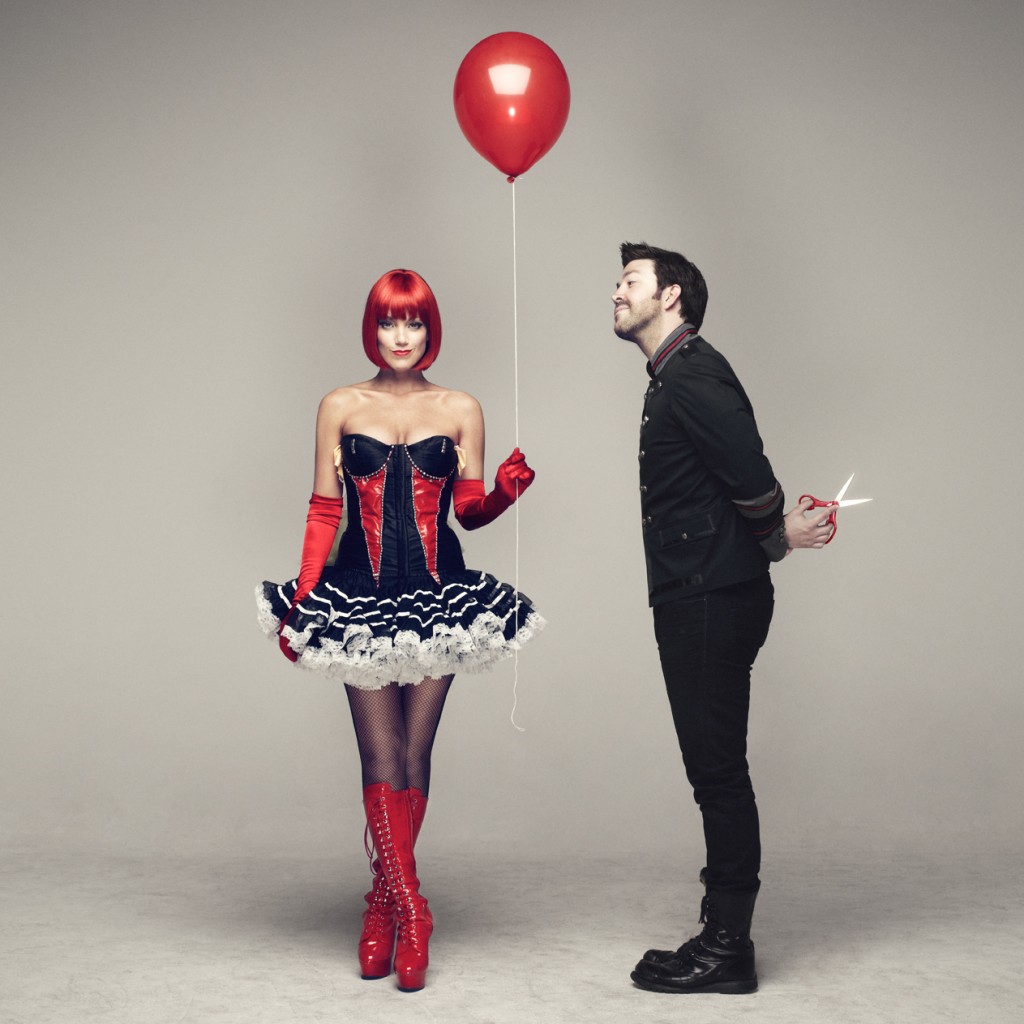 PART I. As someone with a mind that sees the world through the cinematic lens, one hopes for a band that will come along and showcase performance, originality, and something completely impossible to take your eyes off. That band is TOTSY. As if you're watching Tim Burton in female form prance across a stage with the curiosity of a modern day artist like an Andy Warhol with the sex appeal of 1930's Burlesque and Hollywood starlet, when you see TOTSY on stage in all of their splendor, you can't help but gravitate towards the showmanship of their stage presence.
To set the scene: Back alley entrance in Hollywood. The doorman with the sinister grin finds my name on the "list" and in I go. Past the entryway, past the 1st bar to the left, on through the double glass doors as the main room is shrouded in bodies. The stage at first is empty. One by one the band members step out from behind the black curtain. All dressed in wardrobe that reminds me of so many of the films I've worked on. Costumes that are easily worn outside of performance but oddly reminiscent of say, HBO's Carnivale. The band is set up. 5 Musicians (3 on their way with 1 surprise appearance).
The music begins. Soft, the tapping of the symbols, the strum of bass, guitar, the strokes of the piano keys – and soon – three girls emerge from the right side of the stage. Fully clothed. The front woman – she wears crooked coke bottle black-rimmed glasses, a hat, a kimono-like drape over her body. The two backup gals … very much the same. And then, this seemingly underrated beauty puts her mouth to the microphone. Voice bellows. Shoulders move. One by one, piece by piece, the "costume" comes off. Before long standing before you – the lead singer, Beth Curry, and her two backup singers in corset, tutu, fierce boots – and then they begin to REALLY sing. And you find your hips swaying carefully to the beat, your feet following suit – effortlessly, simply. You are experiencing something VERY different. You are in a musical cinema. Daring, colorful, wonderfully delectable.
With a musical journey that takes you from a sexy romp with "Dope on a Rope" to the sweetness of the haunting whisper of "Red Balloon", TOTSY is the kind of band you cannot miss. Having toured with Brian Setzer Orchestra this past year, it's no wonder they have such an eloquence and playfulness about them! Shawn from BSO makes a surprise appearance for "Radio Girl" (my favorite TOTSY song!).
9 (I think) songs later, the band takes their bow as Beth so gracefully thanks everyone for coming – she thanks us in a way that is so familiar – genuine – not contrived. The crowd applauds and one at a time, just as they came, the band disappears behind the black of the curtain. This was my first taste of TOTSY and I cannot wait to see them again. This is the band you see as many times as you can because every show, you know it's only going to make you love them more.
Thank you so much to Nelly Neben of Axis Management for introducing me to the band – to Beth and Brett – AND for making this night possible.
TOTSY –The Band
by Alexis Murine
PART II. Being a nine-piece band on a tiny stage means that a certain kind of mechanic symbiosis is needed to create the sound unique to TOTSY. The musicians move together like clockwork, heads ticking to the beat, corsets shimmying, tulle and crinoline hips swaying side to side. Tinny bells chime, and the singers turn slowly, like ballerinas bound in music box tension, tightly wound then releasing as they unwind. The performance value is a testament to the lead singer Beth Curry's acting background. There is a distinct theatricality, yet not to the point of overshadowing the music.
The music itself has a playful nostalgia, like the deliciously cheap thrill of vintage penny candy, melding depression-era carnival kookiness with lilting gypsy violin ballads to create something familiar, yet feel brand new.

__________________________________________________________________
BETH CURRY, most recently, starred in Mel Brooks's national tour of YOUNG FRANKENSTEIN, as the role Elizabeth Benning, originated by Madeline Kahn. Beth garnered the 2010 Denver Post Ovation Award for her work in the show. Beth was also seen in LEGALLY BLONDE, on Broadway, playing the role of Brooke and in GOOD VIBRATIONS, playing the role of Rhonda, which was also on Broadway. She spent three glorious years as a back-up singer for the Brian Setzer Orchestra, touring all over the US and Japan. She is featured on the DIG THAT CRAZY SANTA CLAUS CD, as well as the CHRISTMAS EXTRAVAGANZA CD.
Beth's TV appearances include: Burn Notice, Bunheads, Hope and Faith, All My Children, A Christmas Carol (with Kelsey Grammar), The Tonight Show, Late Night with Conan O'Brien, and Sham. She toured Europe playing Rizzo in GREASE and has an extensive theatrical resume. But, her true love has always been writing and recording music. She received a Billboard for her original song, Empty. She has dabbled in many different styles and flavors of music, but has happily landed in a delicious playground, called TOTSY.  Because of Beth's background, TOTSY has a unique theatrical sound.  Beth has led her life with a sense of humor, playfulness, and heart. She has infused TOTSY with all of these necessary qualities. Enjoy!
BRETT BOYETT has become well known in the Hollywood circuit for his work in film and television. Brett has had song placements with David Foster, The Young and The Restless (CBS) , Friday Night Lights (NBC), Oprah, Cold Case (CBS), SONY Pictures Television, APM Music, Rescue Records, 5 Alarm Music, West One Music, Everybody Loves Raymond (CBS), Center of the Universe (CBS), Yes Dear (CBS), " Never Better (ABC) "Moola,""Lower Learning (Staring Jason Biggs)," "The Great New Wonderful (Starring Edie Falco)," "Cry Of The Owl, (Julia Stiles) " "Moment Of Truth," "Birds Of America," "Mail Order Bride," "New York Doll," "The Scorpion," "The Guerrero," etc.  He also recently secured the main title songs for the highly anticipated series "Ocean Drive, "  and "Pet Trippers."
Brett has spent the last few years actively working with some of the best in the business. He is currently working with Kimberley Locke (American Idol), Billy Griffin (The Miracles), Bill Medley (The Rightous Brothers), Jason Miller (Godhead), The Winton Sisters (Mad Dog Records), and such hit composers and songwriters as Steve Dorff (Reba, George Strait), Snuffy Walden (West Wing, Friday Night Lights), Rick Marotta (Everybody Loves Rayond, Yes Dear, Steely Dan), Donnie Most (Happy Days, Moola) Laura Karpman (Taken, Odyssey 5), Pamela Oland (Whitney Houston), Glen Ballard (Alanis Morrisette, No Doubt, Tom Petty), and Keith Olsen (Fleetwood Mac, Heart, Foreigner, Pat Benetar, White Snake, etc.). He has also produced vocals for Melanie Griffith, Lloyd Owen, Madchen Amick, P.J. Byrne, and Kurtwood Smith.
Brett has had the chance to write songs and produce tracks for "The Freedom Alliance," "The Patriot Guard," and "The Make A Wish Foundation." He has also recently signed non-exclusive blanket license deals with SONY PICTURES TELEVISION and several music supervisors in film and television.
___________________________________________________