Coast Modern, Architecture For The Soul
By Tyler Dean
This is Film #3 of the Series. | Film #1 | Film #2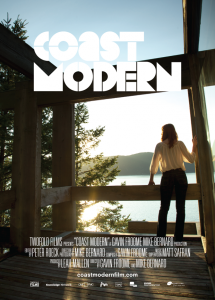 Is life composed of hard edges, or soft curves? In this elliptical documentary on the architectural wonderment of modernism and its steadfast metamorphosis over the last eighty-plus years, filmmakers Mike Bernard and Gavin Froome travel the Pacific Northwest in an effort to capture the essence of a spirituality we won't find at the local synagogue or mosque, but in the very bones of our own homes. Coast Modern tries to establish not so much a style of living, but a way of life in its up-close-and-personal investigation of a series of homes and establishments belonging to the few who've decided to forgo the privacy and security of the enclosed enclaves most of us probably find ourselves in.
We're all relatively familiar with modernist stylization, or, at the very least, have come across a piece of architecture alluding to its peculiarities at some point in our lives. Denoted by hard edges, straight lines, practical but oftentimes bland, sometimes evocative of a very "spacey" look, the West Coast modernist style is one that relies on its roots—whether they be steel, pine, ply, etc.—to manifest an emotion and a sense of there-ness that is absent in the kitsch castle-mansion replicas of Laguna Beach or Hollywood (though they can be found). Unlike the latter, West Coast modernism looks first at the agrarian surroundings, and only then are plans drawn up for a home that can both integrate with nature and be hospitable to inhabitants. It's a motif we see as a relevant source of inspiration for many of the architects shown herein, perhaps the most famous and well-known of these being Frank Lloyd Wright, the man behind Fallingwater (AKA The Kaufman House), built in 1935. In an attempt to create a seamless blend between nature and man, Wright designed Fallingwater to emphasize the latter's beauty by suturing the home's set pieces around a waterfall and an assemblage of trees and foliage.
An awe-inspiring display, Coast Modern, as Jiro Dreams of Sushi does with seafood, and the Qatsi Trilogy does with society, relies more on cinematographic skill and appropriately modernist music to convey the story of its feature. Although much less narrative-driven than the latter films, Coast Modern nonetheless attempts to touch our very souls through its au natural composition of light, open space, and climate of the homes—habitable pieces of art—captured in the camera's lens. Framed with formidable reverence, we visit not only the Fallingwater house, but pieces (as in "art") by Rudolph Schindler and John Yeon. The film tells us that Schindler believed architecture was simply an idea about living. Compounding this, one need look no further than Yeon' Watzek House. Taking the construction and unassuming outward appearance of a barnyard warehouse (one, the film tells us, you could easily drive by on the road without a second glance), Yeon molds the inside into a spectacular display of subtlety and comfort.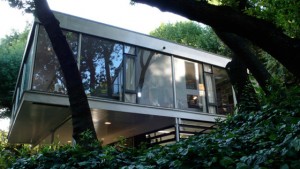 At one point during the film, we stop in at the Eppich house located in Vancouver. Emulating an aura that is equal parts Mayan-construct and displaced urban jungle abode, this family home, with agricultural overgrowth appearing to creep up and over walls, a pond here and there, a sense of stark alienation contrasted with an odd and inevitable integration between concrete and glass and fibrous horticulture, is, at its most basic level, a habitable greenhouse with couches. It's also a perfect example as to why everyone hasn't decided to jump on the modernist bandwagon: as we continue toward a more technologically binding and open-aired society at large, we will inevitably pursue a personal life which connotes a sense of privacy and escape. What the film tries to establish, and what is becoming clearer as time goes on, is that we are invariably cutting ourselves off from nature at the same time.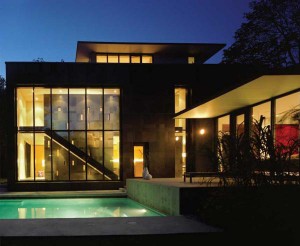 With such far-reaching implications of spiritual and environmental dormancy in every frame, you're probably wondering, as I was, to what extent the film served as a guide to "enlightenment", and, more importantly, why it matters to you. Unfortunately, present-day modernist architecture is victim to a more or less brainwashed society subscribed to what Richard Lanham refers to in his The Economics of Attention as "fluff" over "stuff." According to one respected architectural commentator in Coast Modern, after the boom of kitschy "plastic quickness" in the 80s there was a resurgence of modernism in the late 90s and early 00s, but something had changed. No longer were patrons interested so much in environmental integration or spiritual transformation, as in their ability to show off their new home, one with little to no character, where the living room could just as easily be the master bedroom or kitchen. With all this in mind, it's hard to see Coast Modern as anything other than an amalgamation of the Ode, the Eulogy, and, perhaps most obvious, the Omen.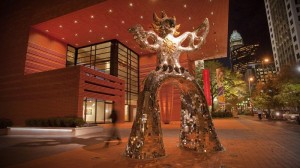 The former is obvious; Coast Modern is pornography for architects, especially those gifted with a sense of creativity and challenge. However, the glass walls and open air construction of the many modernist homes shown throughout the film, coupled with, and I can't say it enough, amazing cinematography, are portrayed in a way that harks back to a time that has not yet passed. A "new age" sort of classicism that started out with the intention of separating in-dwellers from our anthropological roots by mere inches, modernist architecture has unfortunately been a constant victim to vacillating withered tastes in concurrent cohabitation with nature, opting instead for conformity and fortress-like security. But is this obtuse naivety a sign of our growing departure from not only one another, but from an inner spirituality that the film quips time after time can only be found when one is in alignment with the cosmos' natural landscapes? It's a can of worms that no one probably expected from a film about houses, but it's this powerful focus, these unanswered questions on the part of the filmmakers, that serves to only further prove that Coast Modern isn't simply an advertisement for wonderful modernist architecture (nor should it be) but rather a warning of just how far from reality, in a physical, environmental sense, we all just might be.
Coast Modern shows us that modernist architecture, at its very basic, is a type of simplified construction where the person's primitive needs (i.e. shelter, warmth, food, etc.) are met in a very straight-forward manner. In one memorable scene from the film of a modernist home, we're shown a man's study room complete with a small hearth in the corner meant for actually cooking food. For me, this conjures up memories of when you might have said a word over and over again—mine was "pizza"—until, inevitably, that word or phrase no longer holds any meaning. Instead, we hear it for what it is: a collection of letters, sounds, and manipulations of the tongue. For a brief moment, you hear and visualize this word in a way that no one else on the entire planet has before. Coast Modern similarly strips out all the niceties you may associate with the average dwelling, and proves that the "baring it all" approach can force you to view the world, your lifestyle, in a whole new light. With modernism, you are, in essence, living through architecture.
"A core group of architects embraced the West Coast from Vancouver to LA with its particular geography and values and left behind a legacy of beautiful and inspired dwellings. Today, architects explore and celebrate the principles established by their predecessors. Discussions with several architects including Dion Neutra – son and partner of Modernist pioneer Richard Neutra, Michelle Kaufmann, Barbara Lamprecht, Pierluigi Serraino, John Cava, James Steele, James Cheng, and Henrik Bull give insight into what made Modernism on the West Coast so unique and how this approach is even more relevant to our lives today." [OCMA.net]
The Orange County Museum of Art is located in Newport Beach, near Fashion Island, at 850 San Clemente Dr., Newport Beach, CA 92660. Hours for the museum are: MON-TUES, closed; WED-SUN, 11:00am-5:00pm; THUR, 11:00am-8:00pm.
Now in its ninth season celebrating the cinematic works and of emerging and established independent filmmakers, OCMA and the Newport Beach Film Festival present the 2013 Cinema Orange film series. Films will explore art, design and cultural icons. Interactive question and answer sessions with filmmakers will follow select screenings. Cinema Orange is organized by Leslie Feibleman, director of special programs and community cinema, Newport Beach Film Festival.